Celia Paul: Memory and Desire
6 April–14 May 2022
16 Wharf Road
London N1 7RW
Victoria Miro is delighted to present Memory and Desire, an exhibition of new paintings by Celia Paul.
This exhibition coincides with the publication of Letters to Gwen John, a new Jonathan Cape book by the artist which centres on a series of letters addressed to the painter Gwen John (1876–1939), who has long been a tutelary spirit for Paul. Through the epistolary form, Paul draws fruitful comparisons between John's life and her own: their shared resolve to protect the sources of their creativity, their fierce commitment to painting, and the ways in which their associations with older male artists affected the public's reception of their work.
Completed while writing Letters to Gwen John, in which Paul describes her first exhibitions in America, her search for new forms, her husband's diagnosis of cancer, and the onset of the global pandemic, the paintings on view share many of the book's themes. The period from October 2020 to April 2021 was one of profound sadness for the artist. Paul worked in complete isolation and saw no one other than her beloved husband, Steven Kupfer, who died of cancer on 29 March 2021, the day lockdown restrictions began to lift. The title, Memory and Desire, is a reference to the opening lines of T.S. Eliot's poem The Waste Land: 'April is the cruellest month, breeding / Lilacs out of the dead land, mixing / Memory and desire, stirring / Dull roots with spring rain.'
Letters to Gwen John is published in the UK by Jonathan Cape on 7 April 2022 and in the US by New York Review Books on 26 April 2022. Selected quotes from the book appear below alongside the artist's commentary about works  in the exhibition.
View a list of exhibited works here
---
Self-portraits
'Self-knowledge leads to self-acceptance.' — Celia Paul
'For the past twelve years I have painted self-portraits titled by the month and the year they were painted in. Each month has a different mood which adds a conceptual significance to the portraits. The pandemic years will always be remembered; for many people who have been isolated, as I have, their experience has been particularly intense.
The bright spring of the first months of the pandemic felt magical to me because of the unusual silence in Central London. Something of that brightness and stillness entered Self-Portrait, April 2020.
Self-Portrait, April 2021 has a different atmosphere. My husband, Steven Kupfer, died at the end of March 2021 and I painted this self-portrait shortly after his death.
Self-Portrait, February 2022: my eyes are lowered; there is an interior quality, self-containment, maybe.'
---
Dieppe
'When Gwen John knew she was dying she travelled from her studio near Paris to Dieppe because she wanted to have one last sight of the sea. Her childhood years were spent by the sea: she grew up in a coastal town in Pembrokeshire and the sea was always important to her.
I wanted my painting of Dieppe to suggest yearning so the sea is a heavenly blue.'
---
My Mother and the Mountain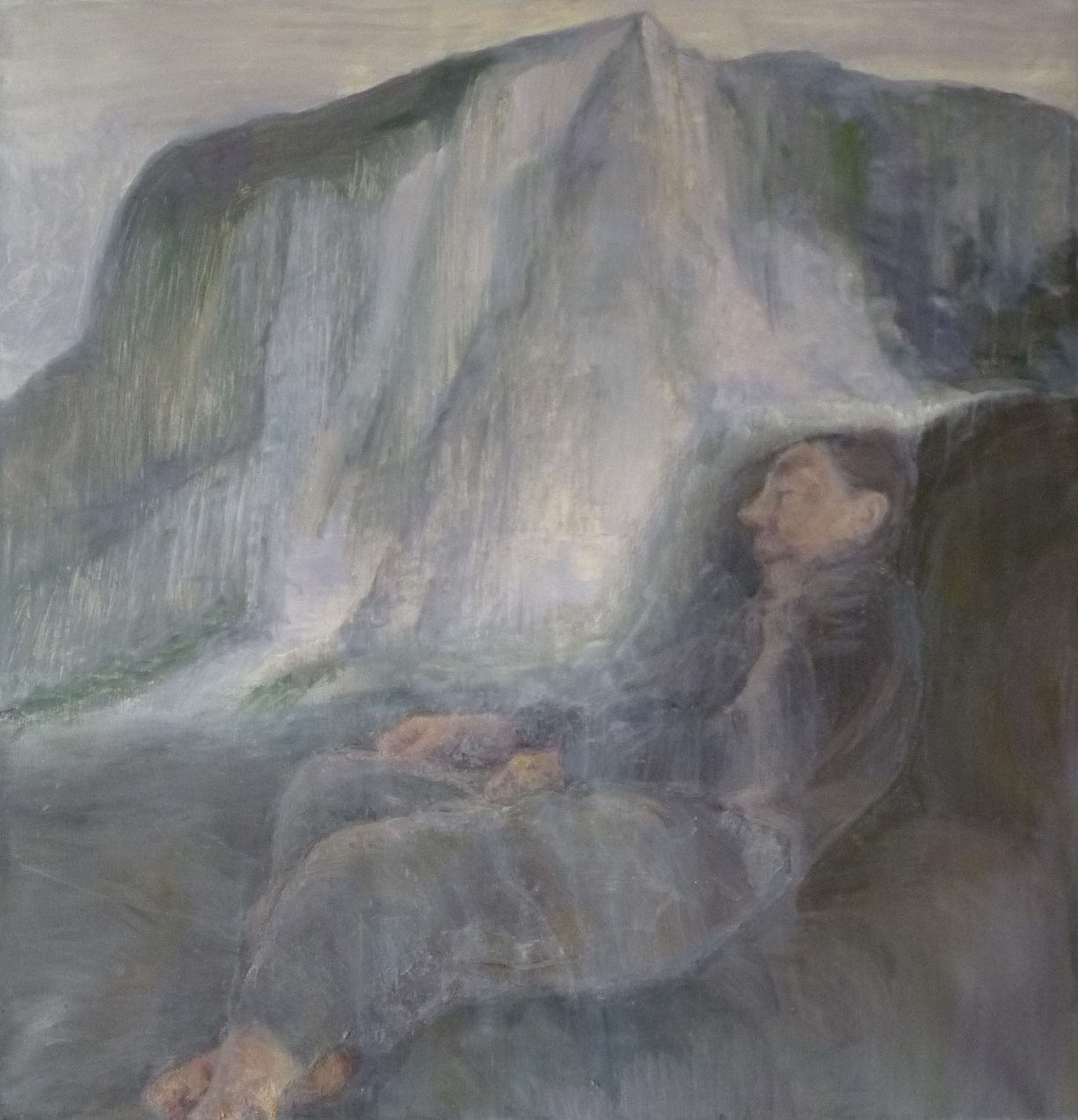 Oil on canvas
147.3 x 147.3 cm
58 x 58 in
Celia Paul, My Mother and the Mountain, 1994–2020
More info
'A mountain stands for Truth. One can only reach the top by means of circuitous paths that often seem to be leading in the wrong direction; and sometimes one loses one's way.' — Celia Paul
'I started this painting soon after I had first visited Austria with my husband in 1994. We stayed in a hut by a lake in a village called Altaussee. The lake is surrounded by high mountains, the tallest of which is called Trisselwand. I loved the shape of this mountain which reminded me a little of Cezanne's Monte St. Victoire. My mother was my main sitter at the time so, on my return to London, I decided to do a painting of her in front of Trisselwand. Over the course of the next 26 years, I was to paint, overpaint and repaint the mountain four times. My mother died in 2015 but I only finished the painting in 2020; the figure of my mother remained the same throughout the different stages.
Immediately after my husband's death last year, I painted a series of paintings of him in his rowing boat on the lake in Altaussee with Trisselwand behind him: prayers for him that the mountain we loved so much should protect him.'
---
Chair and Bed
'My flat in Bloomsbury is also my studio. I have lived here since 1982. During that time, I have accumulated very little furniture and the rooms of my flat are almost bare. I think my chair paintings are self-portraits. I have two identical chairs: one is in my studio – my models sit on it – and this one, the one that I paint, is in the room where I sleep.
From my bed I can see the pediment of the British Museum. The room where I sleep looks directly onto the Museum's forecourt. I have made many studies of my bed, often contrasting its horizontality with the verticality of the BT Tower which I can see rising up behind the Museum's pediment. When I painted Blue Bed I thought of my Dieppe painting and wanted to use the same exquisite blue suggestive of longing.'
---
My Father's House, The Path Home
'…the building lodges in my mind like a vision that stands outside time.' — Celia Paul
'My father was made Bishop of Bradford for the last two years of his life. My bedroom in the bishop's house became my studio. It looked onto the Yorkshire Moors towards Haworth where the Bronte sisters lived. When my father died, my mother and her five daughters had to leave – the house went with the job. I returned 36 years later to make pencil studies of the house. My Father's House is the result. The six apple trees that grew in the garden feel like spirits of my mother, my sisters and me.
The Path Home is the cottage in Pembrokeshire that I've been going to with my family since I was a small child. It is the nearest thing to a family home I've ever had. My father's job as a clergyman meant that we were constantly moving home. The cottage is very remote, approached by a grassy track and looking out over the Irish Sea. Gwen John was born and grew up in Pembrokeshire so this is another connection between us. I have ambivalent feelings towards the word "home" and what it signifies: both consolation and claustrophobia; the light in the window beckons with a promise of comfort but the glimmer of the sea behind the cottage suggests possibilities of mysterious freedom.'
---
Kate in Red
'The next painting I do of Kate will be in a year's time, when I will have been through a transforming fire… The next painting of Kate will testify to this transformation.' — Celia Paul
'Since 2010 I have been doing paintings of my sister Kate dressed in white. In early 2020, before the pandemic, I decided to do the last Kate in White. I sensed that something was about to happen. I wrote in Letters to Gwen John:
The next painting I do of Kate will be in a year's time, when I will have been through a transforming fire… The next painting of Kate will testify to this transformation.
This letter is dated 10 January 2020. I wasn't able to start another painting of Kate until the autumn of 2021, due to lockdown restrictions. I asked Kate not to wear white for this new painting. She arrived wearing a deep russet-red silk blouse and a brown woollen skirt: colours signifying fires and autumn, the "mellow fruitfulness" as described by John Keats in his Ode to Autumn.'
---
Last painting of Steve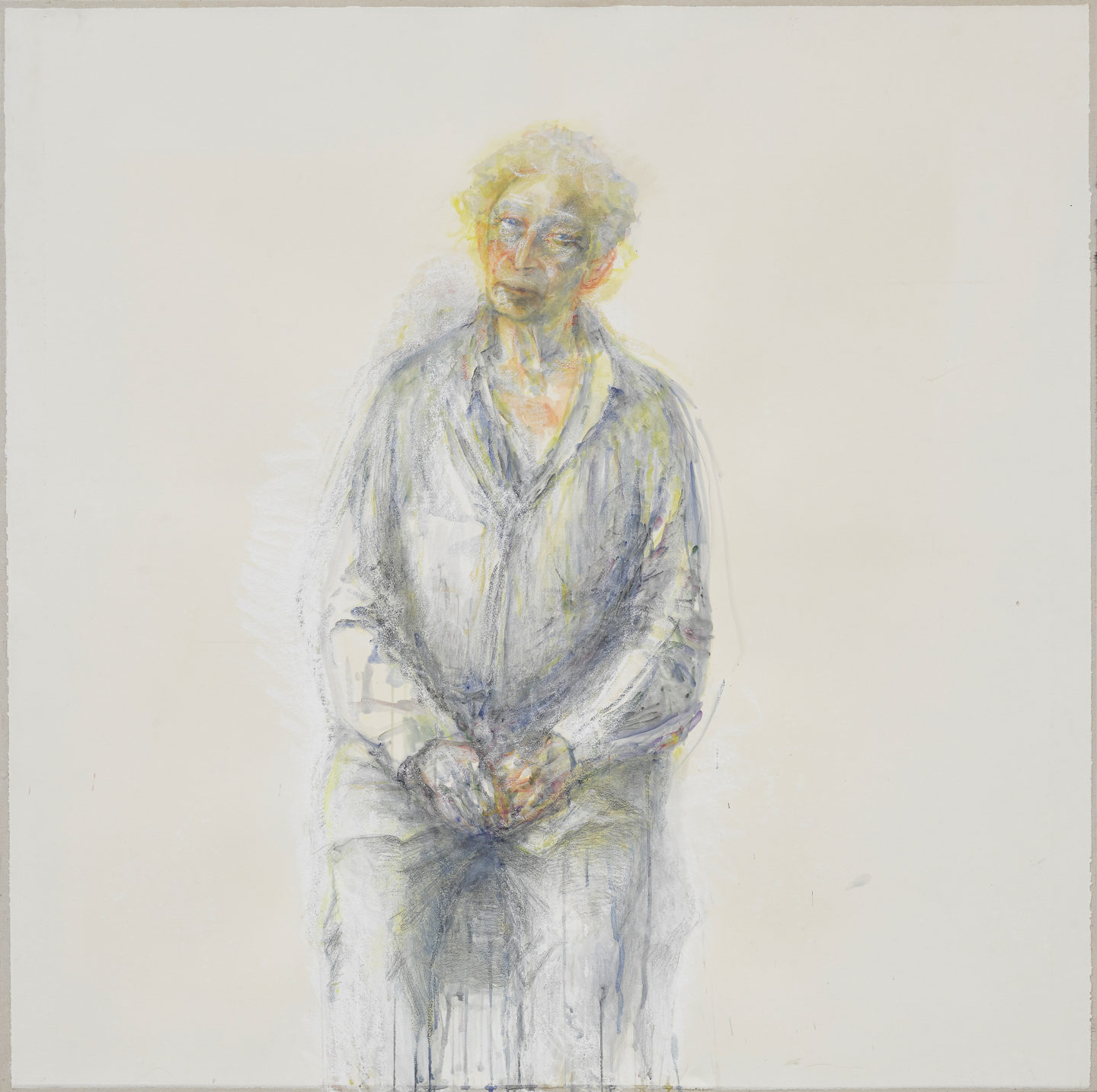 Watercolour on paper, mounted on canvas
142.8 x 142.8 x 3.5 cm
56 1/4 x 56 1/4 x 1 3/8 in
Celia Paul, Last Painting of Steve, 2017–2021
More info
'He is there, but only just. He is painted with a sable brush that seems to be dipped in smoke, not paint. The painting feels very fragile, not only because of the vanishing tones, but also because it's on paper. The paper is mounted onto canvas to give it support… I want to keep guard over this image.' — Celia Paul
---
Daffodils
'Daffodils signify hope like no other flower. Each bloom is like a person looking up, needing attention and love. The intensity of the yellow, the trumpet-shaped corona – everything is about renewal after winter, about life – against all the odds.'
---
About the artist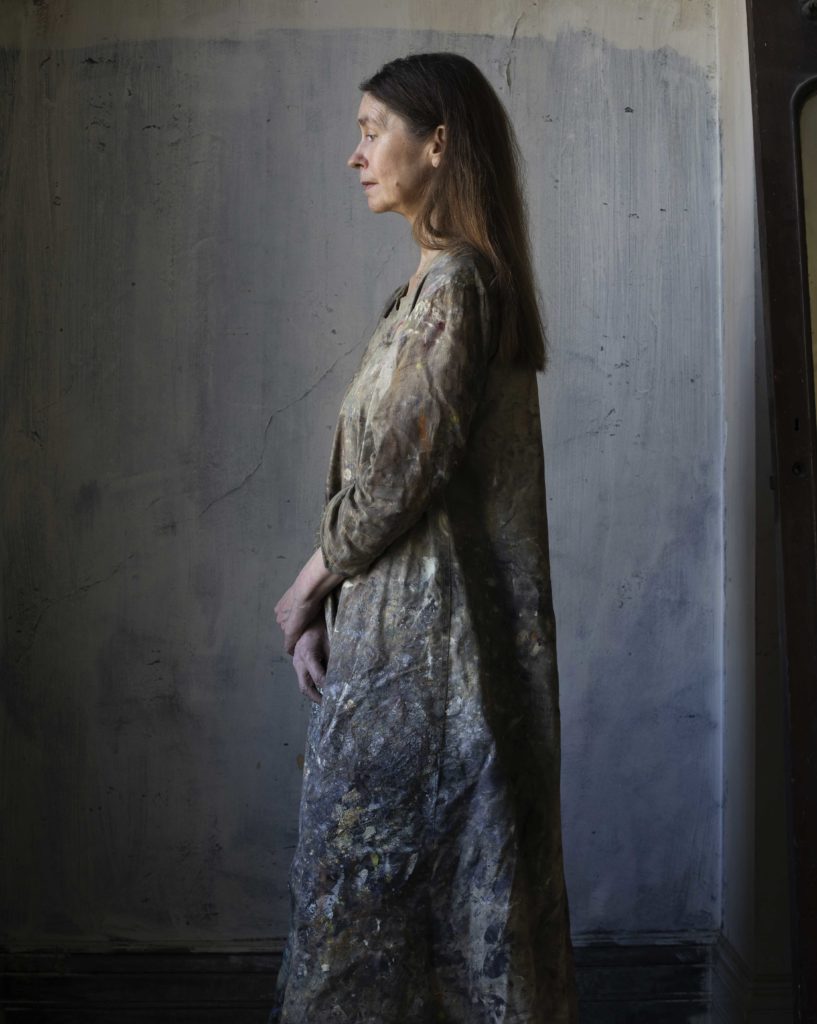 Born in 1959 in Trivandrum, India, Celia Paul lives and works in London. Major solo exhibitions include Celia Paul, curated by Hilton Als, at Yale Center for British Art, New Haven, Connecticut (2018) touring to The Huntington, San Marino, California (2019), Desdemona for Celia by Hilton, Gallery Met, New York (2015–16); Gwen John and Celia Paul: Painters in Parallel, Pallant House Gallery, Chichester (2012–13); The Grave's Art Gallery, Sheffield (2005) and Abbot Hall, Kendal (2004). She has participated in institutional group exhibitions including All Too Human: Bacon, Freud and a Century of Painting Life at Tate Britain (2018); NO MAN'S LAND: Women Artists from the Rubell Family Collection, Rubell Family Collection, Miami (2015-2016); Recent acquisitions: Arcimboldo to Kitaj, British Museum, London (2013); The School of London: Bacon to Bevan, Musée Maillol, Paris (1998) and British Figurative Painting of the 20th Century, The Israel Museum, Jerusalem (1992).
Her work is in collections including Abbot Hall, Kendal; British Museum, London; Carlsberg Foundation, Copenhagen; Fitzwilliam Museum, Cambridge; Frissiras Museum, Athens; Herzog Ulrich Gallery, Brunswick, Germany; Metropolitan Museum, New York; Morgan Library and Museum, New York; National Portrait Gallery, London; New Hall Art Collection, Murray Edwards College, Cambridge; Ruth Borchard Collection; Saatchi Collection, London; Victoria and Albert Museum, London; Rubell Family Collection, Miami; and the Yale Center for British Art, Connecticut.
In 2019, the artist's memoir Self Portrait, praised by notable critics including Zadie Smith in the New York Review of Books, was published by Jonathan Cape; in 2020, the book was published in the US by New York Review Books. Self Portrait by Celia Paul will be published in paperback by Jonathan Cape on 7 April 2022. 2019 also marked the release of a documentary film Celia Paul: private view about the artist by Jake Auerbach.
Letters to Gwen John by Celia Paul is published in the UK by Jonathan Cape on 7 April 2022 and in the US by New York Review Books on 26 April 2022.
---