Art Basel Online Viewing Rooms
June 17, 1pm CET: open for VIP Preview
June 19, 1pm CET: open to the public
June 26, 1pm CET: Viewing Rooms close
Doug Aitken, Milton Avery, Hernan Bas, María Berrío, Secundino Hernández, Yayoi Kusama, Wangechi Mutu, Grayson Perry, Howardena Pindell, Sarah Sze, Adriana Varejão.
For the second edition of Art Basel Online Viewing Rooms, Victoria Miro presents new and significant works by gallery artists.
For enquiries regarding featured works, please contact salesinfo@victoria-miro.com

Last year Victoria Miro established a studio space in Venice for invited artists to spend extended time in the historic city and make new bodies of work. During a recent two-month residency, Flora Yukhnovich used the opportunity to engage more fully with Venetian culture. Her sources include the music of Vivaldi and the memoirs of Casanova, in addition to one of her key influences, Giovanni Battista Tiepolo, whose works including ceiling frescos in the Ca' Rezzonico museum and the Chiesa Santa Maria della Visitazione she was able to study first hand to create this new suite of paintings for this exhibition.
Flora Yukhnovich: The Venice Paintings is presented by Victoria Miro in association with Parafin and is available to view both here and via the App Store on Vortic Collect.
---
Doug Aitken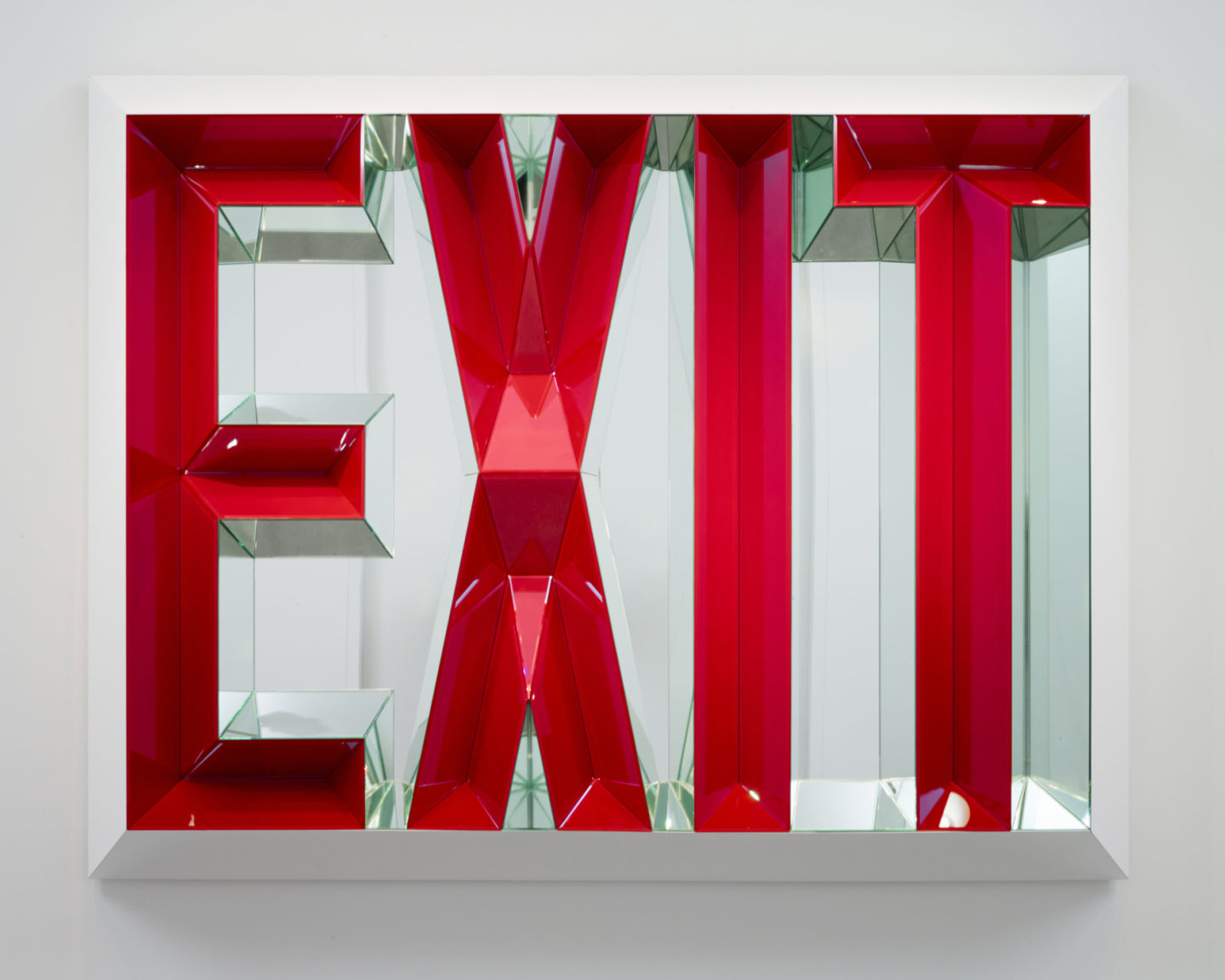 Coloured mirror, clear mirror and powder coated steel
172.7 x 236.2 x 40.6 cm
68 x 93 x 16 in
Variation 4 of 4 plus 2 APs
'I always see art as a necessity. You make it because it has to be made.' — Doug Aitken
Defying definitions of genre, Doug Aitken explores every medium, from film and installations to architectural interventions.
EXIT (large), 2014, is an important example of the artist's iconic text works, in which he reclaims the commercial landscape of signage in order to underscore the cultural potency of language. Aitken has described his sculptural text pieces as possessing a 'toughness' that echoes the abbreviated nature of much contemporary communication. At the same time, these works move beyond language, breaking down into abstraction – in the case of Exit (large) its mirrored surface creating endless permutations of light and reflection that speak to aesthetic, psychological and conceptual points of departure.
---
Milton Avery
Twentieth-century American master Milton Avery (1885–1965) is renowned for his luminous paintings of landscapes, figures, and still lifes.
Woman and Palms, 1951, is a Florida motif inspired by Avery's winters as a fellow at the Research Studio in Maitland (now called the Maitland Art Center). Florida exerted its influence in a number of ways. Writing in the catalogue for the recent exhibition Summer with the Averys: Milton, Sally, March, in which Woman and Palms was shown, the art historian Kenneth E. Silver notes that, 'A walled-in compound of low white buildings surrounded by splendid gardens of local flora and elaborately decorated with "Mayan Revival" relief sculpture… the Research Studio clearly energized Milton's aesthetic, the tropical colors and vegetation perhaps reminiscent of the family's Mexican trip. Here, though, the cosseted life within its walls brought forth not folkloric motifs but scenes of arcadian relaxation, activated by spiky palm fronds. In one painting, a woman, perhaps Sally, sits with crossed arms against a wall decorated with what appears to be one of Smith's reliefs…'
---
Hernan Bas
Hernan Bas is celebrated for works that, permeated by an aura of eroticism and decadence, and loaded with codes and double-meanings, point to the intricacies of self-identity, while celebrating moments of transformation – the ordinary becoming extraordinary.
Works on view are inspired by a residency with the gallery in Venice and weave characteristically expansive lines of enquiry around themes including privacy, seclusion, masquerade and carnival. A Private Morning, 2020, is a six-panel folding screen lined on one side with a classic black moiré fabric, a pattern produced since the Middle Ages but popularised by Queen Victoria during her 'eternal mourning' period following the death of Prince Albert. Replacing 'mourning' with 'morning', Bas invites viewers to observe a contemporary private moment depicted on the painted side of the screen. Twins at the Gritti Bar (Venice), 2020, is its celebratory counterpart. The painting takes as its starting point a photograph taken on the evening of the opening of Bas' exhibition, Venetian Blind, at the gallery in Venice, which coincided with the opening of the Carnival of Venice, when, wearing masks derived from faces in the artist's paintings, guests joined carnival goers as they moved  through the city.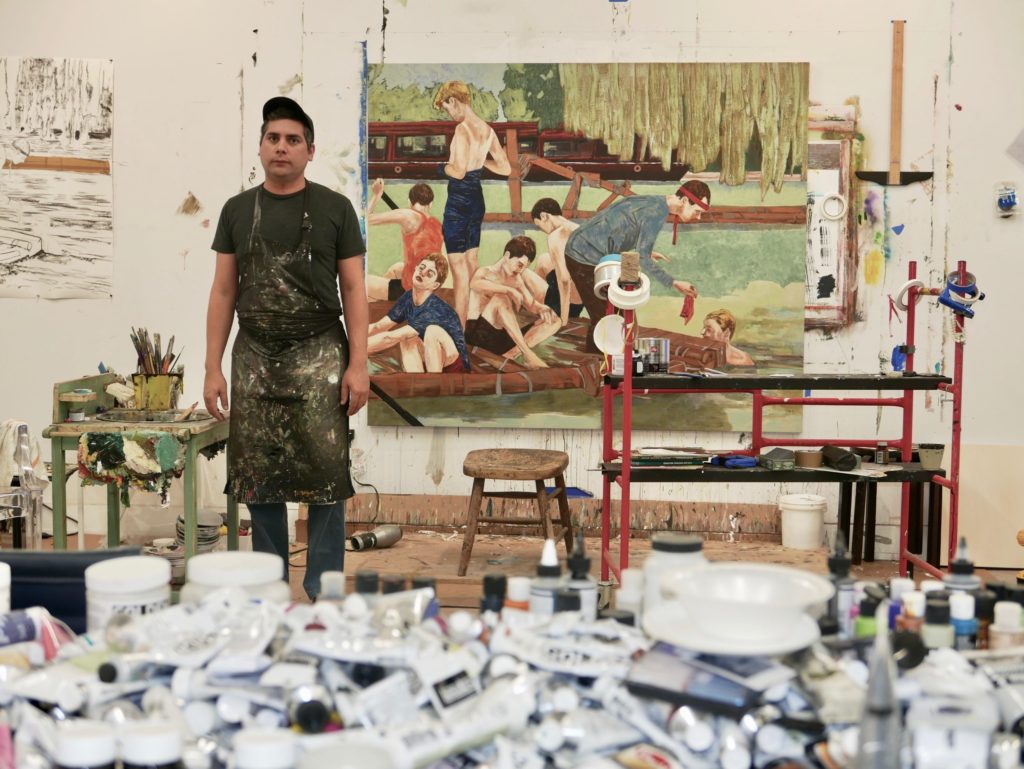 ---
María Berrío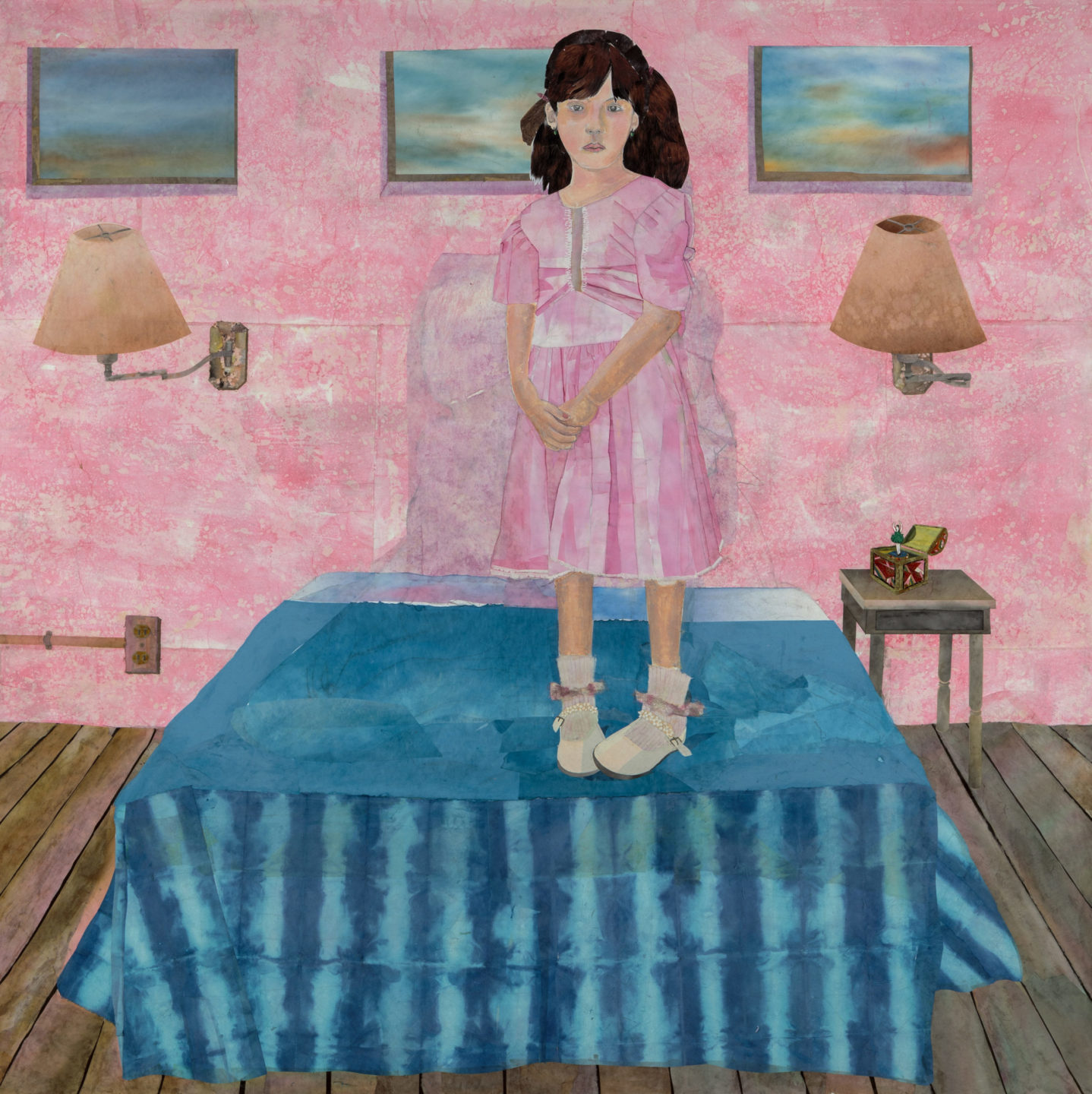 Collage with Japanese paper, watercolour paint, and coloured pencils on canvas
213.4 x 213.4 cm
84 x 84 in
'The room is not merely a refuge but a stage in which the girl acts out the drama of creation; it is a place of world-making.' — María Berrío
Based in Brooklyn, María Berrío was born and grew up in Colombia. Her works, which are meticulously crafted from layers of Japanese paper, reflect on cross-cultural connections and global migration seen through the prism of her own history.
Ananda Tandava, 2020, initiates a series of works that explore the silence that follows in the wake of a catastrophe, the modes of resilience and adaptation that arise alongside the crushing devastation of loss. In this painting, a girl stands perched on her bed. A music box sits on the nightstand to her left. Alone in her room, the girl is in the process of creating her own imaginary universe, as any child left to her own devices might do. Within the confines of her pink room, she dances out the rhythms of her own inner world. These dances follow the rhythms of the Hindu god Shiva, who dances the Ananda Tandava (the dance of bliss), a cosmic dance whereby the entirety of existence, from birth to end, is articulated by the choreographed movements of the divine dancer. The three paintings that hang on the wall behind the girl symbolise the new heavens that she is in the process of dancing into existence.
---
Secundino Hernández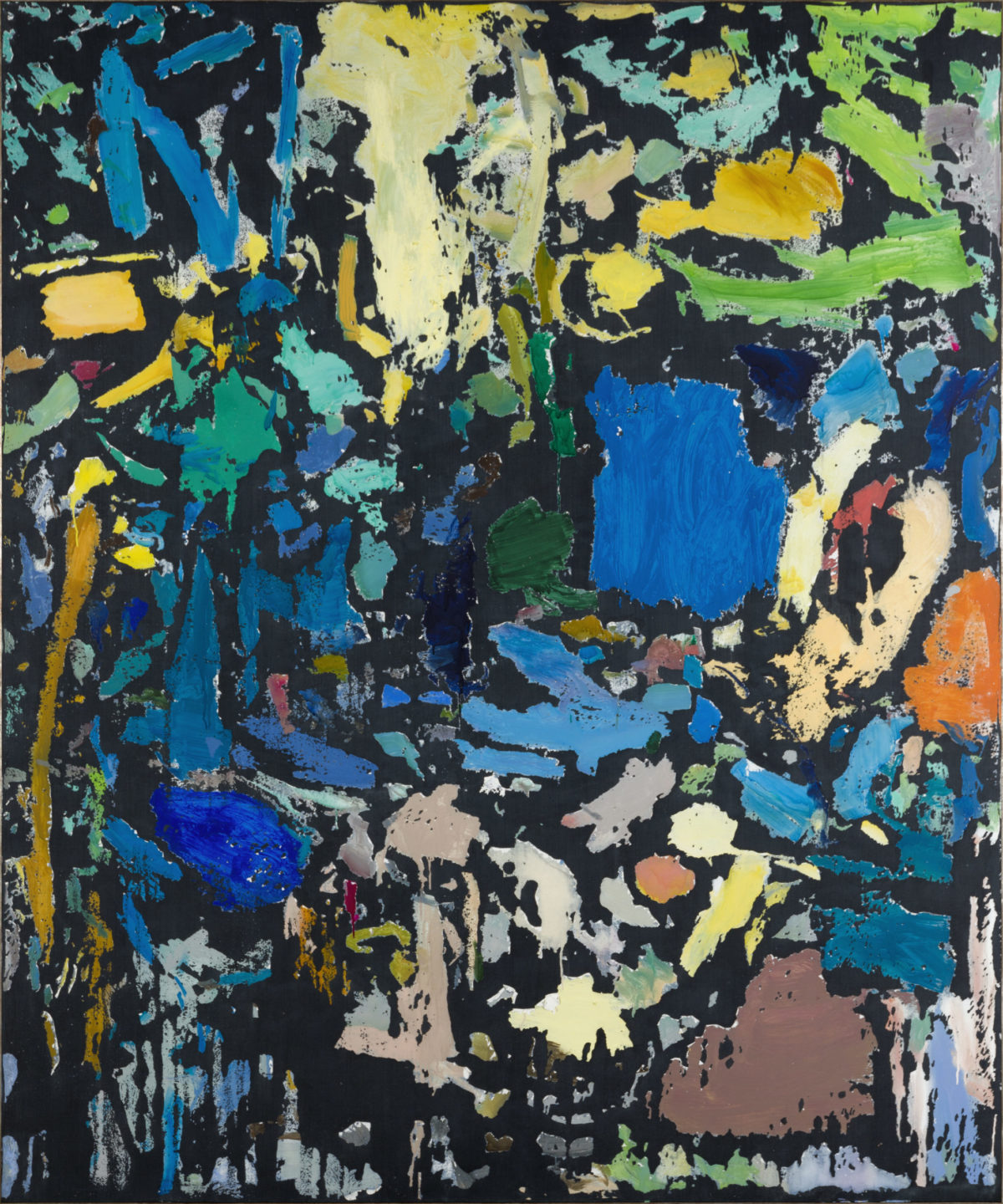 Acrylic and dye on linen
241 x 200 cm
94 7/8 x 78 3/4 in
Secundino Hernández, Untitled, 2020
More info
One of the most dynamic painters of his generation, Secundino Hernández is acclaimed for his spirited enquiry into the language, history and enduring potential of abstraction.
Untitled, 2020, continues the artist's investigation into the vocabulary of painting – line, form, gesture and colour – and historical classifications of the medium – action and colourfield painting – to create images that, radiating a sense of urgency, explore not only their own process of creation but our responses to a painted surface. For Hernández, painting is both a physical and cerebral activity, a conduit for intellectual and philosophical enquiry. Whether employing strong linear elements, by turns painterly or calligraphic, or rich bursts of colour, his work corrals diverse influences within a signature abstract language, often collapsing traditional distinctions and hierarchies.
---
Yayoi Kusama
'What appealed to me most was the pumpkin's generous unpretentiousness. That and its solid spiritual balance.' — Yayoi Kusama
Throughout her career, Yayoi Kusama has developed a unique and diverse body of work that, highly personal in nature, connects profoundly with global audiences. She is one of the world's most celebrated artists.
Pumpkin (M), 2016, is an iconic bronze pumpkin sculpture impressed with a pattern of black circles within its mirror-polished surface, which catches and reflects ambient light. It is among the first mirror polished bronze pumpkin sculptures created by Yayoi Kusama and integrates many key aspects of the artist's practice: the reflectivity of the mirror, the repeating pattern of dots, a juxtaposition of light and dark, connotations of growth and fertility and the almost-mythical status of the pumpkin in her art. Completed in a signature palette of yellow and black, INFINITY-DOTS [EFY], 2014, incorporates two motifs for which the artist is most celebrated – the dot and the pumpkin pattern. Almost abstract, its dotted vertical forms pulsing with optical energy, INFINITY-DOTS [EFY] reflects Kusama's lifelong preoccupation with the infinite and sublime, as well as the twin themes of cosmic infinity and personal obsession as found in pattern and repetition. Pumpkin, 1995, is an iconic pumpkin painting. After her return from New York to Japan in the 1970s, Kusama rediscovered the theme and began making works depicting the pumpkin in various media. The artist has a strong personal identification with the pumpkin, and has described her images of them as a form of self-portraiture. She admires pumpkins for their hardiness and everyday quality, as well as for their unique and pleasing physical qualities.
---
Wangechi Mutu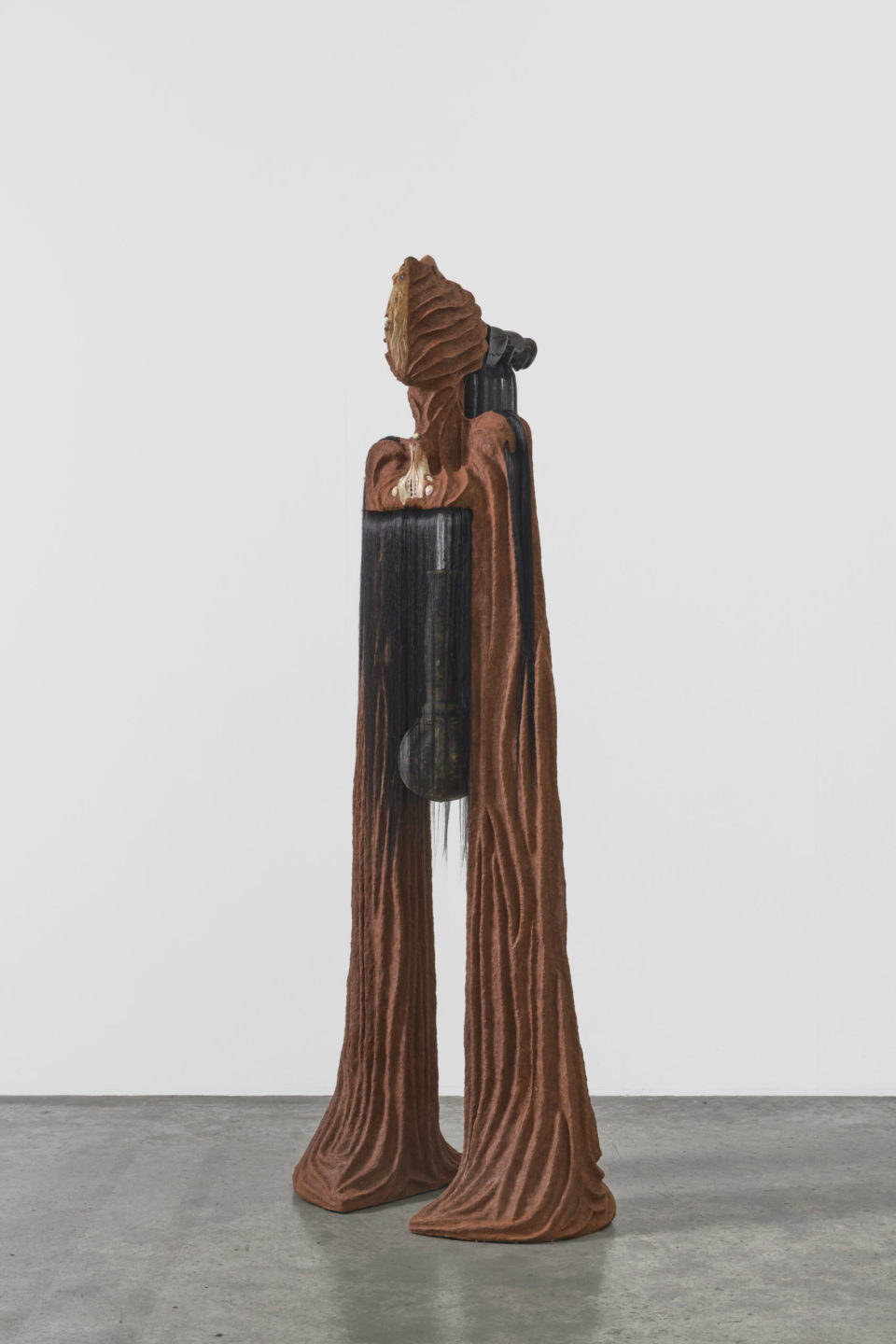 Red soil, paper pulp, synthetic hair, steel nails, wood (Croton Megalocarpus), Turkana milk gourd, ebony curio figure, bone, horn, moon shell, oyster shell and rhinestones
194 x 78 x 74 cm
76 3/8 x 30 3/4 x 29 1/8 in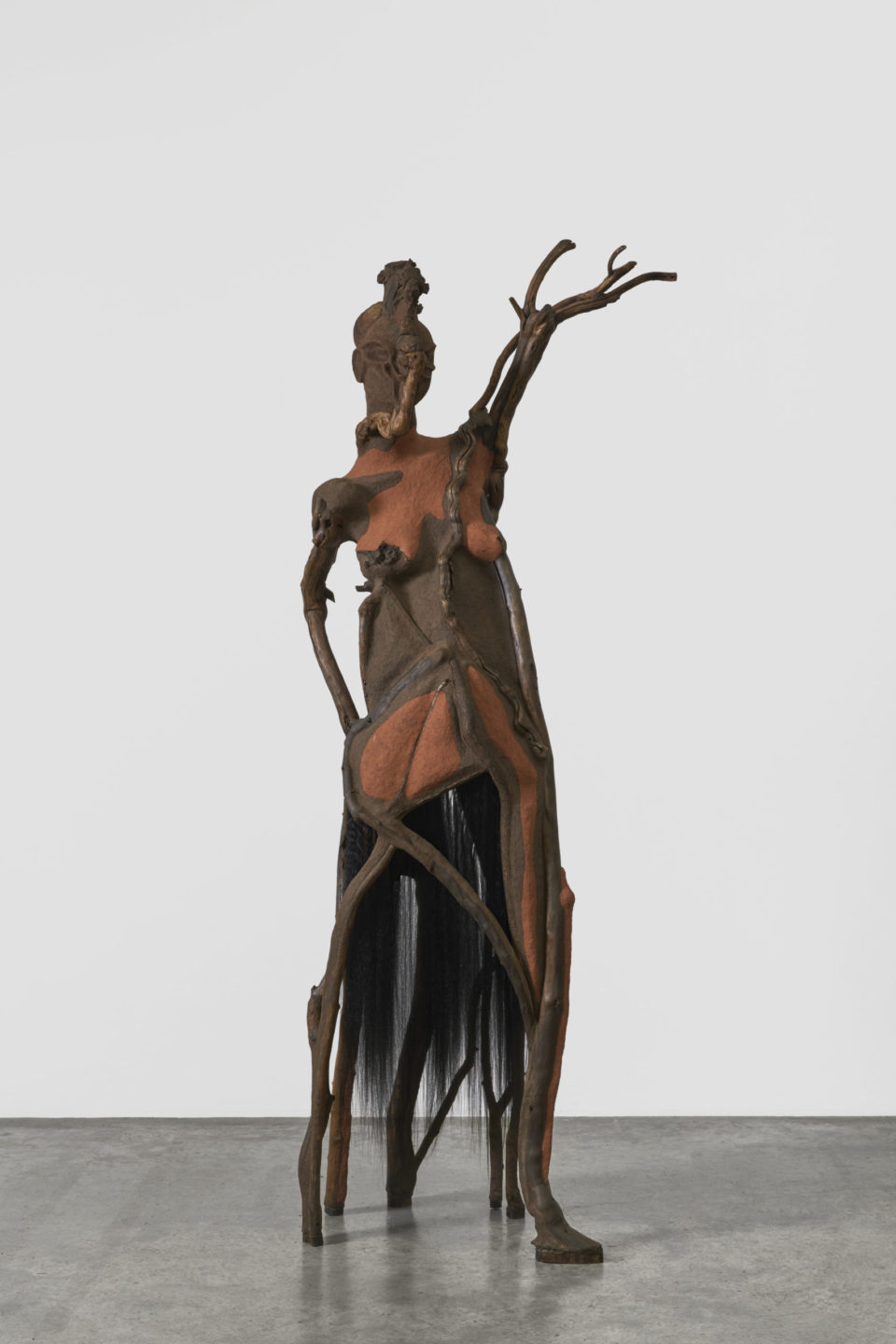 Paper pulp, wood glue, soil, emulsion paint, charcoal, ink, coconut, hair wood (Natal Rhus (Rhus Natalensis), Silver Oak (Grevillea robusta), Croton (Croton Megalocarpus) and Jacaranda (Jacaranda Mimosifolia)
216.2 x 59.1 x 59.1 cm
85 1/8 x 23 1/4 x 23 1/4 in
'I work with nature and the female form and I combine and distort them. I'm changing these figures and shape-shifting together with them.' — Wangechi Mutu
In her expansive and diverse practice, Wangechi Mutu focuses on the female body, looking at sexuality, race, ecology, cultural trauma, politics, the rhythms and chaos of the world and the damaging or futile efforts to control it and the price this reaps on the bodies of women.
The two works on view are recent sculptures created using a combination of manufactured man-made materials and organic substances grown and found in the earth around her studio. Sacrum Heart, 2019, celebrates the link between our human body and that of the life-force of plants, animals and the natural world. It emphasises the powerful and inescapable symbiotic connections that determine our common fate. Sentinel IV, 2020, is one of the latest of the artist's Sentinels, examples of which were featured in the 2019 Whitney Biennial. These stand as harbingers of the acute imperative to improve our relationship with each other and our planet, or to accept that environmental destruction will inevitably decide our fate for us.
---
Grayson Perry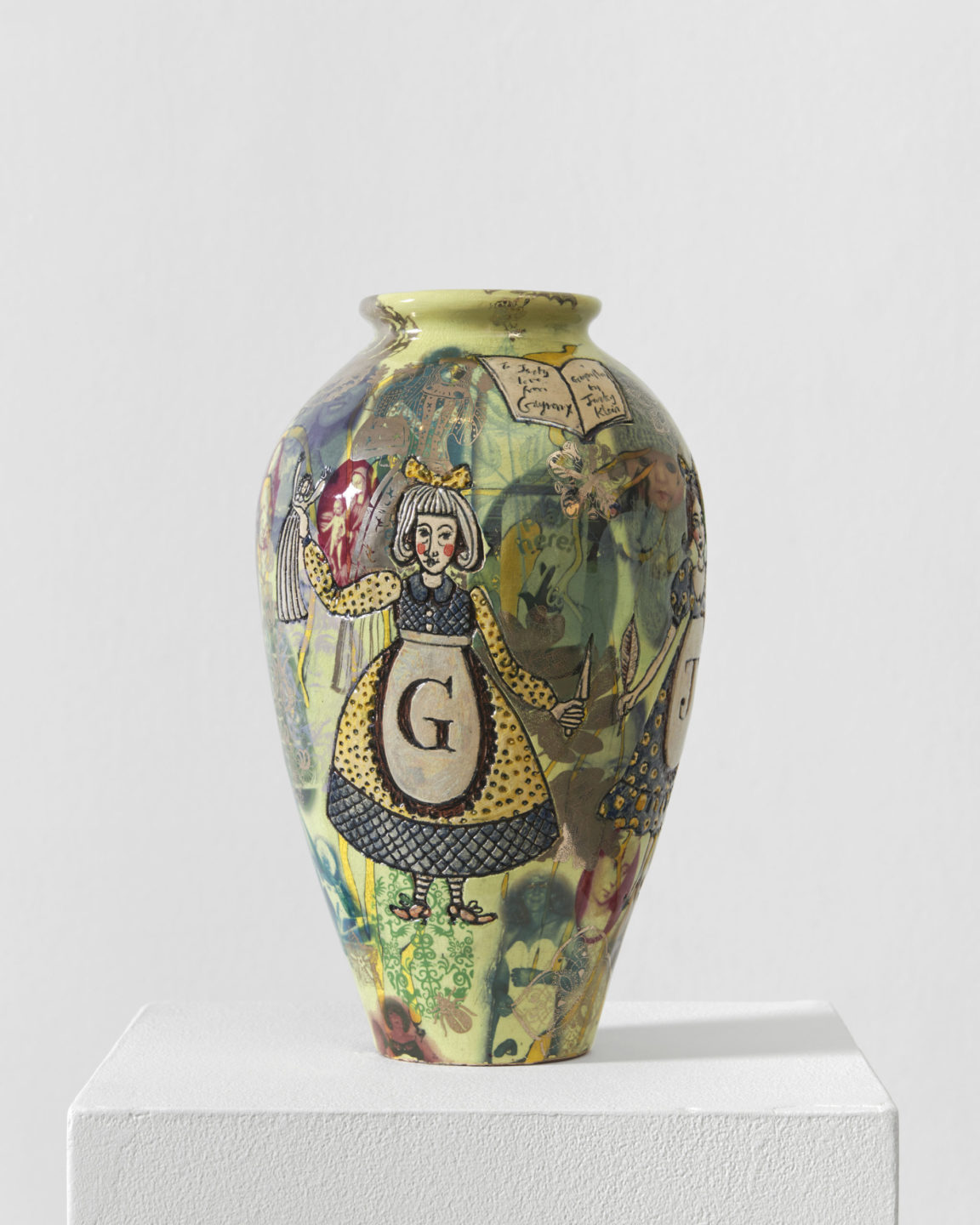 Glazed ceramic
31 x 18 x 18 cm
12 1/4 x 7 1/8 x 7 1/8 in
Grayson Perry, A Paper Tombstone, 2009
More info
In his work, Grayson Perry tackles subjects that are universally human: identity, gender, social status, sexuality, religion. Autobiographical references can be read in tandem with questions about décor and decorum, class and taste, and the status of the artist versus that of the artisan.
Perry made A Paper Tombstone, 2009, to celebrate the publication of the first major monograph on his work, published that year and recently updated and expanded. The pot is covered in his signature layered imagery. Incised sgraffito drawings include a depiction of the artist himself, dressed as Claire and holding a doll and potter's knife. Perry titled this piece A Paper Tombstone, the name he wittily conjured for the book itself, which he felt could stand as a memorial to his life and work.
---
Howardena Pindell
'I did not intentionally want to create a form or image, I was just layering veils of colour, one over the other.' — Howardena Pindell
Working across figuration, abstraction and conceptualism, Howardena Pindell has since the 1970s examined a wide range of subject matter, from the personal and diaristic to the social and political.
The large-scale painting Untitled, 1972, investigates themes of control and chance that have been of interest to the artist since the beginning of her career. Pindell's spray paintings of this period were made by the artist using as templates discarded cardstock, manila folders and heavy watercolour paper, from which holes were then punched. Spraying paint directly through these perforations, and repeating the process across her large-scale canvases, Pindell arrived at a series of sublime abstract works that are by turns smoulderingly intense and shimmering with light. Through the repeated action of paint, her serried ranks of dots, grid-like in essence, become endlessly shifting in their overlays, supporting myriad fluctuations of light, tone and colour. A kind of pointillism freed from the burden of figurative description, this energised, optical field, which reads as predominantly of a single hue from a distance, up close unfolds as a series of shifting, wave-like sensations.
---
Sarah Sze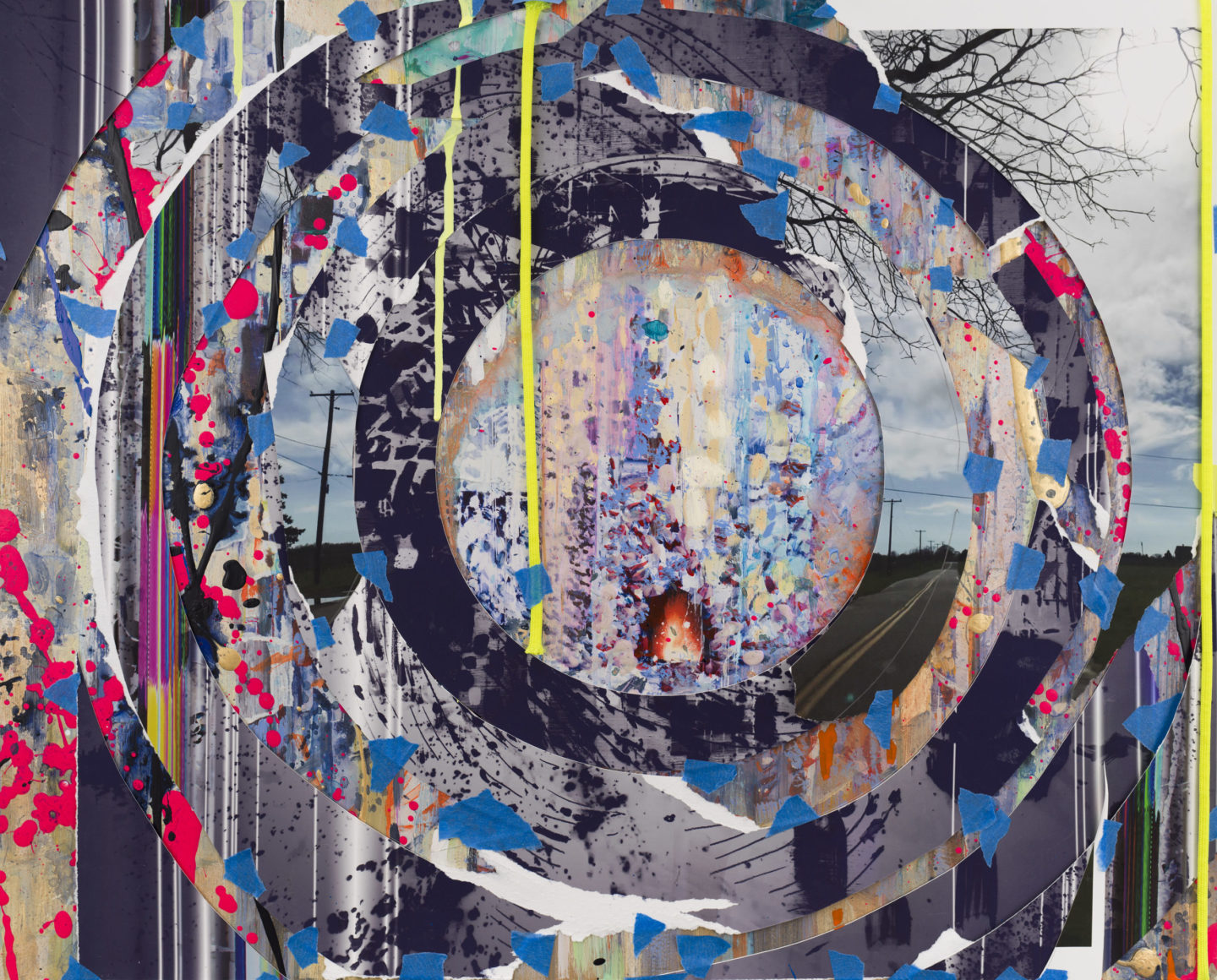 Oil paint, acrylic paint, acrylic polymers, ink, aluminium, archival paper, cord, diabond and wood
40.6 x 50.8 cm
16 x 20 in
Since the late 1990s, Sarah Sze has developed a signature visual language that challenges the static nature of sculpture. Drawing from Modernist traditions of the found object, Sze dismantles their authority with dynamic constellations of materials that are charged with flux, transformation and fragility.
Celebrated for her intricate multimedia installations, in recent years Sze has returned to painting, in which she first trained. In new wall-based works such as Open Shutter, 2020, the picture plane becomes a site of dynamic experimentation, where ideas in their conception are mapped out and traces of multiple image-making mediums are variously reframed and refracted, collapsed and unified. Open Shutter continues the artist's decades-long exploration of the ways in which the proliferation of images – printed in magazines and newspapers, gleaned from the Web and television, intercepted from outer space, and ultimately imprinted on our conscious and unconscious selves – fundamentally changes our relationship to physical objects, memories and time.
---
Adriana Varejão
'My fiction does not belong to any time or place, instead it is characterized by themes dealing with rupture and discontinuity.' — Adriana Varejão
One of the most original and significant voices in contemporary Brazilian art, Adriana Varejão is celebrated for a materially diverse practice comprising painting, sculpture, drawing, installation and photography.
Being a recurring motif since early in her career, the azulejo [tile] forms a significant aspect of  Varejão's work and her use of it is as hybrid as her art. This characteristic element of Portuguese decoration carries a variety of influences ranging from Moorish artisans through to Dutch Delftware and Chinese ceramics. Introduced to Brazilian culture by the Portuguese during the colonial period, the tile can be seen as an allegory for cultural integration.
Pearl Song II, 2019, is one of Varejão's most recent series of Monochromes inspired by ceramics from the Chinese Song dynasty, with its delineation of cracks on the surface of the work created in part by chance. This piece was recently shown as part of the acclaimed exhibition Interiorities at Haus der Kunst, Munich. Azulejão Português [Big Portuguese Tile], 2018, alludes to tiles used on the façades of Portuguese buildings during the nineteenth century. The chosen geometric pattern belongs to the transition period from artisanship to mechanical reproduction of tiles. In both paintings, the crackling surfaces can be seen as a vestige of the passage of time; also, these paintings propose to reconstruct the azulejo as a three-dimensional, almost sculptural object.
---
Spotlight Talk with Matt Carey-Williams
Victoria Miro's Head of Sales, Matt Carey–Williams, discusses works by five artists in the gallery's online viewing room