María Berrío: The Cuttings
Frieze New York
Booth A5
18–22 May 2022

The Cuttings, 2022
Japanese papers and watercolor paint on linen
132.1 x 86.4 cm
52 1/8 x 34 1/8 in
Victoria Miro presents a significant new painting by María Berrío at Frieze New York, to be sold in support of UNICEF's humanitarian response in Ukraine and its work helping children affected by emergencies around the world.
All profits from the sale will be donated to UNICEF to support its lifesaving work protecting children caught up in humanitarian emergencies, including Ukraine.
The work will be for sale through sealed bids, with a reserve price of $100,000. The gallery will be accepting bids until the close of Frieze New York at 5pm EDT on Sunday 22nd May.
To register your bid please email Clare Coombes: clare.coombes@victoria-miro.com
---
The Cuttings, 2022
'This work is meant as a reminder of the fragility of all our existences, how suddenly everything can be taken away…' — María Berrío
Speaking about this new painting the artist says: 'In this work, a young woman holds a bouquet of fresh flowers, symbol of the blossoming youth cut down in the carnage of war. The bright yellows and oranges of the petals are seen against a backdrop of foreboding, smoggy brown and grays: it is a brief brightness, soon to be overtaken and smothered by the hues of smoke and rubble, the colors left in war's wake.
'My hope is that the raising of funds from this painting helps provide shelter and food for the people of Ukraine and other nations. This work is meant as a reminder of the fragility of all our existences, how suddenly everything can be taken away: our nations, cities, families are all perched atop thin stalks. It is the flimsiest of structures that supports our beautiful lives.'
---
About the artist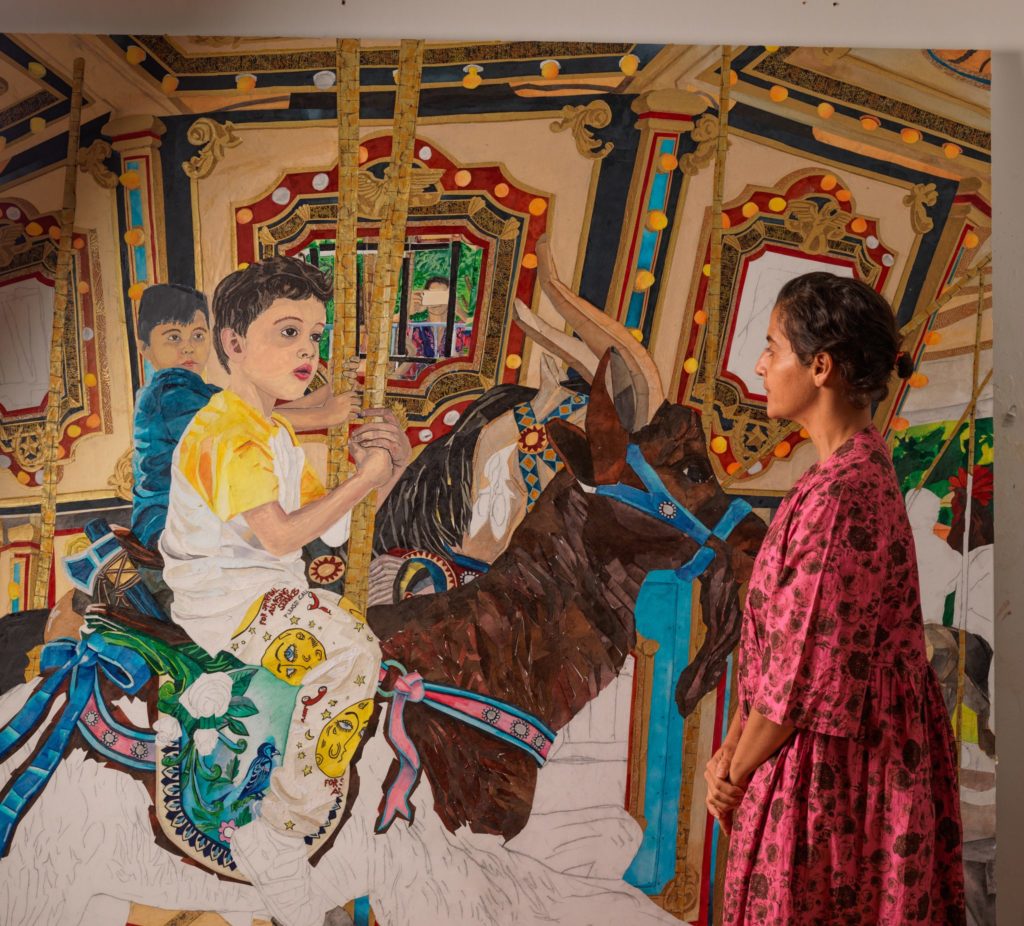 Based in Brooklyn, María Berrío grew up in Colombia. Her works, which are meticulously crafted from layers of Japanese paper, reflect on cross-cultural connections and global migration seen through the prism of her own history.
Her work has been shown as part of significant exhibitions at The Bronx Museum of the Arts, New York; Philadelphia Museum of Art, USA; Nasher Museum of Art, USA; Prospect.4 Triennial, New Orleans; and the Museo del Barrio, New York. The artist's first survey show María Berrío: Esperando mientras la noche florece (Waiting for the Night to Bloom) was on view at The Norton Museum of Art in West Palm Beach from January until May 2021. Her work is currently featured in Women Painting Women, a thematic exhibition featuring 46 female artists who choose women as subject matter in their works, on view at The Modern, Fort Worth, 15 May–25 September 2022. Also this spring, The Institute of Contemporary Art, Miami will display recent acquisitions for the first time, including Berrío's 2020 sculpture The Petition. Additionally, the artist's work will be included in a major group exhibition opening in September at The DePaul Art Museum in Chicago, titled A Natural Turn.
Berrío's work is in permanent collections including the Whitney Museum of American Art, New York, USA; National Gallery of Art, Washington DC; Crystal Bridges Museum of American Art, USA; Nasher Museum of Art at Duke University, USA; Pérez Art Museum, Miami, USA and Pennsylvania Academy of the Fine Arts, Philadelphia, USA, among others.
---
About UNICEF
UNICEF works in the world's toughest places to reach the most disadvantaged children and adolescents – and to protect the rights of every child, everywhere. Across more than 190 countries and territories, we do whatever it takes to help children survive, thrive and fulfill their potential, from early childhood through adolescence.
The world's largest provider of vaccines, we support child health and nutrition, safe water and sanitation, quality education and skill building, HIV prevention and treatment for mothers and babies, and the protection of children and adolescents from violence and exploitation.
Before, during and after humanitarian emergencies, UNICEF is on the ground, bringing lifesaving help and hope to children and families. Non-political and impartial, we are never neutral when it comes to defending children's rights and safeguarding their lives and futures.
And we never give up.
UNICEF does not endorse any company, brand, product, or service.
---