Conrad Shawcross: Fracture Array (T14C27), 2020
London Collective on Vortic Collect
27 October–24 November 2020
Victoria Miro is delighted to premiere a major bronze triptych by Conrad Shawcross.
Conrad Shawcross creates sculptures and installations that, imbued with an appearance of scientific rationality, explore subjects that lie on the borders of geometry and philosophy, physics and metaphysics. Inspired by different technologies, the artist's structures may retain in appearance the authority of machines – yet, they remain enigmatic, filled with paradox and wonder.
The first triptych in the artist's Fracture series, Fracture Array (T14C27) is specially created for this presentation. Borne out of his celebrated Paradigms, which are an ongoing exploration of the tetrahedron – geometrically a four-sided non-tessellating form and conceptually the symbol of an indivisible unit of matter – Shawcross' Fractures are ethereal forms that seem almost to disappear as they rise up and expand. Imbued with references to the manmade and natural worlds, each Fracture contains a central helical stem, a twisting spine that supports a series of branches which in turn support hundreds of fragments that dissipate in precise formation.
A distinct temporal aspect is amplified when seen across the three-fold dramatic structure of the triptych, a form that signalling progression echoes the rhythms and cycles of nature. As the artist comments, 'My work is very much about light and movement. These Fractures, this triptych – an array of growth projections which ascend upwards, one growing slowly, another more rapidly and a third extremely quickly – are all about change and entropy, about growth, expansion, time and decay.'
The exhibition is also available to view via the App Store on Vortic Collect
---
1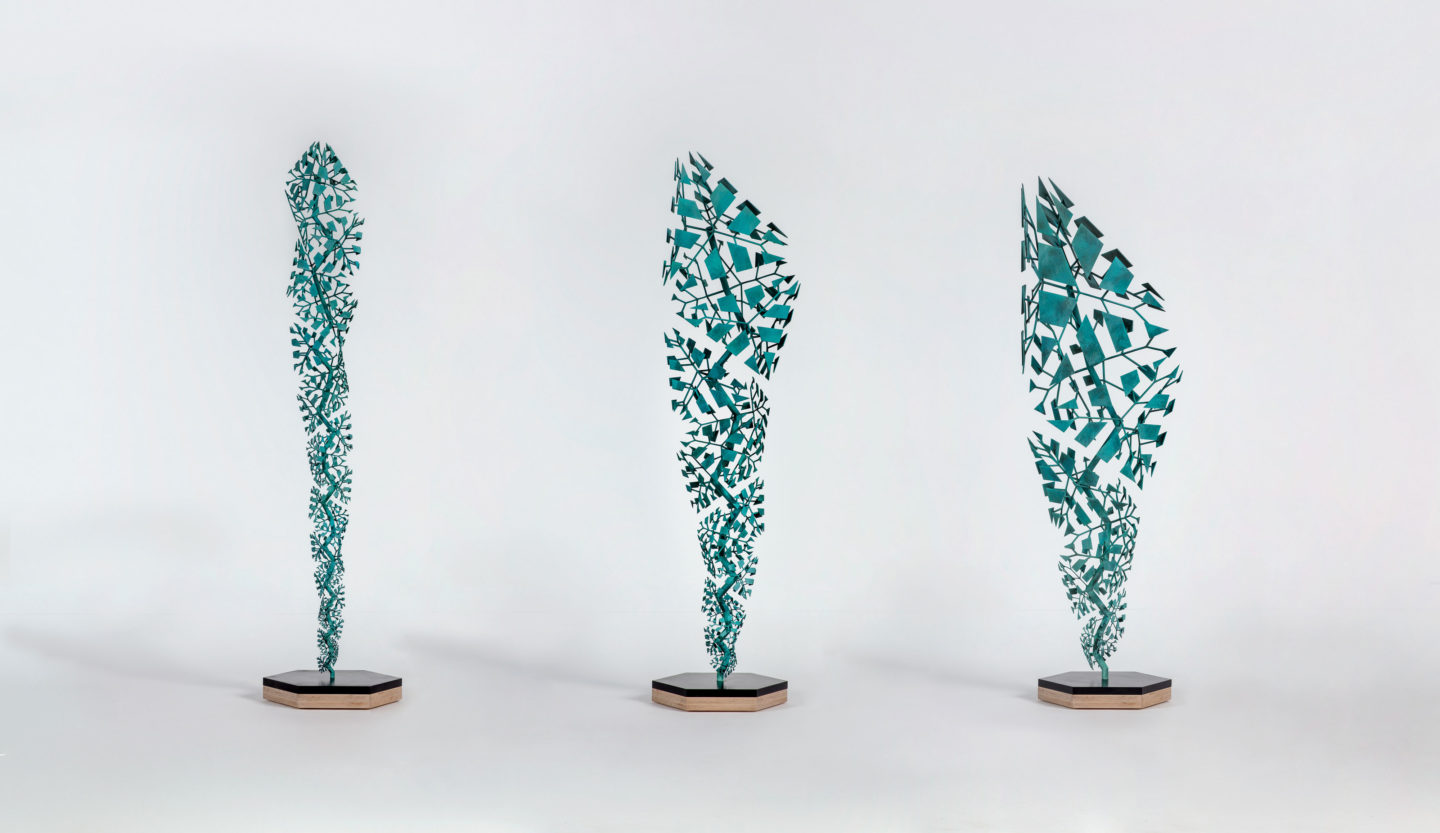 Dimensions variable
Slender: 137.5 x 22.5 x 20 cm (54 1/8 x 8 7/8 x 7 7/8 in)
Regular: 138 x 37 x 44.5 x cm (54 3/8x 14 5/8 x 17 1/2 in)
Broad: 132.5 x 57 x 47 cm (52 1/8 in x 22 1/2 x 18 1/2 in)
Conrad Shawcross, Fracture Array (T14C27), 2020
More info
'These particular works, because of their green colour, their patina, have the most natural reference to foliage and leaves.'— Conrad Shawcross
For Shawcross, an aesthetic of the designed, the scientific and the rational serves as a device to cloak more poetic, philosophical and metaphysical themes, which are foregrounded in his Fractures. As he says, 'These Fractures have many references. They are, on one level, very industrial and geometric. On another level, I've taken references from the pattern on a giraffe's neck, to the dappled light of the sun through a woodland canopy, to the bifurcation of trees and the way that branches grow, emanate and spread… These particular works, because of their green colour, their patina, have obviously the most natural reference to foliage and to leaves. I hope on the one hand that they feel very industrial, refined and minimal and on the other that they have this resonance that sends your brain back to something that's familiar, something that's natural, something that is profound and beautiful and ubiquitous.'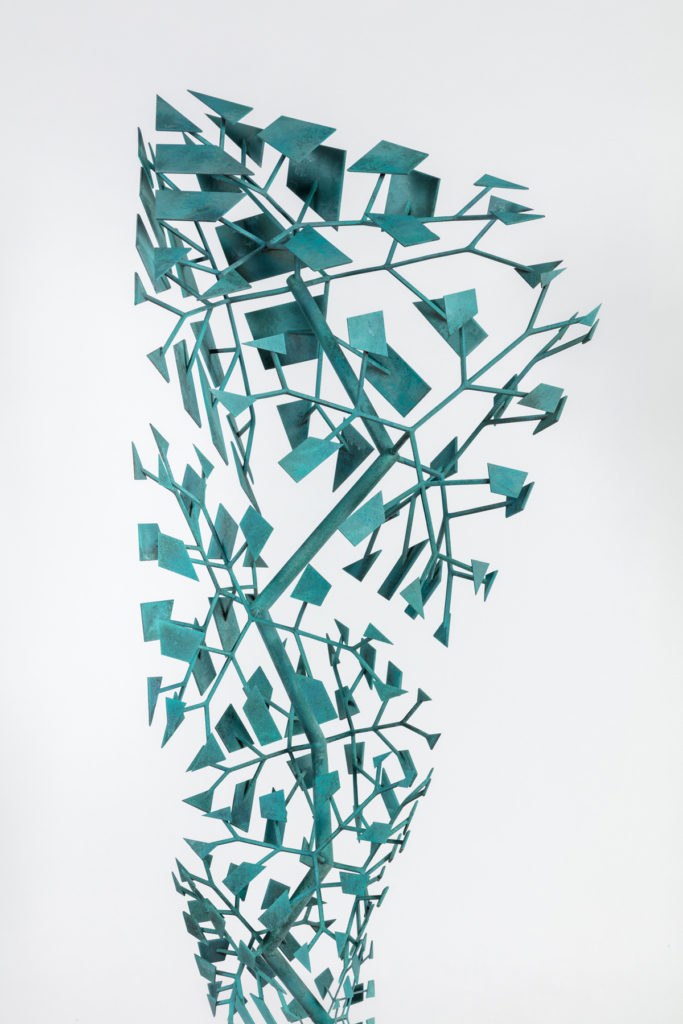 ---
About the artist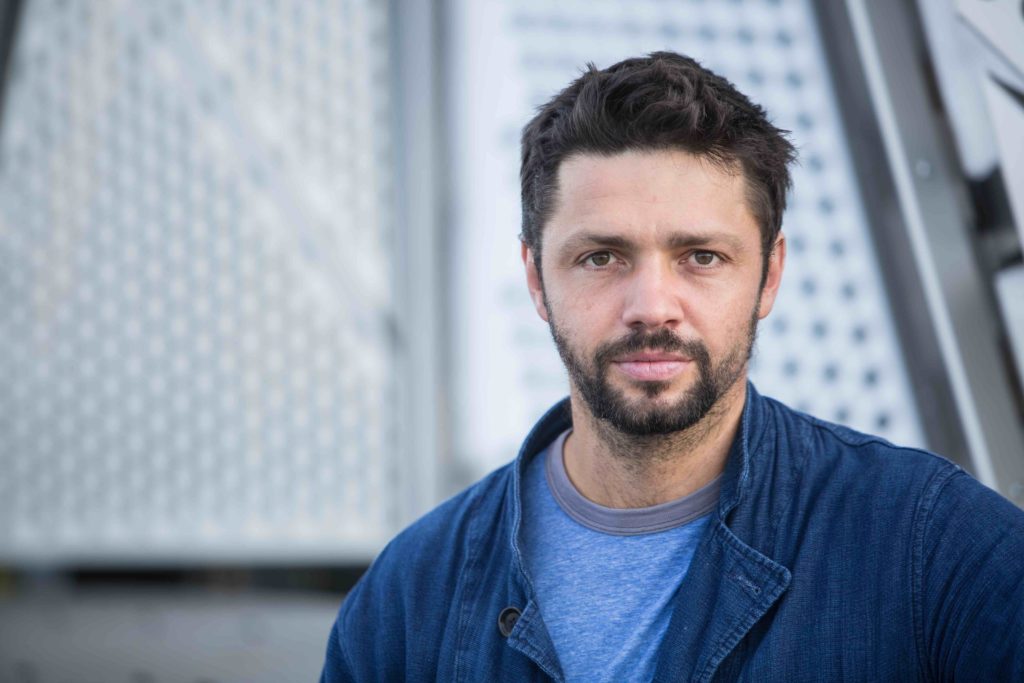 Conrad Shawcross, RA, was born in 1977 in London, where he currently lives and works. Major exhibitions and commissions for 2020 include Escalations, a recent solo exhibition held at  Chateau La Coste, Provence, France, where the artist's monumental new permanent commission Schism (Château La Coste) is on view; Pioneering Places, a major public art work for Ramsgate Royal Harbour, UK; and an exhibition to mark the 800th anniversary of Salisbury Cathedral, Wiltshire, UK.
Major commissions and works in the public realm include: Bicameral, a permanent commission for Chelsea Barracks, curated by Futurecity, London (2019); Exploded Paradigm, permanent commission, Comcast Technology Centre, Philadelphia, USA (2018); The Interpretation of Movement (a 9:8 in blue), HS1 Terrace Wires commission in conjunction with The Royal Academy, St Pancras International station, London (on view during 2017); The Optic Cloak, permanent commission for The Energy Centre Greenwich Peninsula, London (2016); Paradigm, permanent commission for the Francis Crick Institute, London (2016); Three Perpetual Chords, permanent commission for Dulwich Park, London, curated and managed by the Contemporary Art Society for Southwark Council (2016). Shawcross will create a major new public artwork for the Crossrail Elizabeth line at Liverpool Street, London. Titled Manifold, the bronze sculpture will be positioned outside the Moorgate entrance of the new station when it opens in 2022.
The artist has had solo exhibitions at international institutions including: Yorkshire Sculpture International, Dean Clough, Halifax, UK (2019); Wadsworth Atheneum Museum of Art, Hartford, Connecticut, USA (2018); the New Art Centre, Roche Court, East Winterslow, Salisbury, UK (2015); ARTMIA Foundation, Beijing, China (2014); MUDAM, Luxembourg (2012); Science Museum, London, UK (2011–2012); Turner Contemporary, Margate, UK (2011); and Oxford Science Park, UK (2010).
---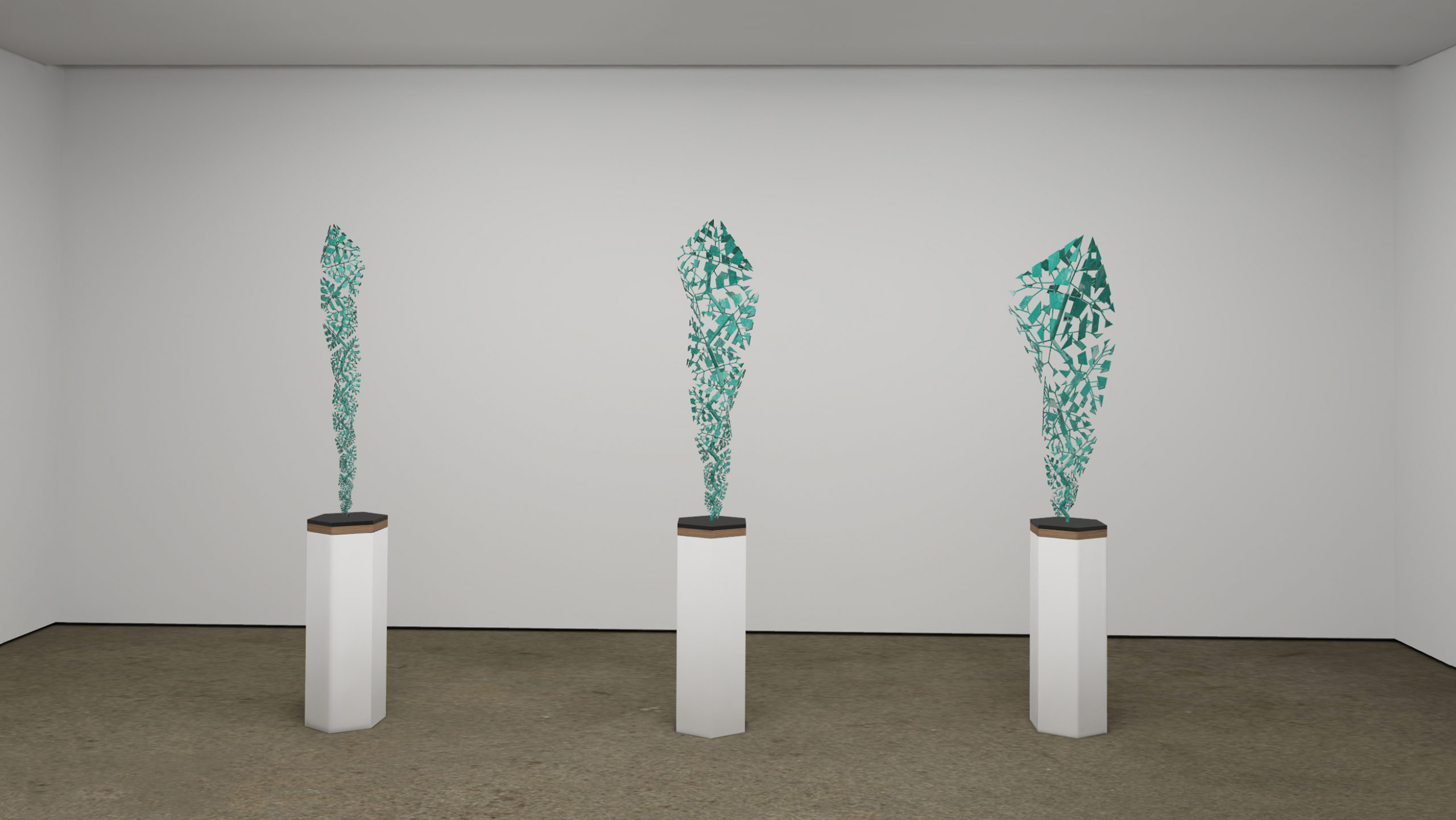 About London Collective on Vortic Collect
London Collective is a section on the Vortic Collect app bringing together 40 of the UK's best commercial galleries to present exhibitions on the new extended reality app for the art world.
London Collective consists of 42 art dealers and gallerists who came together in recognition that this is a defining moment of change in how art is accessed. In the London Collective section of the Vortic Collect app, galleries show specially curated presentations, providing them with an additional virtual space to complement their physical gallery programmes.
The initiative enables galleries to support one another by sharing their audiences and enables visitors to simulate the experience of visiting multiple London gallery locations.
Learn more about Vortic here.
For enquiries regarding featured works and other matters, please contact the below:
Victoria Miro: salesinfo@victoria-miro.com
Vortic: enquiries@vorticxr.com