John Kørner: Cosmopolitan Super Fruits
8 April–14 May 2022
Tuesday–Saturday: 10am–6pm
16 Wharf Road
London N1 7RW
Victoria Miro is delighted to present Cosmopolitan Super Fruits, an exhibition by Danish artist John Kørner.
Following Intercontinental Super Fruits, John Kørner's first solo museum exhibition in the United States (held at the Museum of Contemporary Art Detroit from November 2021 until January 2022 and available to explore on Vortic), this exhibition builds on themes of consumerism, globalisation and networks of distribution and exchange.
Cosmopolitan Super Fruits takes as a starting point the idea of the corner shop, a place of supply and consumption familiar to us all. Always treating content with various degrees of abstraction and metaphor, in this body of work Kørner brings into focus modes of display (fruit on the tree and vine, and picked, packaged and on the shelf) and the movement of foodstuffs as they collide with aspects of contemporary politics and the dissemination of ecological thought in the context of ever-evolving concepts of the local, regional, national and global.
Nourishment – the life-enhancing properties of fruit and the visual and intellectual sustenance of art – is a connecting theme. So too is seduction – fruit's ingenious ways of drawing attention to itself in order to disseminate its seed, versus the artist's deployment of brushmark and colour to carry, Trojan horse-like, a barrage of ideas. In this regard, fruit, a traditional subject in art history carrying intimations of life's brevity in the genre of still life painting, and a longstanding motif in Kørner's art, is deployed to raise questions that place the viewer/consumer squarely at their centre.
Unified by bright white grounds, the works range through formats and scales, travelling through art historical tropes and pictorial languages. Kørner, at times, opens up an illusionistic perspectival space; at others, he keeps the action close to the surface, layered or scroll-like. Here, consumerist expectations of there being, for example, strawberries, watermelon or grapes at perfect ripeness anywhere in the world at any time of the year gives rise, on the one hand, to heady displays of the perpetually sweet, tasty and desirable and, on the other, an acknowledgement of the high-tech and carbon-heavy methods needed to fulfil these demands.
Kørner's Problems – oval or egg-like forms that appear in his paintings and, in this exhibition, as sculptures – allude not to specific problems per se but to the nature of problems as they emerge and are comprehended in the world. They act as metaphors for the human condition. For this exhibition, a number of sumptuously coloured glass sculptures might be considered Fruit Problems, giving physical form to the themes of transportation, consumerism and globalism that run throughout the paintings on view.
As ever, Kørner's work encourages musings that can seem contradictory: on the one hand it is apparently open and easy-going, on the other it seems freighted with awkward questions alluding to specific world events.
---
John Flash Flood Escalator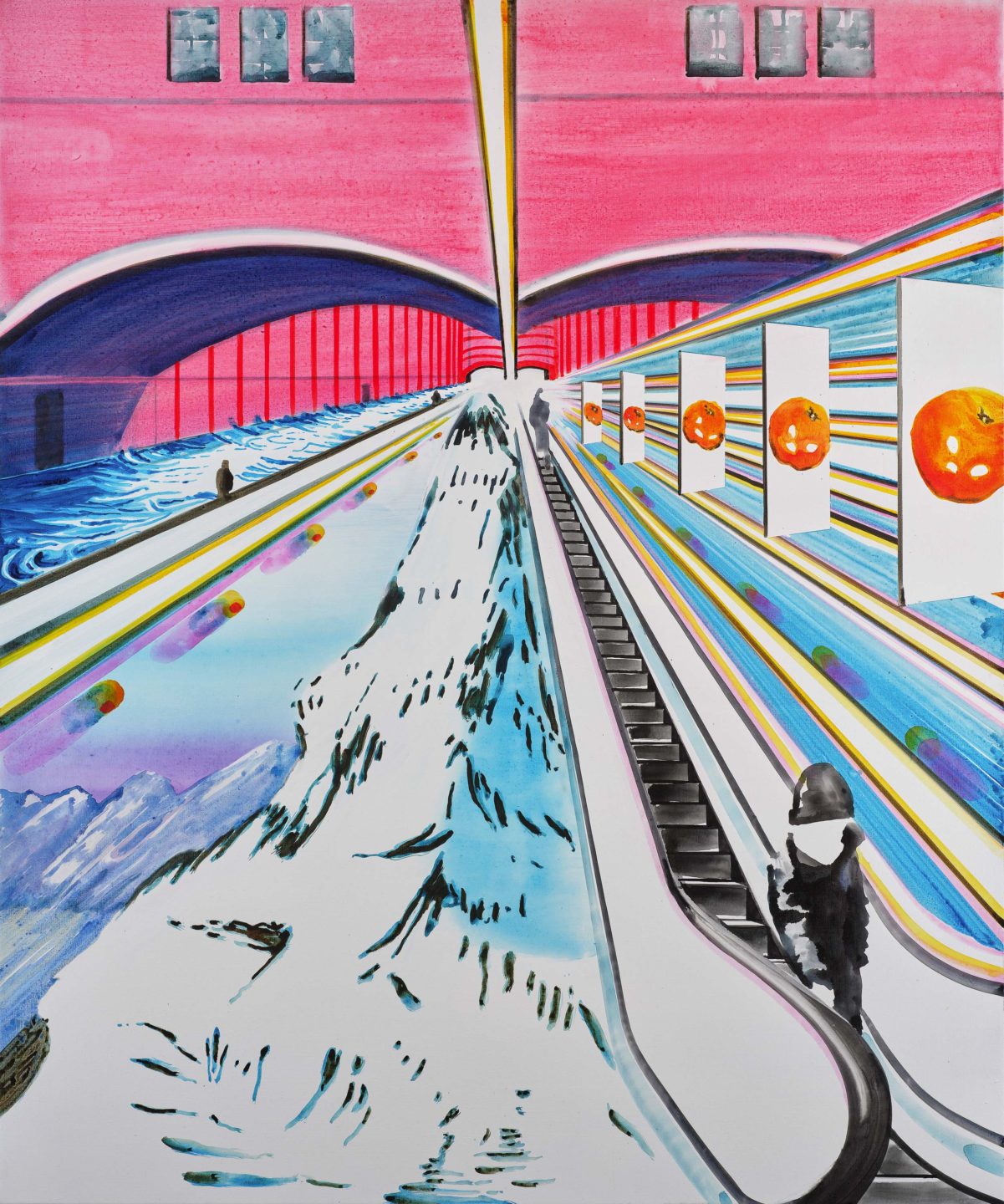 Acrylic on canvas
180 x 150 cm
70 7/8 x 59 1/8 in
John Kørner, Flash Flood Escalator, 2021
More info
'When I'm entering a supermarket, it's a very international atmosphere. I can move forward and buy all kinds of food from around the world at once. In Copenhagen, where I live, it might be winter and one still has the opportunity to buy an orange from South America or an avocado from California.' — John Kørner
---
John Strawberries on vacation Fruits in Süd Tyrol
---
John Jakob in Paris
'When I walk past a fruit market I find it so seductive. I think it's so juicy in a way that you can almost feel the sweet of the fruits. This is why Jakob is painted completely in orange and the architecture is more or less secondary.' — John Kørner
---
John Alquille du Midi's view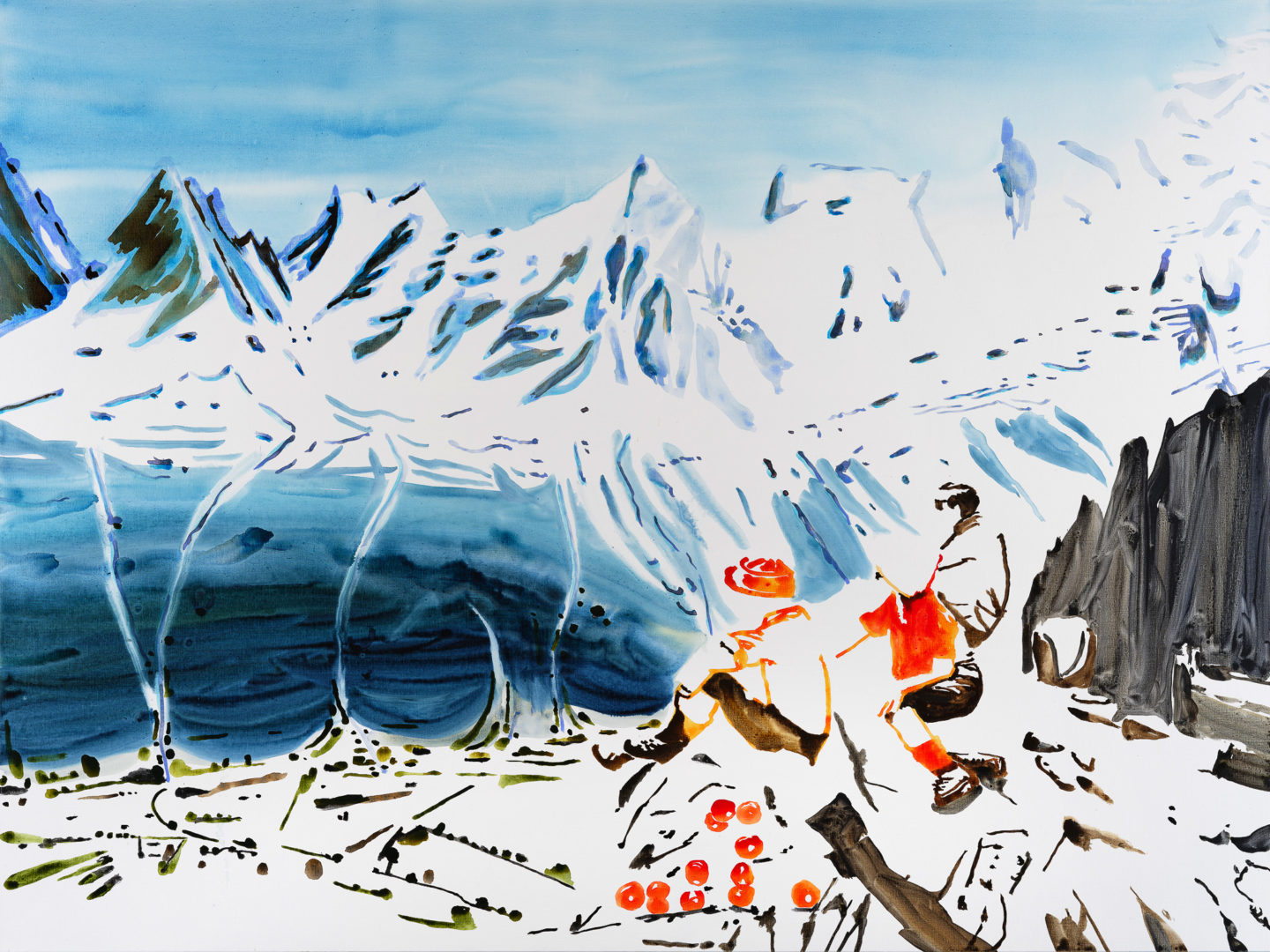 Acrylic on canvas
180 x 240 cm
70 7/8 x 94 1/2 in
John Kørner, Alquille du Midi's view, 2021
More info
'Alquille du Midi's view is a situation I dreamt about, experiencing myself sitting on a top of a mountain and looking down at the valley below and wanting to bring a bucket full of apples. In my eyes, that's really how to connect with nature.' — John Kørner
---
---
John Problems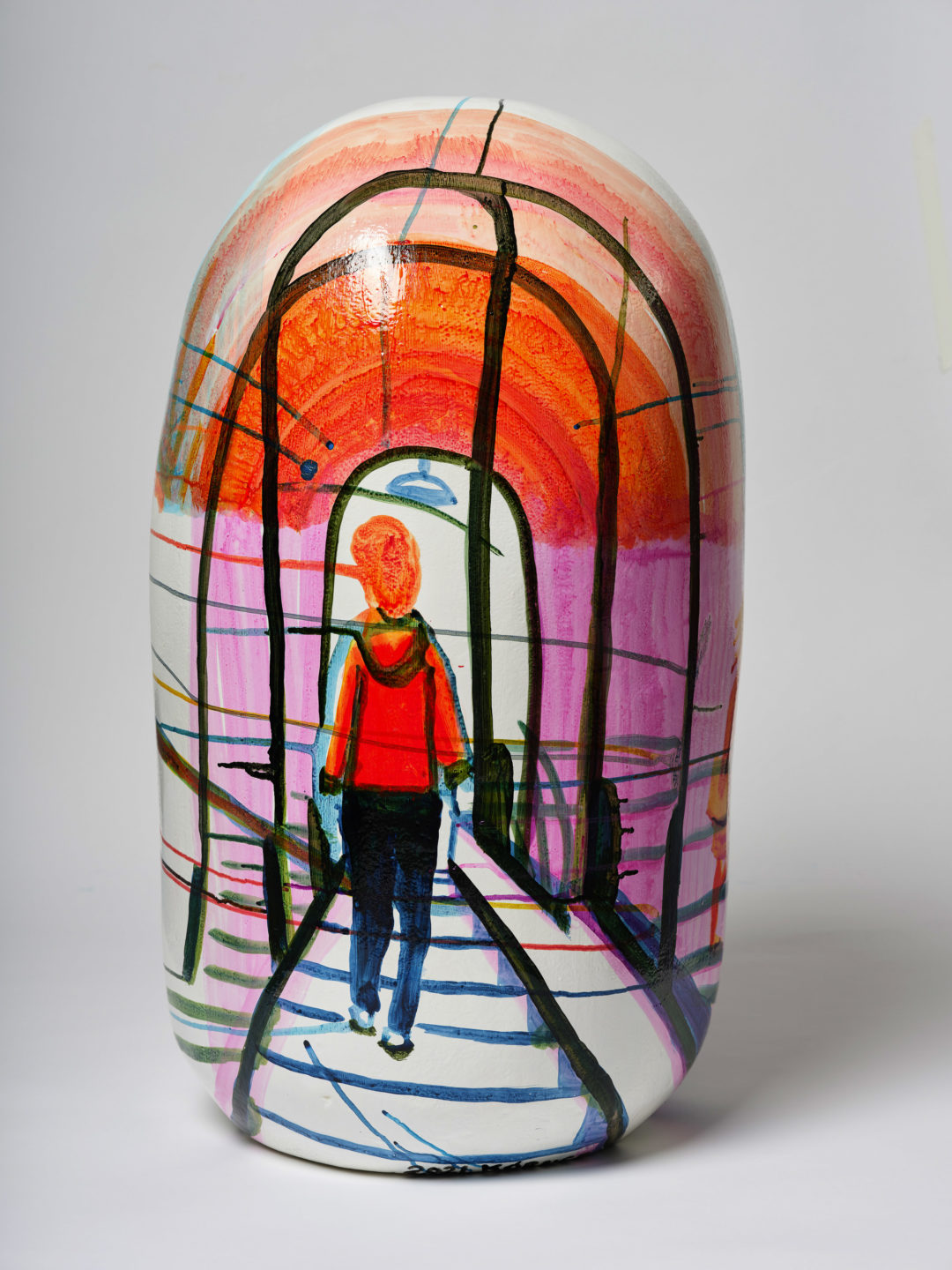 Acrylic, canvas, polystyrene and gesso
100 x 55 cm
39 3/8 x 21 5/8 in
John Kørner, Trying to find the National Rail, 2021
More info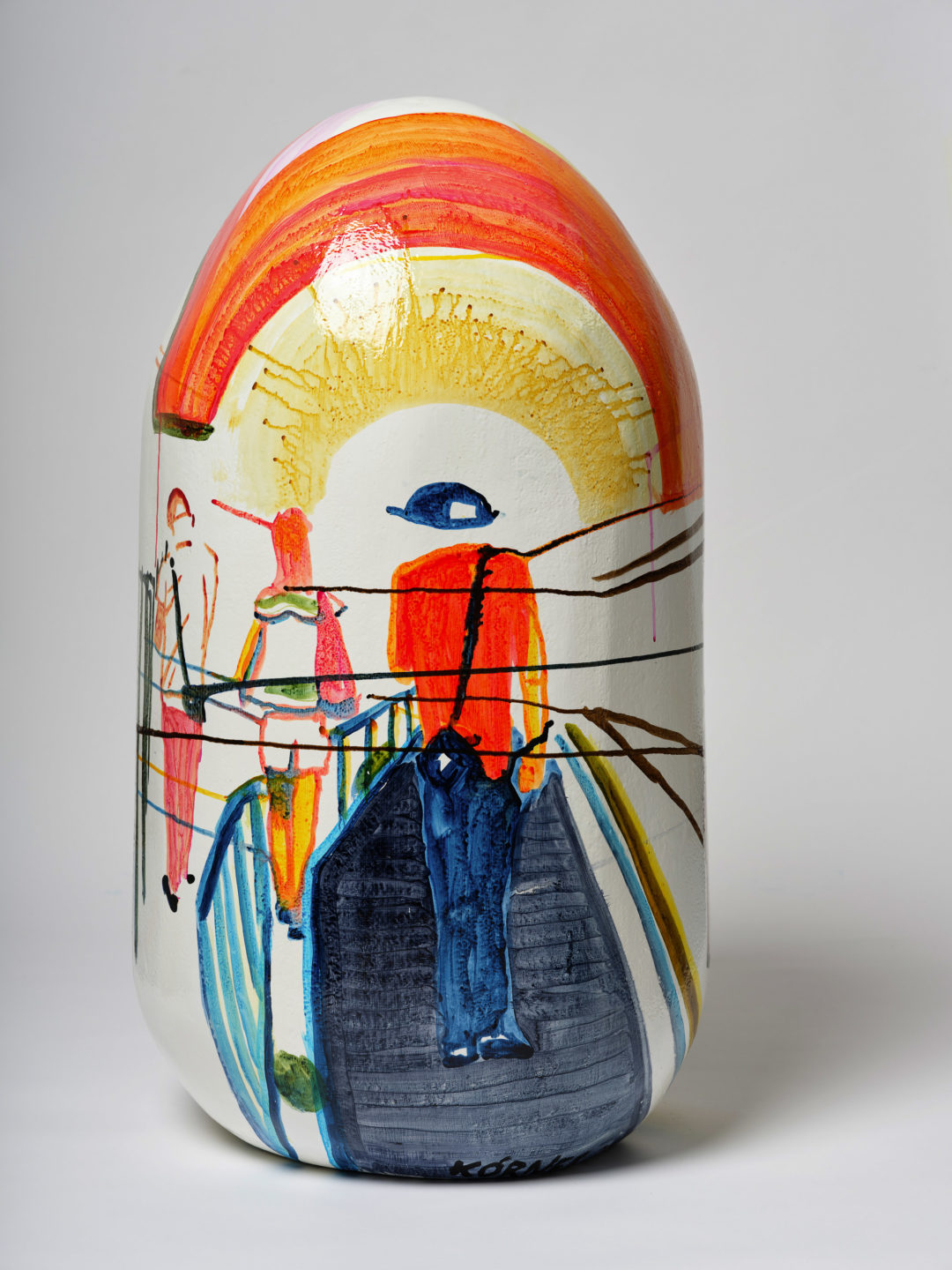 Acrylic, canvas, polystyrene and gesso
100 x 55 cm
39 3/8 x 21 5/8 in
John Kørner, Why are so many people leaving Paris?, 2021
More info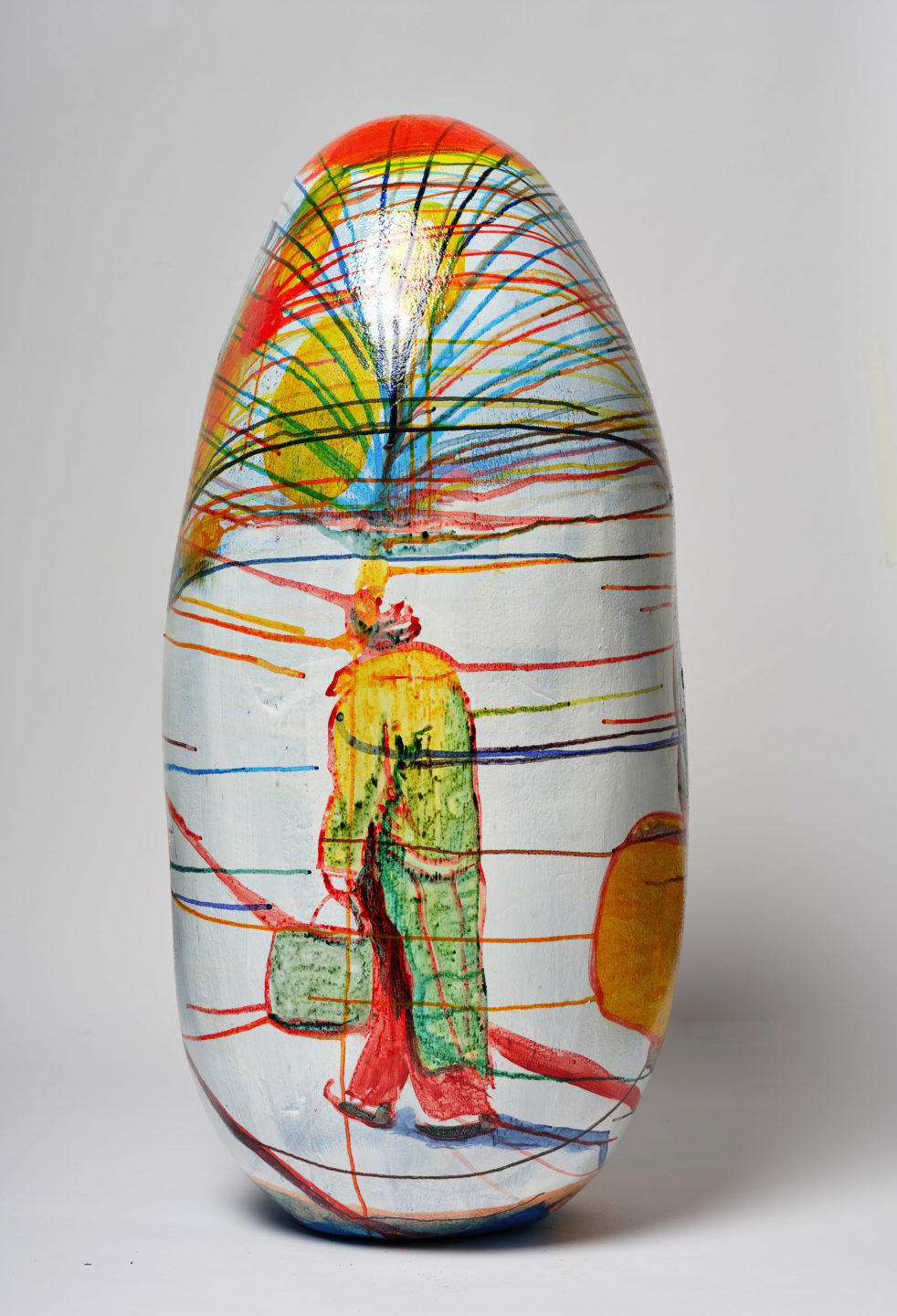 Acrylic, canvas, polystyrene and gesso
120 x 55 cm
47 1/4 x 21 5/8 in
'It's remarkable that these supertankers are transporting goods from South America to North America to Europe and back. I really started to consider the amount of energy and work that has been put into this situation. The Problems are supposed to be a bit of a critical view on how we transport goods around the world.' — John Kørner
---
---
About the artist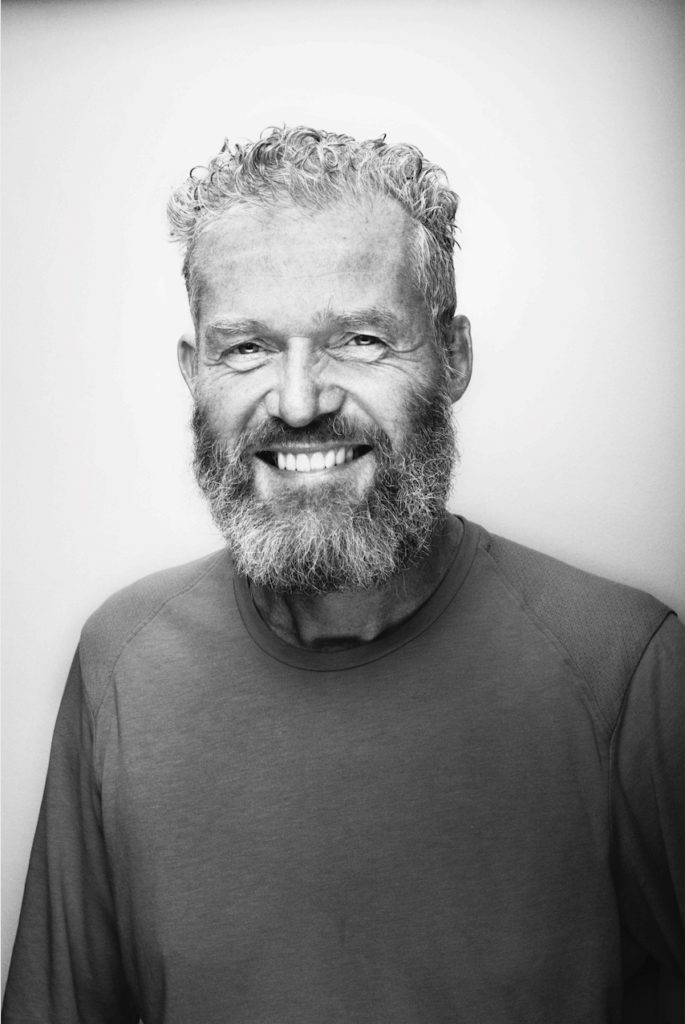 Born in Århus, Denmark in 1967, John Kørner lives and works in Copenhagen. John Kørner: Intercontinental Super Fruits, the first solo museum exhibition of Kørner's work in the United States, was recently on view at the Museum of Contemporary Art Detroit, USA (18 November 2021– 30 January 2022). His work was also recently on view at Kunsten Museum of Modern Art Aalborg, Denmark, in Work it Out, a group exhibition addressing the working life of the future (24 September 2021–16 January 2022).
Previously, Kørner has had solo exhibitions at institutional venues including Konsthall 16/Riksidrottsmuseum, Stockholm, Sweden (2019); Museum Dhondt-Dhaenens, Sint-Martens-Latem, Belgium (2018); Helsinki Contemporary, Helsinki, Finland (2018); Museum Emma, Espoo, Finland (2018); Brandts, Odense, Denmark (2016); Museum Belvedere, Oranjewoud, Netherlands (2016); Herning Museum of Contemporary Art, Denmark (2003, 2013); The Workers' Museum, Copenhagen, Denmark (2011); ARoS Århus Kunstmuseum, Denmark (2006) and Moderna Museet, Sweden (2005).
Kørner's work is held in institutional collections including Arken, Museum of Modern Art, Denmark; ARoS, Århus Museum of Art, Denmark; HEART – Herning Museum of Contemporary Art, Hearning, Denmark; Moderna Museet, Stockholm, Sweden; National Gallery of Canada – Musée des beaux-arts du Canada, Canada; National Gallery of Denmark, Copenhagen, Denmark; Royal Museum of Fine Arts, Copenhagen, Denmark; Rubell Family Collection, Miami, USA; Statens Museum for Kunst – SMK, Denmark; Tate, UK.
---