I See You
2 June–4 July 2020
Njideka Akunyili Crosby, Sarah Ball, María Berrío, Celia Hempton, Kudzanai-Violet Hwami, Chantal Joffe, Maria Lassnig, Jessie Makinson, Alice Neel, Celia Paul, Lisa Yuskavage.
 I See You is an exhibition of paintings that brings together historical and contemporary works by female artists with a focus on depictions of male subjects.
From portraits of family members to paintings of invented characters and those that challenge a traditional understanding of the 'male gaze', works on view invite us to consider the characteristics and qualities that connect or divide us along shifting lines of gender and how differences might be bridged by a shared understanding of consciousness – what it means to see and be seen.
I See You is also available to view via the App Store on Vortic Collect.
Last year Victoria Miro established a studio space in Venice for invited artists to spend extended time in the historic city and make new bodies of work. During a recent two-month residency, Flora Yukhnovich used the opportunity to engage more fully with Venetian culture. Her sources include the music of Vivaldi and the memoirs of Casanova, in addition to one of her key influences, Giovanni Battista Tiepolo, whose works including ceiling frescos in the Ca' Rezzonico museum and the Chiesa Santa Maria della Visitazione she was able to study first hand to create this new suite of paintings for this exhibition.
Flora Yukhnovich: The Venice Paintings is presented by Victoria Miro in association with Parafin and is available to view both here and via the App Store on Vortic Collect.
---
Njideka Akunyili Crosby
'I was taking the tradition I had learned at the American institutions I attended and trying to do something different with it, throwing myself challenges, from the subject matter down to the surface of the paint.' — Njideka Akunyili Crosby
One of the most distinctive voices of her generation, Njideka Akunyili Crosby draws on art historical, political and personal references to make luminous, densely layered figurative compositions whose intricate surfaces combine disparate materials and aesthetic traditions. An amalgam of processes including painting, drawing and photo-transfer techniques are harnessed in works that, precise in style, nonetheless conjure the complexity of contemporary diasporic experience.
Works on view were first exhibited at La Biennale di Venezia, 58th International Art Exhibition, May You Live in Interesting Times. Invited by the exhibition's curator, Ralph Rugoff, director of the Hayward Gallery, the artist used the opportunity to return to her earlier interest in portraiture, creating a series that explores the legibility of the body as a surface, in which hair, skin, clothing, jewellery, and self-presentation resonate culturally and historically.
---
Sarah Ball
Sarah Ball's practice relies on the gathering of found source material, from newspaper cuttings, archival photographs, historical documentation, including criminal 'mug shot' archives and immigration archives, and more recently social media. She selects subjects with, and without, known narratives. From these images, Ball paints intricate portraits that re-establish the imagined life of the often anonymous, unknowing sitter.
Works on view are from a recent series featuring people the artist discovered on Instagram. Seeing the social media platform as a successor of the photographic studio and the photobooth, in this body of work Ball looks at the effect that the visual manifestation of the 'self' has upon traditional, binary norms in areas including gender and sexuality.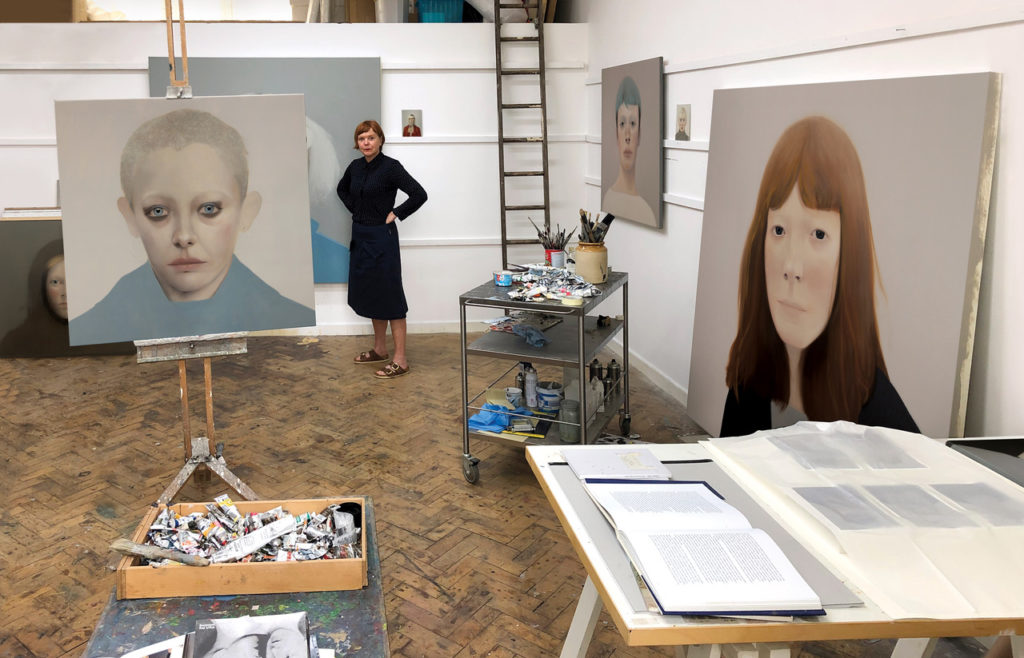 ---
María Berrío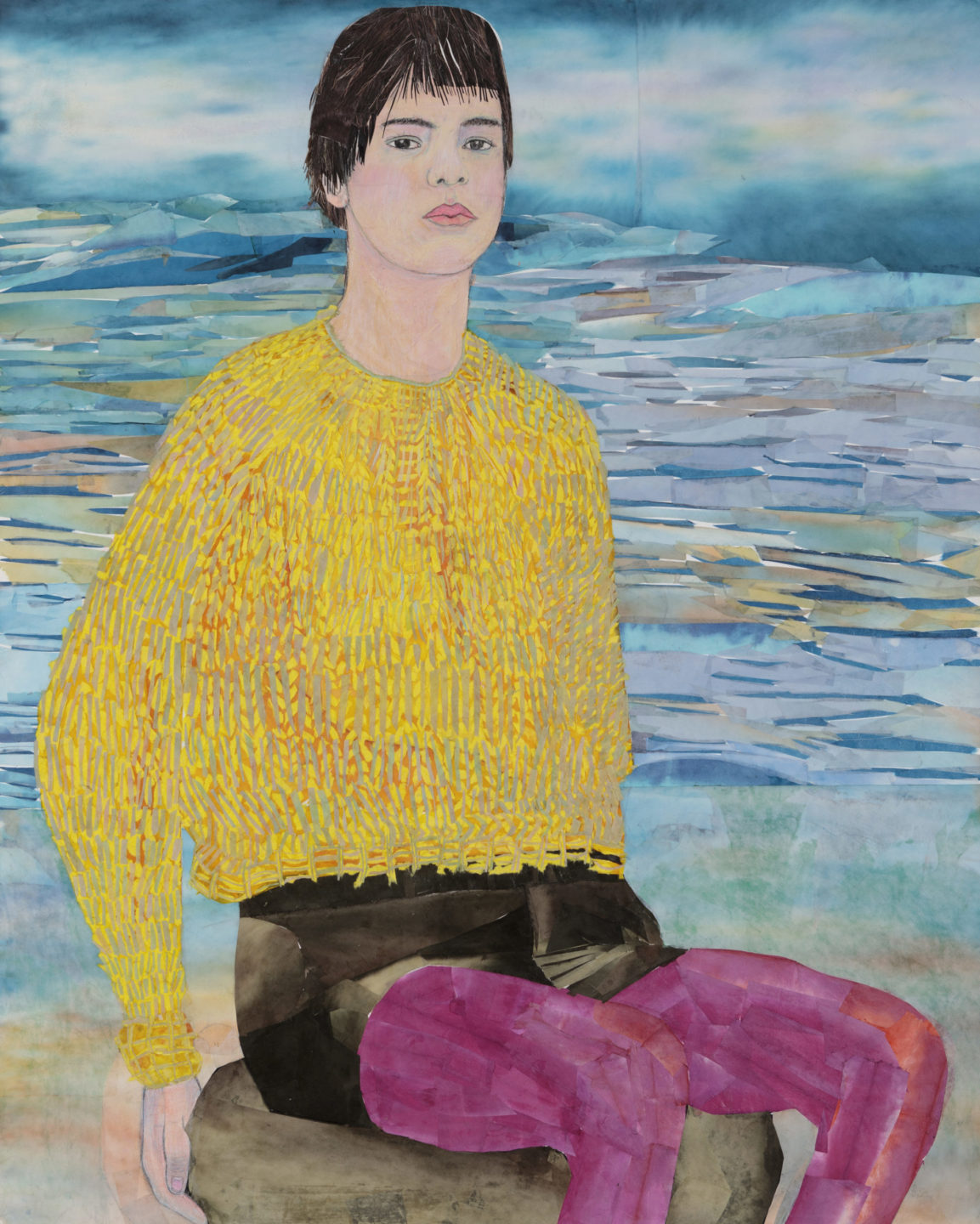 Collage with Japanese paper, charcoal, coloured pencils and watercolour paint on canvas
152.4 x 121.9 cm
60 x 48 in
María Berrío, The Sea Between Us, 2020
More info
'The love between a woman and man may be boundless, and yet there is always a split of gender roles, whereby love cannot completely close the distance. Infinite love sails upon an ocean's endless waves.' — María Berrío
Based in Brooklyn, María Berrío grew up in Colombia. Her works, which are meticulously crafted from layers of Japanese paper, reflect on cross-cultural connections and global migration seen through the prism of her own history.
The Sea Between Us, 2020, is a portrait drawn from imagination that depicts a boy on the cusp of manhood sitting in front of a roiling sea. In creating the work, Berrío tried to envisage a boy looking at her through the eyes of the men in her life – namely, her father, her husband and her son. While water symbolises her boundless love for these men, it might also denote her ever shifting roles and even the gulf between them. As the artist says, even 'love cannot completely close the distance.'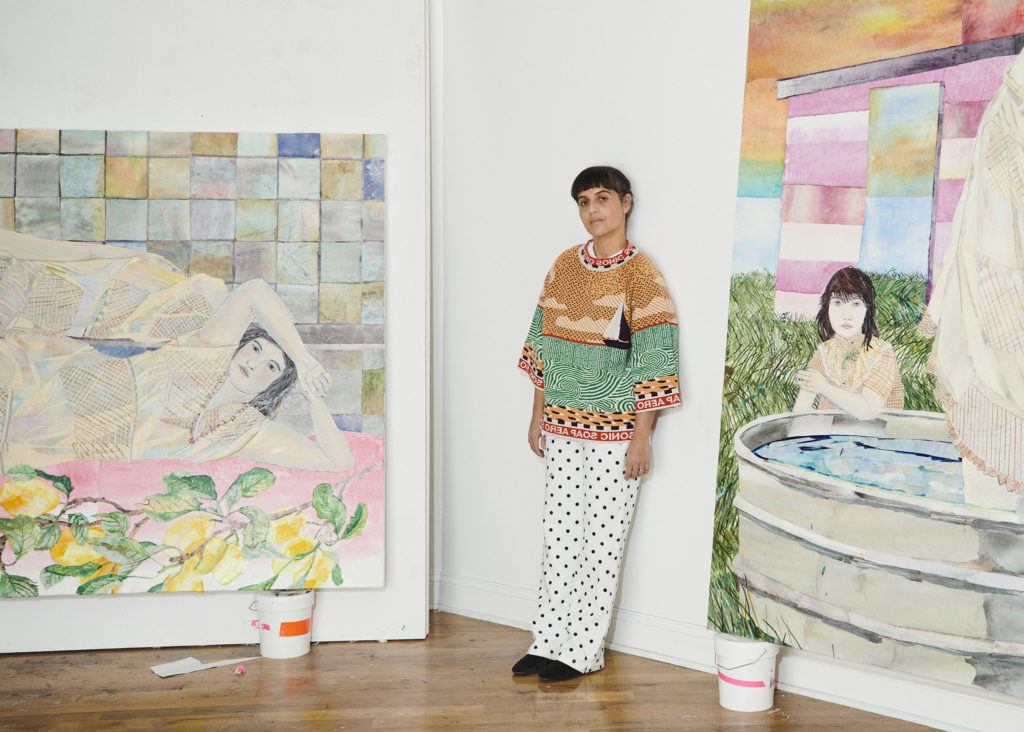 ---
Celia Hempton
Celia Hempton is known for works that push and play with notions of painting, the act of its making, its forms and presentation. Her wider practice involves an exploration into interweaving the territories of painting, installation and performative painterly documentation.
Works on view are derived from an ongoing portrait series using friends as models who pose naked for the painting, which is made in a single sitting. The intimacy of the documented encounter is bound into the process and outcome, intensified by Hempton's compositional cropping to focus on the genital area, which questions and subverts traditional power dynamics, both between male artist and female muse and in the wider context of the world at large.
---
Kudzanai-Violet Hwami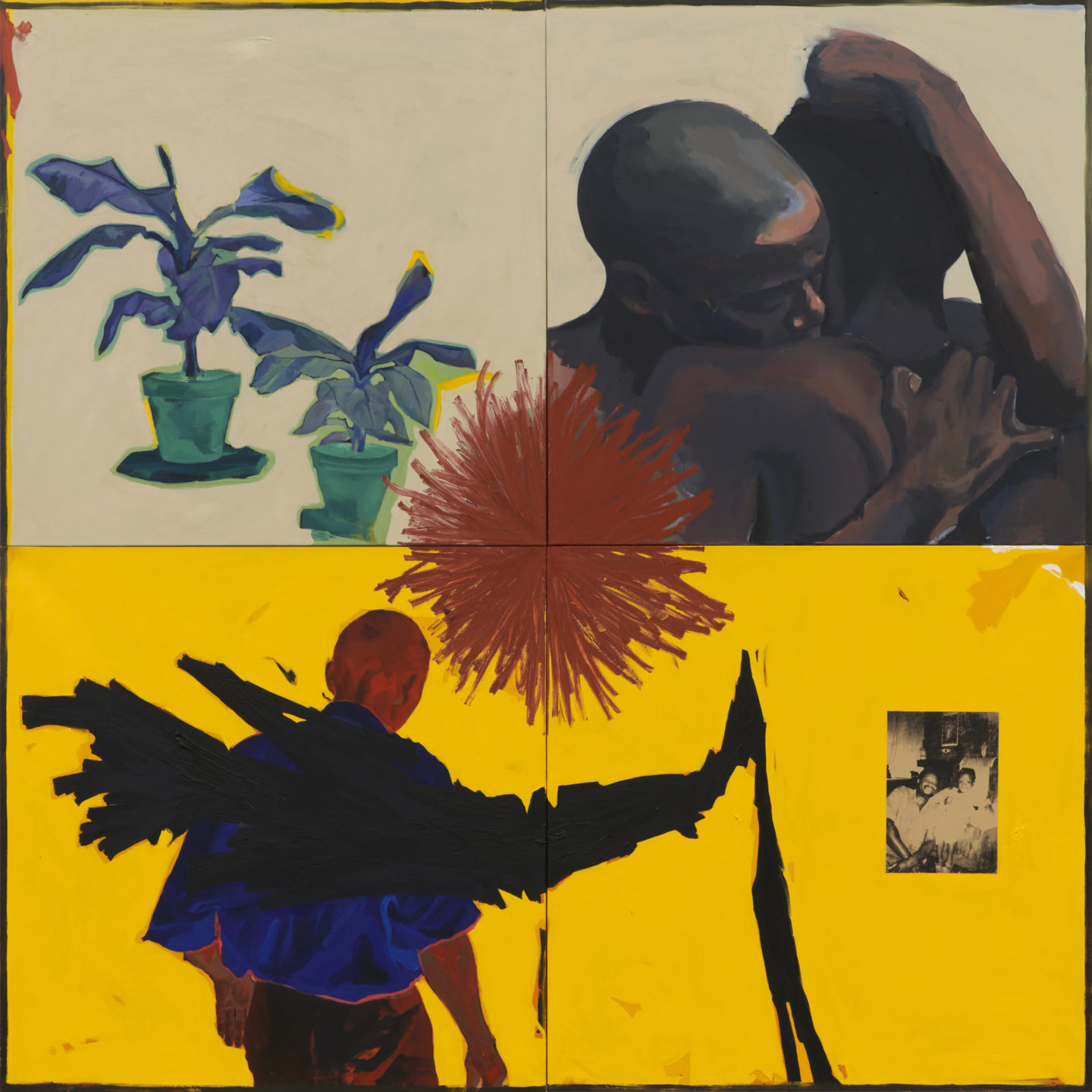 Oil and silk screen on canvas
200 x 200 cm
78 3/4 x 78 3/4 in
Kudzanai-Violet Hwami, A theory on Adam, 2020
More info
Born in Zimbabwe, Kudzanai-Violet Hwami left her homeland at the age of nine amidst political turmoil. Drawing on personal experiences of geographical dislocation and displacement, her paintings combine visual fragments from a myriad of sources such as online images and family photographs, which collapse past and present while offering a personal take on the representation of black bodies, gender and sexuality.
A theory on Adam, 2020, is essentially a meditation on the artist's relationship with father figures within the context of Sub-Saharan Africa. In seeking to highlight early memories of abandonment, the artist contemplates the lack of physical male guidance and the use of social media self-help gurus in an attempt to repair and restructure old wounds. This work further reflects on gender dysphoria which, for the artist, is intimately linked to her contemplation of what it means to be a man.
---
Chantal Joffe
'You never mean to make a sixteen-year-old boy self-conscious. He's so beautiful but it's so heavy to have someone here and have them see what you do. Having a model has a big responsibility and a weight to it.' — Chantal Joffe
Chantal Joffe brings a combination of insight and integrity, as well as psychological and emotional force, to the genre of figurative art. Defined by its clarity, honesty and empathetic warmth it is attuned to our awareness as both observers and observed beings, apparently simple yet always questioning, complex and emotionally rich.
The ways in which we inhabit or enact gender, accentuated during times of accelerated transition such as adolescence, are keenly expressed in Joffe's paintings of Herb, the son of a close friend, whom Joffe has painted for a number of years. Joffe captures him at a poignant threshold, exuding both the vulnerability of youth and the coolness of a matinee idol.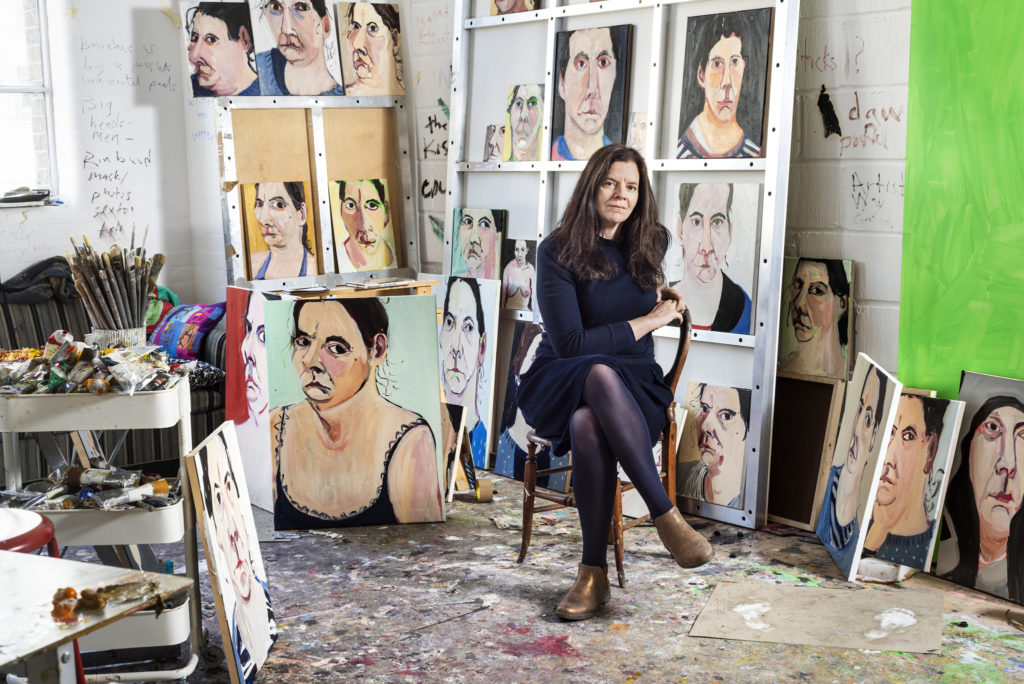 ---
Maria Lassnig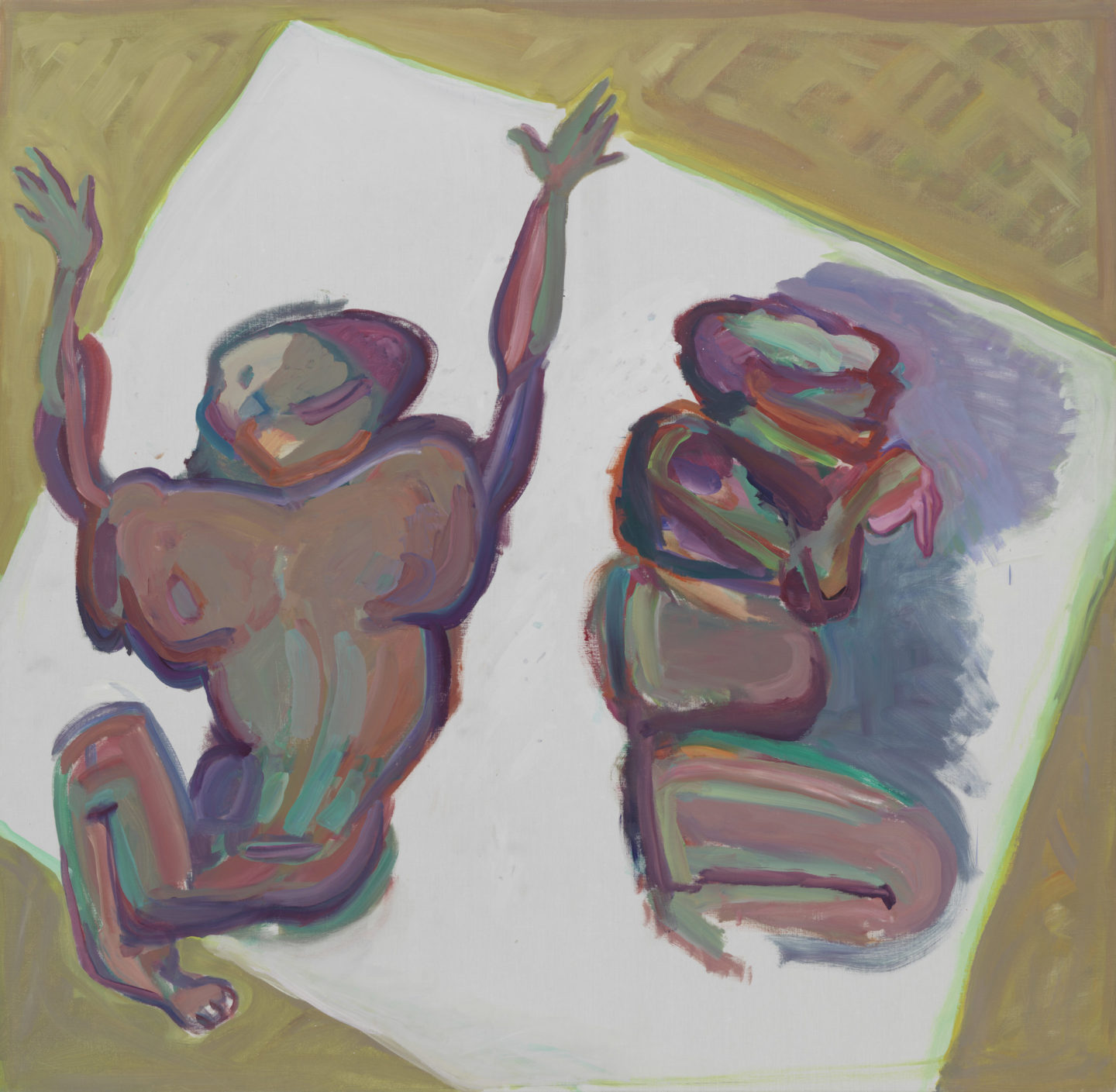 Oil on canvas
200.1 x 205 cm
78 3/4 x 80 3/4 in
Maria Lassnig, Tragisches Duett / Dramatisches Duett (Tragic Duet / Dramatic Duet), 1987
More info
The work of Maria Lassnig (1919–2014) is based on the observation of the physical presence of the body and what she termed 'body awareness', or 'Körperbewusstsein' in German. Her famed portraits and self-portraits are often suffused with a playful irony, even in her depictions of the aging body, psychological turmoil and great existential themes.
Tragisches Duett / Dramatisches Duett (Tragic Duet / Dramatic Duet), 1987, depicts two figures, one actively reaching into the space, the other passively turning away, curling into a near foetal position. While it appears to be a meeting of two strikingly different characters, equally it suggests that the characteristics on display – both active and passive – are aspects of the artist herself and, by extension, of us all.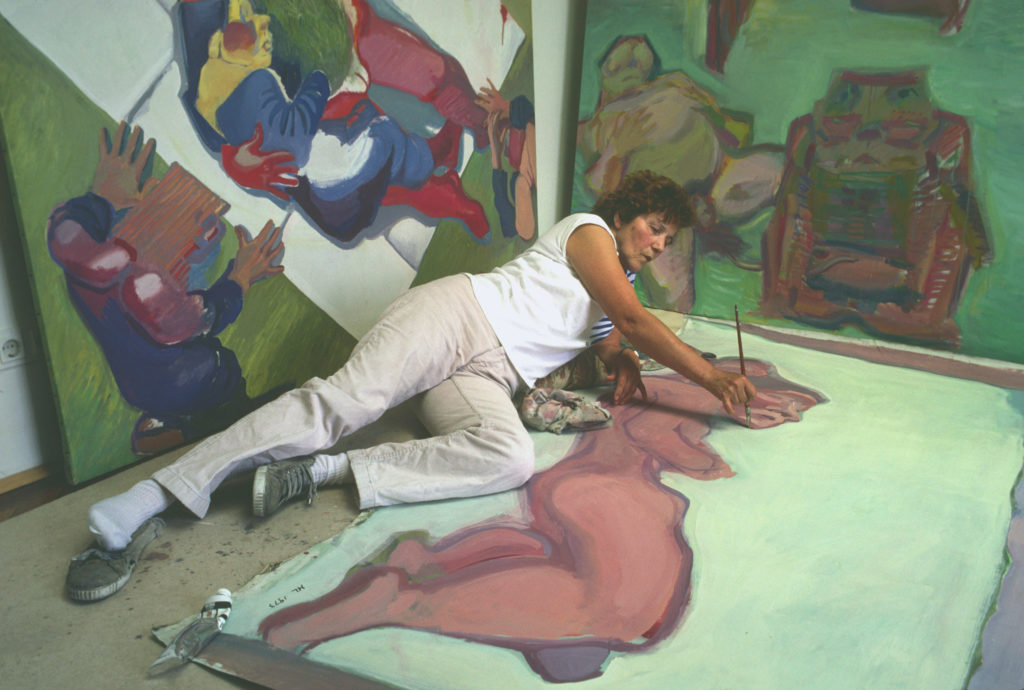 ---
Jessie Makinson
Jessie Makinson's paintings, ceramic sculptures, and site-specific installations take inspiration from science fiction and classical mythology. They confuse the boundaries separating humans from animals, desire from fear, replacing the world as we know it with an adventurous yet unreliable and often subversive narrative.
Furry darkness, 2020, was painted in the weeks before the lockdown, and is subconsciously filled by many of the anxieties and fears of that time. Despite this, this crowded scene of isolated figures reveals tender likenesses of her partner and their world.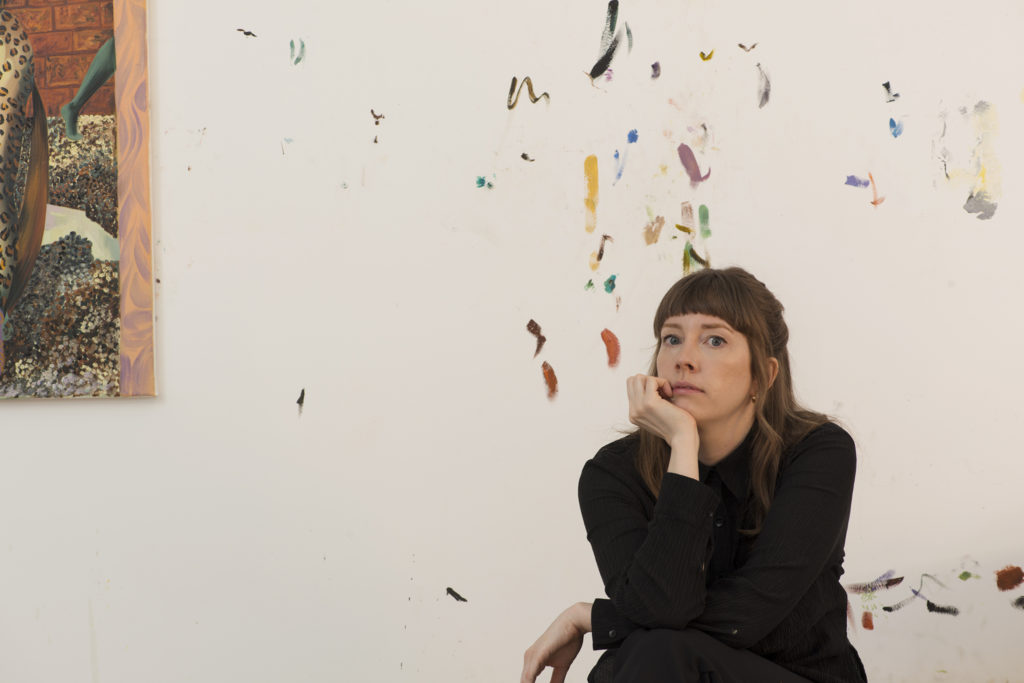 ---
Alice Neel
'At least I tried to reflect innocently the twentieth century and my feelings and perceptions as a girl and a woman… not that I felt they were all that different from men's.' — Alice Neel
One of the foremost painters of the twentieth century, Alice Neel (1900–1984) produced a body of work that is intimate, casual, personal and direct. Throughout her life, Neel developed a unique talent for identifying particular gestures and mannerisms that reveal the singular identities of her sitters.
Completed in 1954, Richard with Dog depicts the artist's elder son, a year after he had entered High Mowing School in Wilton, New Hampshire. A number of Neel's paintings from this period feature her sons, Richard and Hartley, and occasionally their friends – and a sense of nascent adulthood, of boys becoming men, moving in their own direction, is palpable in these works.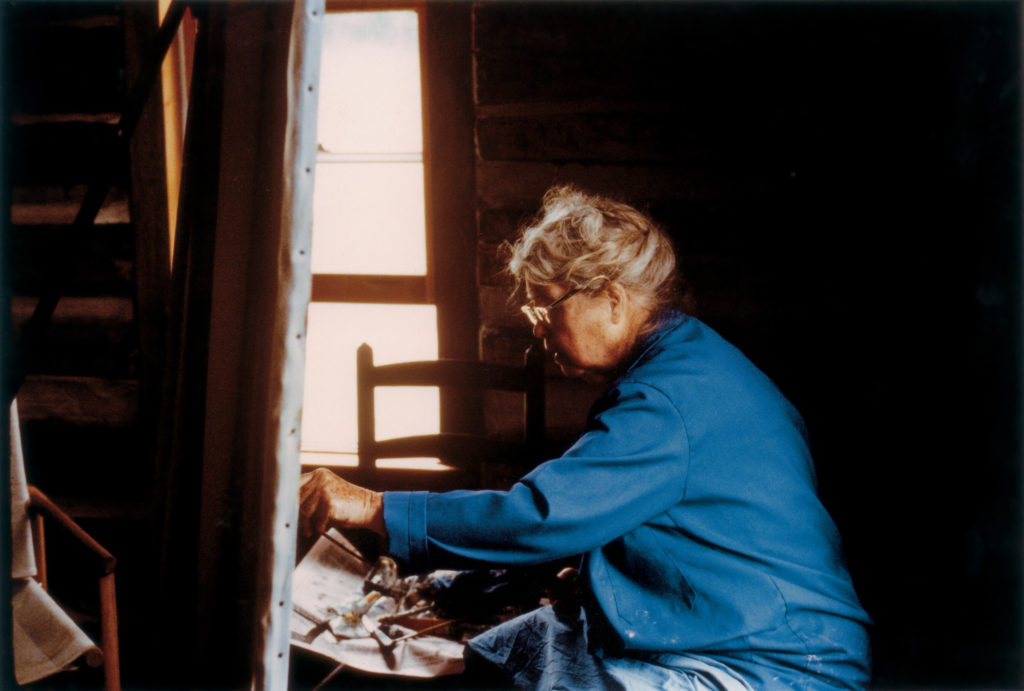 ---
Celia Paul
'I have noticed that the men I have worked from are interested in the process of painting and in the act of sitting. The silence, when I am working from men, is less interior.' — Celia Paul
Celia Paul's art stems from a deep connection with subject matter and is quiet, contemplative and ultimately moving in its profound attention to detail and deeply-felt spirituality. She is renowned for her intimate depictions of people and places she knows well.
Steve, 2019, depicts the artist's husband, the philosopher Steven Kupfer who, Paul writes, 'memorises cryptic crossword clues the night before and solves them in his head as he sits… He likes the challenge of it all, and his ritual is part of the pleasure he takes in sitting. I think he needs his participation to be "active".'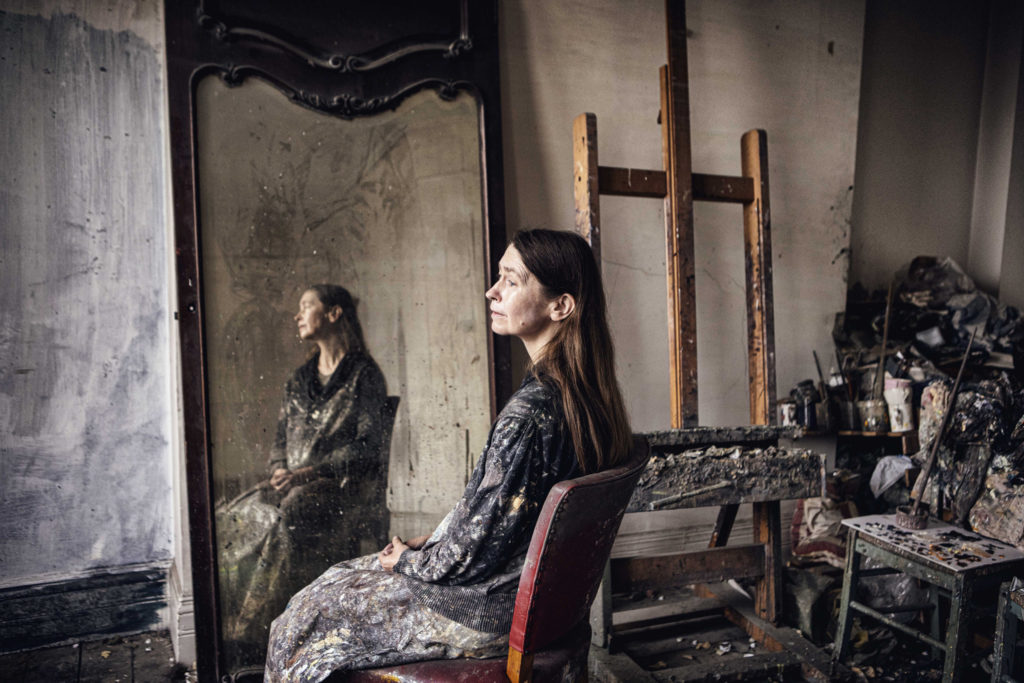 ---
Lisa Yuskavage
'I was thinking a lot about Dürer… There's this obsession with a certain look, which has to do with a revolutionary kind of guy.' — Lisa Yuskavage
For more than thirty years, Lisa Yuskavage's highly original approach to figurative painting has challenged conventional understandings of the genre and influenced subsequent generations of artists. Her simultaneously bold, eccentric, exhibitionist and introspective characters assume dual roles of subject and object, complicating the position of viewership.
A cultural framework of looking is foregrounded in Wee Dude Looks Like Jesus, 2014, an affectionate depiction of a bearded figure that, filtered through a lens of 1960s hippiedom, continues a subcultural theme in Yuskavage's art while referring to the art-historical genre of the nude, which for centuries was shrouded as religious subject matter.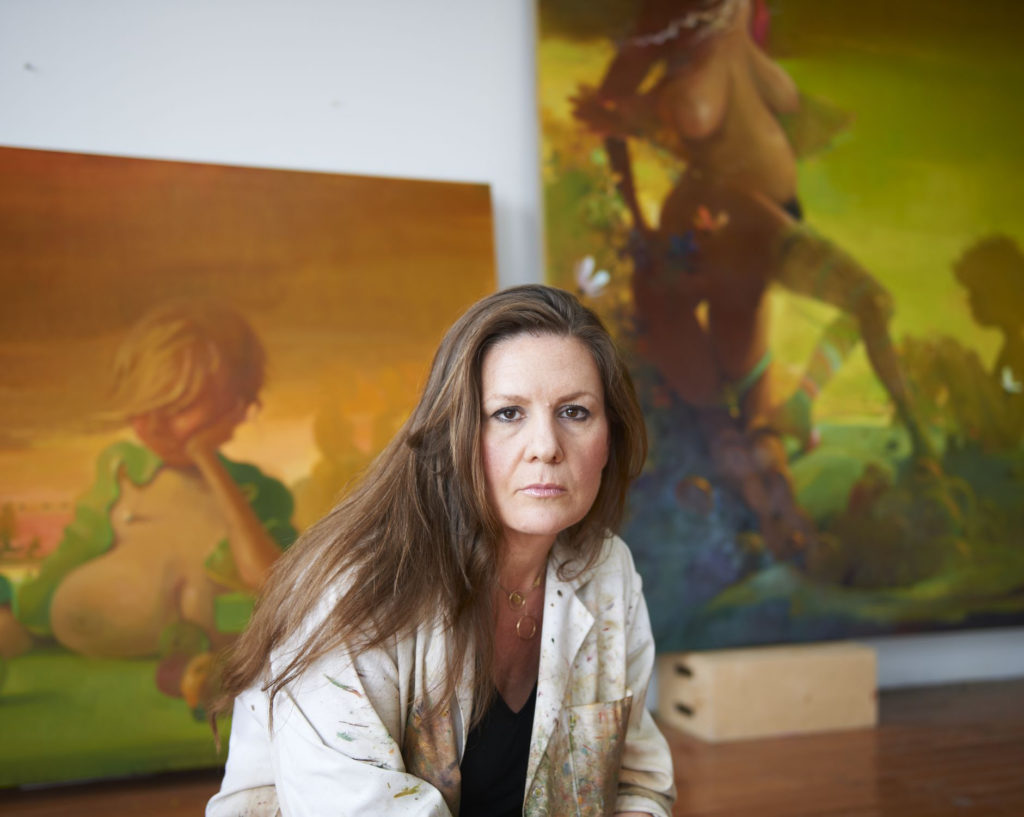 ---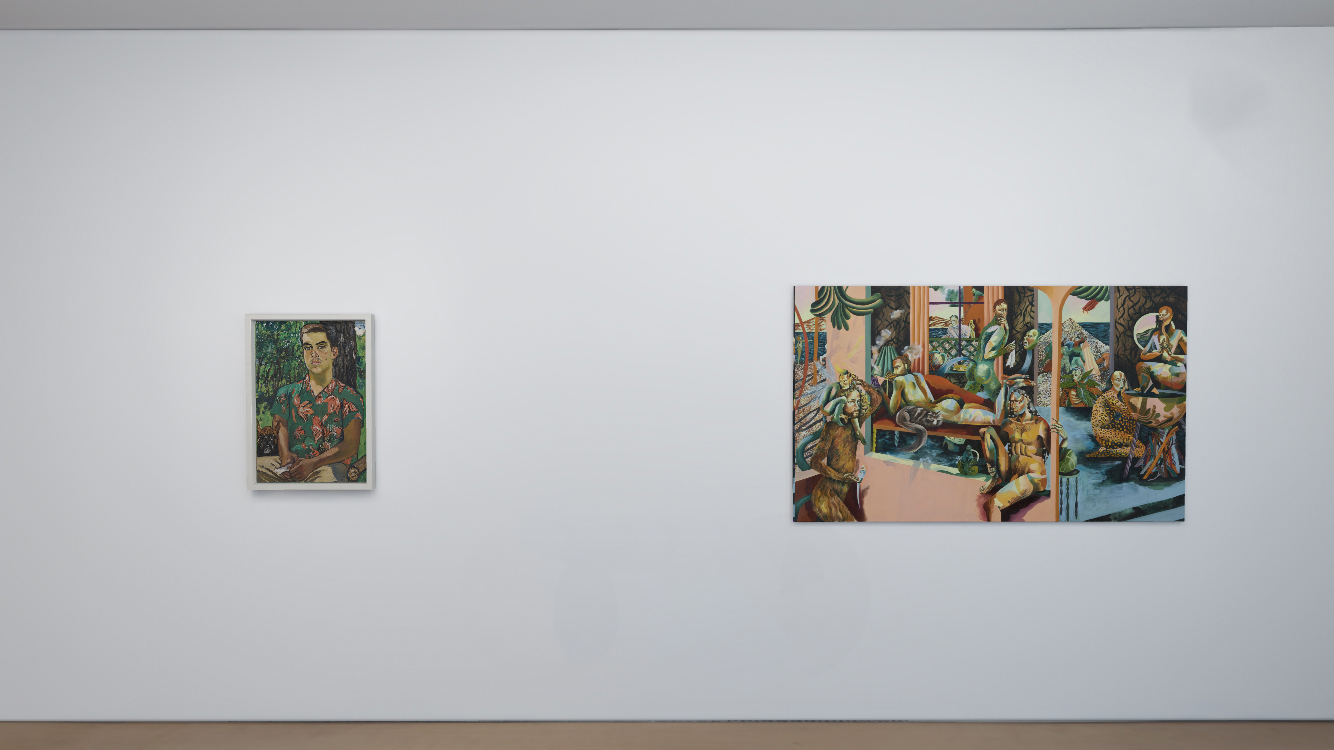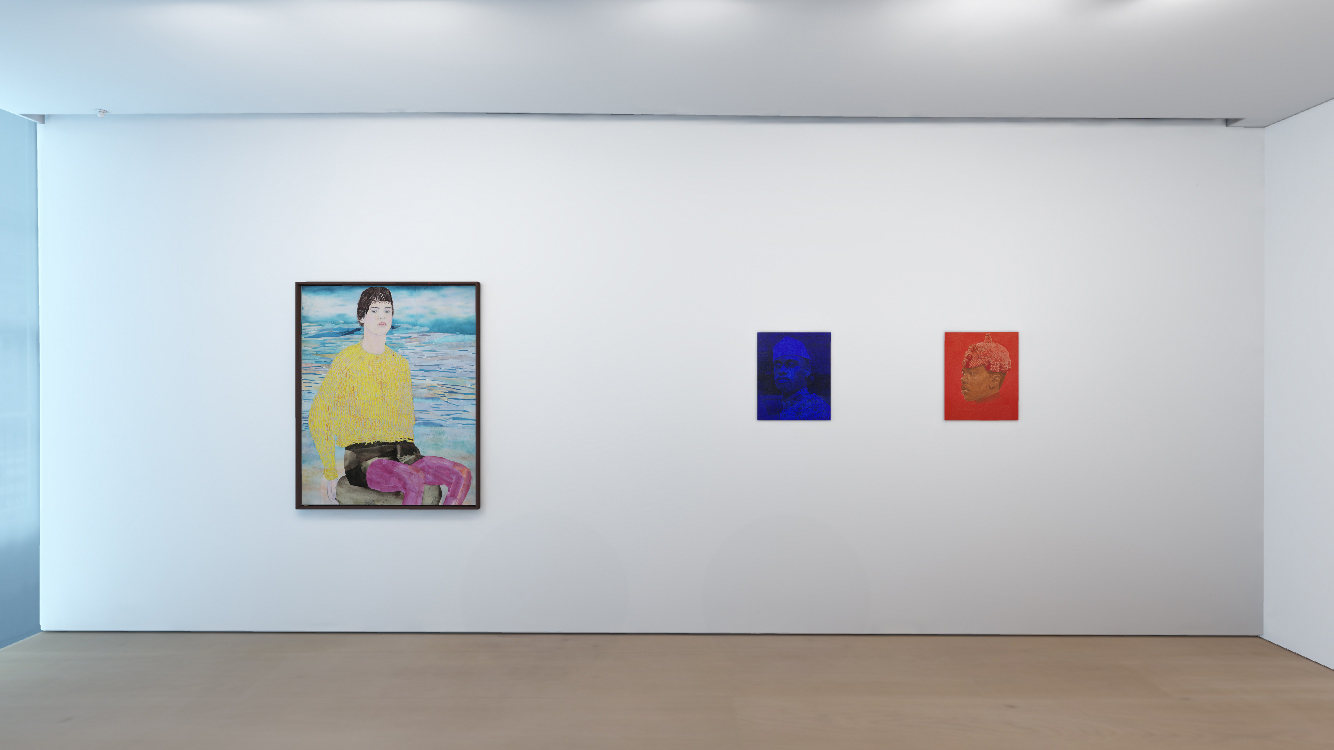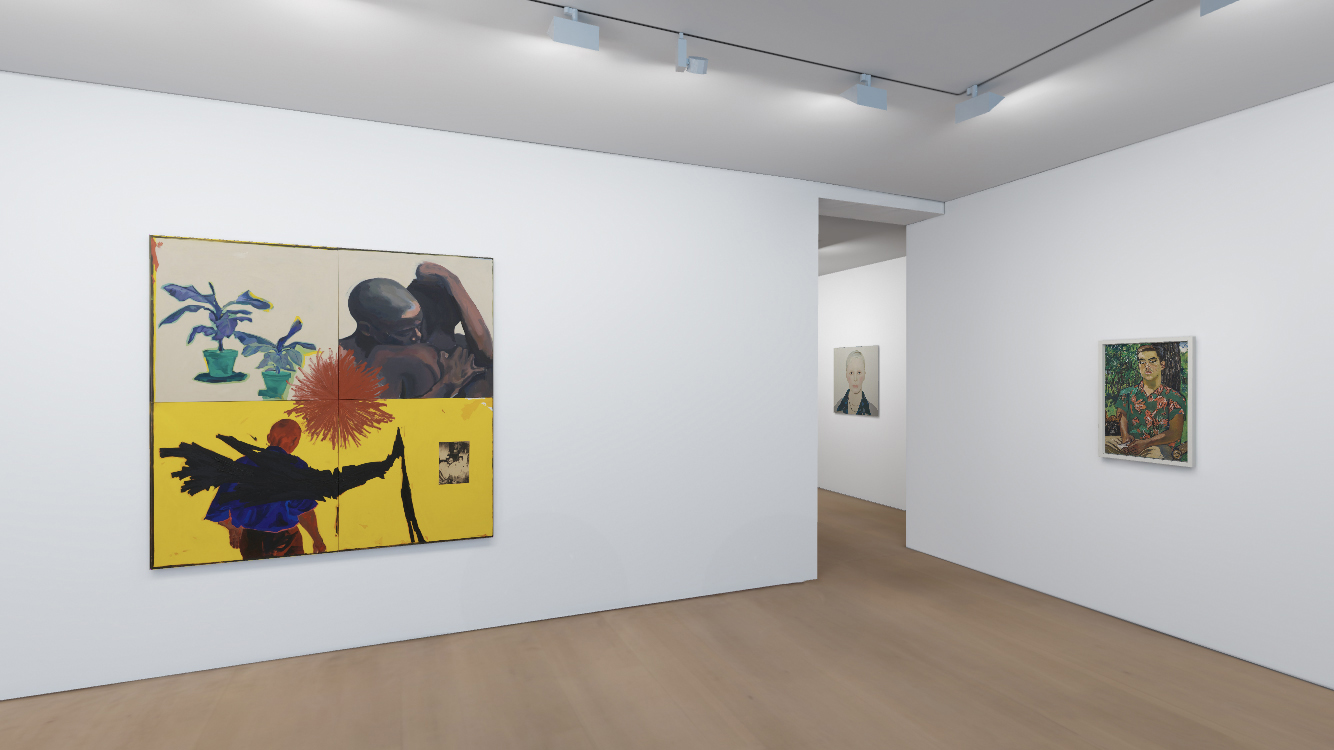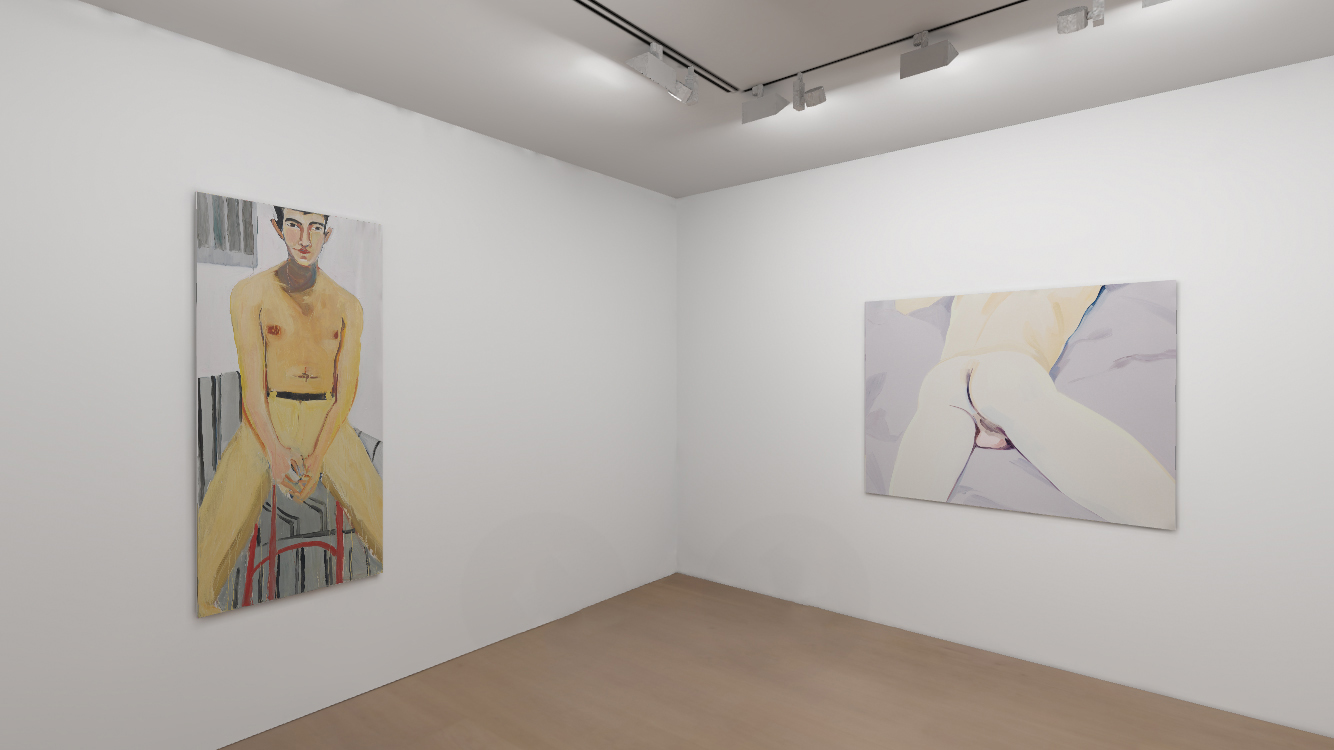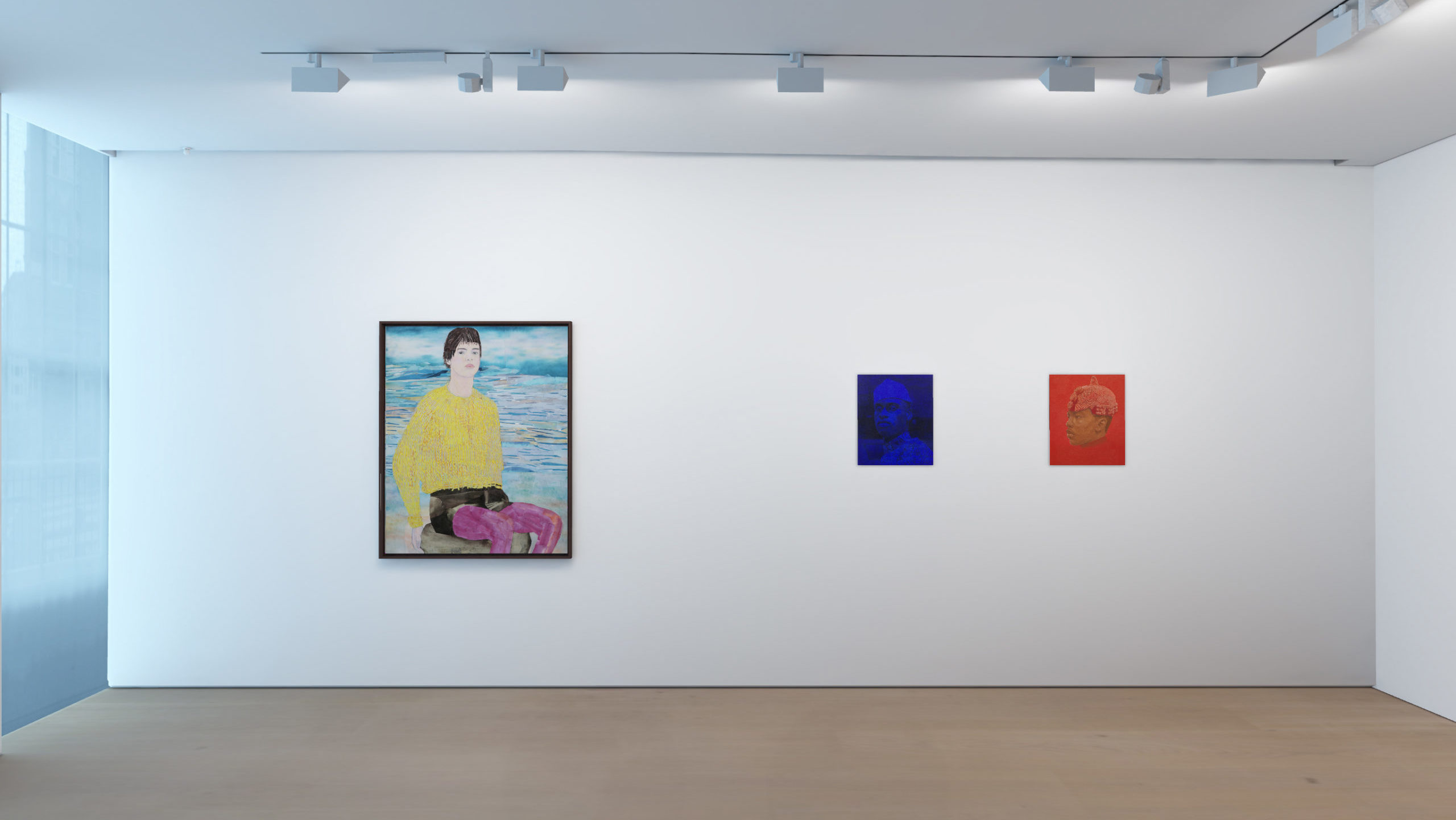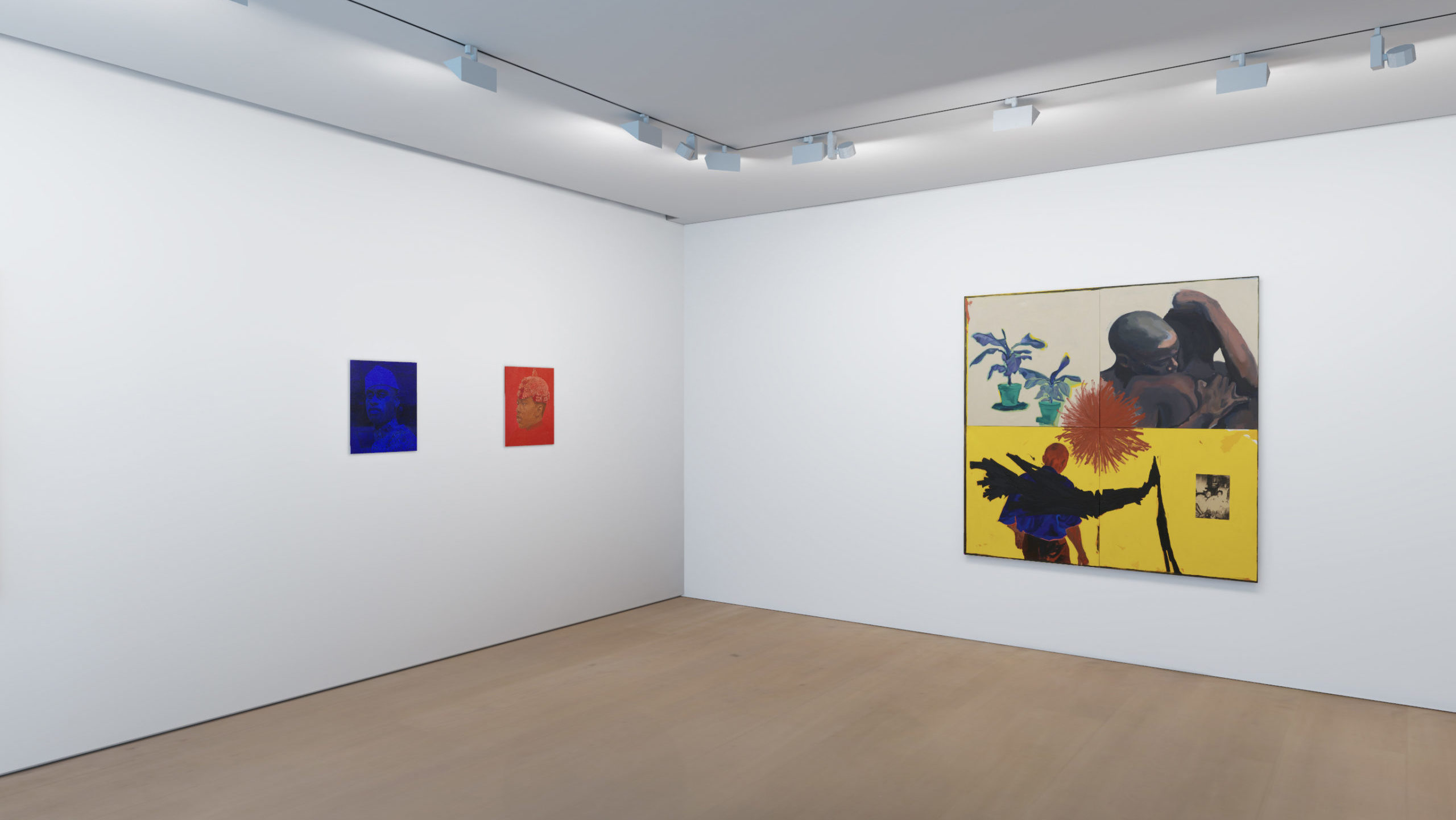 Victoria Miro worked with the virtual art platform Vortic to capture these works – as well as their physical gallery spaces in London – photogrammetrically with the latest high-resolution 3D scanning technology.
Vortic's software and rendering techniques, which have never before been used in the industry, enable Victoria Miro to present exhibitions of 2D and 3D works in the very highest quality. These works can be experienced in Virtual Reality via the Vortic Collect app.
Learn more about Vortic here.
For enquiries regarding featured works and other matters, please contact the below:
Victoria Miro: salesinfo@victoria-miro.com

Vortic: enquiries@vorticxr.com