The Sky was Blue the Sea was Blue and the Boy was Blue
24 February–31 March 2021
Live from 1pm on 24 February
Victoria Miro on Vortic
Milton Avery, Jules de Balincourt, Ali Banisadr, NS Harsha, Secundino Hernández, Ilse D'Hollander, Chantal Joffe, Isaac Julien, Idris Khan, John Kørner, Chris Ofili, Celia Paul, Grayson Perry, Howardena Pindell, Tal R, Paula Rego, Do Ho Suh, Sarah Sze, Flora Yukhnovich.
Titled after an eponymous 2017 work by Paula Rego, The Sky was Blue the Sea was Blue and the Boy was Blue presents blue works by nineteen Victoria Miro artists and explores the colour's broad symbolic and conceptual associations through a range of media. The exhibition looks at artists working with blue not merely as a colour, but as an essential element to the work's meaning and interpretation, as a compositional device, or to suggest a particular mood or atmosphere.
From the earliest uses of lapis lazuli in Ancient Egypt, through the Renaissance when the semi-precious stone was used to create ultramarine, a colour so venerated it was reserved to represent the Virgin and denote her heavenly robes, to Picasso's Blue Period and Yves Klein's patented IKB, blue has occupied a special place in visual culture. Used to signify both the emotional and elemental, worlds of mind and weather, harmony and sadness, blue's complex and shifting associations culturally are equalled by its elusive qualities in the natural world. Ancient languages did not have a word for blue. The blue we perceive in nature is rarely a pigment but a reflection of light. Water absorbs the longer wavelengths of red and other colours, while the shorter wavelength of blue scatters to give the sea its blue appearance. The oxygen and nitrogen molecules in our atmosphere scatter blue wavelengths when sunlight passes through it – presenting us with a blue sky. These everyday illusions account in part for the enduring metaphorical and emotional power of blue and its enigmatic place among the colours, even today.
Each of the artists featured in the exhibition employs the hue in distinctive ways; some conceptually, some emotionally, and some – as with Rego, whose work is inspired by a fateful tale by Hélia Correia in which a little boy believes his father is the sea – to tell a story. Together, the works exhibited all evoke our enduring fascination with blue – as mood, possibility, paradox, or as a reminder of the mystery of perception itself.
The exhibition is presented as part of the second iteration of the London Collective, which brings together more than 20 of the capital's leading commercial galleries to present virtual 3D exhibitions on Vortic, the leading virtual and augmented reality platform for the art world. London Collective is  available to view on the Vortic Collect app or online at vortic.art.
---
Paula Rego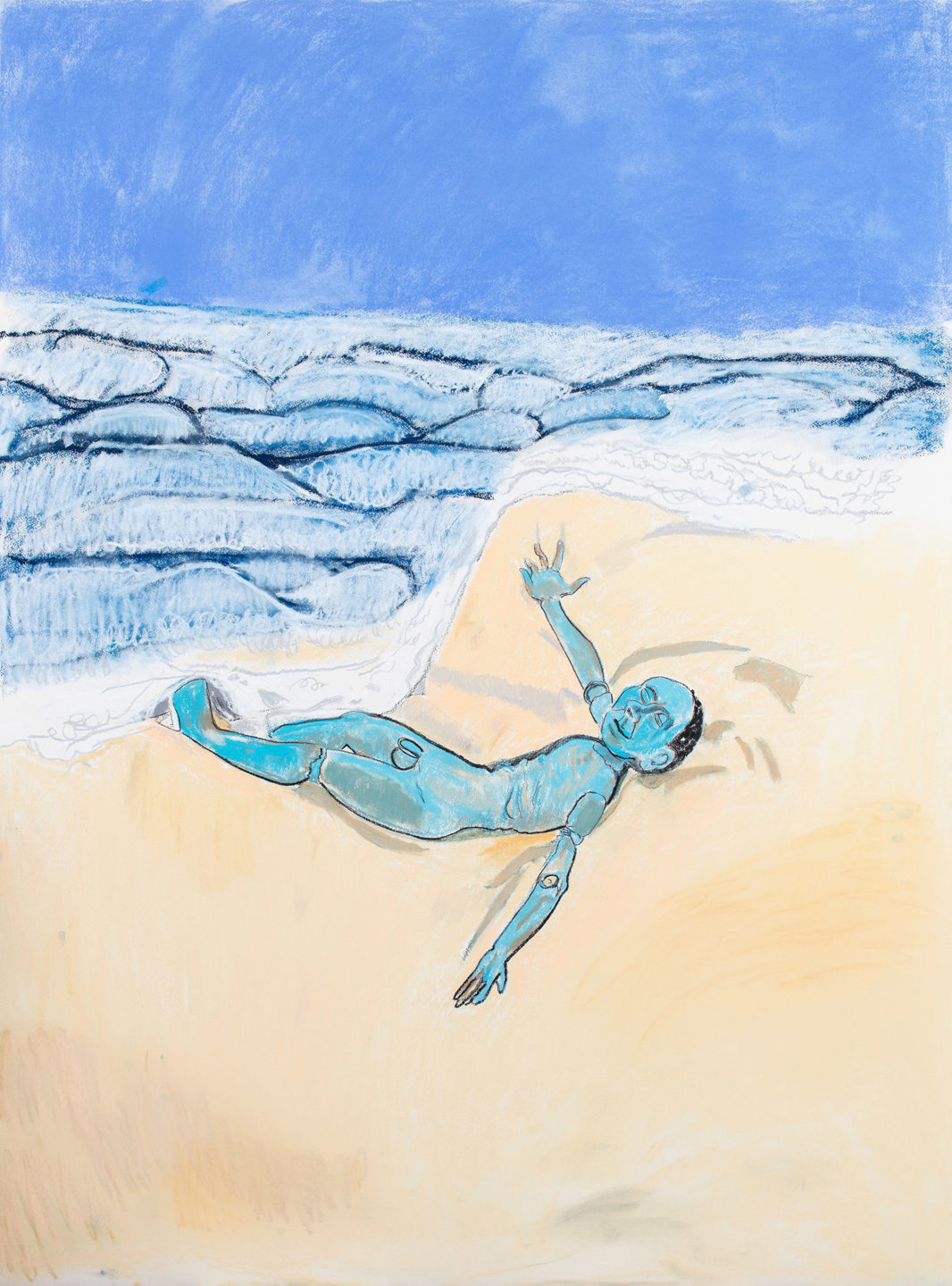 Pastel on paper on aluminium
160 x 120 cm
63 x 47 1/4 in
Paula Rego, The Sky was Blue the Sea was Blue and the Boy was Blue, 2017
'The boy, lying naked and blue on the sand like a broken doll, the sea licking his feet… Our attention is completely focused on this strange figure, who, in death, has become frozen like a wooden saint…' — Emily Spicer, Studio International
Inspired by Bastardia, a 2005 story by the celebrated Portuguese novelist, playwright and poet Hélia Correia, this work was created for Rego's 2017–2018 Jerwood Gallery Hastings exhibition The Boy Who Loved the Sea and Other Stories. In Correia's fateful tale, a boy who believes his father is the sea makes a journey to the ocean, which he has never seen before, experiencing a number of encounters and hardships along the way. This work depicts the story's denouement, in which on reaching his destination the boy immediately dies: sky, sea and the boy's lifeless body assume shades of blue.
---
Chris Ofili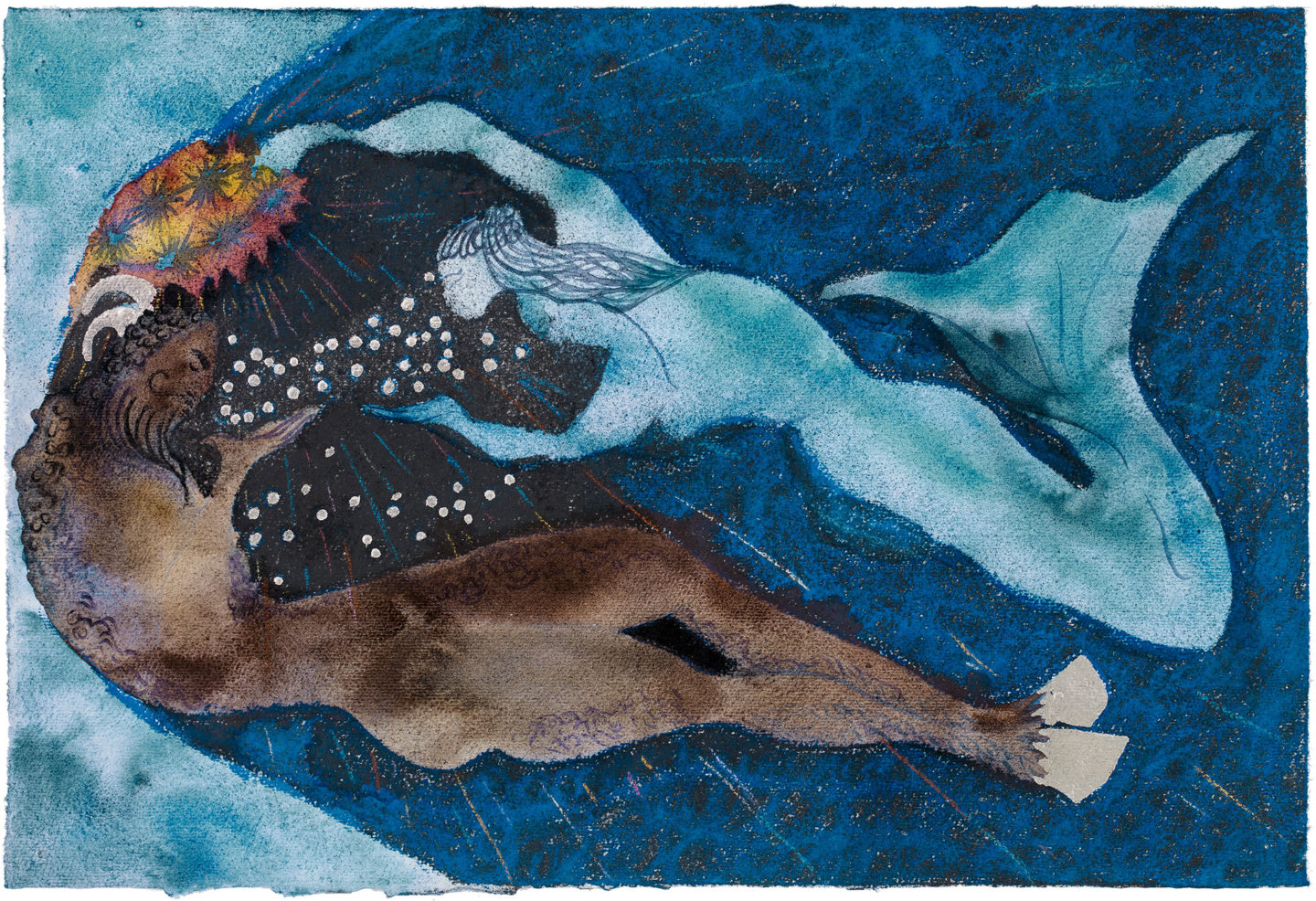 Watercolour, charcoal, pastel and platinum leaf on paper
26.5 x 38.5 cm
10 3/8 x 15 1/8 in
Chris Ofili, Crowning of a Satyr (Blue), 2021
Crowning of a Satyr (Blue), 2021, depicts a satyr with curved silvery horns being crowned by a female figure, the selkie. In Scottish mythology the selkie is a mythological creature who is able to transform from seal into human form by shedding its sealskin. Here, the selkie is visible in her female form, after the moment of metamorphosis; she is one with the water.
---
Chantal Joffe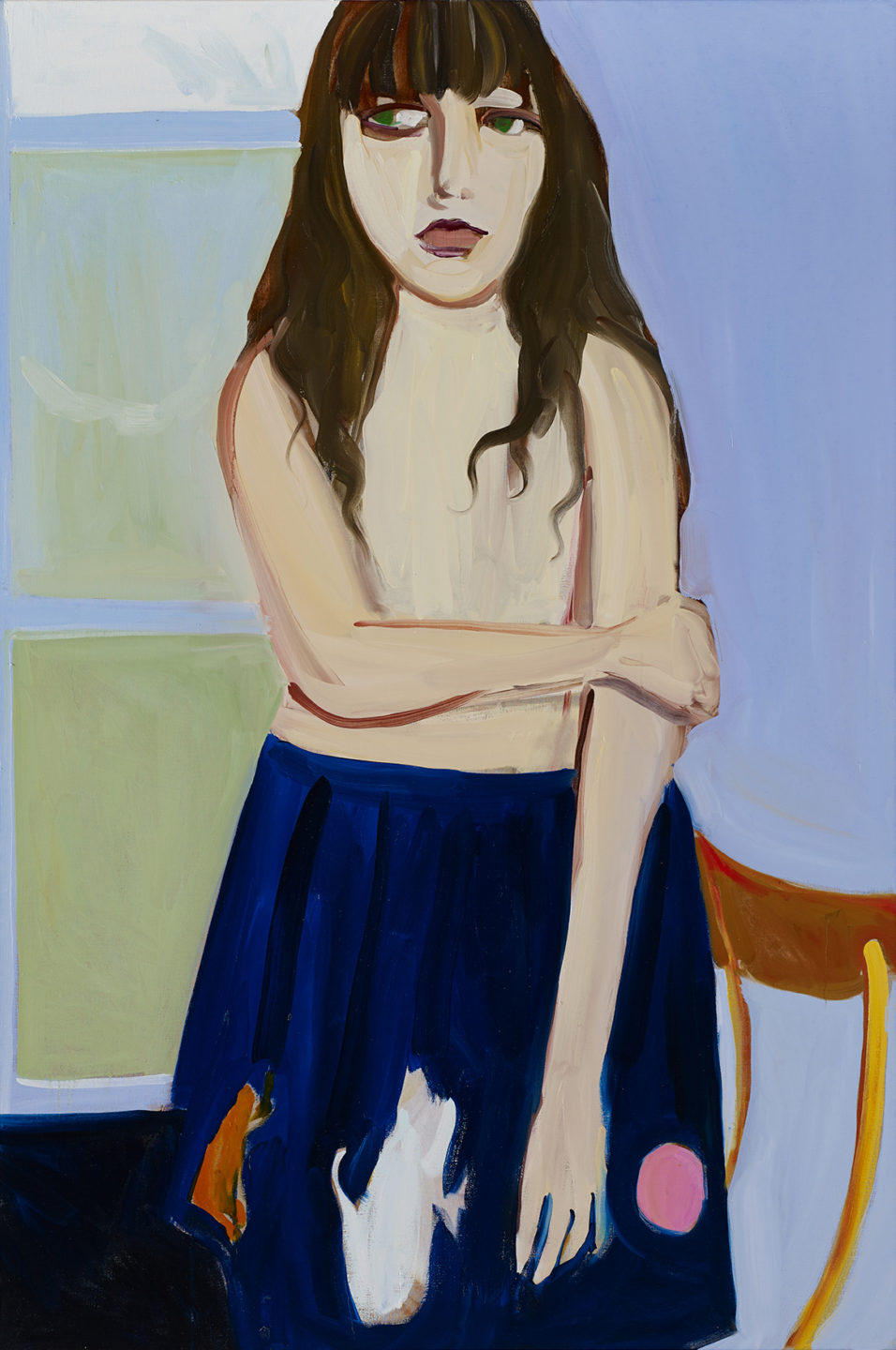 Oil on canvas
183 x 122 cm
72 1/8 x 48 1/8 in
Chantal Joffe, Esme in a Blue Skirt, 2014
Joffe has often talked about her paintings in terms of transitions, those associated with growing and ageing, as well as her attempt to mark a life's milestones. Esme in a Blue Skirt, 2014, depicts the artist's daughter, eyes averted, one arm protectively covering her front, wearing a new blue skirt with appliqué animals. It touches on a key theme of Joffe's art – the shifting relationship between mother and daughter over time, navigating spaces, dynamics and roles.
---
Celia Paul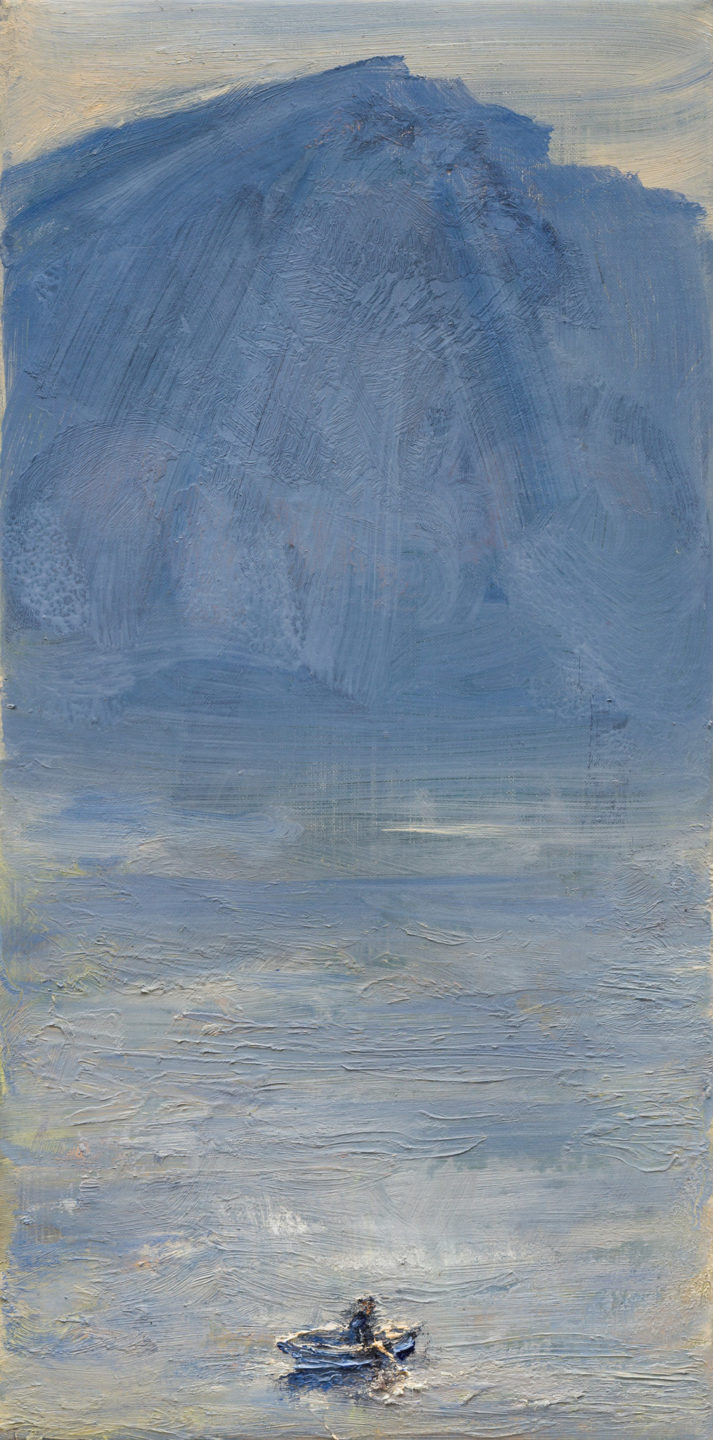 Oil on canvas
35.6 x 17.8 cm
14 1/8 x 7 1/8 in
Celia Paul, Steve in his Rowing Boat, Austria, 2019
'The mountains blue now

at the back of my head,

such geography of self and soul

brought to such limit of sight…'

— Robert Creeley, The Mountains in the Desert
This painting depicts the artist's husband, the writer, philosopher and poet Steven Kupfer, alone in a rowing boat in Lake Altaussee in Austria, a place the couple have visited for many years, renting a hut on the shore. Rising up before him is the Trisselwand mountain, the upwards movement as the eye is drawn through the blues of water, earth and air enhanced by the vertical format of this jewel-like painting.
---
Milton Avery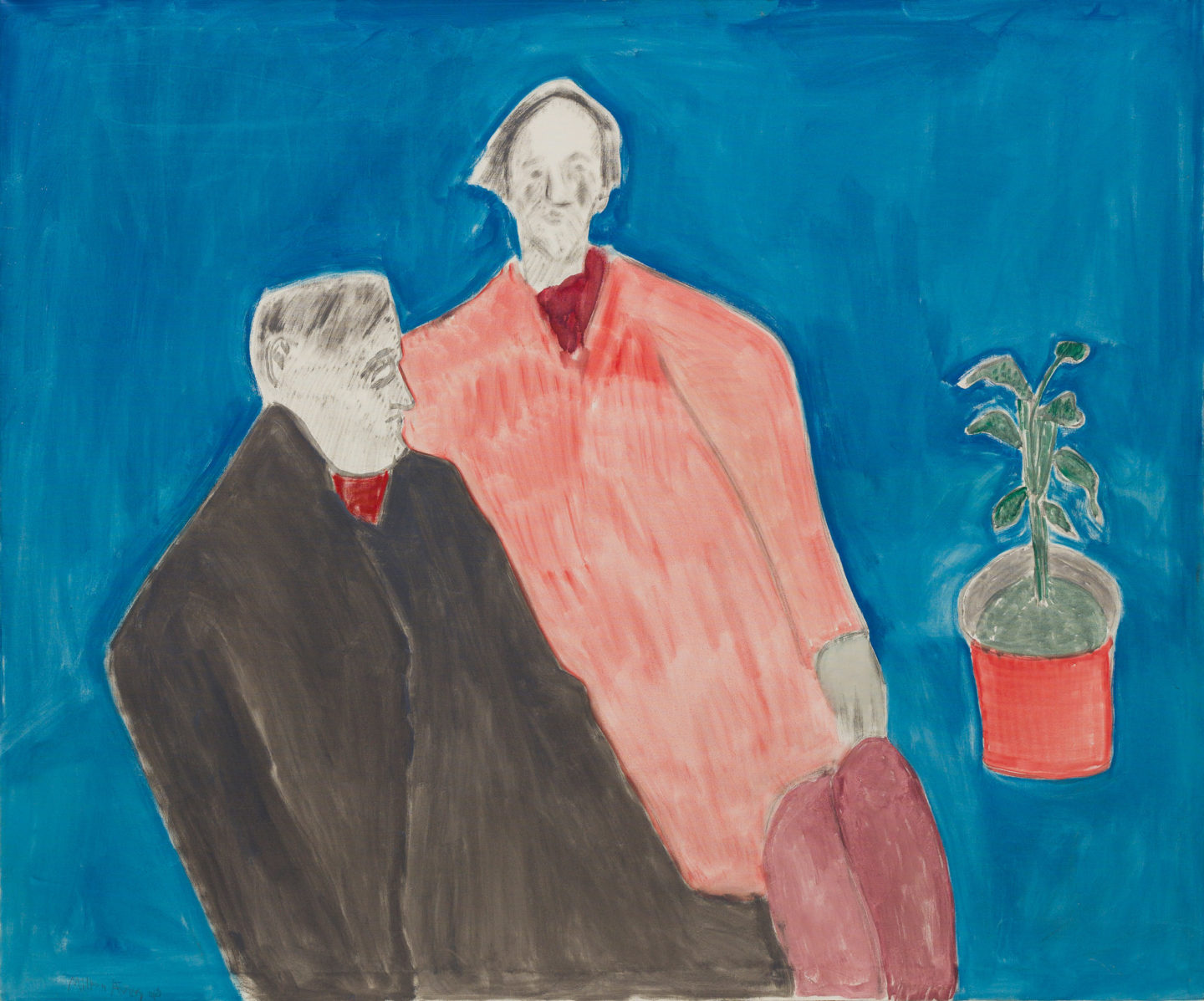 Oil on canvas
127 x 152.4 cm
50 x 60 in
Milton Avery, Two Poets, 1963
By the early 1960s Milton Avery was working almost exclusively from his in-home studio with a bird's-eye view of Central Park. This city dwelling was an ideal setting for frequent gatherings and he continued to be an active observer of visitors, distilling characteristics with refined simplicity. Two Poets is one of the last large-scale paintings completed by the artist and is masterful in its simplicity, by turns modest and monumental.
---
Howardena Pindell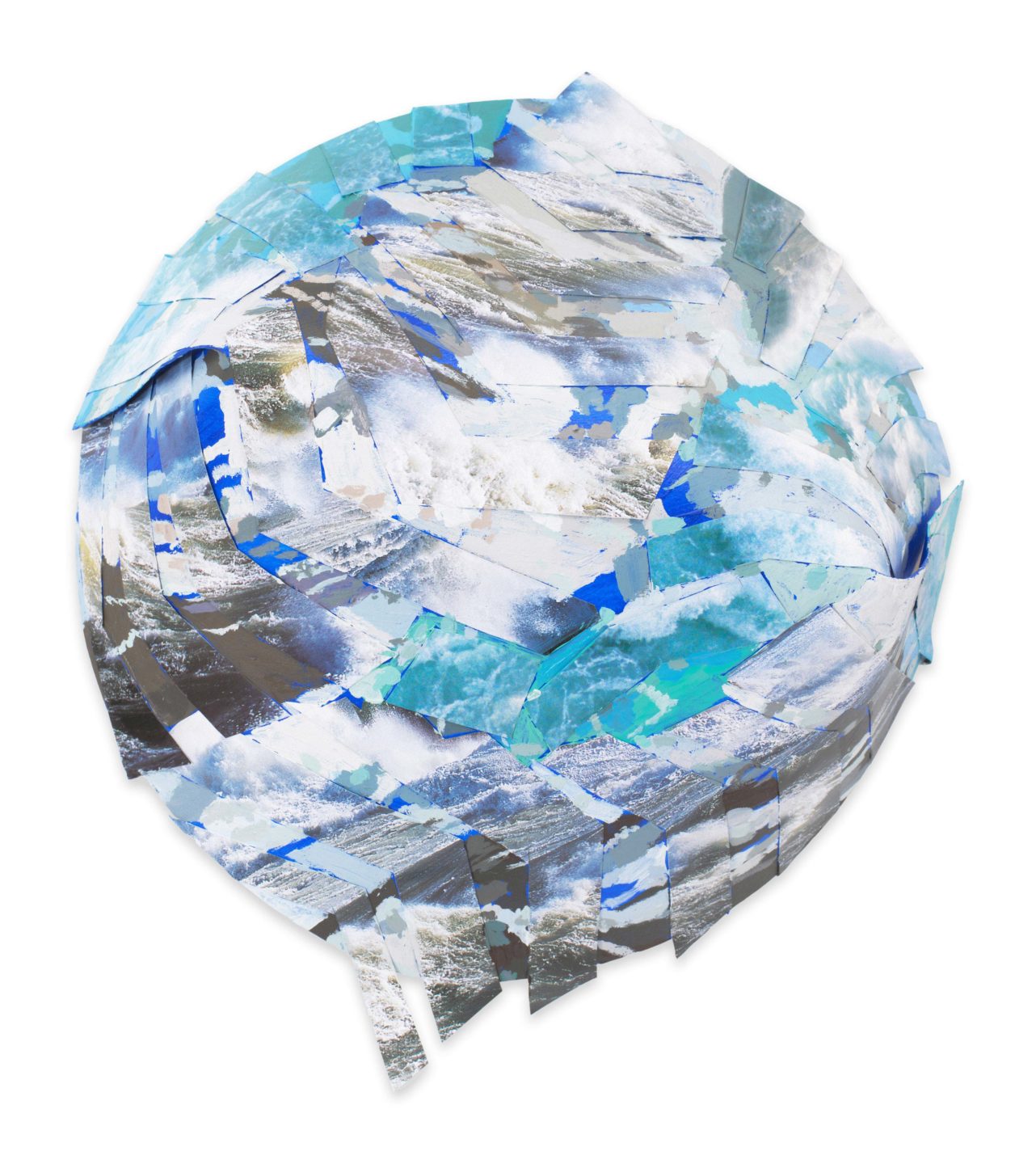 Mixed media collage on paper
33 x 25.4 cm
13 x 10 in
Howardena Pindell, The Wave, 2011
To create works such as The Wave, 2011, Pindell drew upon her extensive collection of photographs taken while travelling, postcards she purchased, as well as other ephemera from her trips. Gravitated to what she describes as 'more natural shapes', she arranged these asymmetrically, often fanning multiple images of the same location in patterns to create a sense of compression or expansion that, allied to her own embodied experience, shifts the viewer's perspective.
---
Idris Khan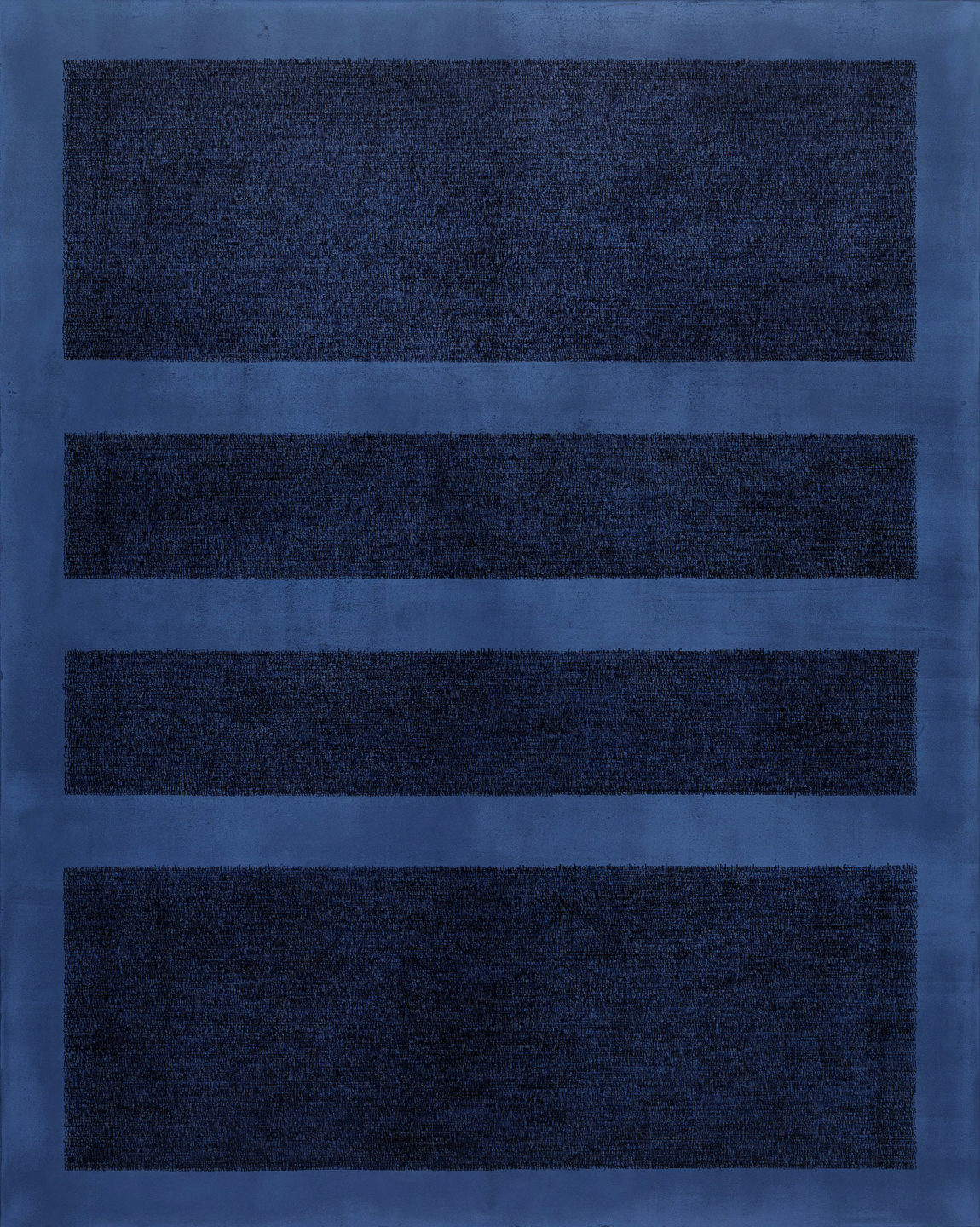 Oil based ink on gesso, on aluminium
250.5 x 200 cm
98 5/8 x 78 3/4 in
Idris Khan, So many all of nothing, 2020
'Blue has an immediate effect on emotion. I think it can have a positive or negative effect on the eye.'— Idris Khan
So many all of nothing, 2020, is a large-scale painting featuring passages of texts in which Khan expresses thoughts, feelings and responses to 2020. Diaristic in nature, these texts, once repeated and layered in sonorous blue oil, are distilled, a number fragmentary experiences and disparate ideas becoming a single image.
---
Sarah Sze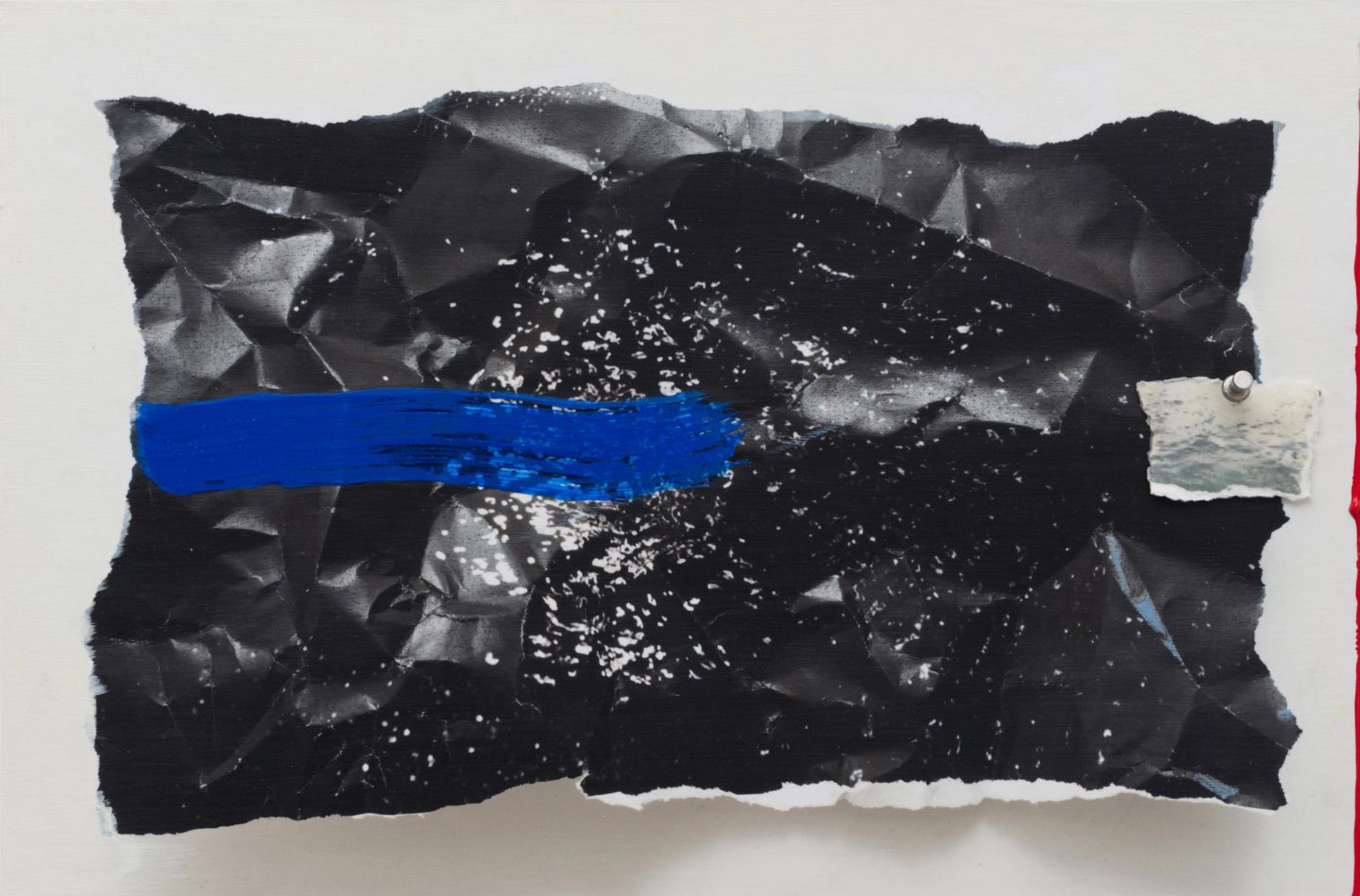 Oil paint, acrylic paint, archival paper, UV stabilizers, adhesive, tape, ink and acrylic polymers, shellac and water based primer on wood
Panel size: 30.5 x 45.5 x 6 cm
(12 1/8 x 17 7/8 x 2 3/8 in)
Including archive: 179 x 279 x 6 cm
(70 1/2 x 109 7/8 x 2 3/8 in)
Sarah Sze, Afterimage, Screen with Blue Brush Stroke (Painting in its Archive), 2018
Afterimage, referring to the effect where an image continues to appear in our vision after exposure to the original image has ceased, also alludes to the filmic idea of the persistence of vision, where the afterimage fills in the gaps between film frames, setting still images into motion in our perception and memory.
---
Ilse D'Hollander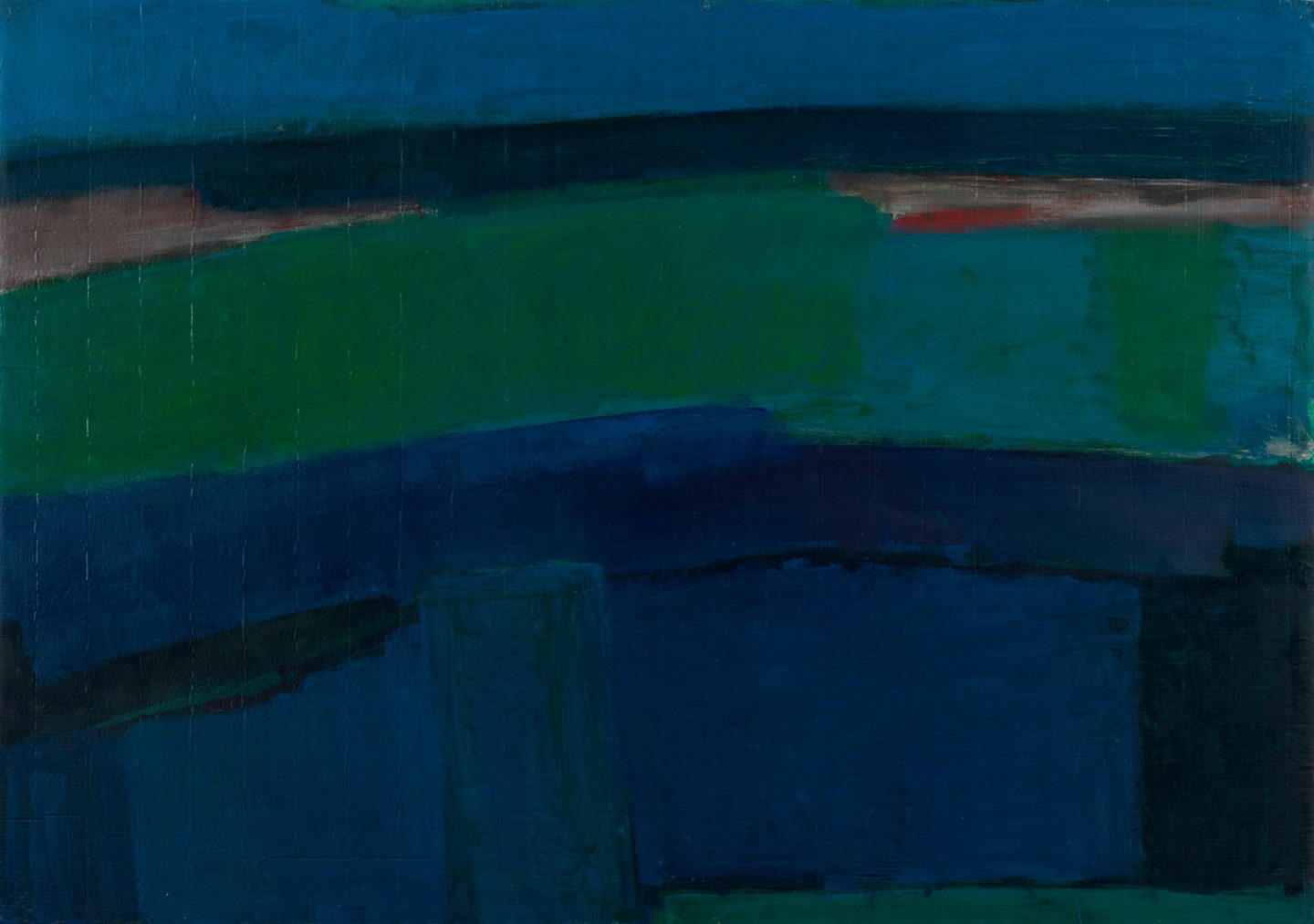 Mixed media on cardboard
71 x 100 cm
28 x 39 3/8 in
Ilse D'Hollander, Untitled, 1990–1991
'Greens, blues, deep red and other vivid tints clash and commingle in lapidary facets, by turns glinting and sombre, that bear a resemblance to landscapes by Gustav Klimt and Egon Schiele.'— David Anfam
---
Flora Yukhnovich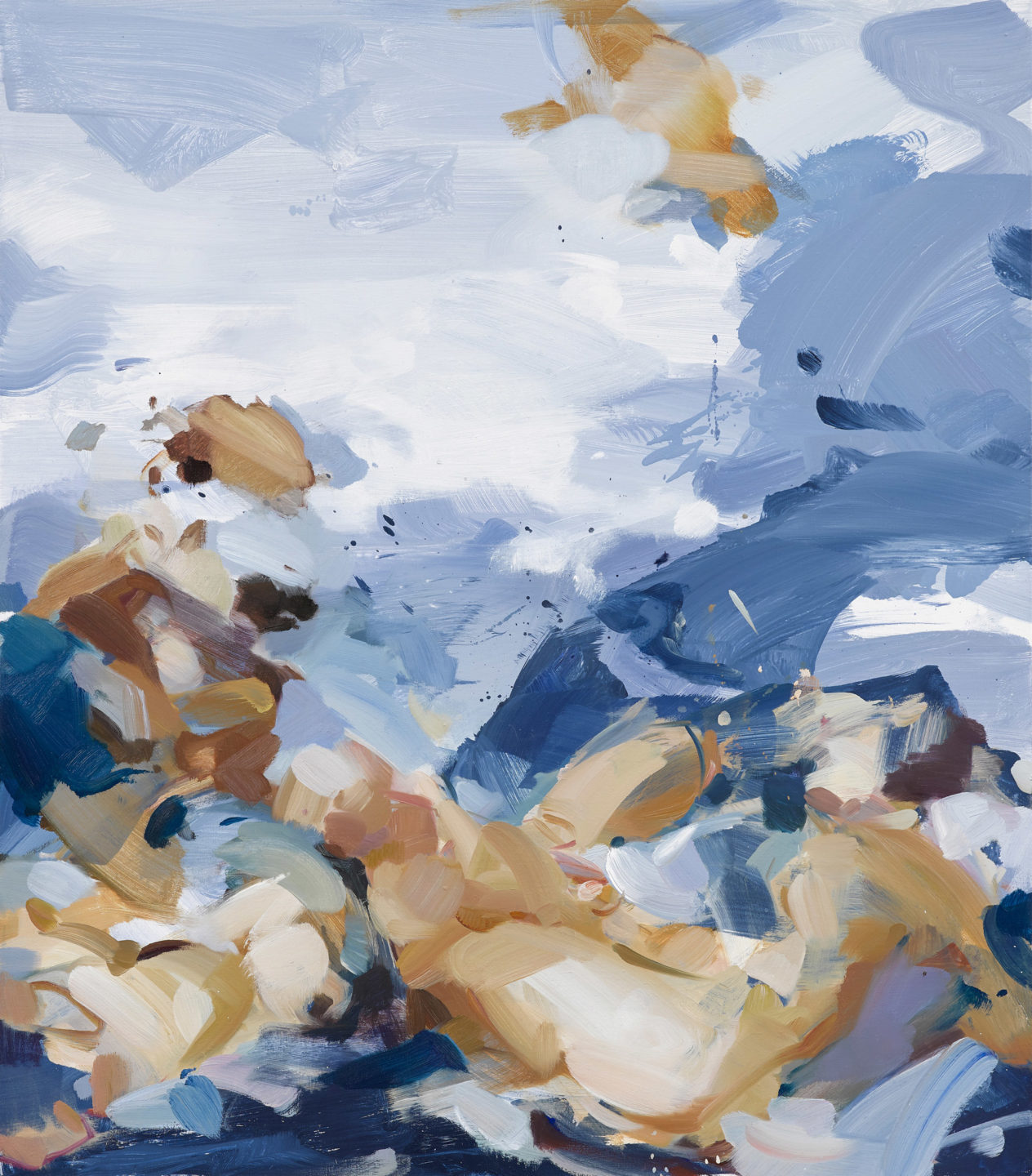 Oil on linen
80 x 70 cm
31 1/2 x 27 1/2 in
Flora Yukhnovich, Soft Peaks, 2021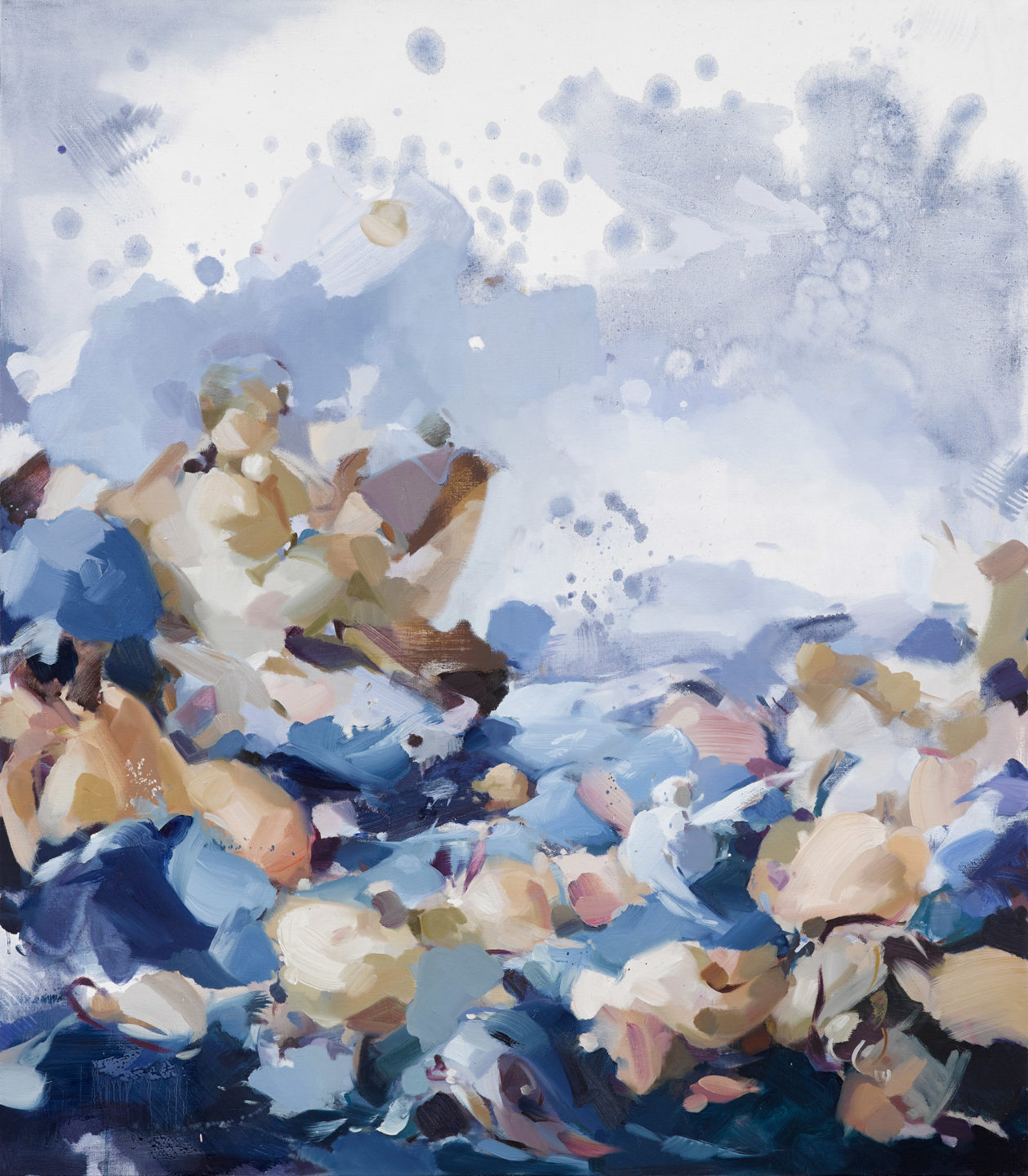 Oil on linen
120 x 105 cm
47 1/4 x 41 3/8 in
Flora Yukhnovich, Cream always rises, 2021
'There is a tendency for water and the sea to be spoken about as female – fluid and soft but also capricious and destructive. I like the potential for strength or force in that association…'— Flora Yukhnovich
New paintings created especially for this exhibition take their initial inspiration from Boucher's Triumph of Venus, 1740, which depicts Venus, seated in a seashell, surrounded by sea creatures and representations of love, such as dolphins, tritons, naiads and cupids.
---
Secundino Hernández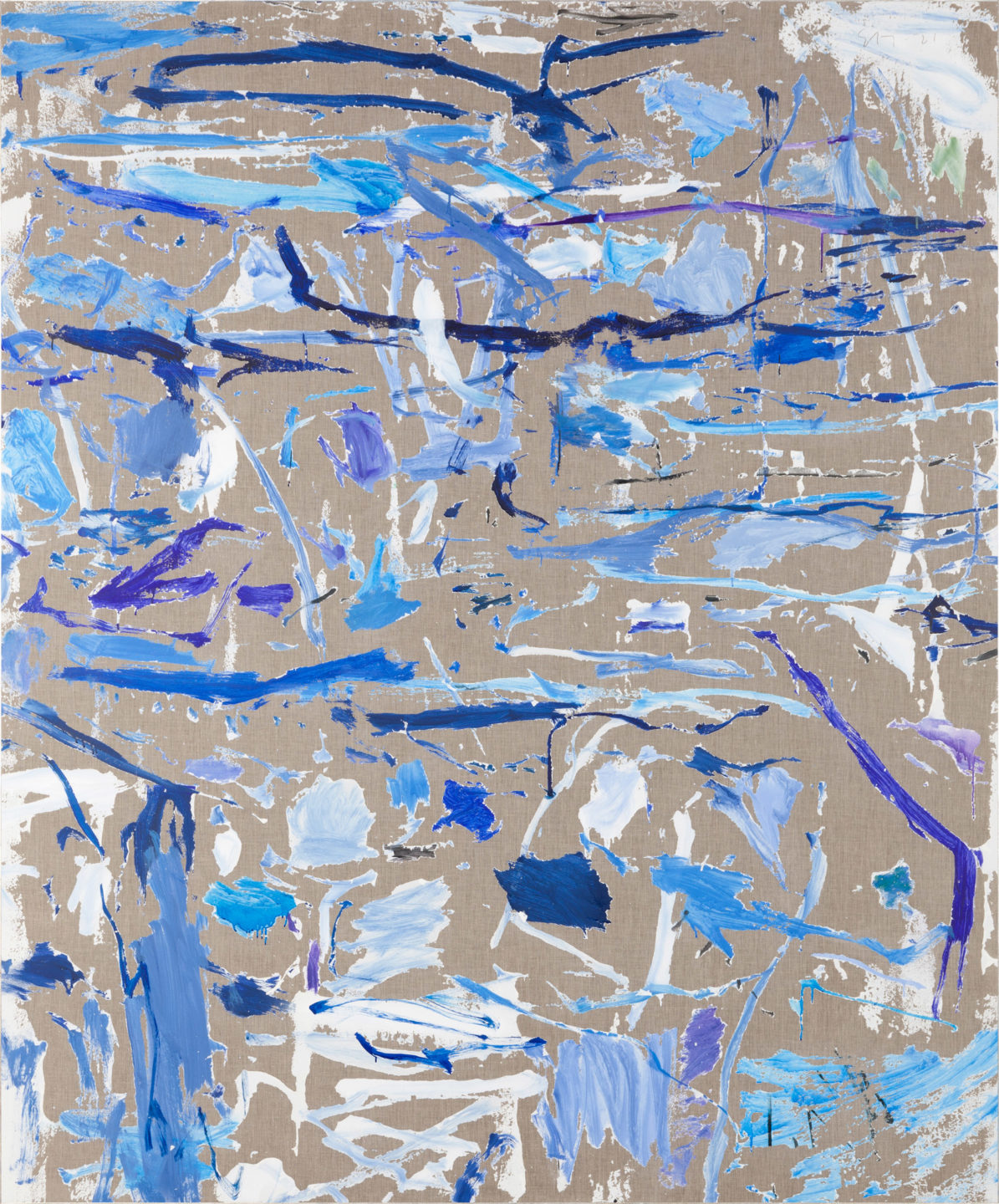 Acrylic on linen
238 x 198 cm
93 3/4 x 78 in
Secundino Hernández, Kind of Blue, 2021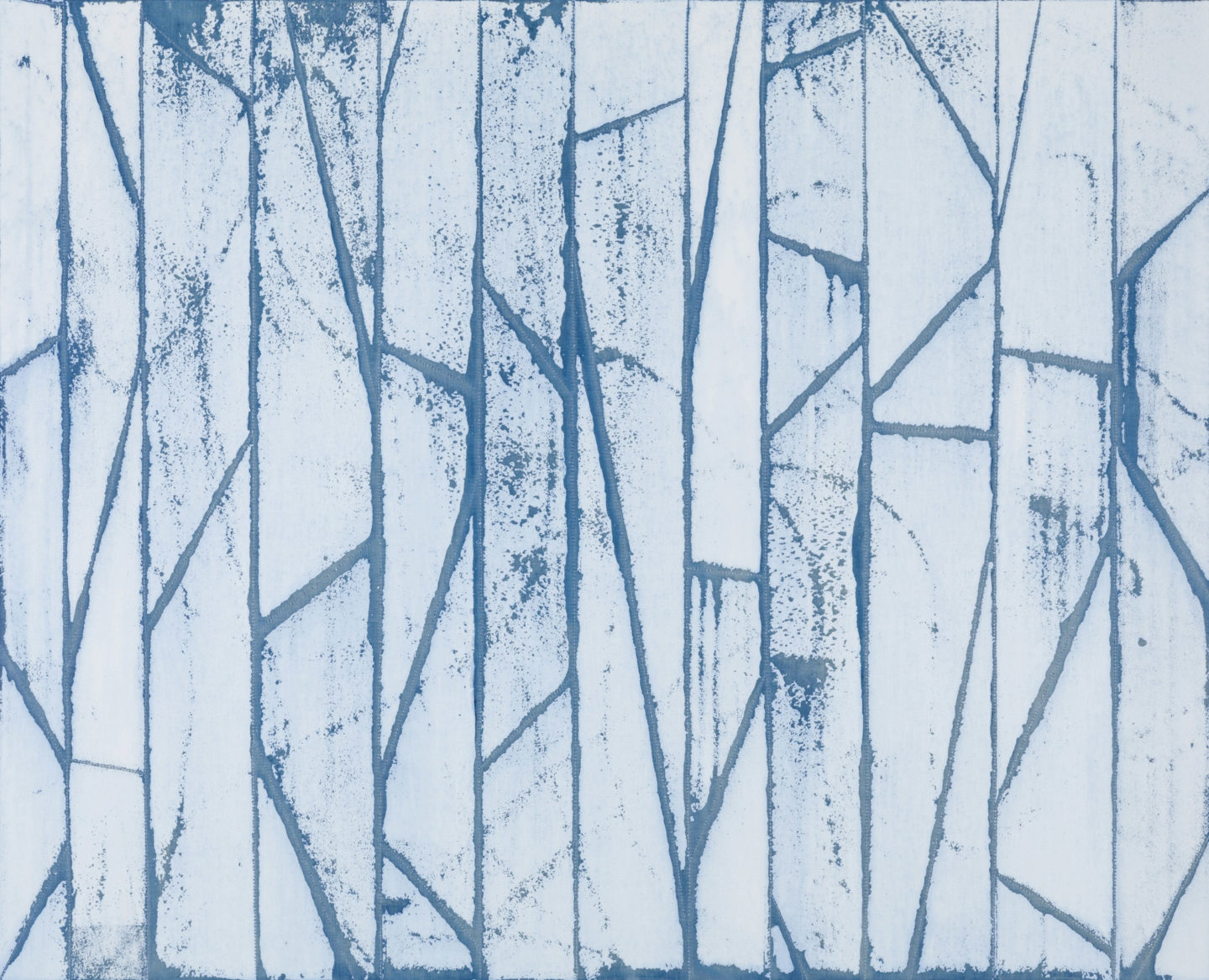 Rabbit-skin glue, chalk, CC,
titanium white pigment and dye on linen
150 x 185 cm
59 x 72.83 in
Secundino Hernández, Untitled, 2020
'I wanted to create washed paintings that refer to the blue found in nature, or even the blue that encompasses our inner lives – complete with beauty but also distress or violence.' — Secundino Hernández
---
Ali Banisadr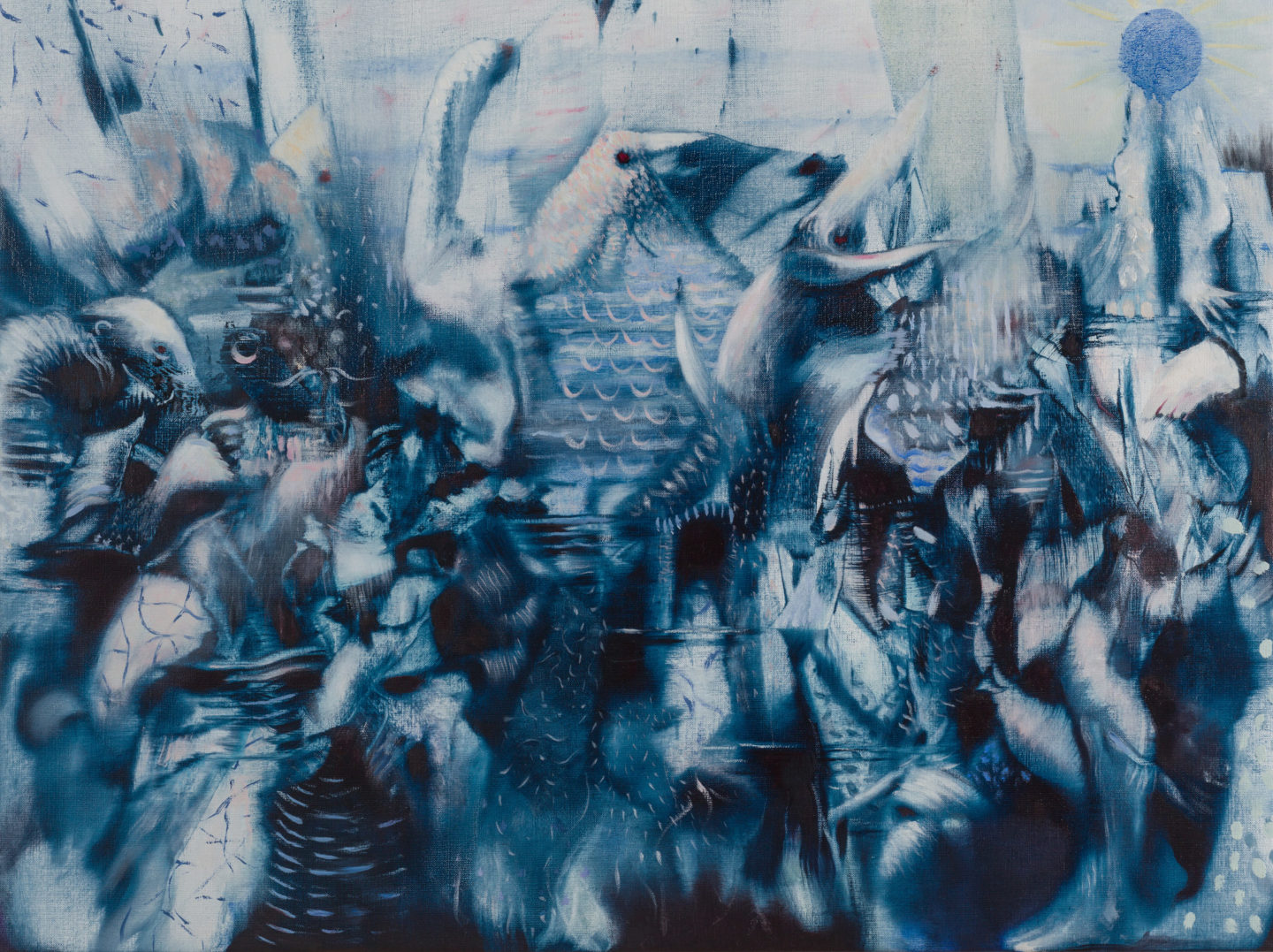 Oil on linen
45.7 x 61 cm
18 x 24 in
Ali Banisadr, Lapis, 2021
'I can imagine these forms as monumental sculptures carved into a wall… At the same time the painting also makes me think of the blue light we all consume from our screens and phones.' — Ali Banisadr
The history of lapis lazuli, mined in the mountains of Badakhshan (in modern-day Afghanistan) and exported to Europe and beyond along the trade routes, is one of connections across continents and cultures that finds parallels in Banisadr's work, where influences and ideas flow back and forth in time and contemporary resonances inhabit ancestral forms.
---
Jules de Balincourt
Oil on panel
86.4 x 76.2 cm
34 x 30 in
Jules de Balincourt, Uphill and Downhill, 2020
Often, as in the work on display, de Balincourt's paintings hinge on utopian/dystopian narratives, structures of power or opposing forces. At the same time, they carve a space of reflection and contemplation against a tide of contemporary media.
---
John Kørner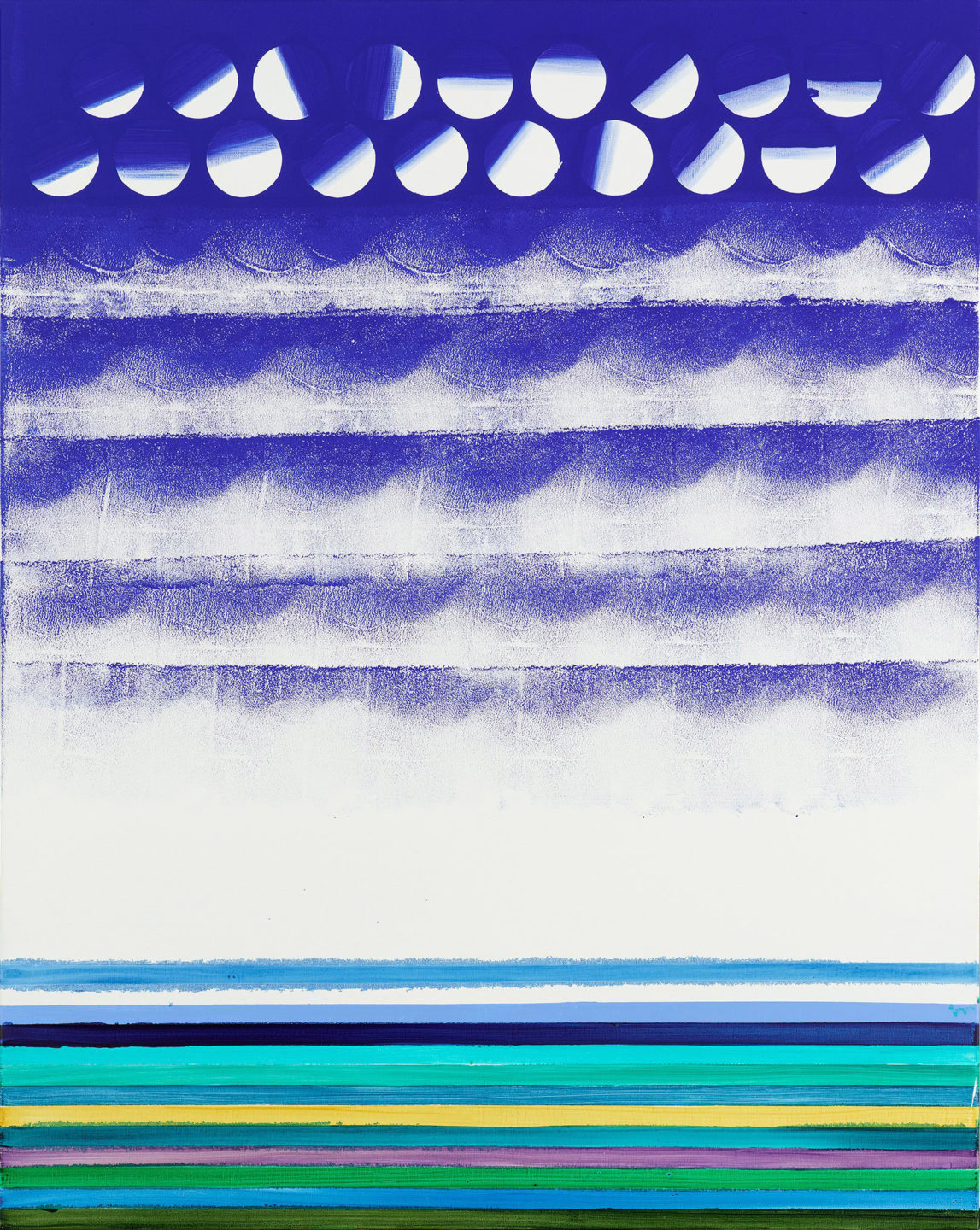 Acrylic on canvas
150 x 120 cm
59 1/8 x 47 1/4 in
John Kørner, Shadows of the Moon, 2012
Shadows of the Moon proposes the almost sci-fi idea of there being more than one moon, perhaps moving in different directions (the artist cites as a source of inspiration Haruki Murakami's alternate reality novel 1Q84) and how life, as a measure of time and movement, might change.
---
Isaac Julien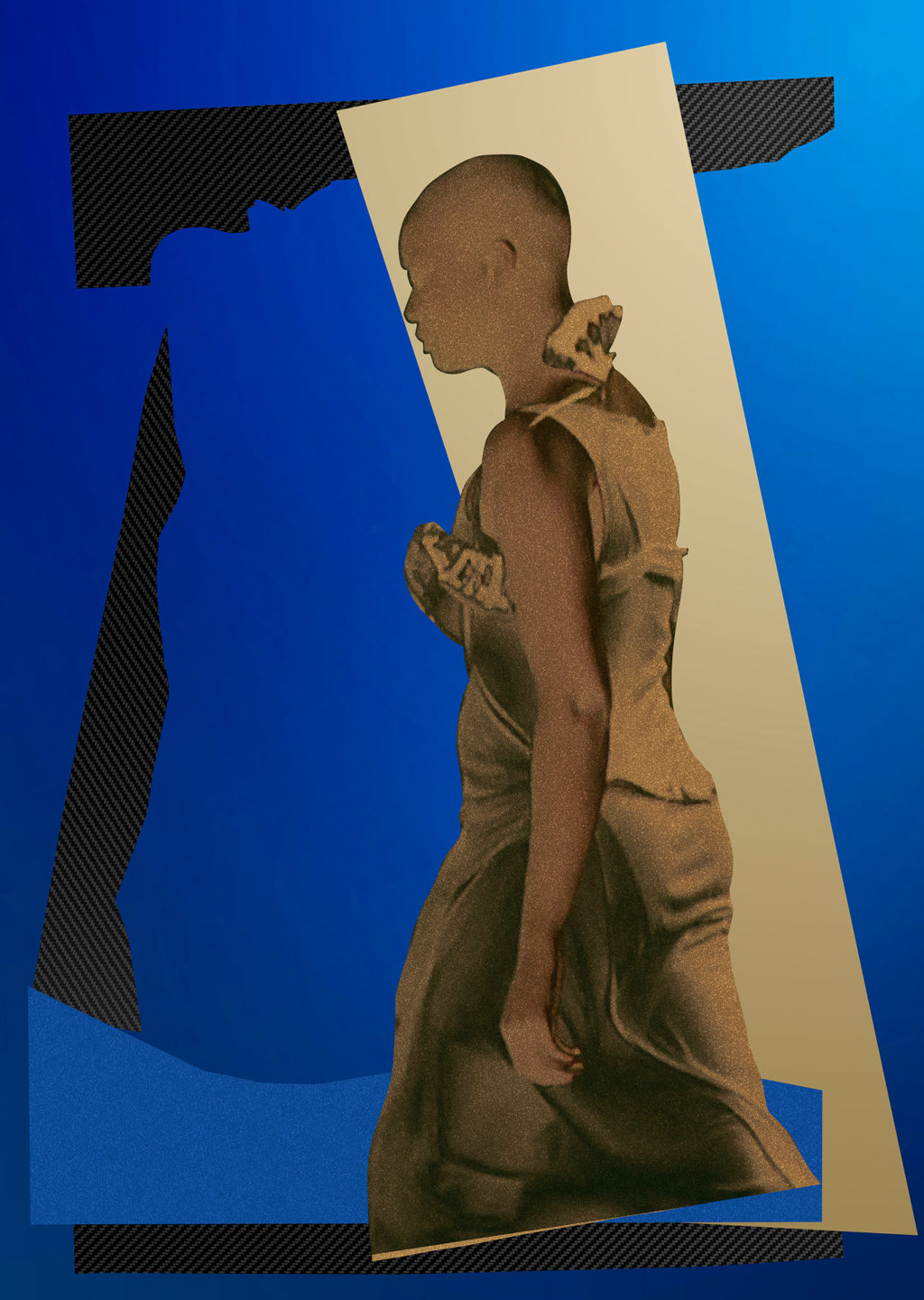 Coloured foils and inkjet print on Dibond
86.7 x 62 cm
34 1/8 x 24 3/8 in
Isaac Julien, After the Deluge (Radioactive Avatar #15),, 2018
In these works, feelings of dislocation are heightened by the dramatic use of collage, where enigmatic figurative and abstract elements are brought together on metallic foils. These elements – in colours such as silver, gold, copper and blue – create an unreal, dream-like effect and shift the work beyond the photographic into a compelling territory of hybrid materiality.
---
NS Harsha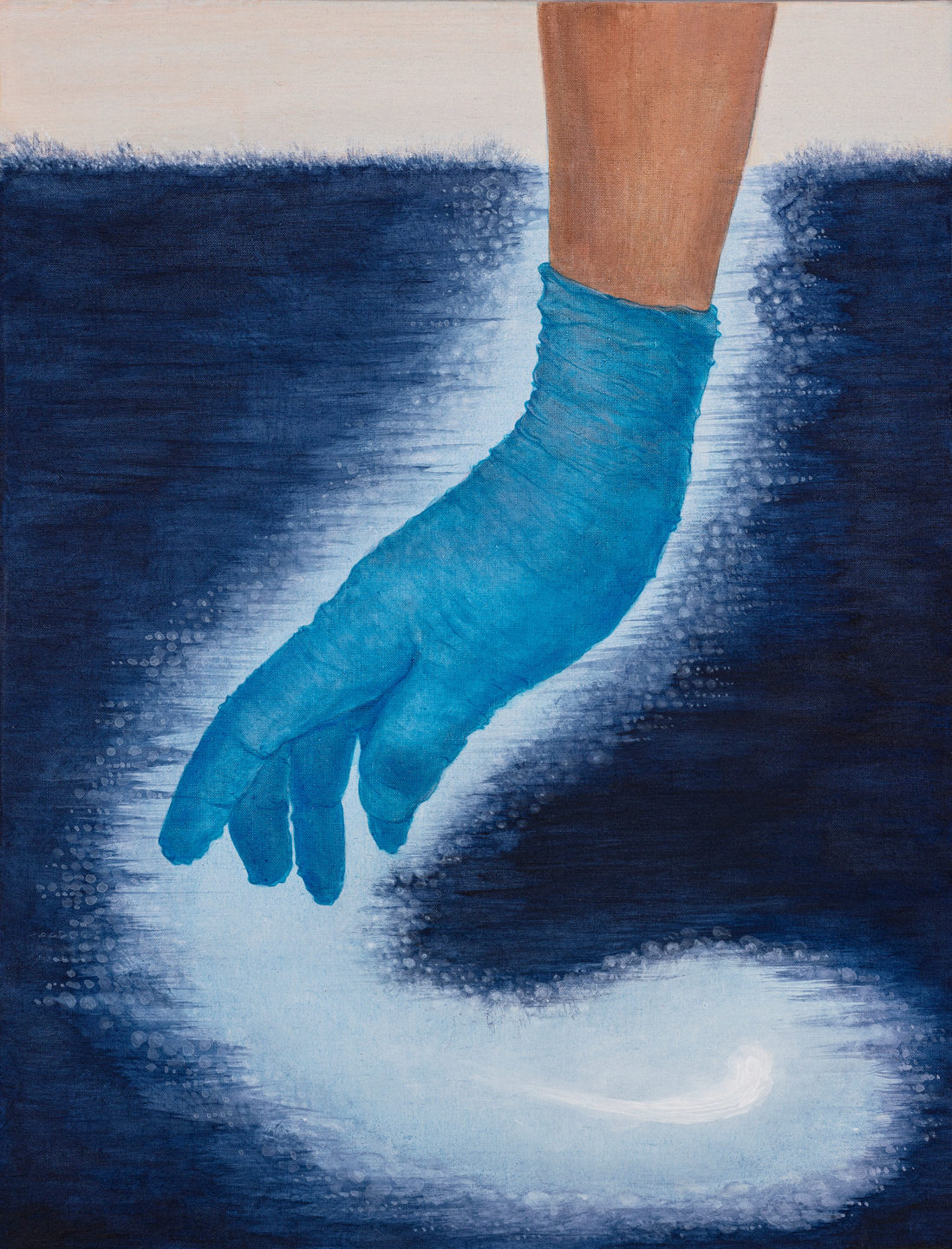 Acrylic on canvas
43 x 33 cm
16.92 x 83.82 in
NS Harsha, May 2020, 2020
May, 2020, which was painted over one month last year, features one of the most enduring images of the current Covid pandemic – a blue surgical glove. The blue gloved hand reaches into a blue space, in search of something that remains tantalisingly out of reach and out of view.
---
Tal R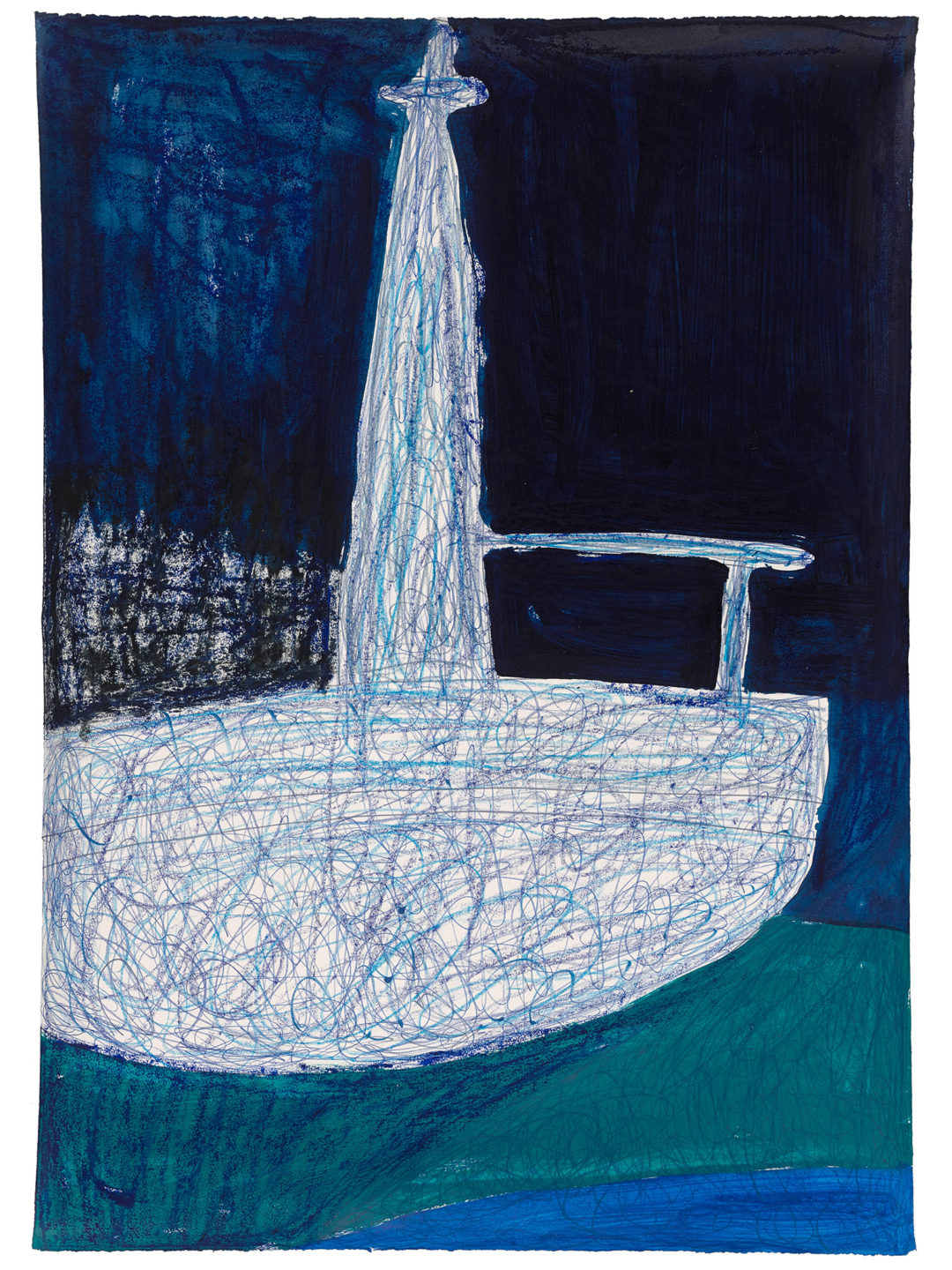 Oil stick on paper
109 x 77 cm
42 7/8 x 30 1/4 in
Tal R, small boat leaving, 2018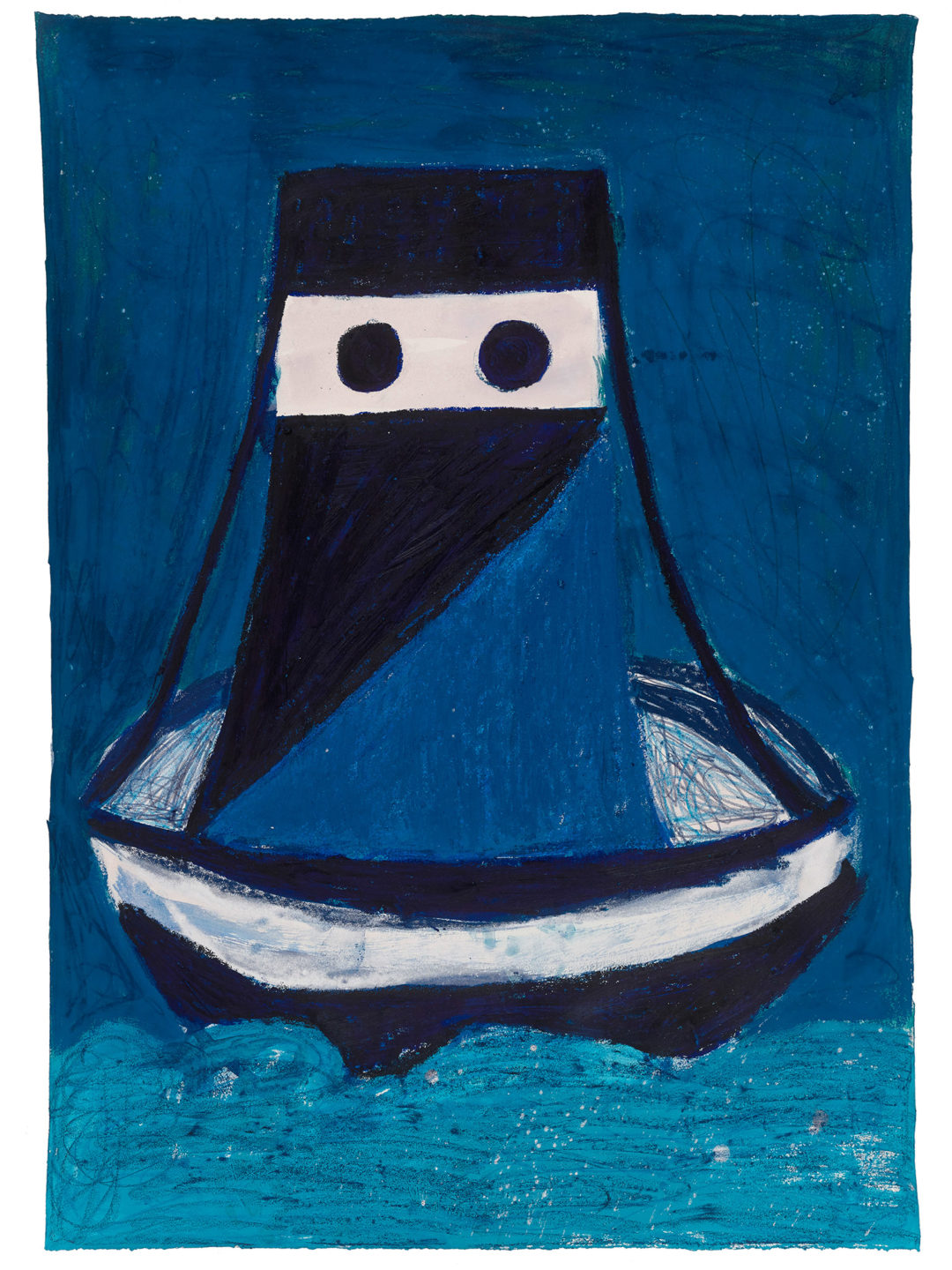 Oil stick on paper
109 x 77 cm
42 7/8 x 30 1/4 in
Tal R, eventually all museums will be ships, 2018
'I have lots of paintings that fantasise about the sea and ships… It's a metaphor about getting lost and found.'— Tal R
---
Do Ho Suh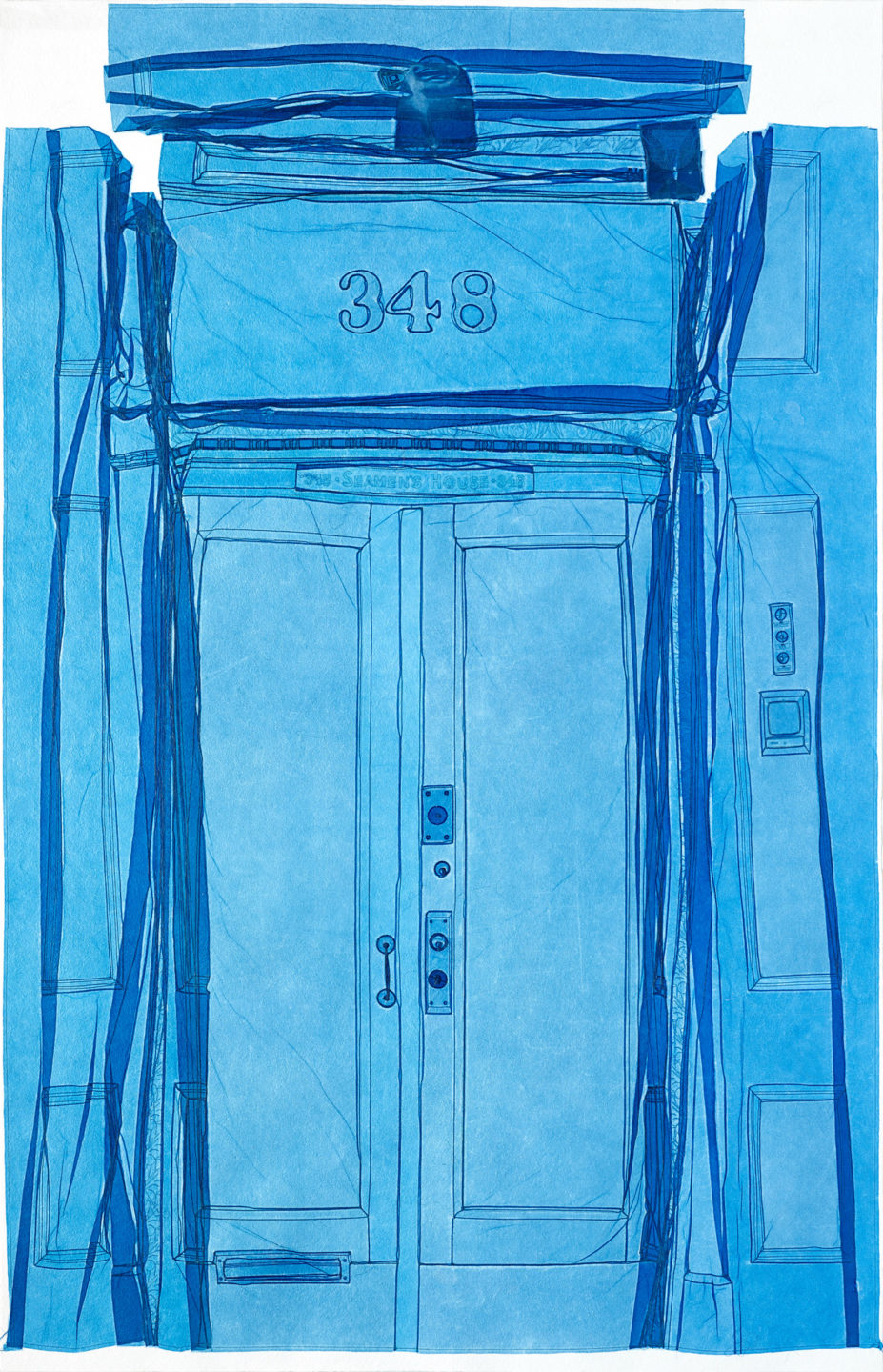 Thread drawing and gelatin sheet embedded on STPI handmade cotton paper
385.5 x 258 x 10 cm
151 3/4 x 101 5/8 x 4 in
Do Ho Suh, Main Entrance, 348 West 22nd Street, New York, NY 10011, 2016
This work draw parallels between architectural space, clothing and the body, making explicit Suh's fascination with the interconnected spaces we inhabit while continuing his career-long investigation into the porous boundaries of identity.
---
Grayson Perry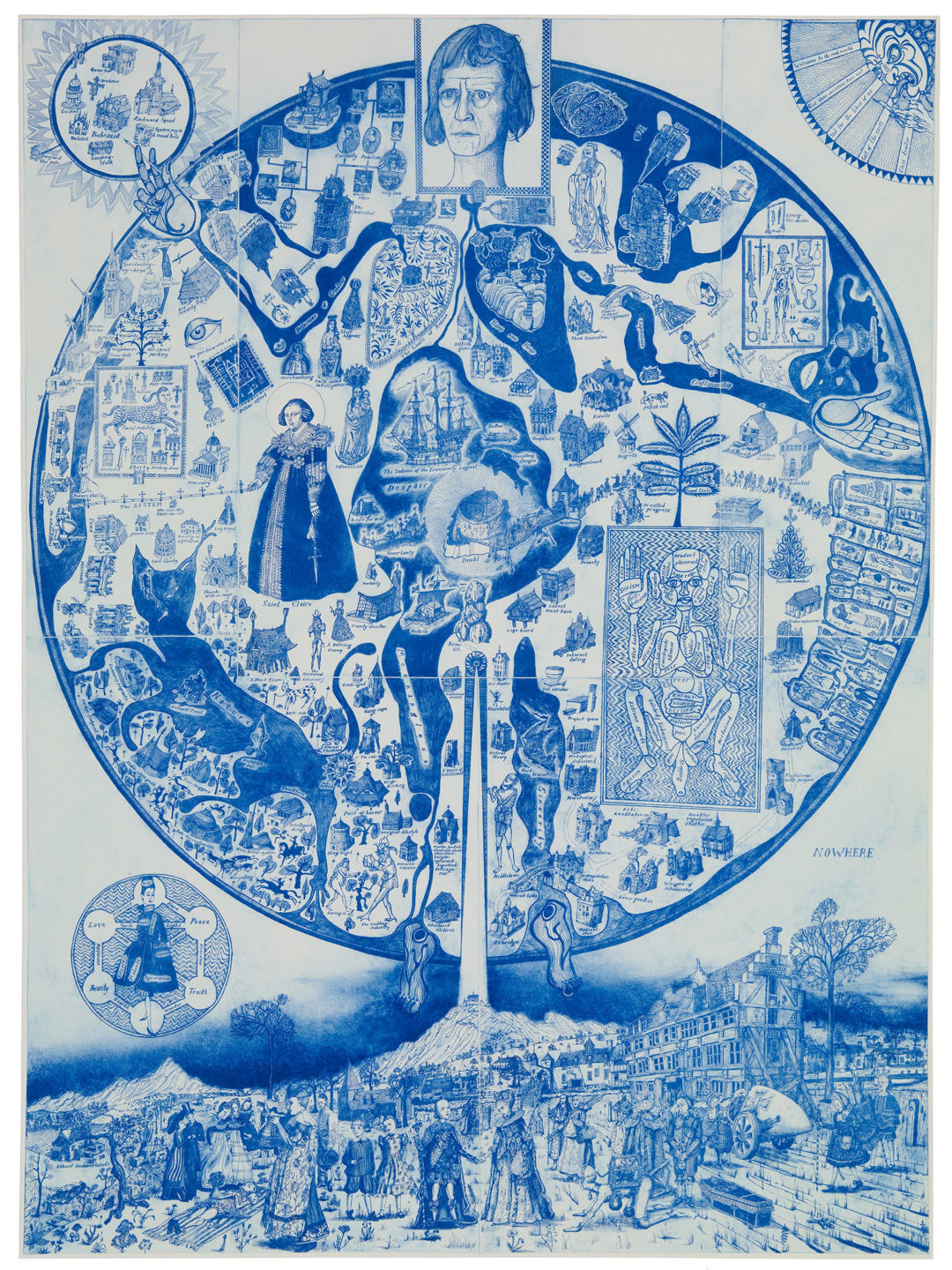 Colour etching from five plates
153 x 113 cm
60 1/4 x 44 1/2 in
Edition of 15 plus 1 AP
Grayson Perry, Map of Nowhere (blue), 2008
'People are very wedded to the idea of a neat ending: our rational brains would love us to tidy up the mess of the world and to have either Armageddon or Heaven at the end of our existence. But life doesn't work like that – it's a continuum.'— Grayson Perry
---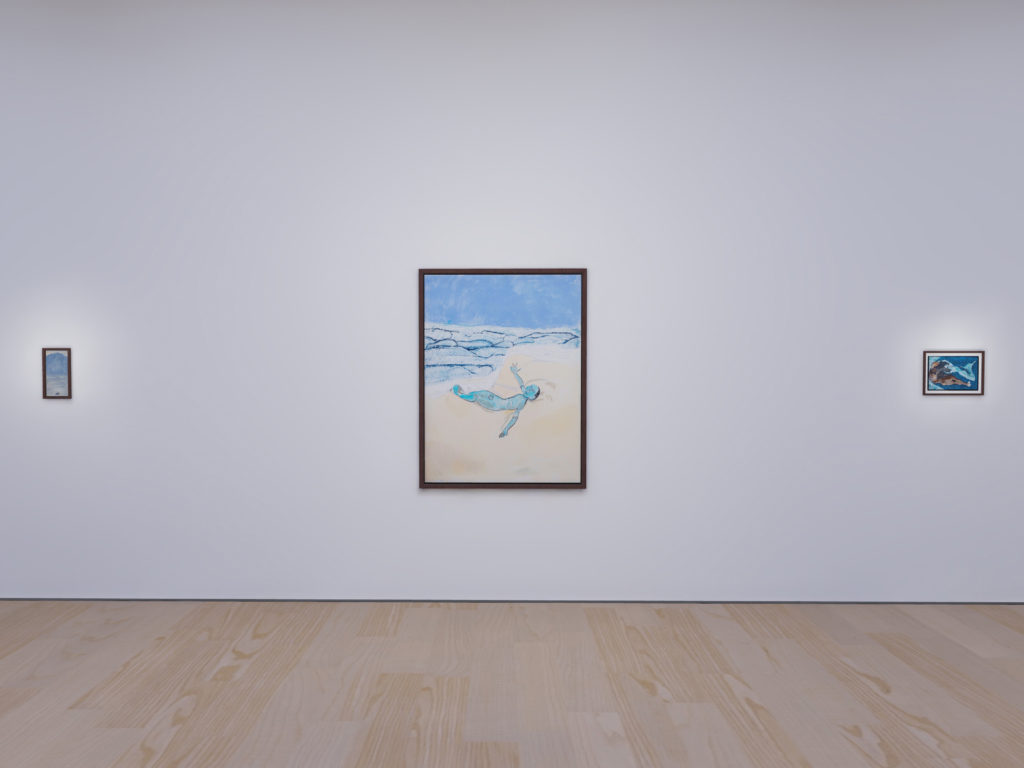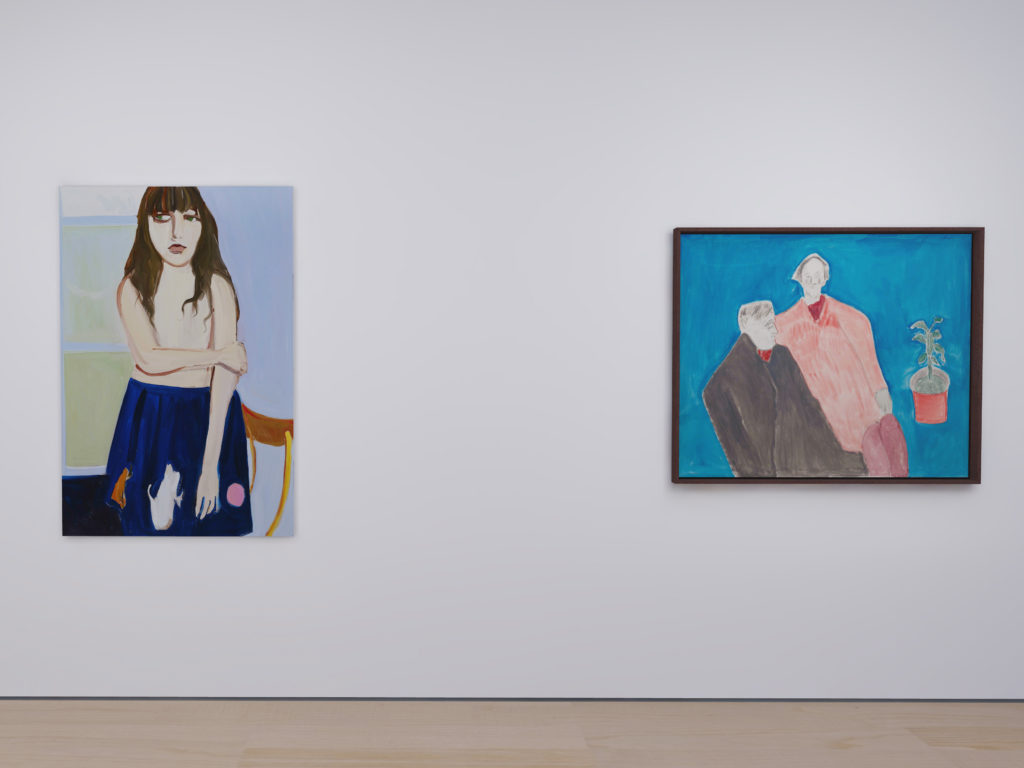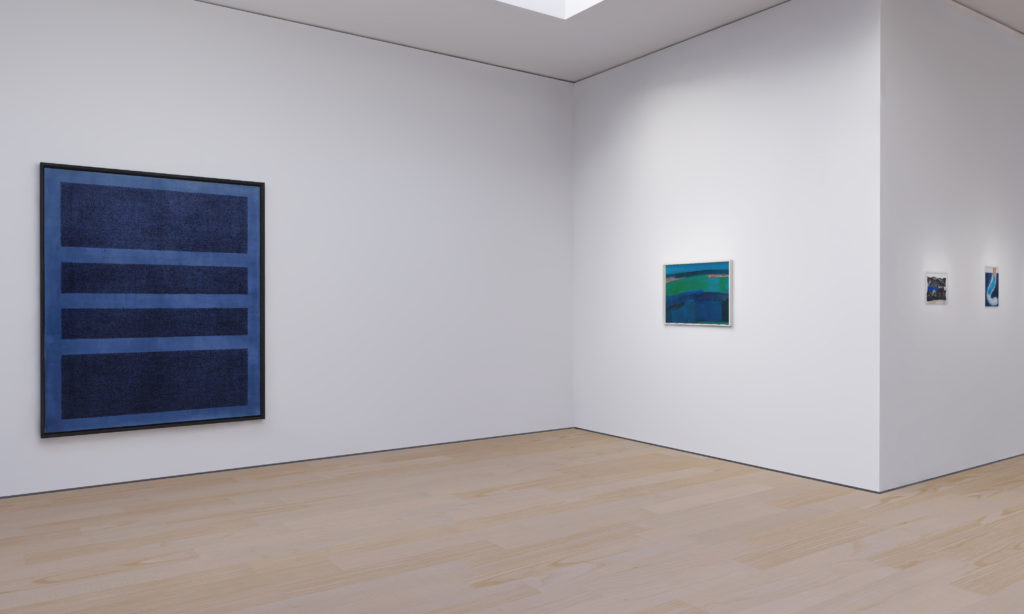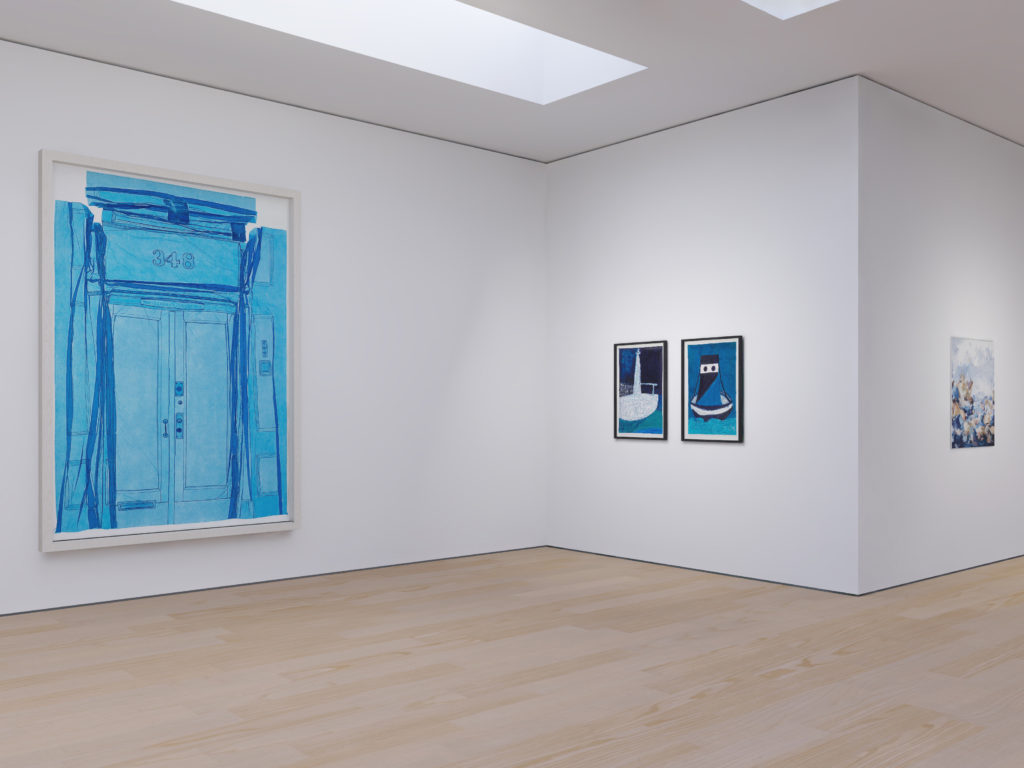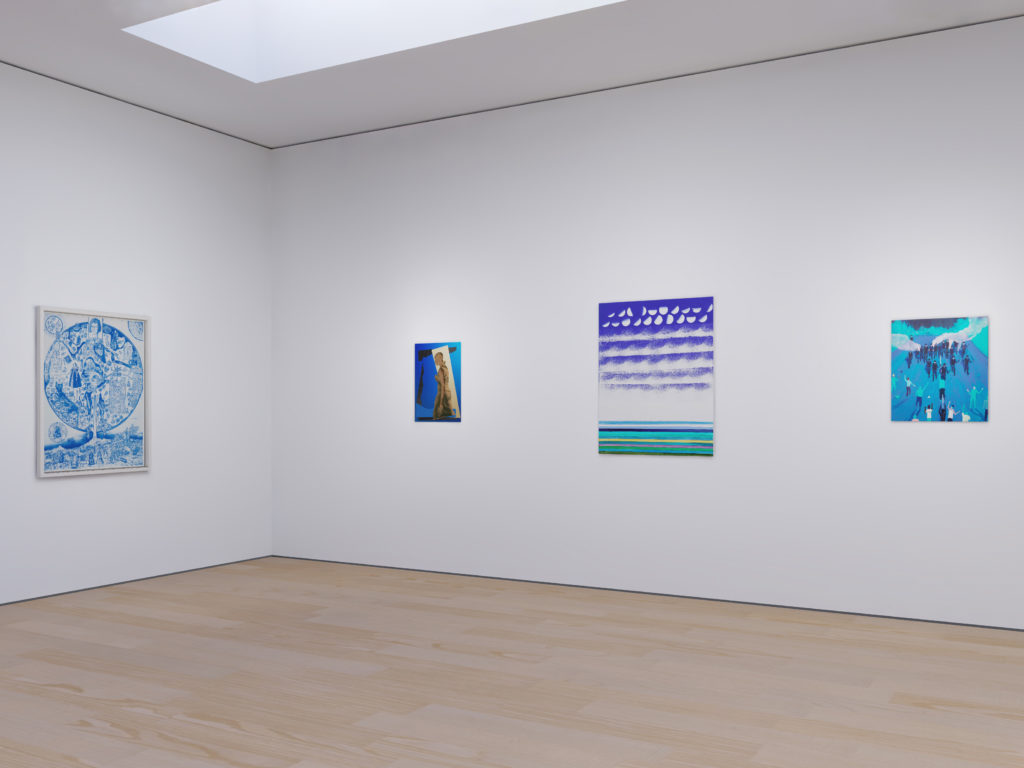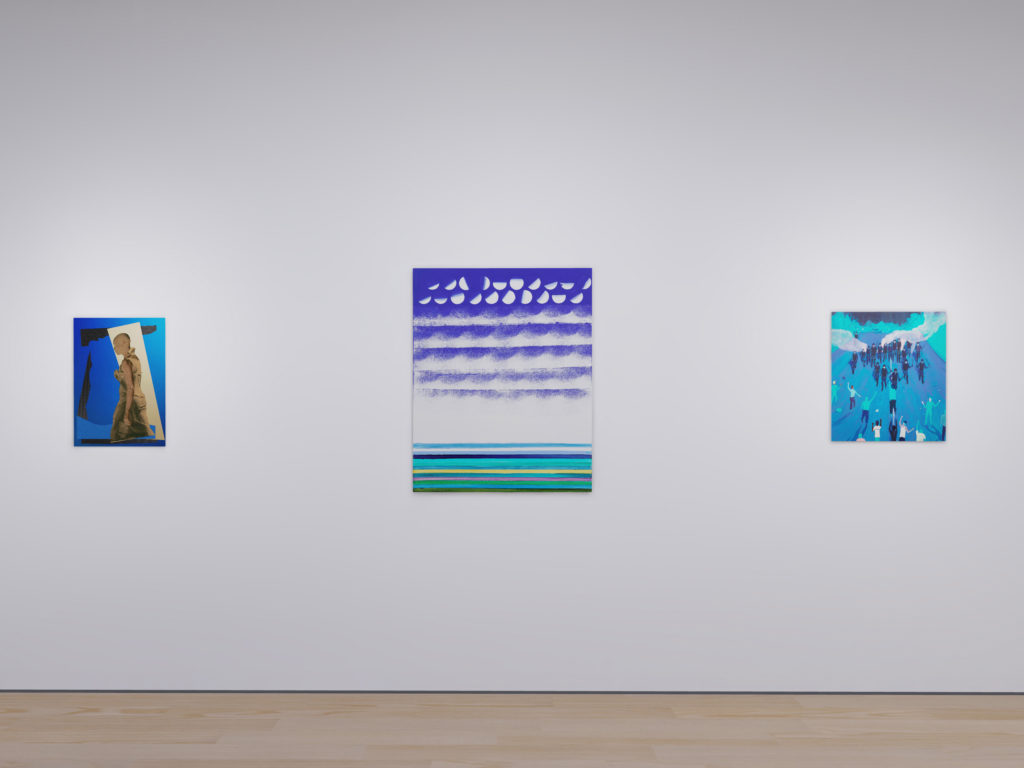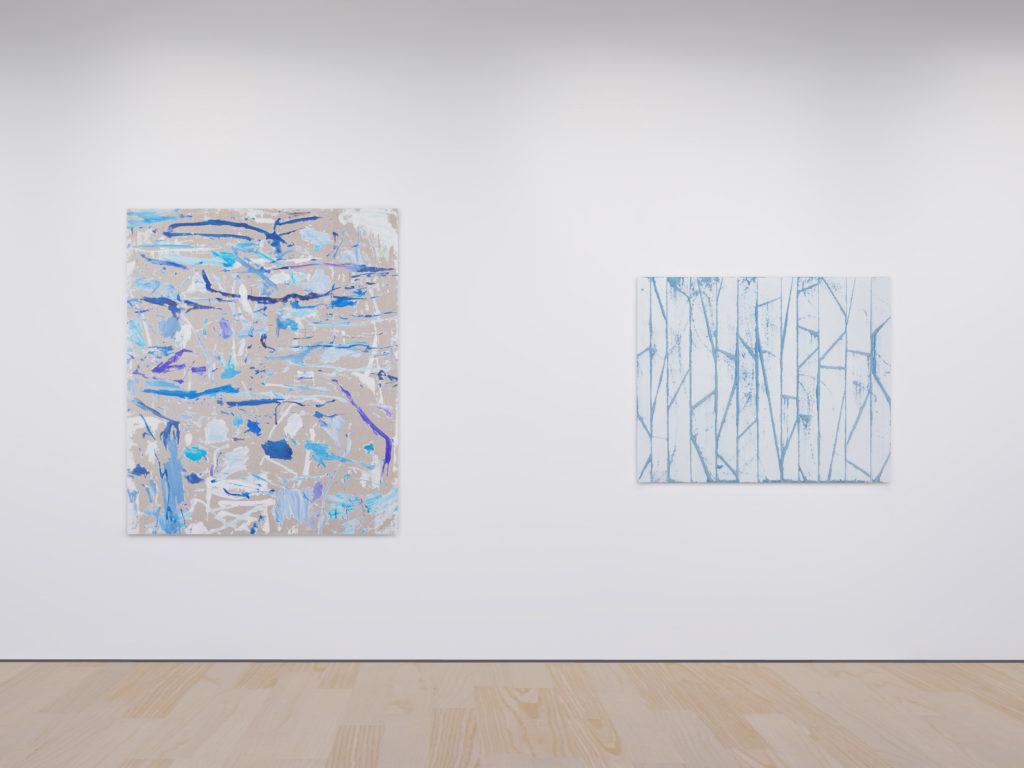 About London Collective on Vortic
Click here to view the exhibition
London Collective brings together over 20 of the capital's best commercial galleries to present virtual 3D exhibitions on Vortic, the leading virtual and augmented reality platform for the art world.
The second iteration of the London Collective on Vortic will bring together over 60 artists in exhibitions available to view online at vortic.art and on mobile and tablet devices on the Vortic Collect app. Exhibitions launch throughout the duration of the collective from 24 February until 30 April 2021. Participating galleries will also be hosting live events including conversations, artist talks and curator tours.
The initiative enables galleries to support one another by encouraging equal viewer opportunities and the sharing of audiences via the Vortic platform.
London Collective on Vortic is available to view online at vortic.art, or by downloading for mobile and tablet devices from the App Store now.
Learn more about Vortic here.
For enquiries regarding featured works and other matters, please contact the below:
Victoria Miro: salesinfo@victoria-miro.com
Vortic: enquiries@vorticxr.com