Grayson Perry: Chris Whitty's Cat, 2020
'This work is a domestic scale monument to the strange year we are all living through' — Grayson Perry
Victoria Miro is delighted to offer this significant new sculptural work in cast silver by Grayson Perry.
Chris Whitty's Cat, 2020, was created as part of Grayson Perry's acclaimed six-episode series Grayson's Art Club, broadcast on Channel 4 earlier this year. Every week the artist created a new work whilst hosting masterclasses to help teach the nation how to create art. Presented by the artist from his studio, alongside his wife Philippa, this was a show about the joy and solace of making art.
---
Chris Whitty Cat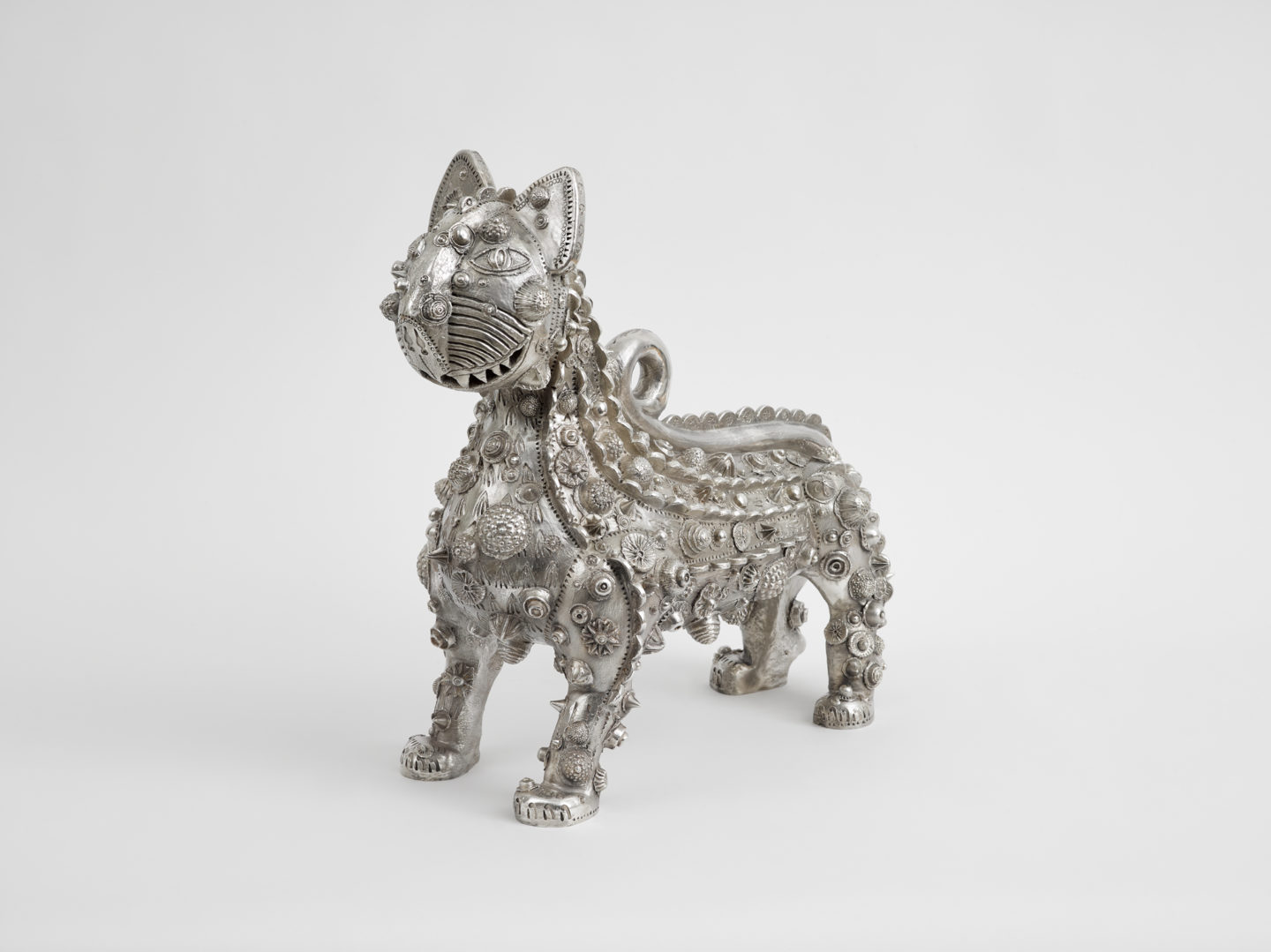 Cast Silver
48 x 48 x 20 cm
18 7/8 x 18 7/8 x 7 7/8 in
Edition of 10 plus 2 artist's proofs
Grayson Perry, Chris Whitty's Cat, 2020
More info
'I was thinking of London and its myths, like Dick Whittington whose cat has its own statue on Highgate Hill.'— Grayson Perry
'When lockdown first started back in March my wife Philippa and I went for a walk around the deserted City of London one evening. We came back through Gough Square where Samuel Johnson's house is and a sculpture of his cat Hodge. When I saw this small life-sized memorial to a pet I was inspired. I was thinking of London and its myths, like Dick Whittington whose cat has its own statue on Highgate Hill. Chris Whitty is the Chief Medical officer for England and Chief Advisor to the government during the crisis. He has become the face of the Covid pandemic.
I was looking through sculptures of cats and one that really caught my eye was an Islamic incense burner. I just loved the elegant shape of it and I wondered how I might use that shape to make a kind of quiet, little domestic scale monument to the crisis we are living through. This plague cat is covered in pustules and boils made decorative.'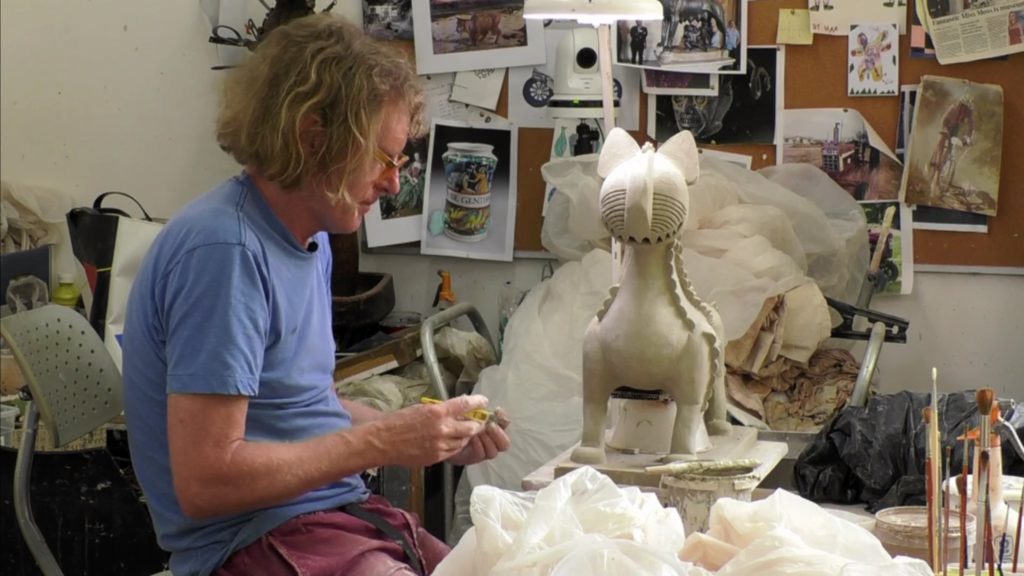 A special episode of Grayson's Art Club: The Exhibition will air 8pm Friday 4 December on Channel 4.
Chris Whitty's Cat is installed in the exhibition opening at Manchester Art Gallery after lockdown. This exhibition of works selected by Grayson Perry tracks the journey the television series took as it unleashed the nation's collective creativity under the constraints of lockdown.
---
About the artist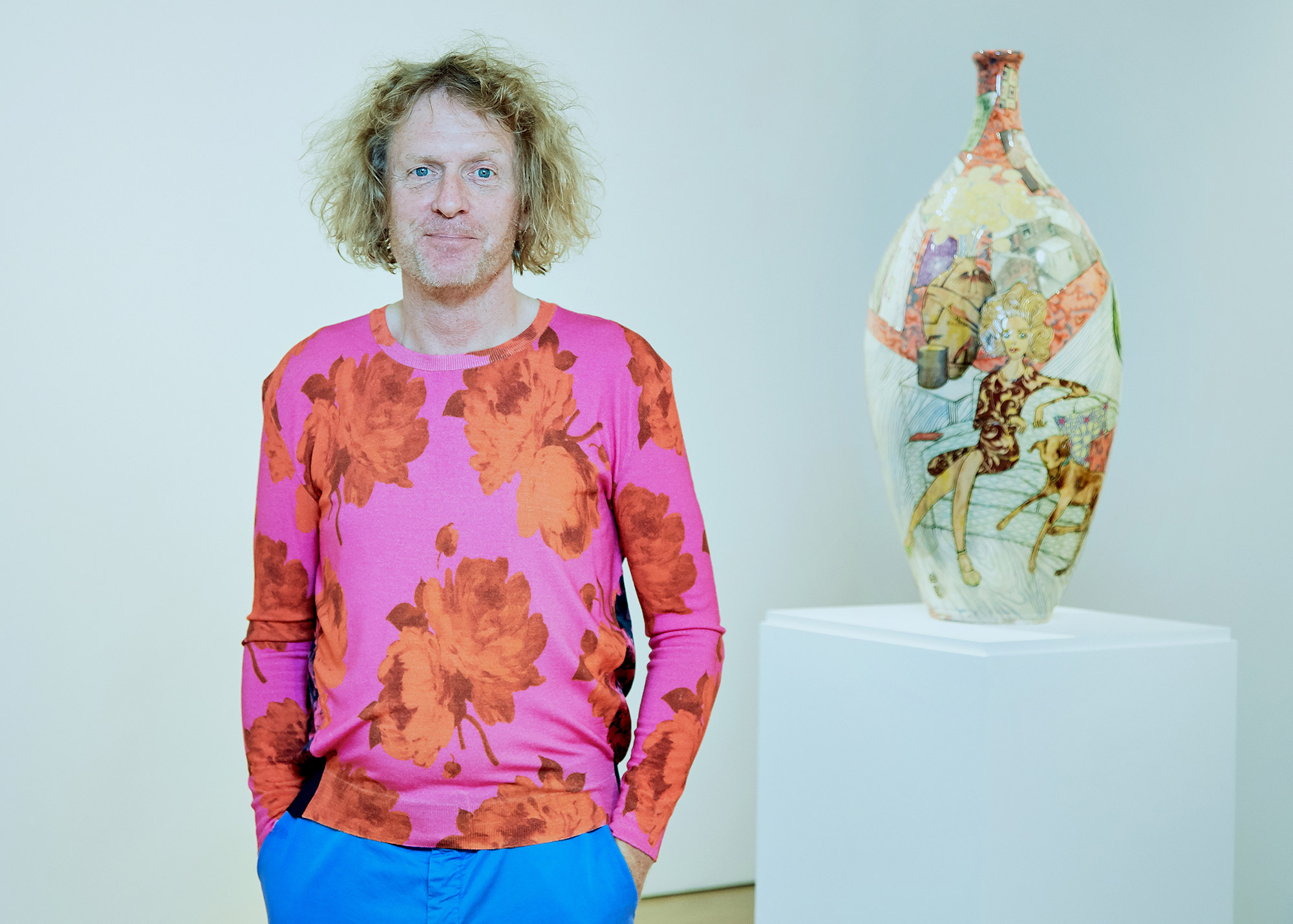 Grayson Perry is a great chronicler of contemporary life, drawing us in with wit, affecting sentiment and nostalgia as well as, at times, fear and anger. In his work, Perry tackles subjects that are universally human: identity, gender, social status, sexuality, religion.
Born in Chelmsford, Essex in 1960, Grayson Perry lives and works in London. Major institutional exhibitions include The Pre-Therapy Years, The Holburne Museum, Bath (on view until 3 January 2021), La Monnaie de Paris (2018–2019); Kiasma, Helsinki (2018); The Serpentine Galleries, London (2017); Arnolfini, Bristol (2017); ARoS Kunstmuseum, Aarhus (2016); Bonnefantenmuseum, Maastricht (2016) and the Museum of Contemporary Art, Sydney (2015-2016). Curated exhibitions include the 250th Summer Exhibition, Royal Academy, London (2018) and The Tomb of the Unknown Craftsman, British Museum, London (2011–2012). Perry delivered The Reith Lectures, BBC Radio 4's annual flagship talk series, in 2013. Other major projects include A House for Essex (permanent building designed in collaboration with FAT Architecture in 2015) and several Channel 4 television series including, All In the Best Possible Taste (2013 BAFTA Winner), Who Are You? (2014 BAFTA Winner), All Man (2016), Divided Britain (2017), Rites of Passage (2018) Grayson Perry's Big American Road Trip (2020) and Grayson's Art Club (2020 and 2021).
---