Grayson Perry: England as seen from Lockdown in Islington
England as seen from Lockdown in Islington, 2021, was created as part of Grayson Perry's acclaimed series Grayson's Art Club, broadcast on Channel 4. Every week the artist created a new work whilst hosting masterclasses to help teach the nation how to create art. Presented by the artist from his studio, alongside his wife Philippa, this was a show about the joy and solace of making art. Grayson's Art Club returns for a third series on Friday 18 March.
Sold out
---
England as seen from Lockdown in Islington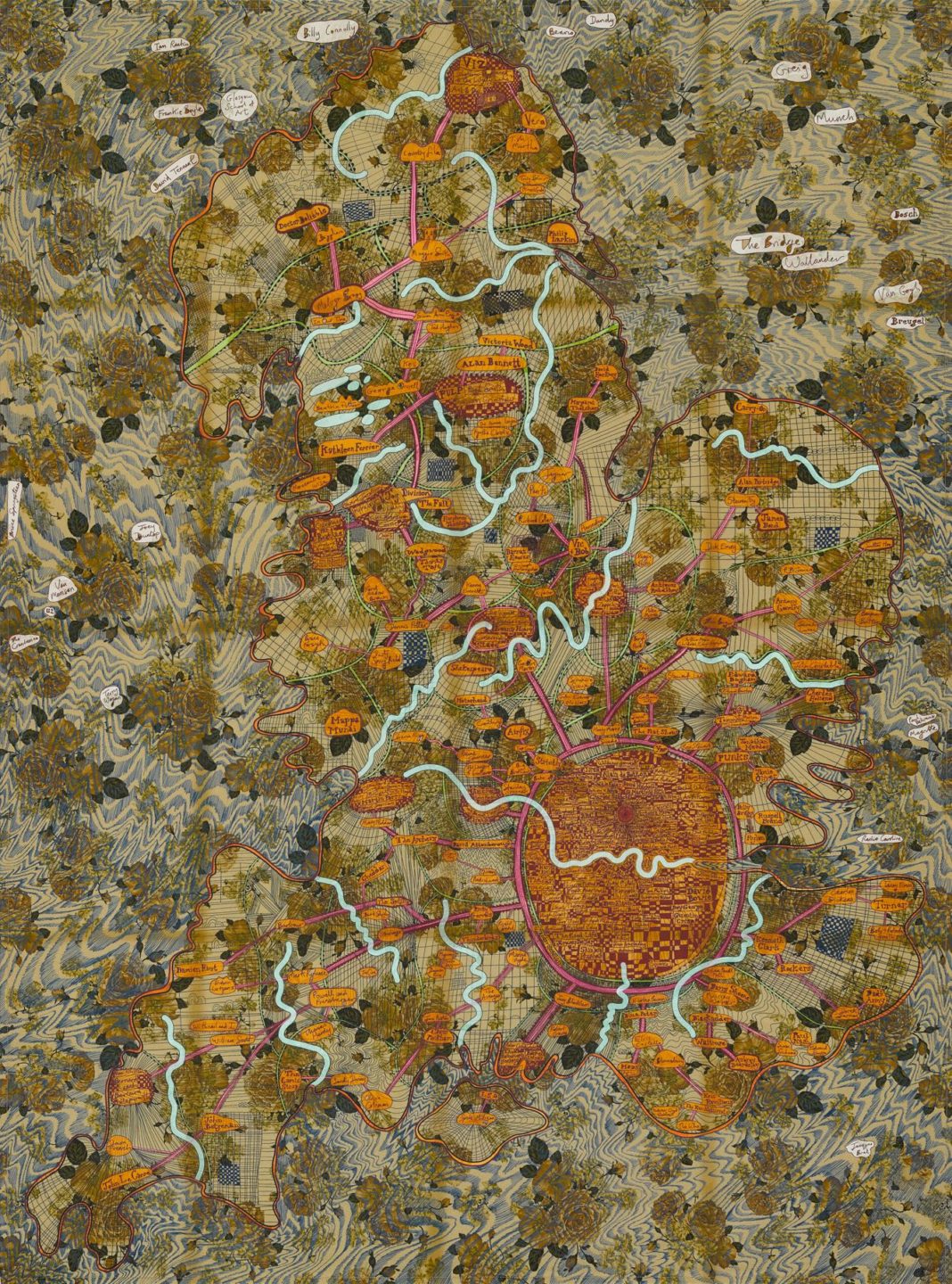 Digital print on cotton
150 x 111.7 cm
59 1/8 x 44 in
Edition of 150 plus 10 artist's proofs
Accompanied by a signed Certificate of Authenticity
Sold out
Grayson Perry: England as seen from Lockdown in Islington, 2021
More info
'When I was working on this, I was thinking about how we were all travelling in our imaginations. I've put the floral material in the background there. So very English. It evokes an idea of England, but a kind of trapped, slightly stifling suburban idea of England.' — Grayson Perry
---
About the artist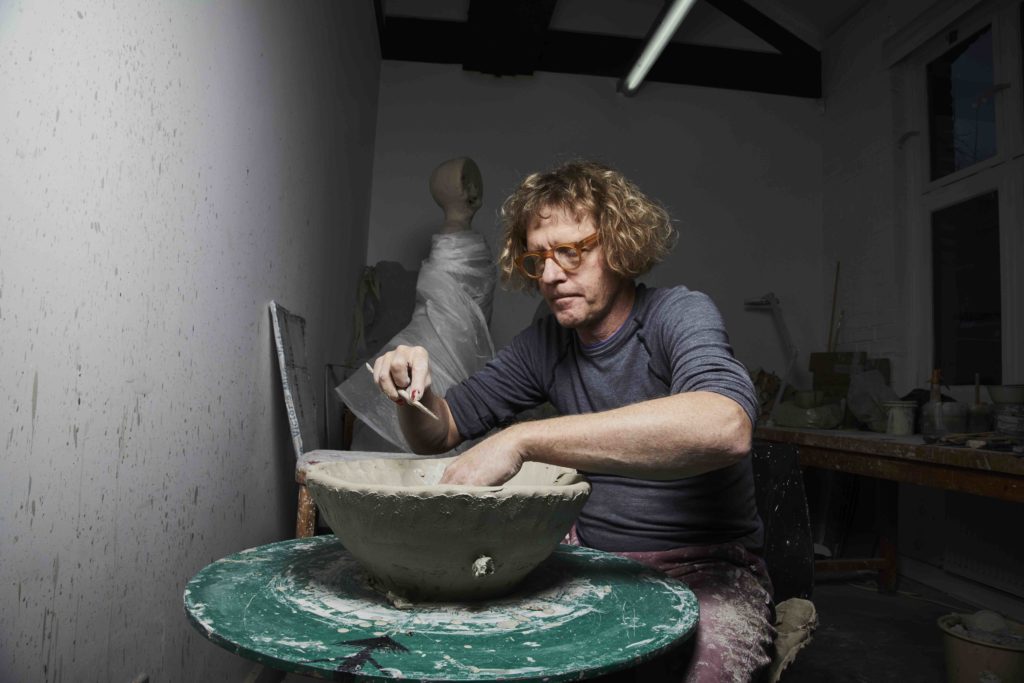 Born in Chelmsford, Essex in 1960, Grayson Perry lives and works in London. He has presented important solo exhibitions at institutions including Manchester Art Gallery, UK (2021), The Holburne Museum, Bath (2020–2021), La Monnaie de Paris (2018–2019); Kiasma, Helsinki (2018); The Serpentine Galleries, London (2017); Arnolfini, Bristol (2017); ARoS Kunstmuseum, Aarhus (2016); Bonnefantenmuseum, Maastricht (2016) and the Museum of Contemporary Art, Sydney (2015–2016). Curated exhibitions include the 250th Summer Exhibition, Royal Academy, London (2018) and The Tomb of the Unknown Craftsman, British Museum, London (2011–2012).
Perry delivered The Reith Lectures, BBC Radio 4's annual flagship talk series, in 2013. Other major projects include A House for Essex (permanent building designed in collaboration with FAT Architecture in 2015) and several Channel 4 television series including All In the Best Possible Taste (2013 BAFTA Winner), Who Are You? (2014 BAFTA Winner), All Man (2016), Divided Britain (2017), Rites of Passage (2018) Grayson Perry's Big American Road Trip (2020) and Grayson's Art Club (2020, 2021, 2022). Perry was awarded the Erasmus Prize 2021 by the Praemium Erasmianum Foundation.
On view until 20 March 2022 at Bonnefantenmuseum, Maastricht, The Netherlands, Grayson Perry: We Shall Catch it on the Beaches features works from the collection along with new works by the artist. The touring exhibition The Essex House Tapestries: The Life of Julie Cope is on view at The Great Tapestry of Scotland, Galashiels, from 18 March 2022. Grayson Perry: The Vanity of Small Differences can be seen at Sunderland Museum and Winter Gardens from 9 April–5 June 2022. The exhibition Grayson's Art Club is on view at Bristol Museum and Art Gallery until 4 September 2022. Perry's work can also be seen at Kunstmuseum den Haag until 15 May 2022 in an exhibition that celebrates his 2021 Erasmus Prize.
Credits:
Clip of Grayson's Art Club © Swan Films Ltd 2020
England as seen from Lockdown in Islington, 2021, © Grayson Perry, courtesy the artist and Victoria Miro
Portrait of Grayson Perry © Richard Ansett
---