Frieze London
Preview (invitation only): 7–8 October 2020
Public days: 9–16 October 2020
For the 2020 edition of Frieze London, hosted online on Frieze Viewing Room, Victoria Miro presents works by María Berrío, Chantal Joffe, Yayoi Kusama, Alice Neel, Celia Paul, Paula Rego, Adriana Varejão and Francesca Woodman.
A personal selection, made by Victoria Miro, this presentation brings together historical and contemporary figurative works with a focus on self portrayals and depictions of mothers and daughters. Among paintings, photographs and works on paper ranging in date from the 1930s to 2020, it features the gallery's first presentation of works by Paula Rego since announcing its representation of the artist.
---
María Berrío
'Her handing the rose to me was a form of interaction between us, something we haven't had for some time.' — María Berrío
Based in Brooklyn, María Berrío was born and grew up in Colombia. Her works, which are meticulously crafted from layers of Japanese paper, reflect on cross-cultural connections and global migration seen through the prism of her own history.
Writing about Self-Portrait, 2019–2020, the artist says, 'For the past few years, every time I embark on a new series of works I also make a self-portrait. I then hang it near the entrance of my studio so that every time I enter I happen upon it. This serves as a reminder to me to stay present in my practice.' The Premonition, 2020, is a portrait of the artist's mother, inspired by a photograph of her as a young woman. Berrío writes, 'The difficulty of returning to Colombia has been compounded by the pandemic, and so years have passed since I last saw her. Her handing the rose to me was a form of interaction between us, something we haven't had for some time.'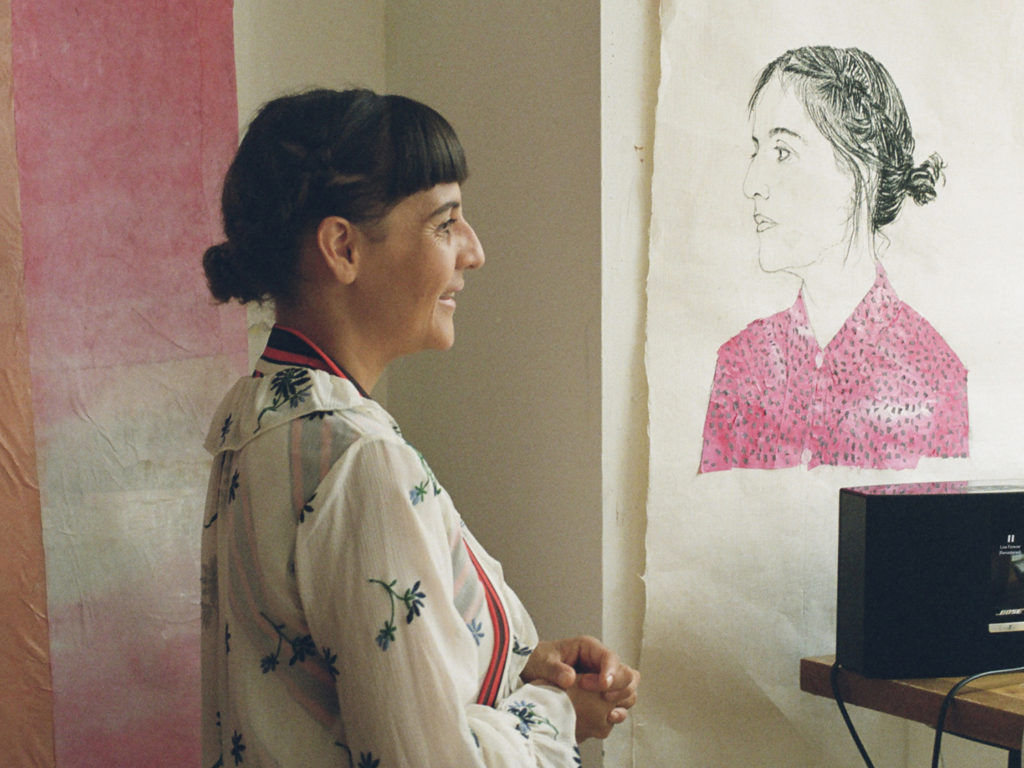 ---
Chantal Joffe
'I only paint what I want to see, which is pictures of people and people's truths of themselves.' — Chantal Joffe
Chantal Joffe brings a combination of insight and integrity, as well as psychological and emotional force, to the genre of figurative art. Defined by its clarity, honesty and empathetic warmth it is attuned to our awareness as both observers and observed beings, apparently simple yet always questioning, complex and emotionally rich.
The recent works on view, which depict the artist and her daughter, Esme, alone and together, touch on the themes of Joffe's current institutional exhibition For Esme – with Love and Squalor, on view at Arnolfini, Bristol, which focuses on the shifting relationship between mother and daughter, navigating spaces, dynamics and roles. Joffe has often talked about her paintings in terms of transitions, those associated with growing and ageing, as well as her attempt to mark a life's milestones. These concerns are especially pronounced in her images of teenagers, such as Esme in White, 2020, and Esme in a Grey T-Shirt, 2020. Me and Esme in the Garden, 2020, shows mother and daughter side by side. Reading in the Bath II, 2019, introduces new subject matter to Joffe's art and is, in part, a re-envisioning of Pierre Bonnard's many paintings of his wife, Marthe, reclining in the bath. Writing in the catalogue for For Esme – with Love and Squalor, Dorothy Price considers these new works to be a continuation of 'Joffe's complex homage to French modernism.'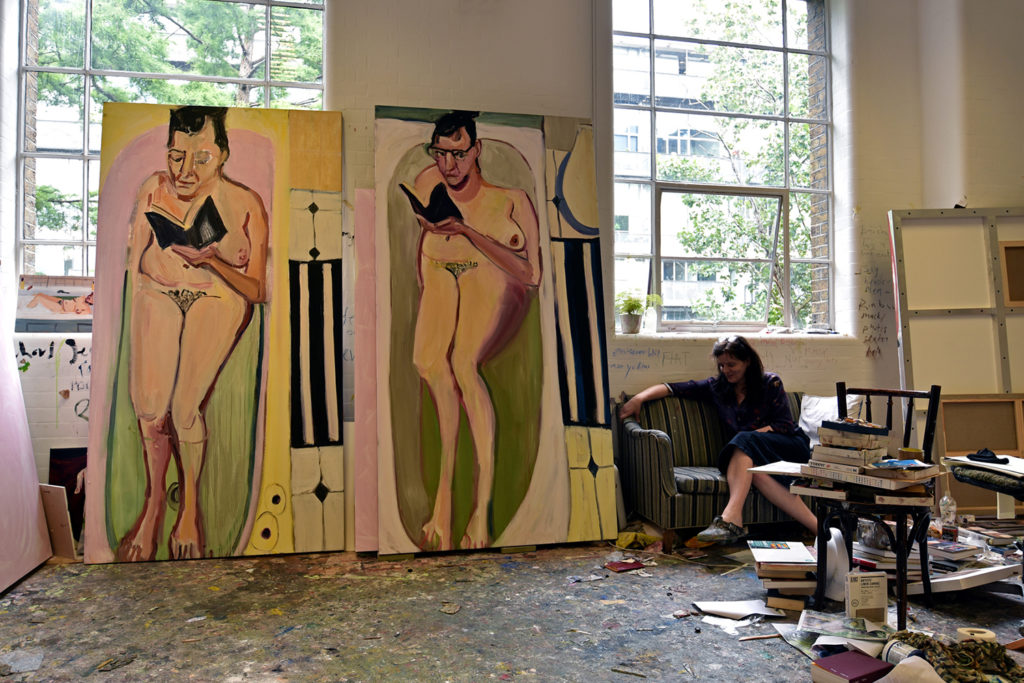 ---
Yayoi Kusama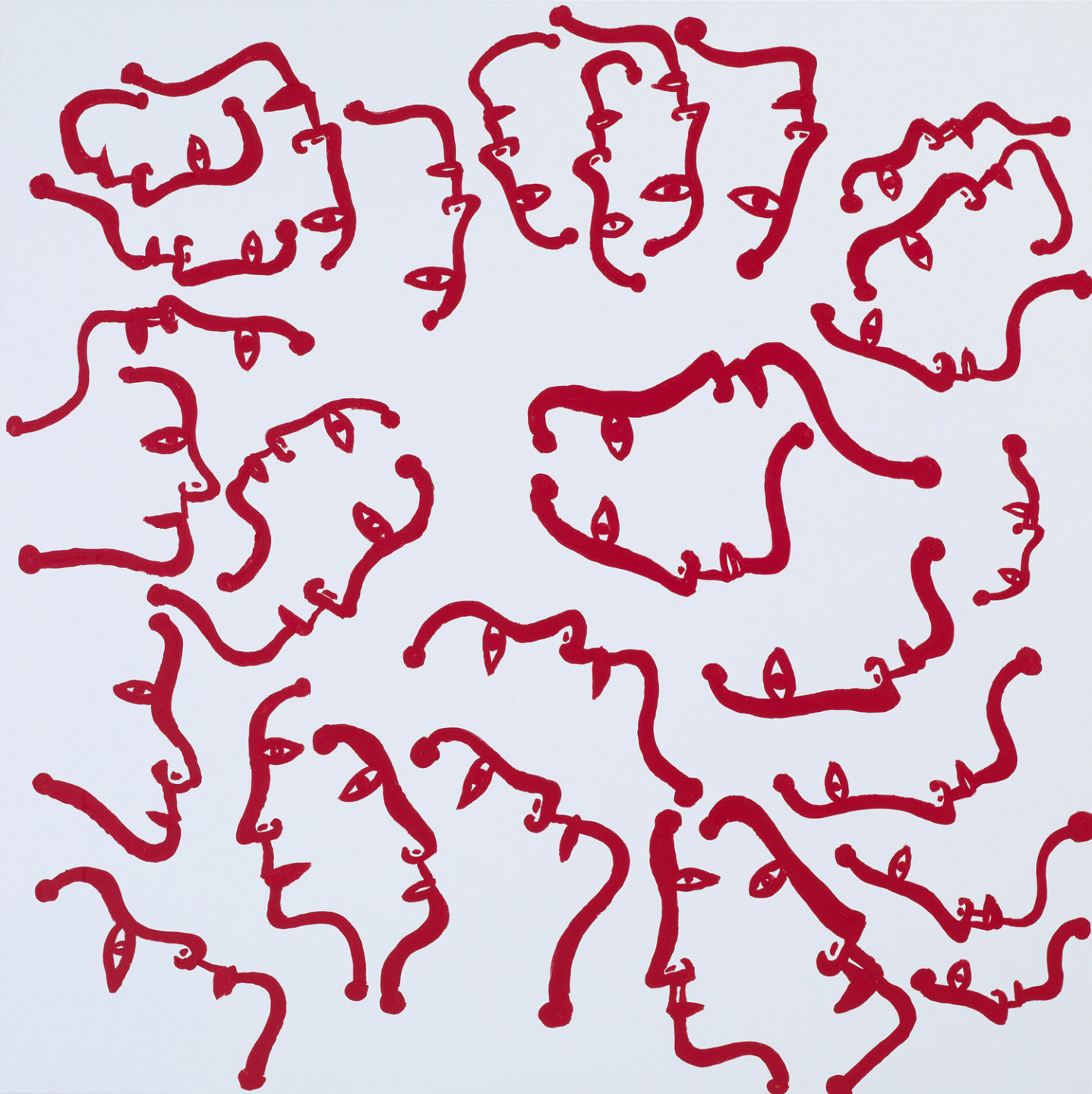 Acrylic on canvas
162 x 162 cm
63 3/4 x 63 3/4 in
Yayoi Kusama, AND LOVE IS FOREVER, SO I SAY IN MY SELF-PORTRAIT, 2009
More info
Throughout her career, Yayoi Kusama has developed a unique and diverse body of work that, highly personal in nature, connects profoundly with global audiences. She is one of the world's most celebrated artists.
AND LOVE IS FOREVER, SO I SAY IN MY SELF-PORTRAIT, 2009, is one of the earliest works from Kusama's iconic, ongoing My Eternal Soul series of paint­ings, a magnum opus which the artist commenced that year. Abounding with imagery including eyes, faces in profile and other more indeterminate forms, often in pulsating combinations of colour, the My Eternal Soul paintings  distil the themes and obsessions that characterise Kusama's art, encapsulating a surreal and humorous, as well as instinctual approach to art making. Speaking about My Eternal Soul, Kusama has commented that 'The paintings are filled with an overflowing abundance of ideas that just keep bubbling up inside my mind.' Kusama's art is inextricably linked to ideas of self-identity, and notions of the indi­vidual and aggregate. AND LOVE IS FOREVER, SO I SAY IN MY SELF-PORTRAIT reveals Kusama's ongoing interest in proliferation and the repetition of image and self-image, as well as the galvanising force of love.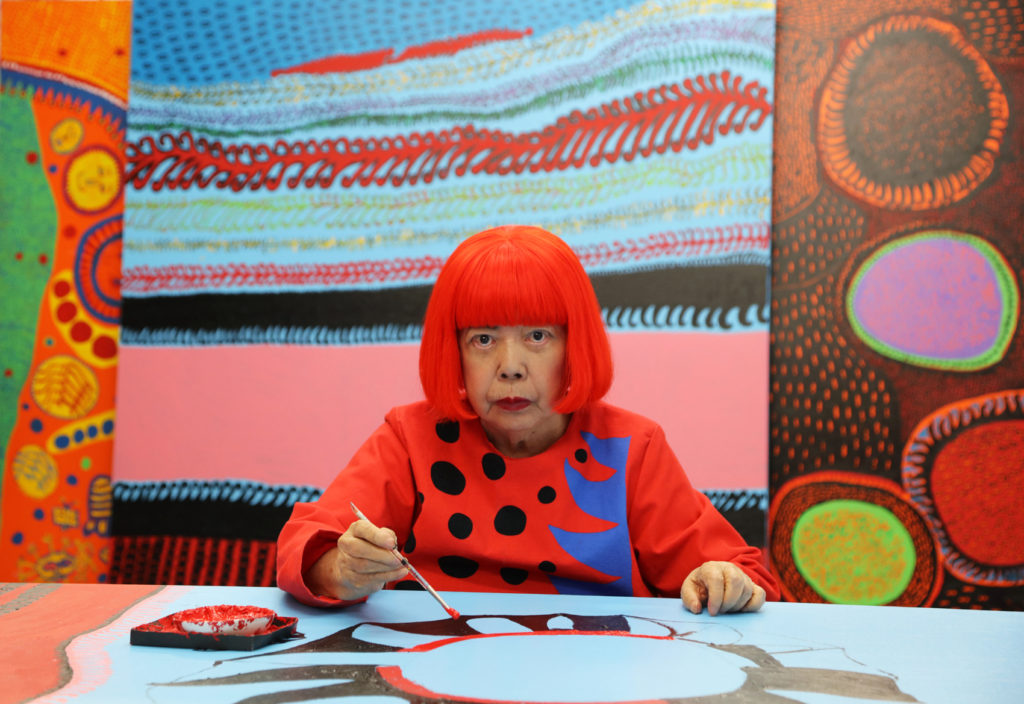 ---
Alice Neel
'My psychiatrist told me I got interested in painting portraits because I liked to watch my mother's face… It had dominion over me. Since she was so unpredictable, he thought I watched her face to see whether she approved of things or not.' — Alice Neel
Throughout her life, Alice Neel (1900–1984) developed a unique talent for identifying particular gestures and mannerisms that reveal the singular identities of her sitters. Yet, she was also acutely aware of changes in spirit and in flesh, and how these changes might reveal themselves over minutes, days or decades. Neel's paintings of the same subject invite consideration of her desire and motivation to look and paint again, in addition to the constancy of her vision and the unwavering visual and emotional intelligence she applied to others. Neel completed just four paintings of her mother, Alice Concross Hartley Neel (1868–1954), two of which are on view in this presentation: My Mother, 1930; and My Mother, 1952. Painted 22 years apart, they reveal a strong empathy for the changes in body and mind that accompany old age. Yet, just as striking is an unusual dynamic – that of the artist looking and, just as powerfully, being looked at by her subject.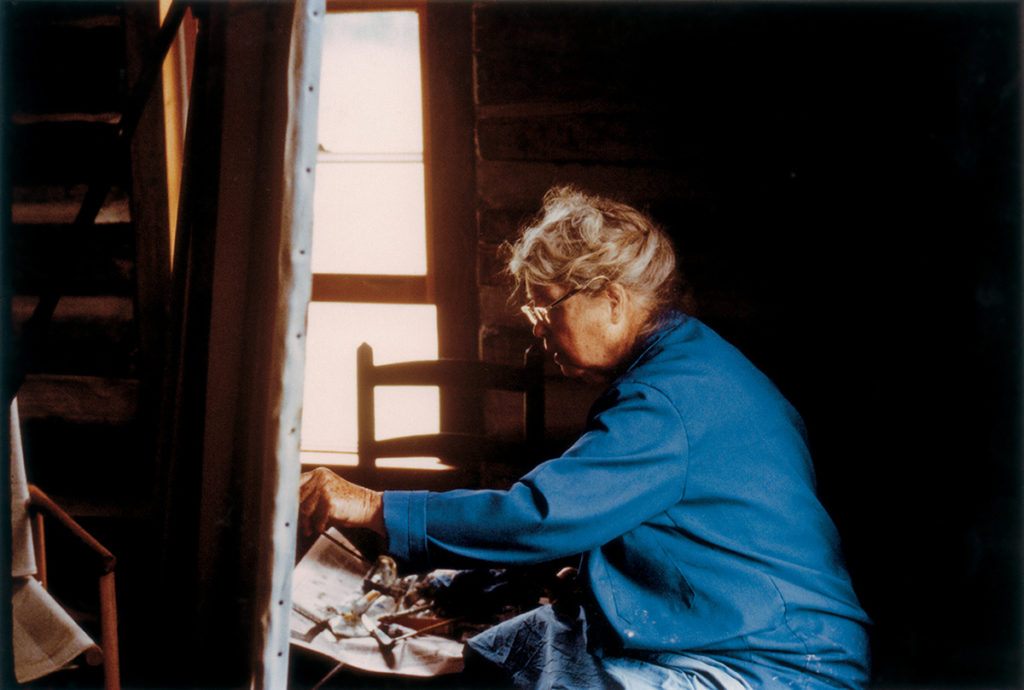 ---
Celia Paul
'Women, in my experience, find it easier to sit still and think their own thoughts, and they often hardly seem to be aware that I'm here in the same room. For this same reason I usually feel more peaceful when I'm working from a woman, and more free.' — Celia Paul
Celia Paul's art is founded on deep connections – familial, creative, looping back and forth across time – to people and places, and is self-assuredly quiet, contemplative and ultimately moving in its attention to detail and intensely felt spirituality. These works address the abiding themes of Paul's art – memory and family, the gulf between outward appearance and inner life – while offering touchstones for wider thoughts about time, transience, spirituality and mortality. Kate in White, Firelight, 2018–2019, depicts the artist's youngest sister and her most frequent sitter. Paul has produced a number of evocative self-portraits over the course of her career. Works such as Overshadowed, 2020, open up a painterly and conceptual dialogue between the dual role of subject and artist – caught between self-possession and self-scrutiny – as well as offering an extended consideration of the essential dualities of the medium – its ability to capture qualities of form, light and atmosphere, and its material presence. In Charlotte, a portrait of Charlotte Brontë, Paul paints the author, who was known to be extremely self-conscious about her appearance, fiercely alive. Speaking about the painting, Paul says, 'I've given her this look of hurt, which I think is what drove her talent.'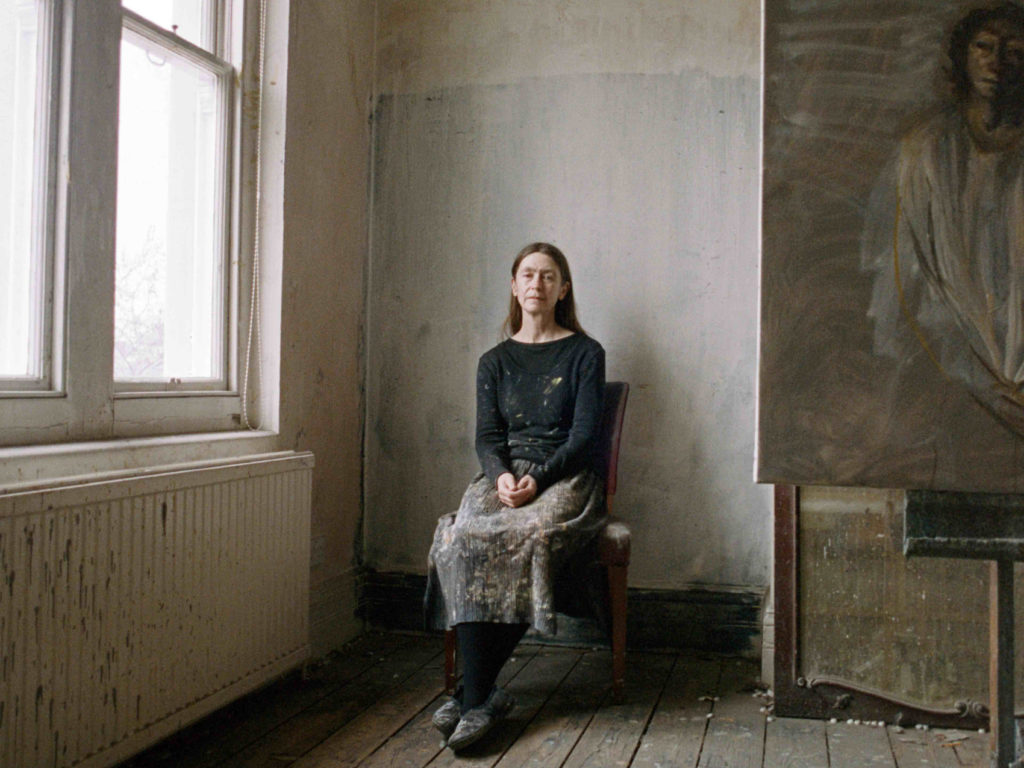 ---
Paula Rego
'I'm interested in seeing things from the underdog's perspective. Usually that's a female perspective' — Paula Rego
An artist of uncompromising vision and a peerless storyteller, Paula Rego has since the 1950s brought immense psychological insight and imaginative power to the genre of figurative art. Drawing upon details of her own extraordinary life, on politics and art history, on literature, folk legends, myths and fairytales, Rego's work at its heart is an exploration of human relationships, her piercing eye trained on the established order and the codes, structures and dynamics of power that embolden or repress the characters she depicts.
Works on view in the gallery's first presentation since announcing its representation of the artist focus on quintessential themes in Rego's art. Dame with Goat's Foot 1, (Undressing the Divine Lady), 2011–12, belongs to an important body of work that takes inspiration from and is a visual retelling of A Dama Pé de Cabra, a nineteenth-century story by the Portuguese novelist and historian Alexandre Herculano. The Guardian, 2012, like Rego's iconic Angel, 1998, depicts a woman of spiritual significance who presents a balance between power and vulnerability. Small Rape, 2009, gives visibility and a voice to sexual assault against women. Rego has throughout her career produced works that address subjects specifically from the perspective of women's experience as well as feminine power, physicality and strength. The 'small' of the title refers only to the scale of the picture.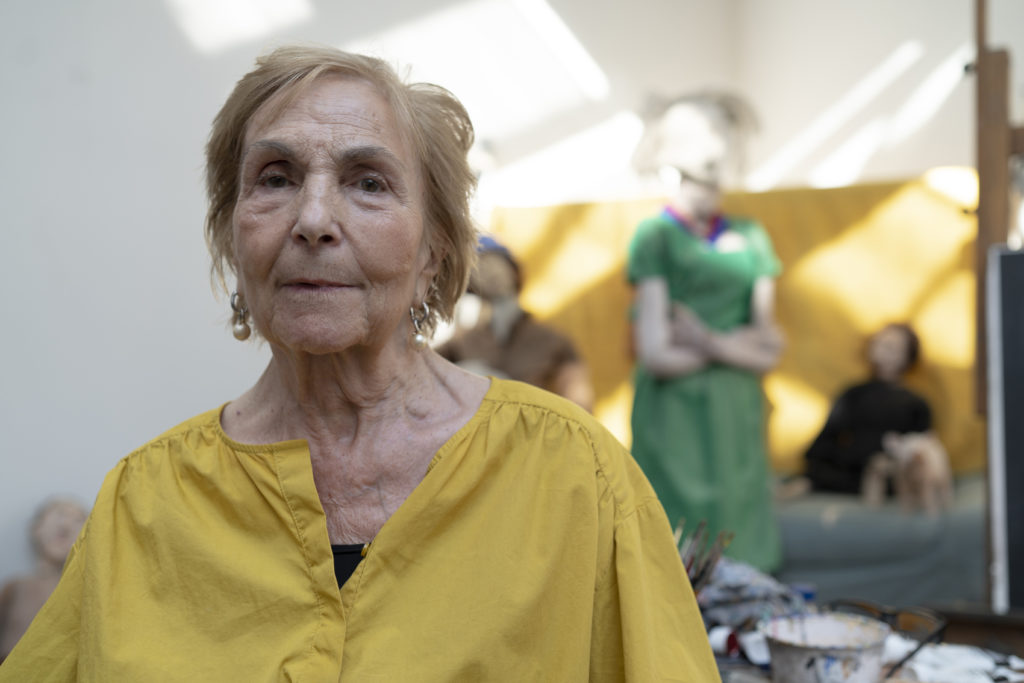 ---
Adriana Varejão
Oil on plaster
52 x 45.5 cm
20 1/2 x 17 7/8 in
Adriana Varejão, Kindred Spirits – Agnes Martin, 2015
More info
One of the most original and significant voices in contemporary Brazilian art, Adriana Varejão is celebrated for a materially diverse practice comprising painting, sculpture, drawing, installation and photography.
Kindred Spirits – Agnes Martin, 2015, is from the artist's series of portraits named Kindred Spirits, which were first presented at Dallas Contemporary in 2015. To create these works the artist rendered a variety of coloured shapes on paintings of her face with imagery derived from specific works by minimalist masters such as Donald Judd, Frank Stella and Tony Smith, among others. Kindred Spirits – Agnes Martin is inspired by Agnes Martin's painting Gratitude from 2001.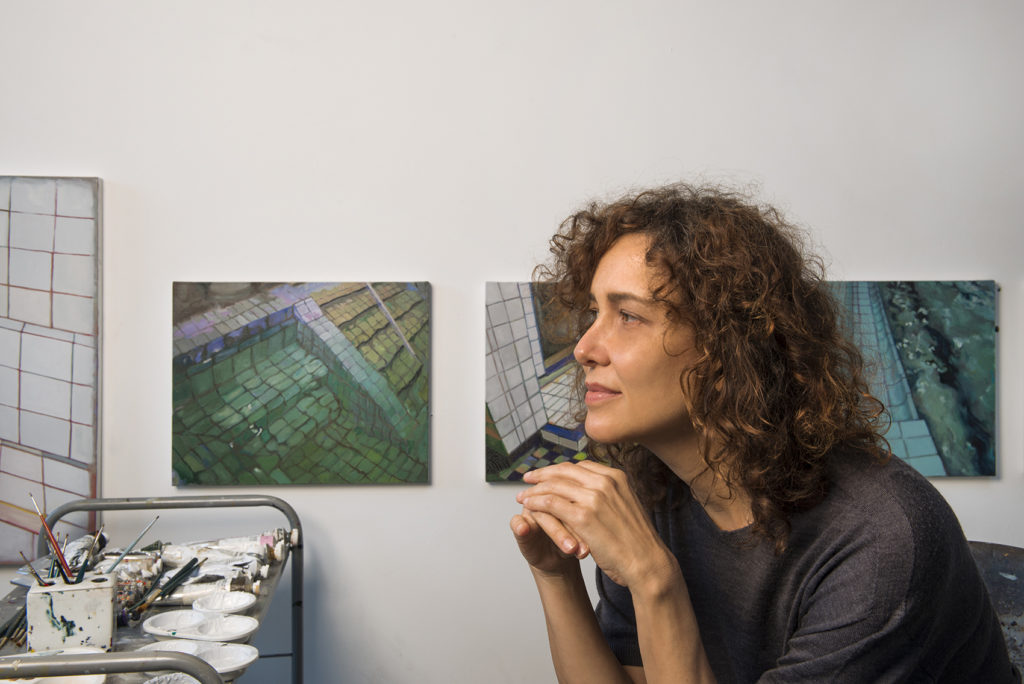 ---
Francesca Woodman
In her short career Francesca Woodman (1958–1981) produced an extraordinary body of work acclaimed for its singularity of style and range of innovative techniques. From the beginning, her focus was on the relationship with her body as both the object of the gaze and the acting subject behind the camera.
This presentation features works completed by the artist in Providence, Rhode Island during which time Woodman was a student at the Rhode Island School of Design (RISD). Untitled, Providence, Rhode Island, 1975–1978, and Polka Dots, Providence, Rhode Island, 1975–1978, reveal the photographic strategies pursued by Woodman from the very beginning, along with her process and an exploration of identity and subjectivity, performativity, seriality and repetition. Completed during the year she spent in Rome at the Rhode Island School of Design's European Honors programme, Fish Calendar–6 days, Rome, Italy, 1977–1978 and From a Series on Angels, Rome, Italy, 1977, reveal the influence of Italy and Italian culture on Woodman's art.
---