Frieze Los Angeles: Doron Langberg
Booth B8
16–19 February 2023
Victoria Miro is delighted to participate in Frieze Los Angeles (Booth B8) with a solo presentation of new paintings by Doron Langberg.
Prominent among a new generation of figurative painters, Doron Langberg creates works that, luminous in colour and often large in scale, celebrate the physicality of touch – in subject matter and process.  Depicting a range of subjects, from queer love to wildflowers and sweeping landscapes, the broad scope of themes and experiences in Langberg's work is connected by his deeply felt use of paint. Speaking about his work, the artist has said 'Intimacy and closeness are at the centre of my practice. Whether it's a portrait of a friend or depictions of a couple in bed, I want to express the multivalent and complex nature of relationships, highlighting our connectedness to one another.' Langberg's expansive take on relationships, sexuality, nature, family and the self proposes how painting can both portray and create queer subjectivity.
A new text on the artist by Evan Moffitt, entitled Bloom for Me, accompanies the presentation. Read the full essay here. Excerpts are featured below.
---
Doron 1
'Magnified at a scale larger than nearly any floral study in the history of art, Langberg's work turns the movements of nature into a grand drama, and makes us bees.'
---
Doron 3
'Brushwork moves in all directions… You can almost hear a susurrus through the leaves.'
---
Doron 2
'In his paintings, the edges of bodies bleed into a light which, paradoxically, gives them radiant visibility; his sitters are luminously contingent forms. See, for instance, the couple in Lovers at Night, reclined in bed, with their emerald legs applied in long, wet strokes as if, like Apollo and Daphne, they are becoming trees.'
---
Doron 5
'These scenes are blown up to the size of a grand landscape painting or royal portrait, insisting that gay sex be given the art-historical respect it deserves.'
---
Doron 4
'An unsteady phenomenology of inside and outside, open and closed, positions these works in a kind of dream-state.'
---
Doron 6
'Here and there, white-primed canvas bares itself through brushstrokes that seem breathed-on or left behind by a breeze, as if to signal that the intensity of any pleasure foregrounds its evanescence.'
---
Doron 7
'Moments of rest offer a view of the unconscious, unguarded and exposed for the world to see. And yet, Langberg's fluid strokes give even these moments of stillness a sense of transience. Everything is always in motion. The self is a continuum of change.'
---
---
About the artist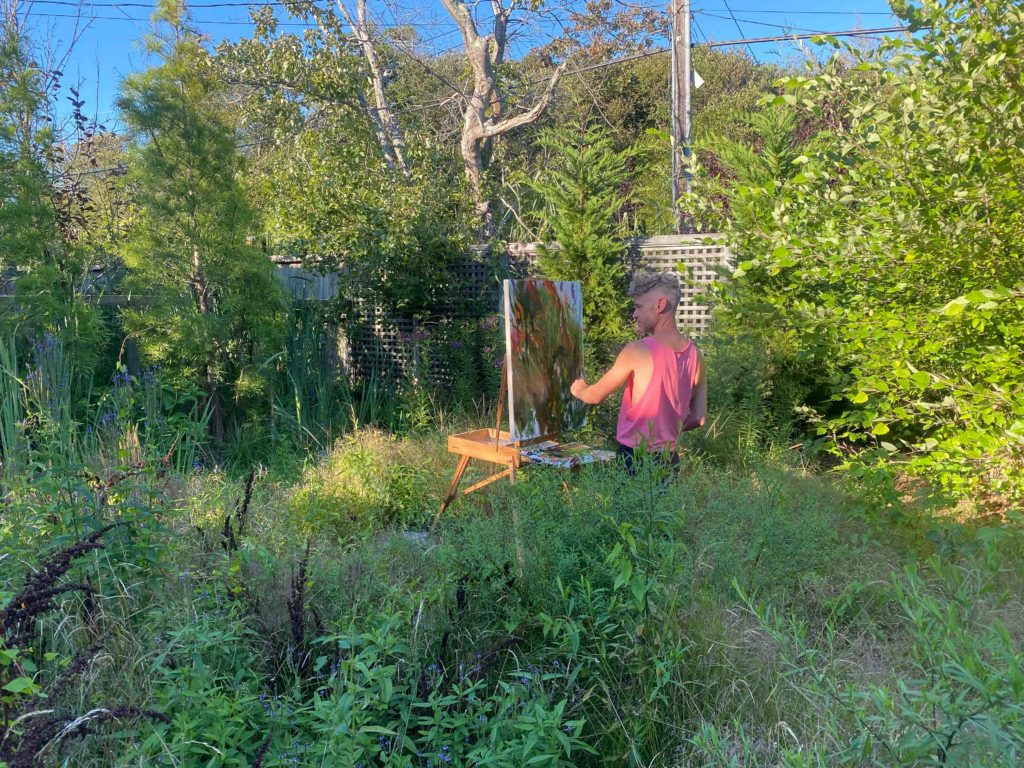 Born in 1985 in Yokneam Moshava, Israel, Doron Langberg currently lives and works in New York City. He received his MFA from Yale University School of Art, holds a BFA from the University of Pennsylvania, a Certificate from PAFA, and attended the Yale Summer School of Music and Art, Norfolk. Langberg has attended the EFA Studio Program, Sharpe Walentas Studio Program, Yaddo artist residency, and the Queer Art Mentorship Program. He is the recipient of the American Academy of Arts and Letters John Koch award for painting, the Elizabeth Greenshields Foundation Grant, and the Yale Schoelkopf Travel Prize.
An exhibition featuring new and recent works by the artist is currently on view at Rubell Museum Miami (28 November 2022–12 November 2023). Recently, Langberg's works have been on view at the Institute of Contemporary Art in Boston as part of the major group exhibition A Place for Me: Figurative Painting Now (31 March–5 September 2022), at The Frick Collection, New York, as part of Living Histories: Queer Views and Old Masters (which was on view until 11 September 2022), and at ICA Miami, in Fire Figure Fantasy: Selections from ICA Miami's Collection (12 May–16 October 2022), the first major exhibition to showcase the permanent collection.
Previous exhibitions include Any distance between us, a group show at RISD Museum, Providence, Rhode Island (2021–2022); Breakfast Under the Tree, a group exhibition curated by Russell Tovey, at Carl Freedman Gallery, Margate, Kent (2021); Intimacy: New Queer Art from Berlin and Beyond at the Schwules Museum, Berlin, Germany (2021) and Doron Langberg: Give Me Love, the artist's first solo exhibition, at Victoria Miro, London, UK (2021). His work has also been shown at institutional venues including the LSU Museum, American Academy of Arts and Letters, Leslie-Lohman Museum and The PAFA Museum.
His work is in collections including Baltimore Museum of Art, Baltimore, USA; The Institute of Contemporary Art (ICA), Boston, USA; Crystal Bridges, Bentonville, USA; High Museum of Art, Atlanta, USA; ICA, Institute of Contemporary Art, Miami, USA; Pennsylvania Academy of the Fine Arts, Philadelphia, USA; Rennie Museum, Vancouver, Canada; RISD Museum, Providence, Rhode Island, USA; Rubell Museum, Miami, USA.
---