Flora Yukhnovich: Thirst Trap
1–26 March 2022
Tuesday–Saturday: 10am–6pm
16 Wharf Road
London N1 7RW
'There is a tendency for water and the sea to be spoken about as female – fluid and soft but also capricious and destructive. I like the potential for strength or force in that association and it's something I try and bring to these paintings.' — Flora Yukhnovich
Victoria Miro is delighted to present an exhibition of new paintings by Flora Yukhnovich.
Flora Yukhnovich is acclaimed for paintings that, fluctuating between abstraction and figuration, transcend painterly traditions to fuse high art with popular culture and intellect with intuition. While in the past she has adopted the language of Rococo, dynamically reimagining aspects of works by eighteenth-century artists such as Tiepolo, Boucher, Lancret and Watteau, new paintings draw upon various depictions of the Roman goddess Venus in mythology, art history and contemporary culture.
Rather than focus on individual points of reference, each work synthesises a multitude of influences that convey the shifting representations and significations of Venus herself. Here the Venus who embodies idealised female form and is goddess of love, maternal care, sexual reproduction and erotic desire, meets the Venus of violent origin and hybrid gender – promiscuous and vengeful.
Accompanying the exhibition is a new text by Eleanor Nairne, available at the gallery and downloadable here. Excerpts are featured below alongside selected works in the exhibition.
A full list of works is viewable here
Download the press release here
The exhibition is also available to explore on Vortic with audio commentary by the artist about the works on view
---
Flora 1
'According to myth, Venus arose fully formed out of a foaming sea. That saline water is a reminder of our own mortal beginnings in amniotic fluid…' — Eleanor Nairne
---
Flora triptych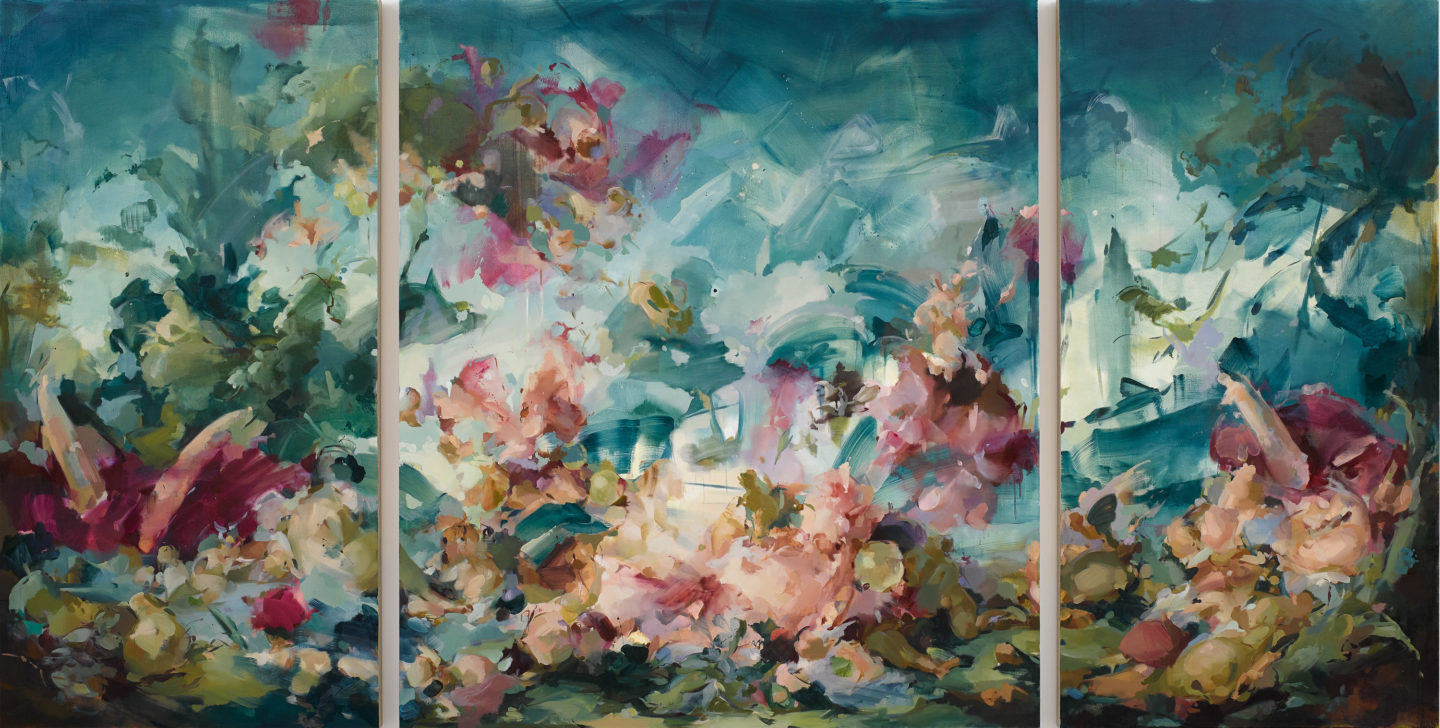 Oil on linen
Overall dimensions: 240 x 474 cm, 94 1/2 x 186 5/8 in
Flora Yukhnovich, She is Beauty and She is Grace, 2022
More info
'There's a triptych in the exhibition responding to Peter Paul Rubens' Feast of Venus, 1635–1636, a scene of voluptuous abandon inspired by the Roman festival of Veneralia…' — Eleanor Nairne
---
Flora Bombshell
'A recent painting is called Bombshell, pointing to that which both tempts and destroys – a word that contains a pin-up like Bardot, and the violence with which late capitalism fetishises the image of women and co-opts it for the marketing of next to everything' — Eleanor Nairne
---
Flora 2
'The surface of Yukhnovich's work liquifies this history of more than 400 years of artists who have felt drawn to paint as a medium uniquely able to express the fluidity and sensuality of life as it is lived.' — Eleanor Nairne
---
Flora 3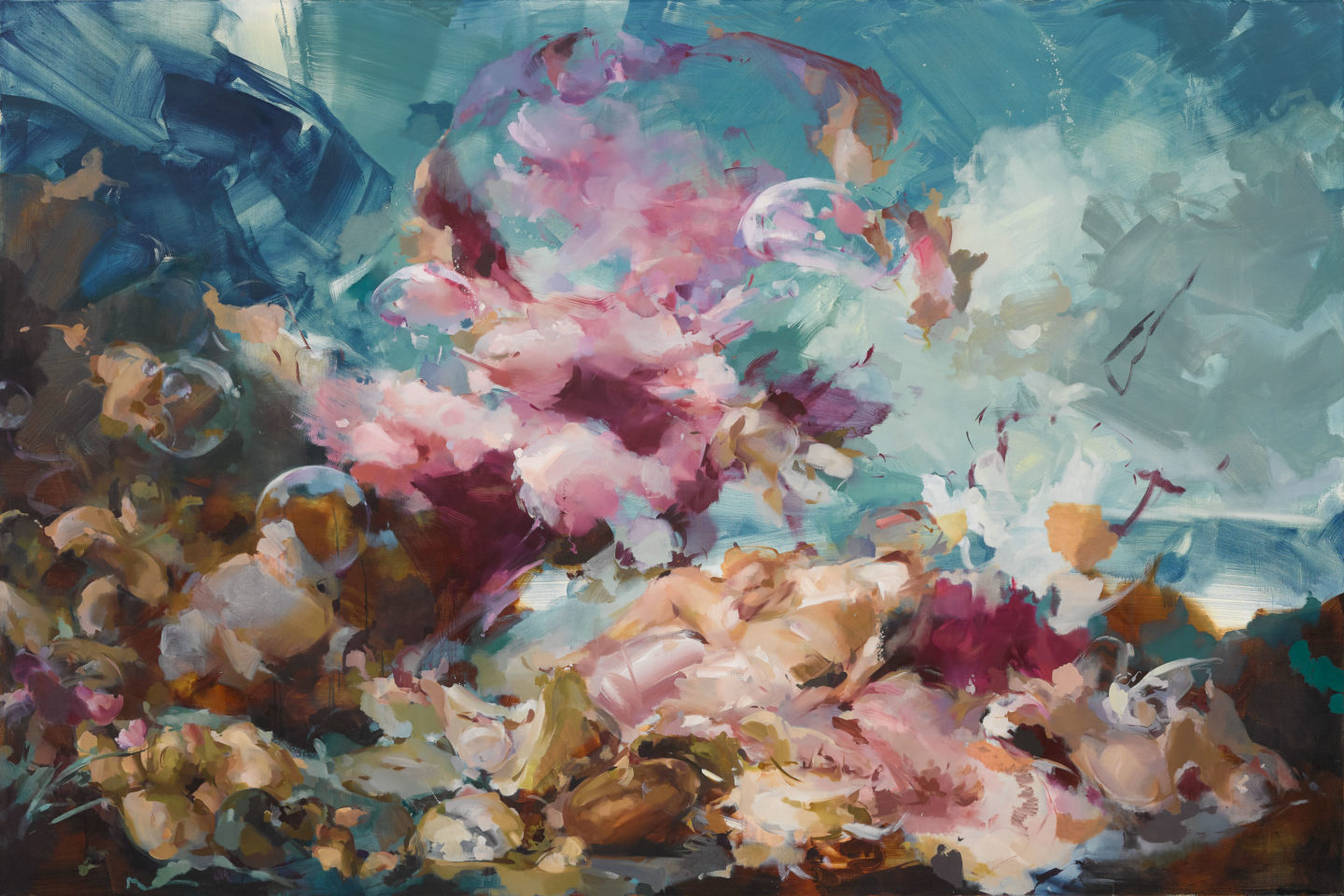 Oil on linen
220 x 330 cm
86 5/8 x 129 7/8 in
Flora Yukhnovich, Maybe She's Born with It,, 2022
More info
'The title of the exhibition, Thirst Trap, refers to the phenomenon of people posting sexually alluring photographs of themselves on social media, designed to arouse quivering desire and admiration in their followers. Are Yukhnovich's oh-so-pretty, wet, wet paintings the thirst trap described here – aligned with all of those self-styled Venuses, cloaked in little more than their foaming waters?' — Eleanor Nairne
---
About the artist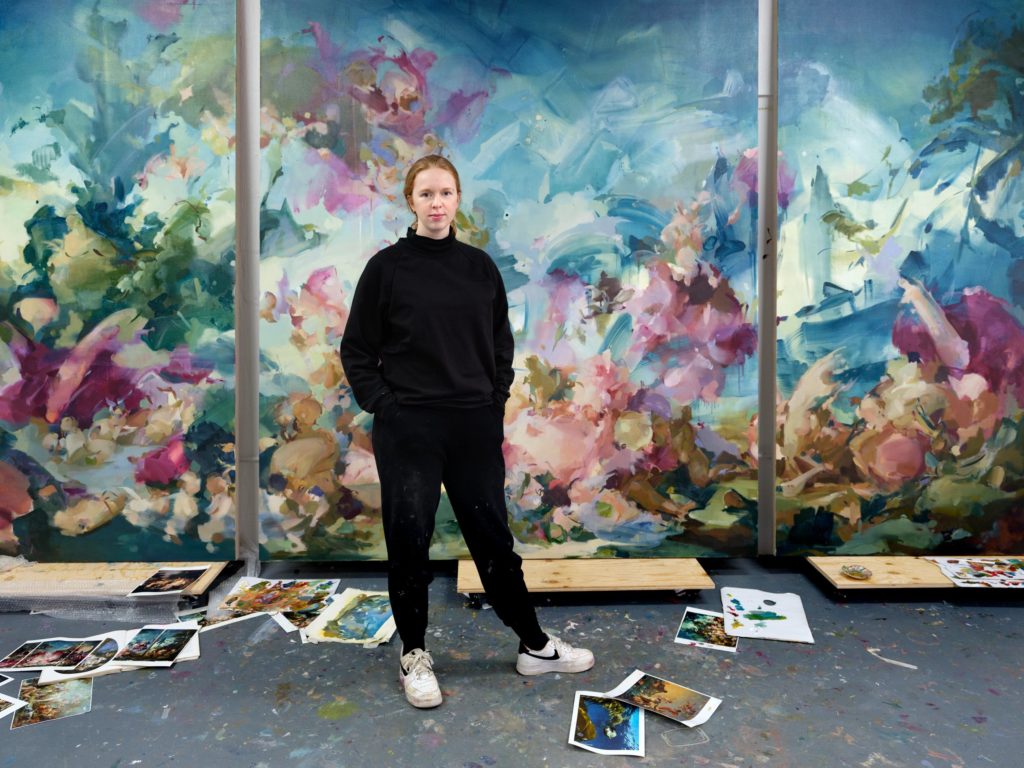 Born in 1990, Flora Yukhnovich completed her MA at the City & Guilds of London Art School in 2017. She had her first solo exhibition at Brocket, London, in December 2017 and has recently exhibited at Parafin, London, GASK, the Gallery of the Central Bohemian Region, Czech Republic, the Jerwood Gallery Hastings and at Blenheim Walk Gallery, Leeds Arts University, UK. Previous solo exhibitions with Victoria Miro include The Venice Paintings and Barcarole, both held in 2020. Collections include Government Art Collection and The David Roberts Art Foundation. In 2018 she completed The Great Women Artists Residency at Palazzo Monti, Brescia.
Work by the artist will feature in the survey exhibition Impressionism: A World View; Yukhnovich's painting will be exhibited in galleries dedicated to 'Contemporary Neo-Impressionists', on view at The Nassau County Museum of Art, NY, from 19 March–10 July 2022.
In 2023 Yukhnovich will be the first artist to take part in a new series of solo exhibitions responding to the collections of The Ashmolean, Oxford, titled Ashmolean NOW.
---