Chantal Joffe: The Eel
Victoria Miro Venice
Il Capricorno, San Marco 1994, 30124 Venice, Italy
5 September–21 October 2023
Tuesday–Saturday: 10am-1pm & 2-6pm
Monday by appointment
Victoria Miro is delighted to present The Eel, an exhibition of new paintings by Chantal Joffe completed this summer during a residency with the gallery in Venice.
Defined by its clarity, honesty and empathy, Chantal Joffe's art is attuned to our awareness as both observers and observed beings, and is questioning, complex and emotionally rich. Over the summer, the artist has worked in the gallery's studio in Venice, completing paintings – self-portraits; paintings of her daughter, Esme; still lifes – against the backdrop of the city at its high-season peak, a place of magnificence, stimulation, pleasure, excess and decay, endlessly toppling into one another.
The exhibition is accompanied by The Spoils, a new essay by Olivia Laing. Excerpts are featured below; download the full text here.
Download the press release here and the Italian version here
---
Chantal 1 (How can you paint all this? quote)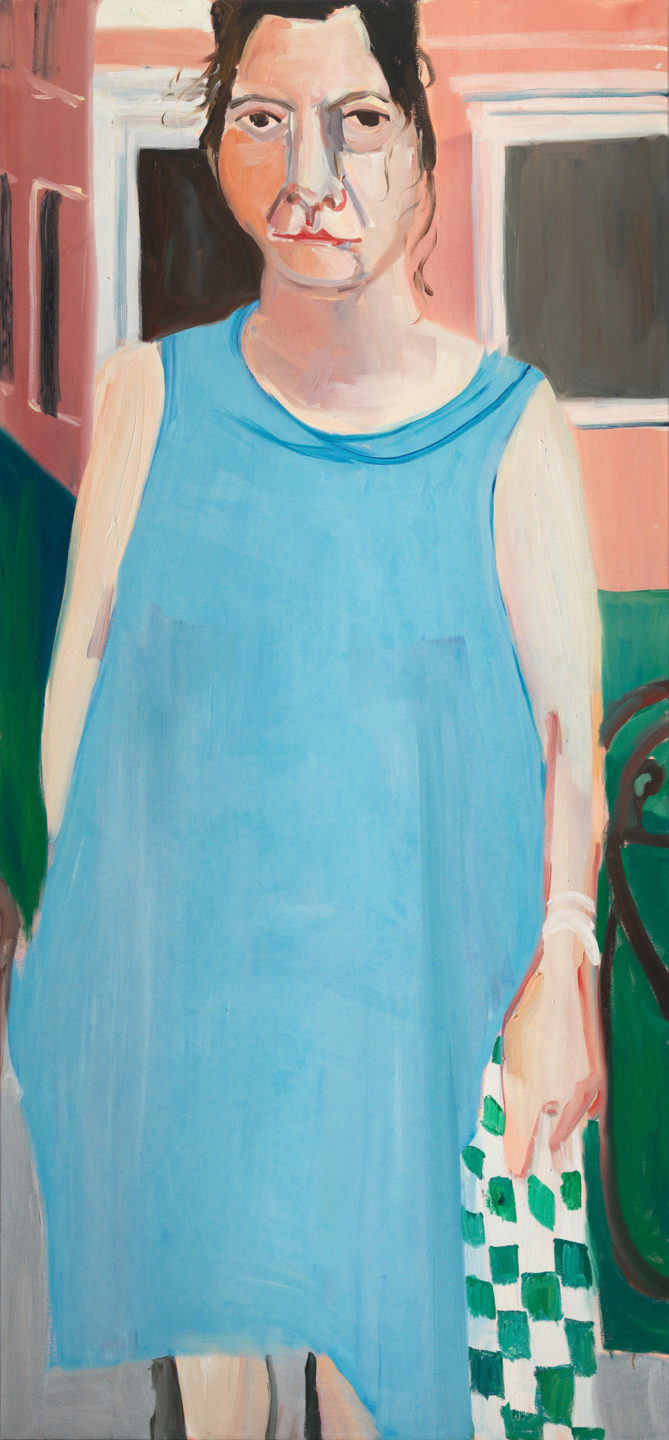 Oil on canvas
215 x 100 cm
84 5/8 x 39 3/8 in
Chantal Joffe, Calle al Ponte de l'Anzolo (Puro Lino), 2023
More info
'How can you paint all this? Put your body in the middle of it and hope to catch a flash as something vanishes or changes state.' — Olivia Laing
---
Chantal 2 (Lido, vaporetto, tramezzini on a plate quote)
'Everything is very beautiful, a cannoli with a cherry on top.'
---
Chantal 7 (green beach quote)
'Too late at the beach and there's a warning of a storm. The umbrella guy's packing up and the sky's so overcast the sand has gone green. Soft bodies like bread rolls in their beach clothes, baring white flesh.'
---
Chantal 8 (Esme on the vaporetto quote)
'Esme dreaming on the vaporetto, chin up, rosy sunburned arms encircling a clear expanse of blue.'
---
---
Chantal 5 (bowl of cherries quote)
'Paper bowl of cherries, navy-striped swimsuit, black umbrella in the rain. The hard facts mount up.'
---
Chantal 3 (self-portraits on couch quote)
'Two self-portraits on a couch, the same not quite nude seen from in front and behind. White bra, enormous knickers, huddled like a figure from Pompeii, averting the future and then the wind changed.'
---
---
Chantal 6 (quote about time)
Oil on canvas
70 x 100 cm
27 1/2 x 39 3/8 in
Chantal Joffe, Blue Moon Spiaggia with Fruit, 2023
More info
'These pictures are sloshing with time. Longueurs and languor, time running out or stuck on the dial. Days sweet as cream, a ferry to catch.'
---
---
About the artist
Born in 1969, Chantal Joffe lives and works in London. She holds an MA from the Royal College of Art and was awarded the Royal Academy Wollaston Prize in 2006. Joffe has exhibited nationally and internationally at venues including The Foundling Museum, London, UK (2023, 2020); The Modern, Fort Worth, Texas, USA (2022); Koohouse Museum, Yangpyong, Korea (2022); The Irish Museum of Modern Art, Dublin (2021); Arnolfini, Bristol, UK (2020); Scottish National Gallery of Modern Art, Edinburgh, UK (2019); Whitechapel Gallery, London, UK (2018); The Lowry, Salford, UK (2018); Royal Academy of Arts, London, UK (2018, 2017); National Museum of Iceland, Reykjavík (2016); National Portrait Gallery, London, UK (2015); Jewish Museum, New York, USA (2015); Jerwood Gallery, Hastings, UK (2015); Collezione Maramotti, Reggio Emilia, Italy (2014–2015); Saatchi Gallery, London, UK (2013–2014); MODEM, Hungary (2012); Turner Contemporary, Margate, UK (2011); Neuberger Museum of Art, Purchase, New York, USA (2009); MIMA Middlesbrough Institute of Modern Art, UK (2007); Galleri KB, Oslo, Norway (2005) and Bloomberg Space, London, UK (2004).
Her work is in numerous institutional and private collections, including the Institute of Contemporary Art, Boston, USA; Detroit Institute of Arts, USA; National Portrait Gallery, London, UK; and The Metropolitan Museum of Art, New York, USA.
In October 2023, work by the artist will feature in the group exhibition Real Families: Stories of Change at the Fitzwilliam Museum, Cambridge (6 October 2023–7 January 2024).
Joffe has created a major public work for the Elizabeth line in London titled A Sunday Afternoon in Whitechapel, on view at Whitechapel Elizabeth line station.
---