Celia Paul: Myself, Among Others
Victoria Miro Venice
Il Capricorno, San Marco 1994, 30124 Venice, Italy
28 October–9 December 2023
Tuesday–Saturday: 10am-1pm & 2-6pm
Monday by appointment

Please note the gallery is closed on Tuesday 21 November
Victoria Miro is delighted to present Myself, Among Others, an exhibition of new paintings by Celia Paul completed during a recent residency with the gallery in Venice.
Celia Paul's art is founded on deep connections – familial, creative, looping back and forth across time – to people and places, often finding in literature and art history tutelary spirits that resonate with her career-long enquiry into the complexities of interior and exterior life, constancy and change.
Against a backdrop of Venice, a city where liquid and solid, past and present, art and actuality, are held in fragile balance, the essential themes of Paul's work, its focus on memory and mortality, and the formation of self as part of a broader continuum of creative expression, assume extraordinary resonance.
Accompanying the exhibition is a new text by Eleanor Nairne. Excerpts are featured below along with commentary by the artist.
The exhibition is also available to view on Vortic
---
Celia Overwhelmed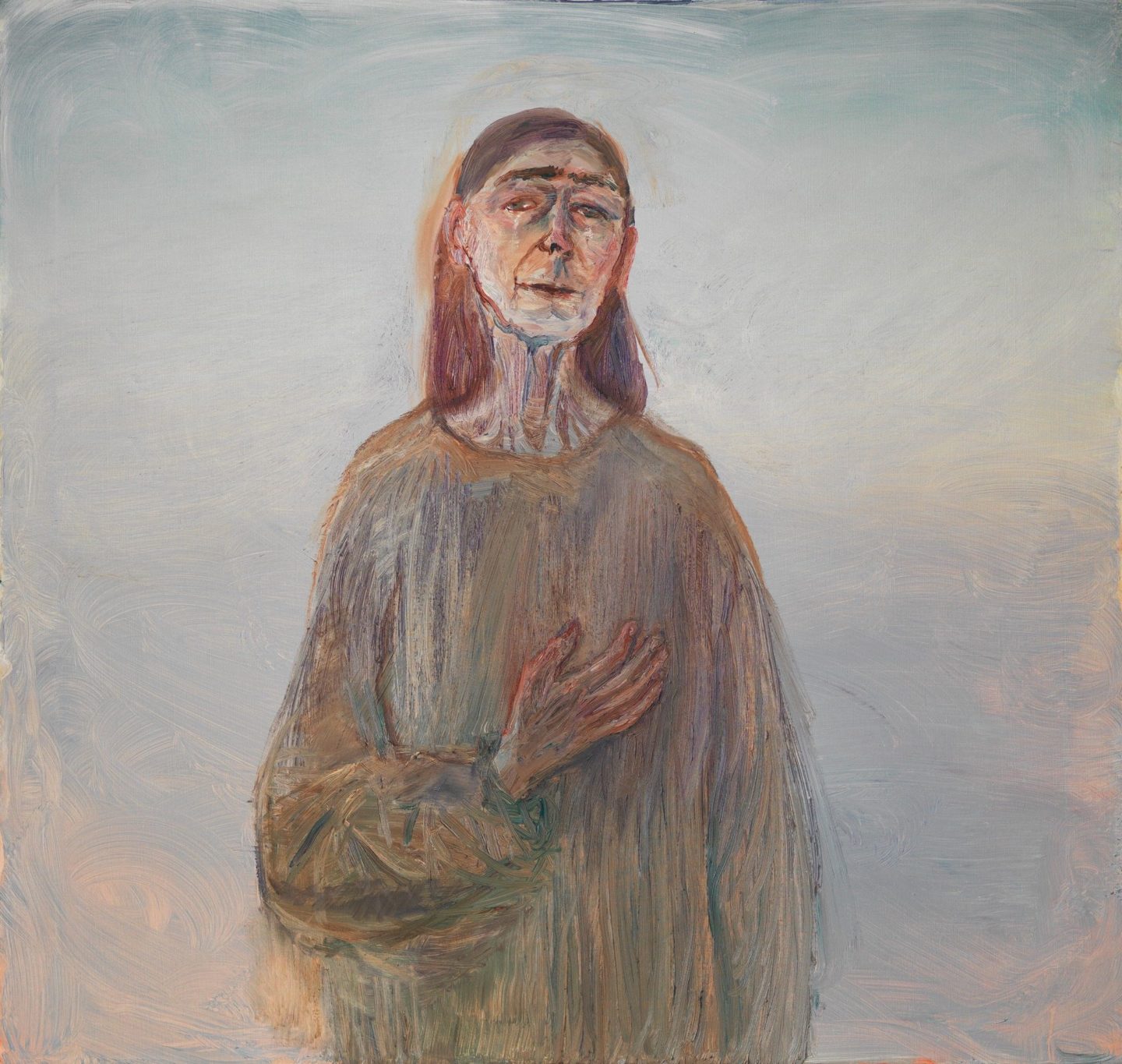 Oil on canvas
95 x 100 cm
37 3/8 x 39 3/8 in
Celia Paul, Overwhelmed by Beauty (Self-Portrait), 2023
More info
'Of course there are the soft eyes, leaking tears, but look too (I coax myself) at the gently open mouth, the hair tucked girlishly behind your shoulders, and the disarming gesture of one hand soft on your left breast; a greeting but also, perhaps, a pledge of honesty, integrity.' — Eleanor Nairne
---
Celia Obscure Object of Desire
'I thought a lot about Tintoretto and Giorgione. When I painted my own version of Giorgione's La Tempesta, I left out the figure of the man and concentrated on the mother and child. She looks so desirable, in Giorgione's painting, offering so much comfort. Yet she is vulnerable, too. I thought about how lost and alone I often felt as a young single mother.' — Celia Paul
---
Celia Laguna
'I made three studies of the water. I painted them directly from life. The first study was made when the water was choppy, as the wind and the rain had just started to clear; the second study when there was high thin cloud and everything was still; the third was made when the sun burst out dazzlingly after a shower of rain.' — Celia Paul
---
Celia Clem and Lola
'During my residency, I painted portraits of the young women at Victoria Miro who looked after me so kindly, and on my return to London I painted two more portraits of young women: Lola and Clem. I have included three of these portraits in the exhibition. They echo the three waterscapes hanging on the opposite wall.' — Celia Paul
---
Celia Pia
'I sense an immense calm in the arresting blue of Pia's eyes, echoed in that primrose glow around her dark hair.' — Eleanor Nairne
---
Celia Peony
'At a flower stall by the Rialto, I saw a bucket of flowers – pale pink peonies… I decided to paint a portrait of a peony shedding its petals and try to capture the ephemeral nature of its beauty.' — Celia Paul
---
Celia Old Woman Embracing
Oil on canvas
95 x 100 cm
37 3/8 x 39 3/8 in
Celia Paul, Old Woman Embracing Her Young Self, 2023
More info
'I painted Old Woman Embracing Her Young Self in response to Carpaccio's portrayal of Mary and Elizabeth. In my version, the older woman, in her bright red cape, is the stronger of the two figures. She is offering comfort and support to the young woman in green. She is encouraging her to be strong, too.' — Celia Paul
---
About the artist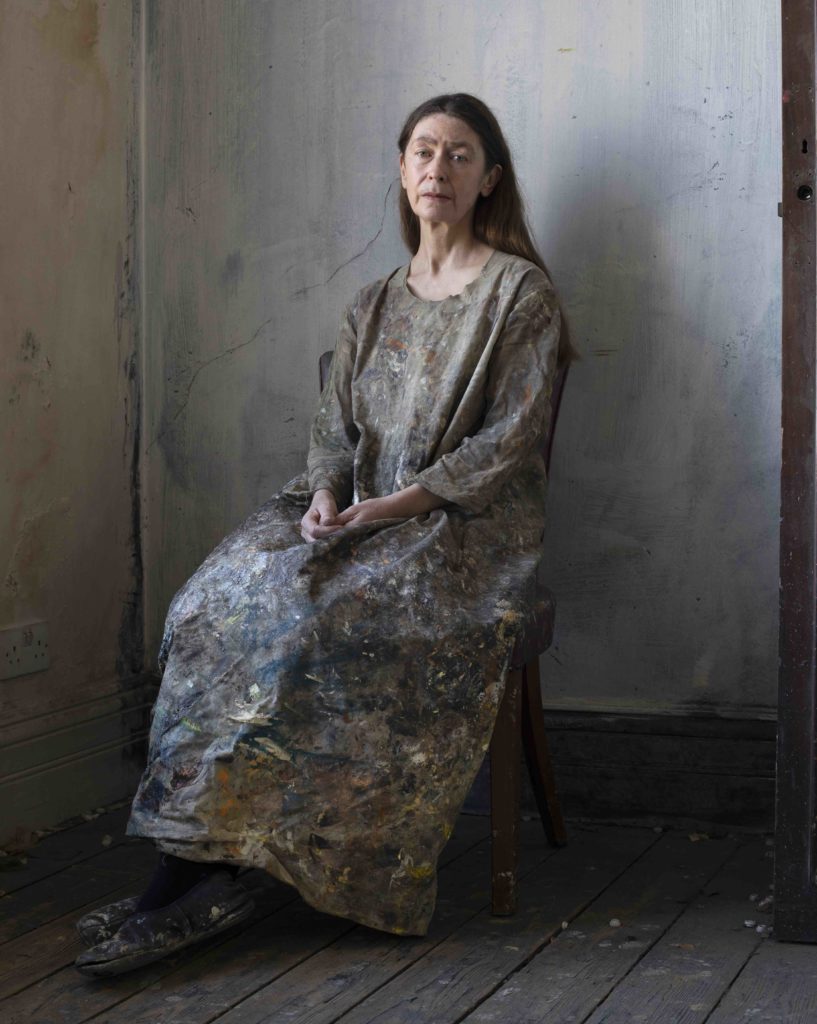 Celia Paul was born in 1959 in Trivandrum, India. She lives and works in London. Recent major solo exhibitions include Celia Paul, curated by Hilton Als, at Yale Center for British Art, New Haven, Connecticut, USA (2018) touring to The Huntington, San Marino, California, USA (2019). The artist's work has been featured in recent group exhibitions including Joan Didion: What She Means, curated by Hilton Als, Hammer Museum, Los Angeles, USA (2022–2023); and Pictus Porrectus; Reconsidering the Full-Length Portrait, Bell House, Newport, Rhode Island, USA (2022).
Her work is in collections including British Museum, London, UK; Carlsberg Foundation, Copenhagen, Denmark; Fitzwilliam Museum, Cambridge, UK; Metropolitan Museum, New York, USA; Morgan Library and Museum, New York, USA; National Portrait Gallery, London, UK; Rubell Family Collection, Miami, USA; Victoria and Albert Museum, London, UK; and the Yale Center for British Art, Connecticut, USA.
The artist's work is currently on view in the group exhibition Real Families: Stories of Change at The Fitzwilliam Museum, Cambridge, UK until 7 January 2024. A solo exhibition, Celia Paul: Life Painting, will be held at Vielmetter Los Angeles, 13 January–9 March 2024.
---