Art Basel OVR: Miami Beach
2–6 December 2020
VIP preview: 2–4 December 2020
Public days: 4–6 December 2020
For the 2020 edition of Art Basel Miami Beach, hosted online on Art Basel OVR, Victoria Miro presents a selection of new and significant works by Yayoi Kusama, Chris Ofili, Howardena Pindell, Do Ho Suh and Sarah Sze.
An iconic Infinity Net and an important, rarely-seen dot painting by Yayoi Kusama, new works inspired by the myth of the satyr by Chris Ofili, urgent, process-driven abstract works by Howardena Pindell, key architectural motifs by Do Ho Suh and new paintings by Sarah Sze, brought together for their rich use of colour, feature in this special online presentation.
---
Yayoi Kusama
Throughout her career, Yayoi Kusama has developed a unique and diverse body of work that, highly personal in nature, connects profoundly with global audiences. She is one of the world's most celebrated artists.
INFINITY-NETS GKSG, 2010, is an iconic Infinity Net canvas in sonorous red. Forging a path between Abstract Expressionism, then the dominant style, and the nascent Minimalist movement, Kusama first showed her Infinity Nets in New York in the late 1950s to great critical acclaim. In these works, Kusama responded to the bravado of Abstract Expressionist painters, redefining the heroic gesture as a smaller, incremental, highly sophisticated loop – obsessional, meticulous and labour-intensive. Conversely, especially when seen en masse, these works were often described in oceanic or even celestial terms – the distillation of an endless idea, covering the world. There is a link, in turn, to the character of the hallucinations first experienced by Kusama during childhood, in which her surroundings were overtaken by a proliferating pattern that engulfed her field of vision. Kusama continues to develop the chromatic and emotional possibilities of her Infinity Nets in works such as INFINITY-NETS GKSG, which seem to fluctuate and dissolve as the viewer moves in front of them. SUMMER-STARS QPTW, 2007, is a rarely seen, brightly coloured, large spotted canvas, in which key themes of Kusama's art – infinity and dispersal – remain central but bright, contrasting colours dominate. Writing about this body of work, Jo Applin comments: 'Infinity and the sense of endlessness, which Kusama so consistently strives to capture in her painting, registers in these works as a tension between reality and fiction, concept and form, situated between the intangible and endless and the material and fixed.'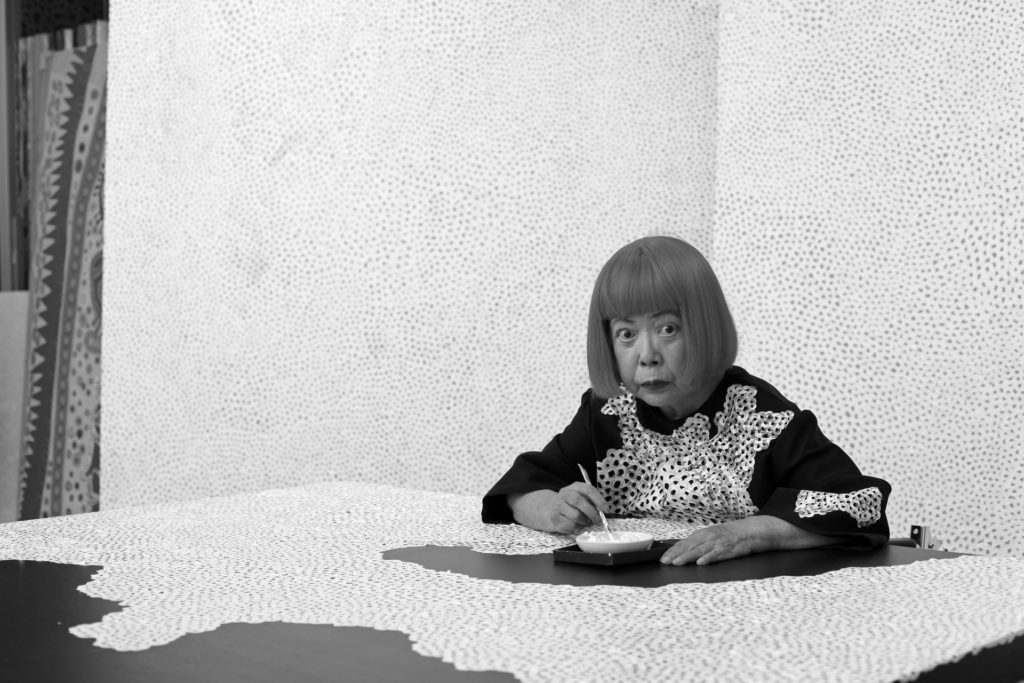 ---
Chris Ofili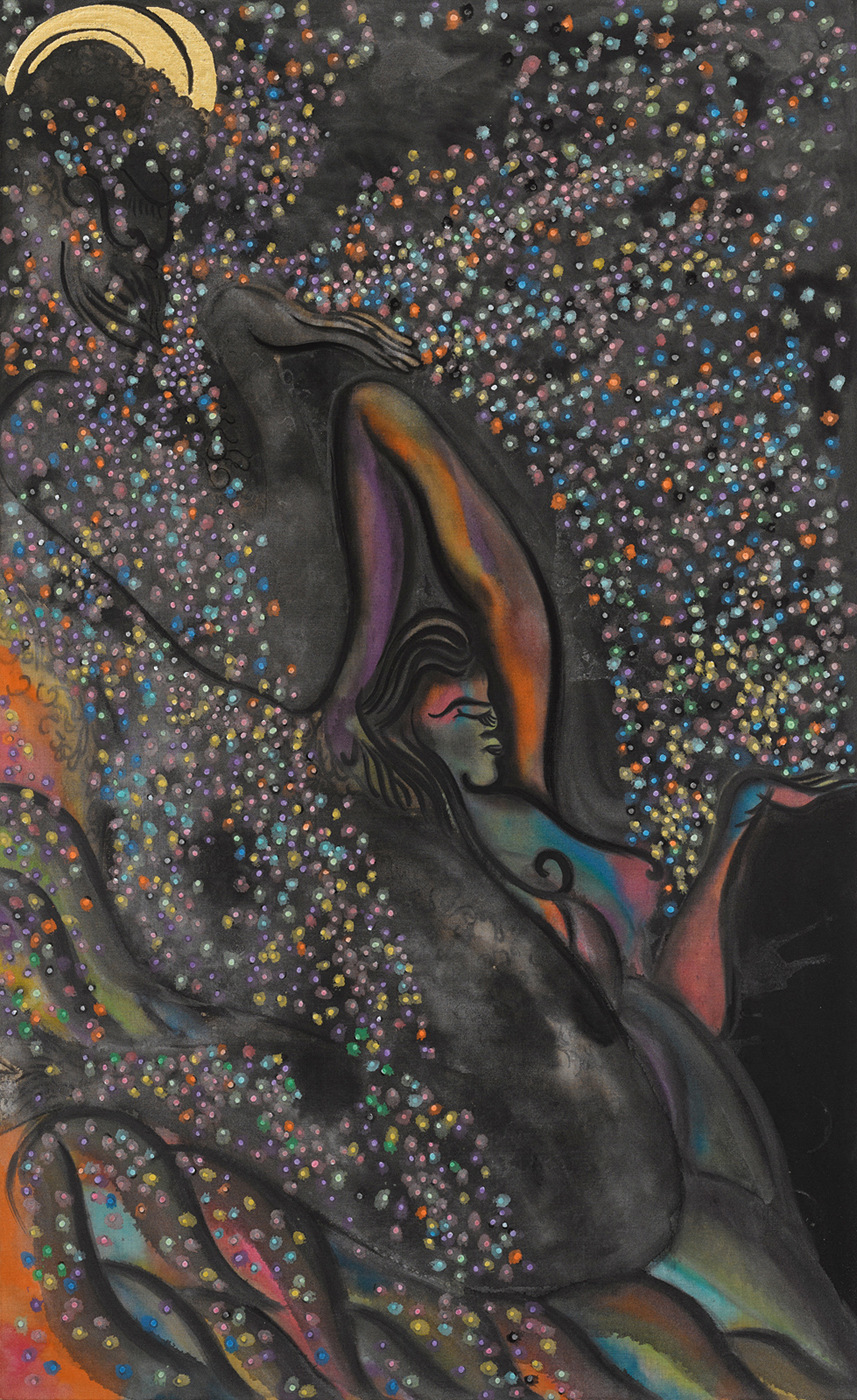 Oil, charcoal and gold leaf on linen
157.5 x 96.5 cm
62 1/8 x 38 in
Chris Ofili, Satyr and Selkie 2, 2020
More info
In Chris Ofili's work painterly and cultural elements – both sacred and profane, personal and political, from high art and popular culture – come together to play on ideas of beauty while carrying messages about black culture, history and exoticism.
In new paintings and works on paper, Ofili's imagery represents the myth of the satyr. Satyr and Selkie 2, 2020, depicts a satyr crowned with curved golden horns embracing a reclining female figure, the selkie. The couple are shown in a serene and intimate scene, immersed in a waterfall and blanketed within its spray of droplets. In Scottish mythology the selkie is a mythological creature who is able to transform from seal into human form by shedding its sealskin. Here, the selkie is visible in her female form, after the moment of metamorphosis; she is one with the water, waterfall, spray and droplets. With his sensitive representations, Ofili repositions the satyr away from the conventional depictions of  wild, Dionysian conduct.
---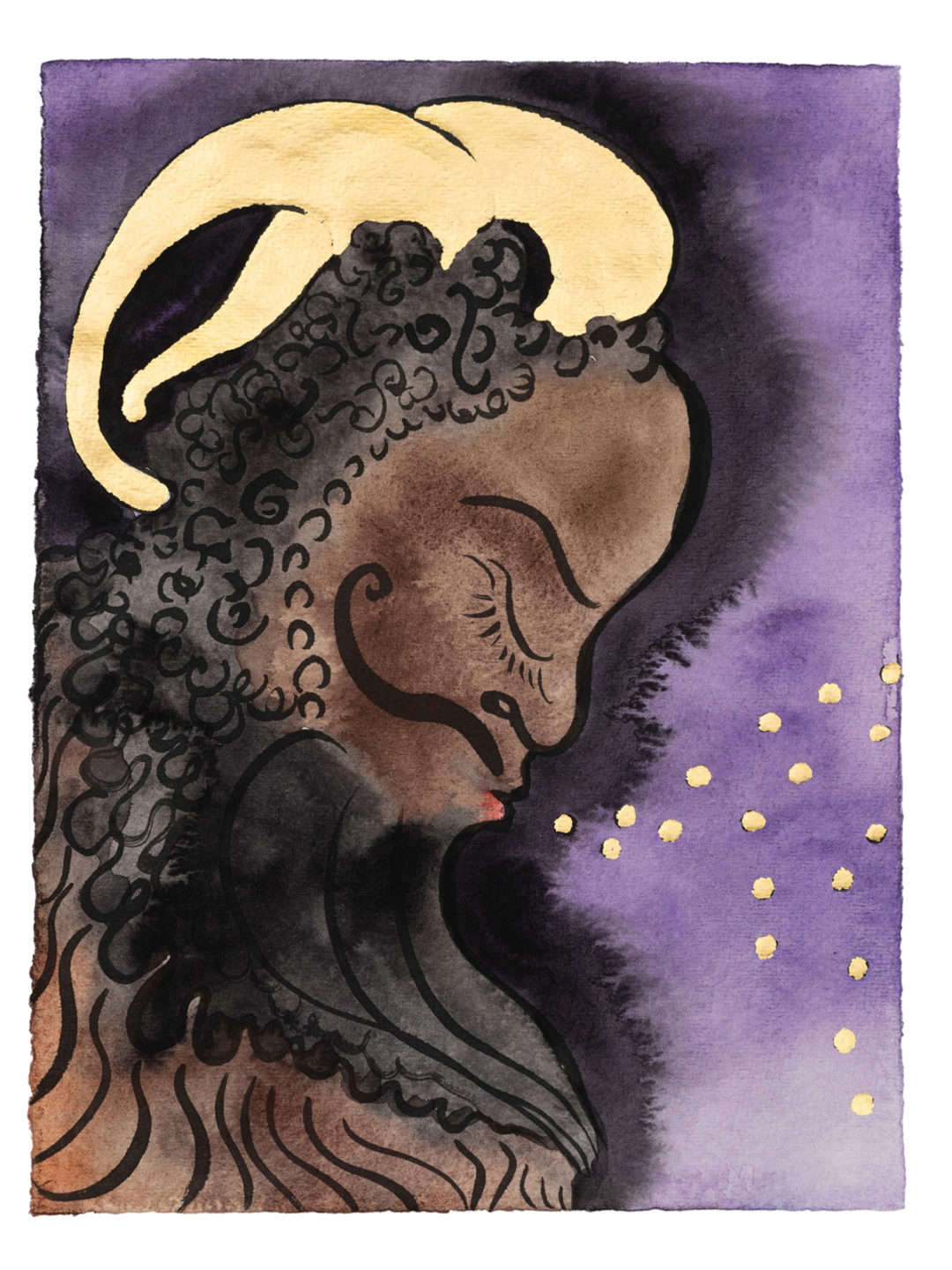 Indian ink, watercolour and gold leaf on paper
26 x 19.5 cm
10 1/4 x 7 5/8 in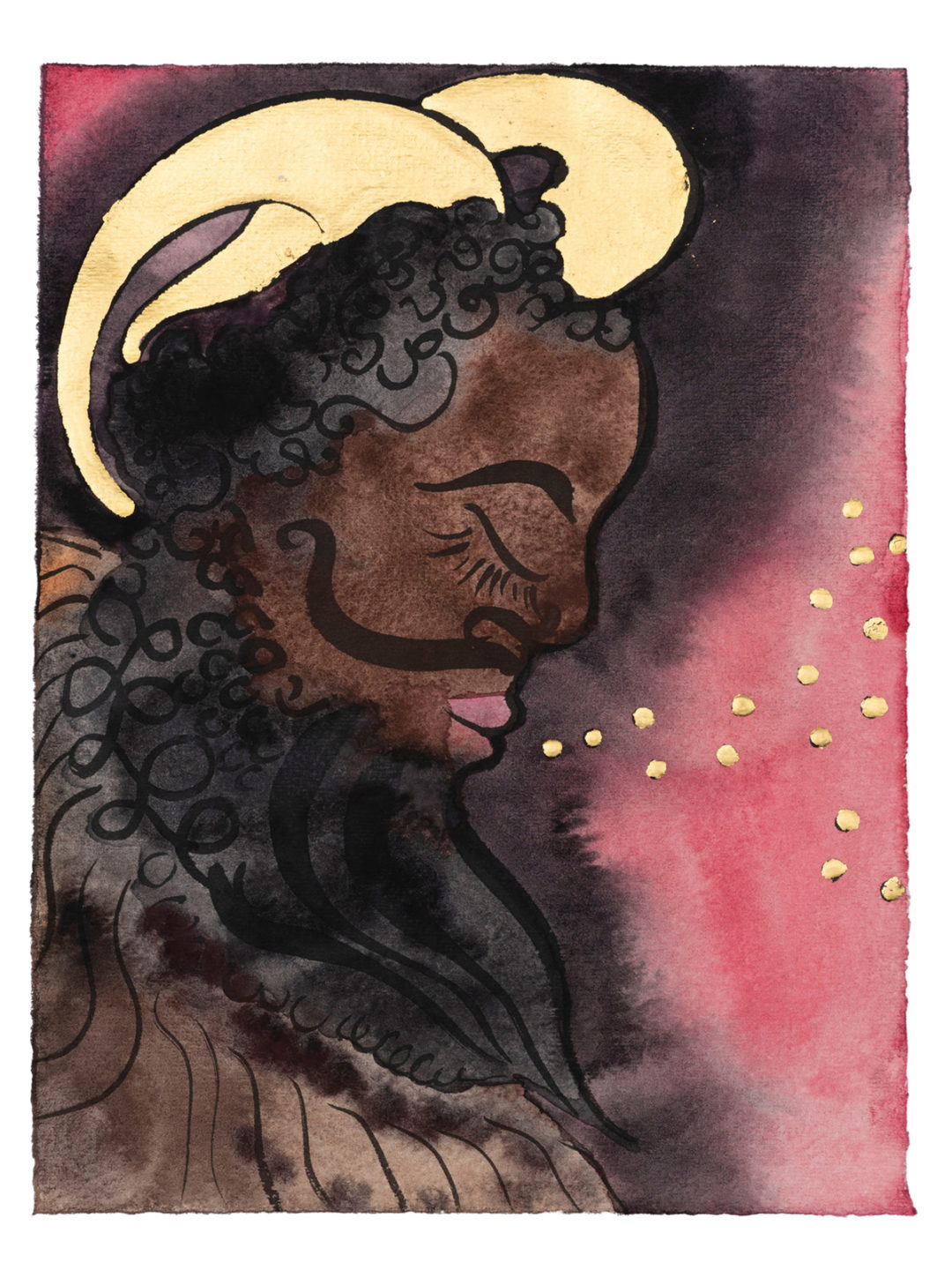 Indian ink, watercolour and gold leaf on paper
26 x 19.5 cm
10 1/4 x 7 5/8 in
Indian ink, watercolour and gold leaf on paper
26 x 19.5 cm
10 1/4 x 7 5/8 in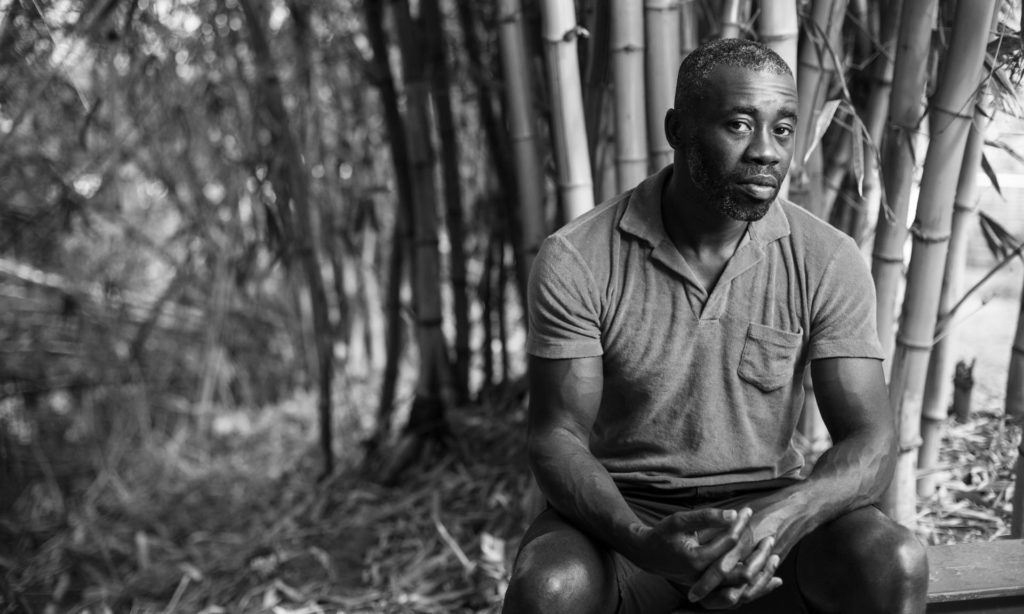 ---
Howardena Pindell
Working across figuration, abstraction and conceptualism, Howardena Pindell has since the 1970s examined a wide range of subject matter, from the personal and diaristic to the social and political. Hers is a complex and nuanced body of work, a fusion of sensuality and intellectual enquiry in which texture, colour, structure and process are employed to mine history, and hidden histories.
On view is a major recent work, Songlines: Labyrinth (Versailles), 2017, one drawn from an innovative time for the artist in which, after a long hiatus, she re-engaged with abstraction. In these works, Pindell continues a metaphorical process first begun in the 1970s in which she deconstructs/reconstructs her work, cutting the canvas into complex patterns and sewing it back together, then building up the surface in elaborate stages. The artist's current major exhibition, Howardena Pindell: Rope/Fire/Water, is on view at The Shed in New York (until 11 April 2021). Untitled #3C, 2009, reveals the enduring importance of collage, which has played a key role in Pindell's art since the 1970s. The circles and ovals she corrals into service in these works abut and overlap, bursting out of the notional picture frame and creating dynamic tension between aggregate and whole.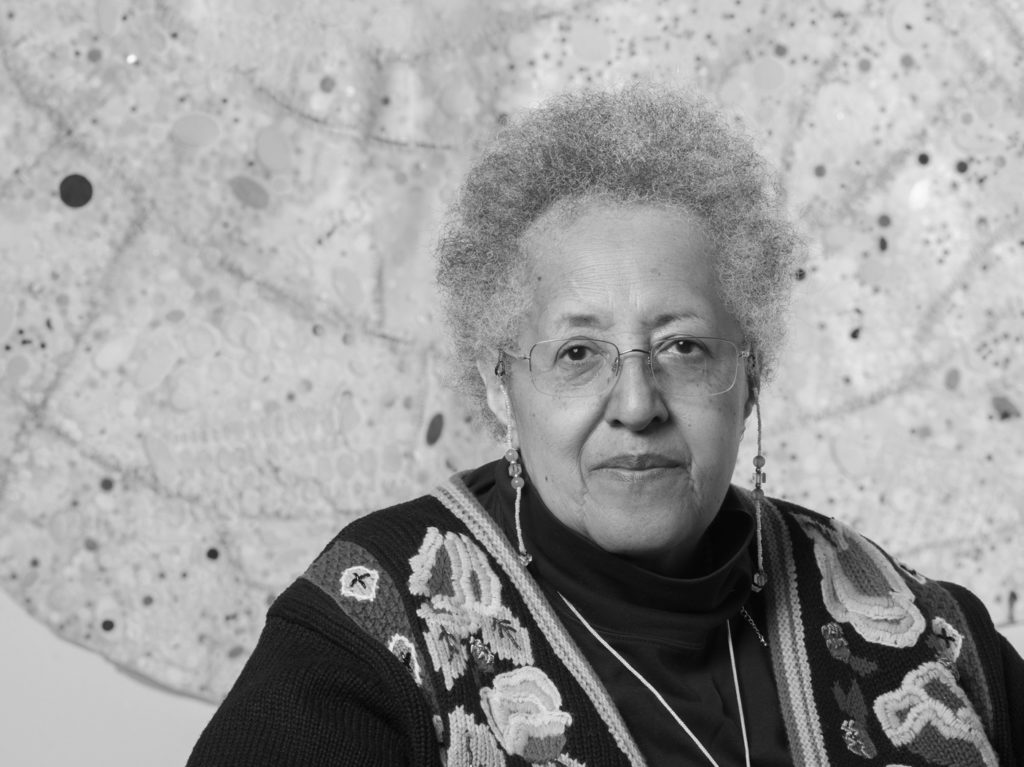 ---
Do Ho Suh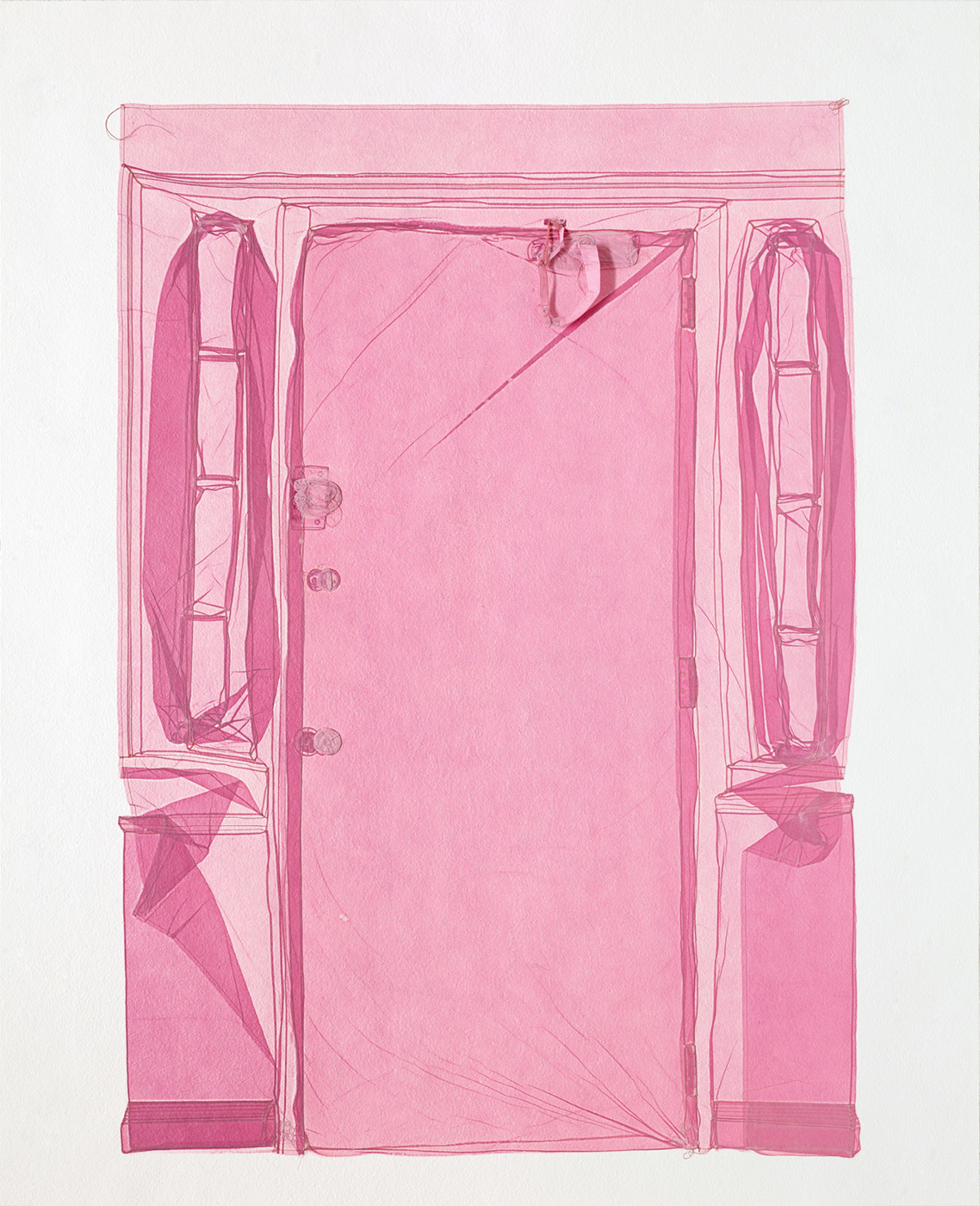 Thread drawing and gelatin sheet embedded on STPI handmade cotton paper
311.5 x 259 cm
122 5/8 x 102 in
Do Ho Suh, Entrance, Ground Floor, 348 West 22nd Street, New York, NY 10011, USA, 2016
More info
Polyester fabric and stainless steel wire
56.8 x 55.2 cm
22 3/8 x 21 3/4 in
Edition of 5 plus 2 artist's proofs
Do Ho Suh, Door Locks: London, New York and Seoul Homes, 2020
More info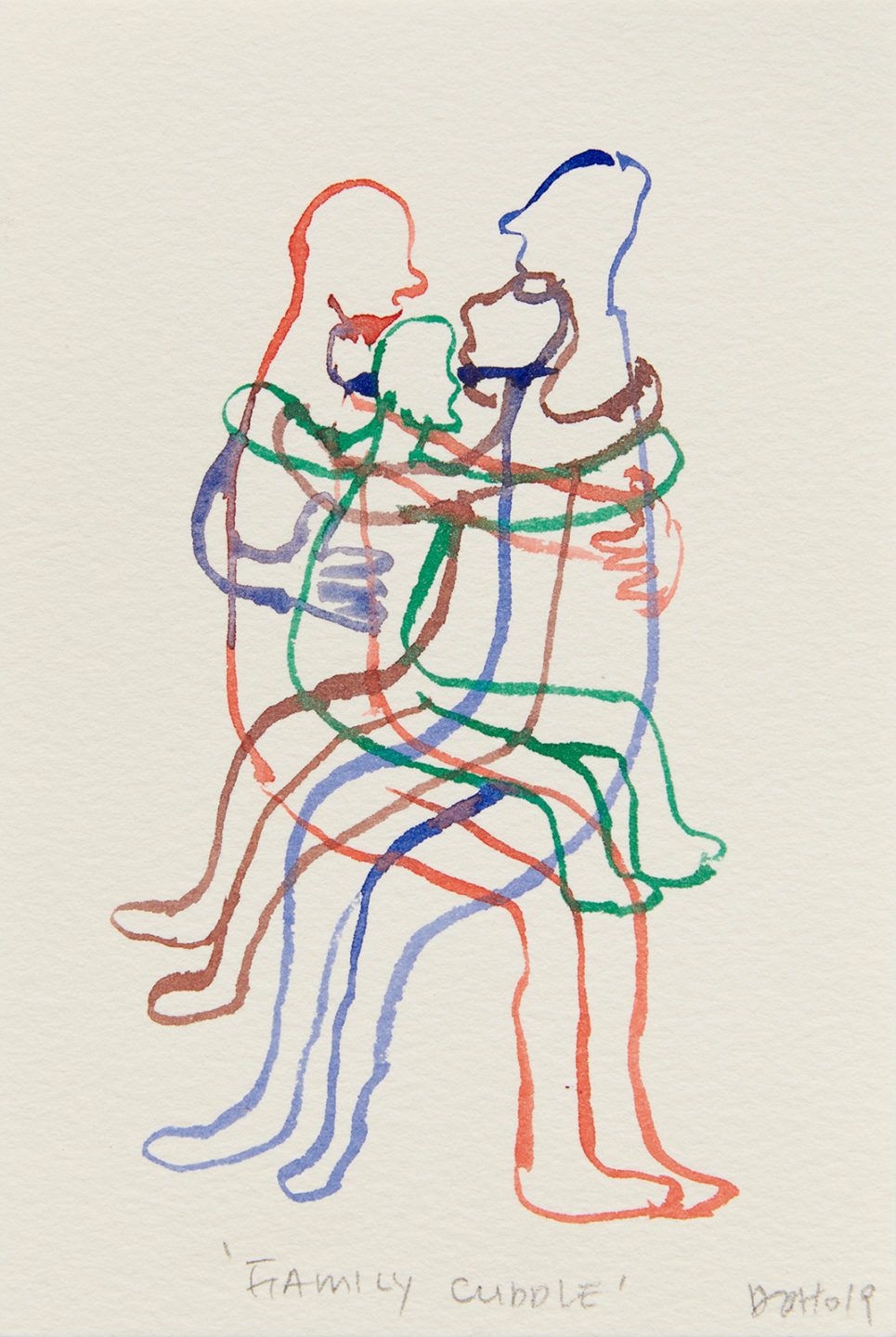 Watercolour on paper
28 x 21.5 cm
11 1/8 x 8 1/2 in
Do Ho Suh has long ruminated on the idea of home as both a physical structure and a lived experience, the boundaries of identity and the connection between the individual and the group across global cultures.
Works on view include Entrance, Ground Floor, 348 West 22nd Street, New York, NY 10011, USA, 2016. One of the artist's acclaimed, large-scale 'gelatin drawings', it is based on the entrance of the artist's former home and studio in New York City. This work was created using a process in which the artist's signature architectural pieces are compressed into two dimensions. Using gelatin tissue, the works are sewn in exactly the same way as Suh's architectural fabric pieces. Once immersed in water, however, the gelatin dissolves, fusing with the paper to leave an image in which the threads appear like a skeletal framework against the coloured form of the object. The idea of the threshold, a central tenet of Suh's work, is paramount in Door Locks: London, New York and Seoul Homes, 2020. Meticulously replicating fixtures of the places in which he has lived, it gives form to ideas about migration, transience and shifting identities, blurring the boundaries of geographical distance. Family Cuddle, 2020, is a tender portrait of four figures enveloping one another that represents the artist's own family and the importance of those relationships to a sense of belonging and the quest for the perfect home.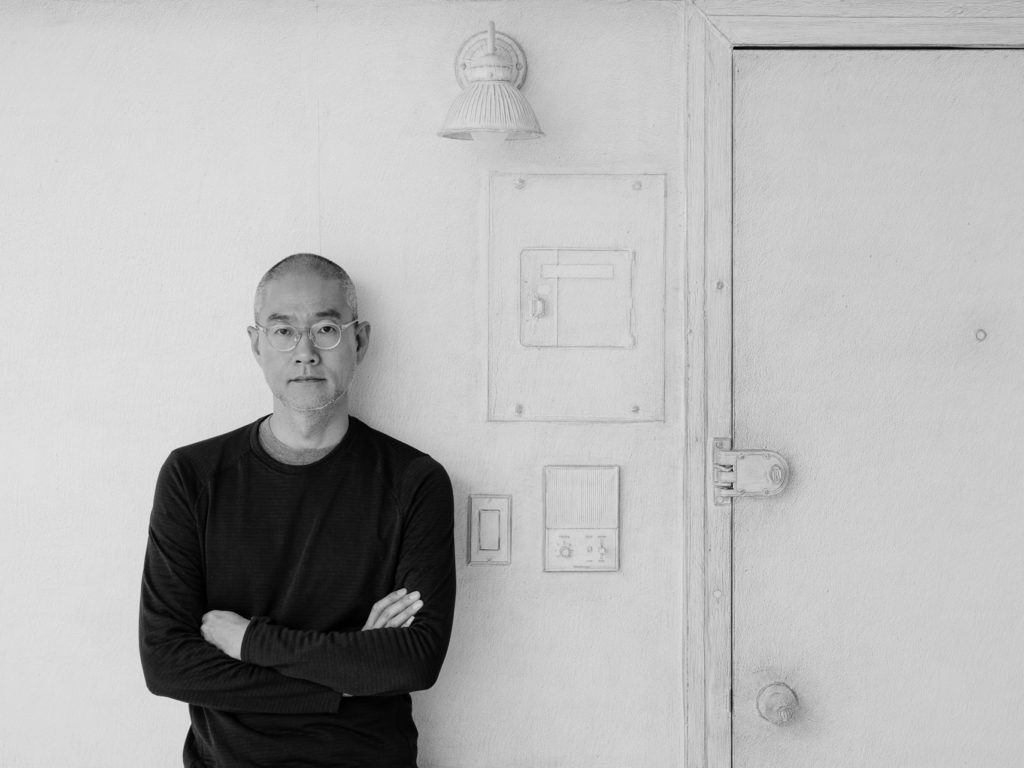 ---
Sarah Sze
Since the late 1990s, Sarah Sze has developed a signature visual language that challenges the static nature of sculpture. Sze draws from Modernist traditions of the found object, dismantling their authority with dynamic constellations of materials that are charged with flux, transformation and fragility. Captured in this suspension, her immersive and intricate works question the value society places on objects and how objects ascribe meaning to the places and times we inhabit.
Flicker and The Letter, both 2020, are new wall-based works by the US artist that continues her decades-long exploration of the ways in which the proliferation of images – printed in magazines and newspapers, gleaned from the Web and television, intercepted from outer space, and ultimately imprinted on our conscious and unconscious selves – fundamentally changes our relationship to physical objects, memories and time. Celebrated for her intricate multimedia installations, in recent years Sze has returned to painting, in which she first trained. In works such as Flicker and The Letter, the picture plane becomes a site of dynamic experimentation, where ideas in their conception are mapped out and traces of multiple image-making mediums are variously reframed and refracted, collapsed and unified.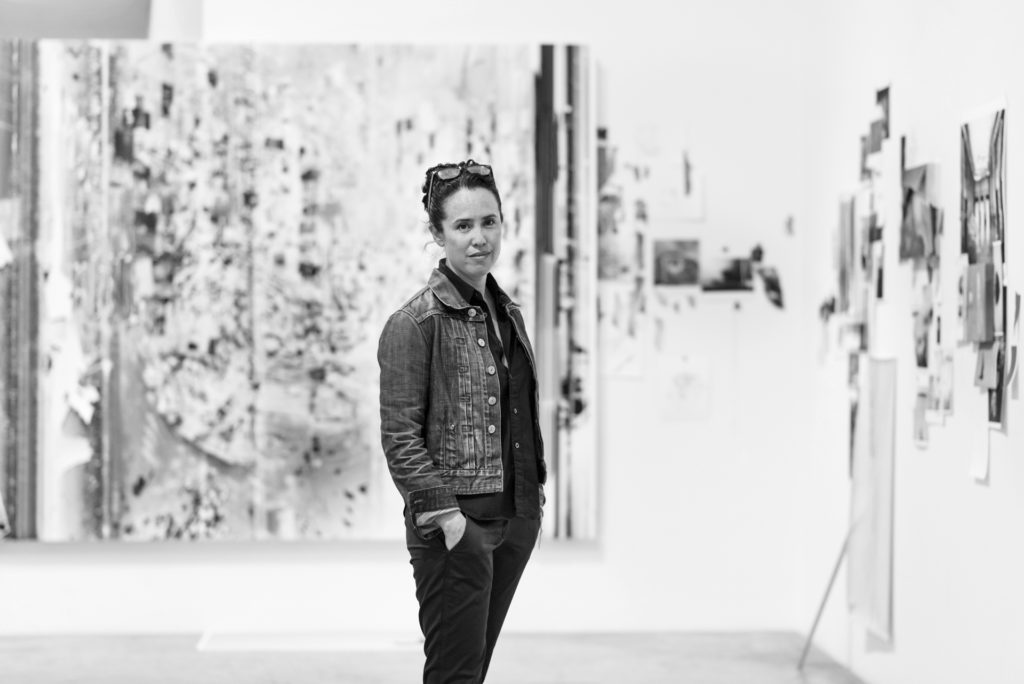 ---