Paula Rego – Art Basel OVR:20c
28–31 October 2020

VIP Preview days: 28 October, 12 noon CET–30 October, 12 noon CET
Public days: 30 October, 12 noon CET–31 October, 12 midnight CET
Victoria Miro is delighted to participate in Art Basel OVR:20c, which is dedicated to work made between 1900 and 1999. This is the gallery's first solo presentation by Paula Rego since announcing its representation of the artist and features rare ink and watercolour works on paper from the early 1990s.
An artist of uncompromising vision and a peerless storyteller, Paula Rego has since the 1950s brought immense psychological insight and imaginative power to the genre of figurative art. Drawing upon details of her own extraordinary life, on politics and art history, on literature, folk legends, myths and fairytales, Rego's work at its heart is an exploration of human relationships, her piercing eye trained on the established order and the codes, structures and dynamics of power that embolden or repress the characters she depicts.  Next year, the largest and most comprehensive retrospective of Rego's work to date will take place at Tate Britain (16 June–24 October 2021). Victoria Miro's new collaboration with the artist will be marked by a major exhibition at the gallery during the latter part of 2021.
The 1990s were an especially significant period for Rego. At the very beginning of the decade she was appointed the first National Gallery Associate Artist (1989–1990); important solo exhibitions of her work were held at Fundação das Descobertas, Centro Cultural de Belém, Lisbon, Portugal (1997) and Tate Liverpool, UK (1996–1997); and she was included in seminal group exhibitions such as Unbound: Possibilities in Painting, curated by Adrian Searle and Greg Hilty, held at the Hayward Gallery in London in 1994. The first of two The Southbank Show documentaries about the artist was broadcast in 1992, further raising her profile beyond the art world.
The works on view in this presentation see Rego continuing to explore themes from earlier in her career as well as mining new territory. The artist identifies 1993 as the year in which her work made a substantive change, borne out in major works such as The First Mass in Brazil and The Artist in Her Studio, both of which were included in the Hayward exhibition, the latter suggesting a challenge to the traditional representation of the (usually male) artist. Two studies for The Artist in Her Studio are included here, along with Study for Caritas, 1993, which relates to another key work from the period, in addition to works relating to folk and fairy tales including Study for Peter Pan and other stories, 1992, and the entrancing Study for The White Cat, 1994, in which Rego brings her unique powers as a storyteller to a tale by a seventeenth-century writer whom she regards as 'the greatest storyteller of her time'. While many of these works are titled 'study', they are intricately conceived and richly executed works in their own right, integral to Rego's creative journey and the development of her ideas.
---
Study for The White Cat, 1994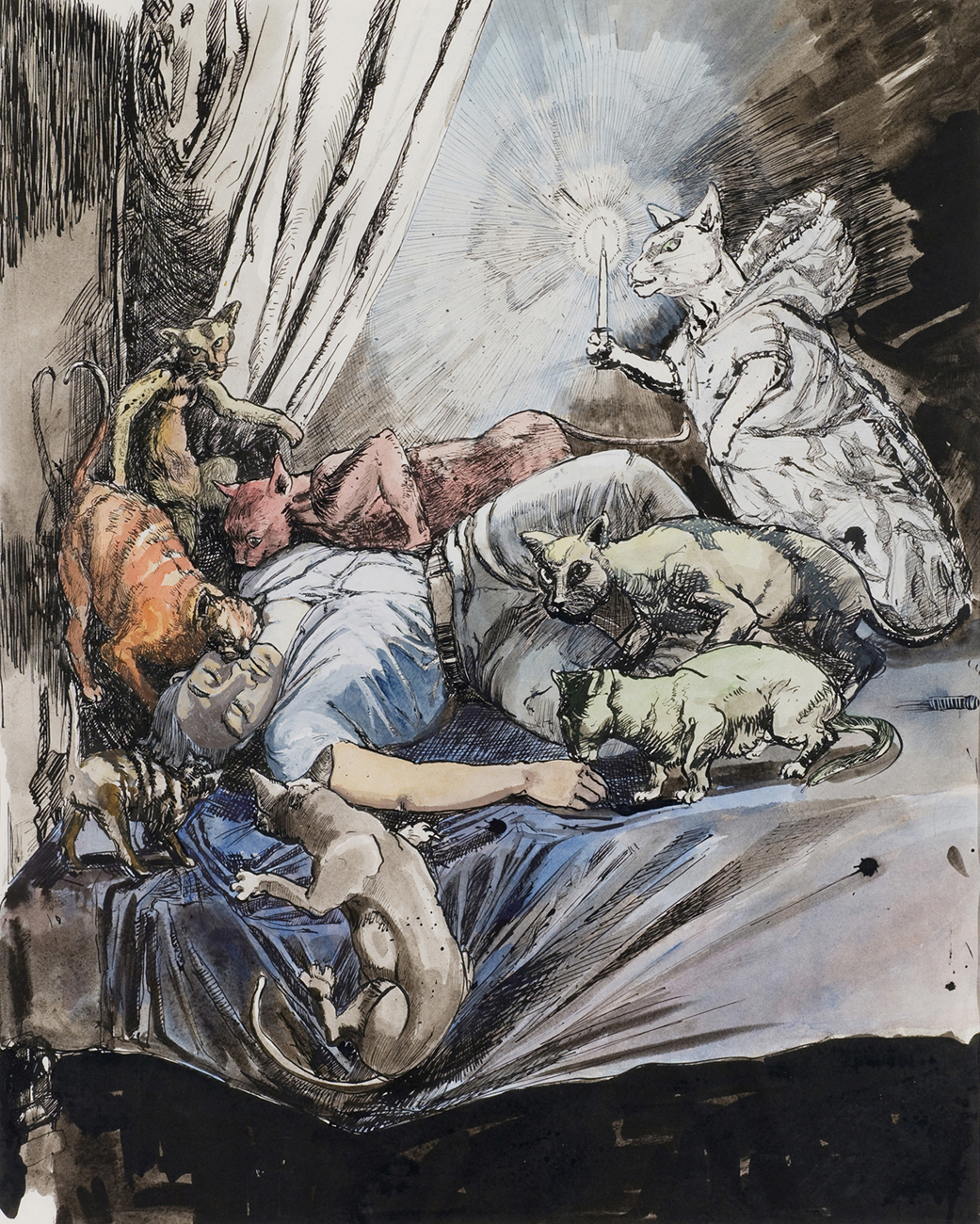 Pen, ink and watercolour on paper
71 x 54 cm
28 x 21 1/4 in
Paula Rego, Study for The White Cat, 1994
More info
'My favourite themes are power games and hierarchies. I always want to turn things on their heads, to upset the established order…'— Paula Rego
In her extensive research on classic fairy tales, undertaken between 1976 and 1978, Rego highlighted the French writer Madame d'Aulnoy (1650–1705) whom she considered to be 'the greatest storyteller of her time', as well as being 'beautiful and having led a strange life'. In 1993, at the suggestion of writer and essayist Marina Warner, Rego returned to Madame d'Aulnoy's stories and created a set of illustrations for the short story, The White Cat. These illustrations were published in 1999, together with the original text, in the Coleção Belém Artists' Books.
The White Cat is a fantastically complex tale of seduction and transformation, entrapment and (violent) release, whose themes Madame d'Aulnoy employed with various degrees of subtlety to comment on the issues faced by aristocratic women of her time. Rego's work portrays the story's prince, who has fallen deep into a slumber, perhaps entranced, in the White Cat's magnificent palace. In Madame d'Aulnoy's tale, while the Prince cannot understand why the White Cat has human gestures and can speak, he falls in love with her. Eventually, it comes to light that she is in fact a princess, imprisoned inside the body of a cat at the hands of a fairy. Following instruction, the prince cuts off the cat's head and tail, thereby releasing the princess whom he then marries.
---
Two studies for The Artist in Her Studio, 1993
Completed in 1993, The Artist in Her Studio is one of the first major works created by Rego following her residency at the National Gallery, where she was the first National Gallery Associate Artist in 1989–1990. This important work is now in the collection of Leeds Art Gallery, purchased with the assistance of The Art Fund in 1994. Writing about that work in the book Paula Rego: The Art of Story, Deryn Rees-Jones comments, 'The woman artist is depicted smoking in her studio in what might also be a playful reference to the pictorial challenge to representation itself made by René Magritte in The Treachery of Images (1928-29), in which an image of a pipe is accompanied by the words Ceci n'est pas un pipe (This is not a pipe). Rego's attempt to locate herself using Portuguese dress, both in terms of her country of birth and as a woman, dramatizes her continuing wrestle with representation, as well as a desire to reimagine herself.'
The two watercolours on view show the evolution of Rego's ideas as she develops the composition, altering elements of the scene for emphasis. It is worth noting in Study for the Artist in Her Studio II, 1993, that the figure kneeling at a table, perhaps a lover, in the final work becomes an arrangement of cabbages.
---
Study for Caritas, 1993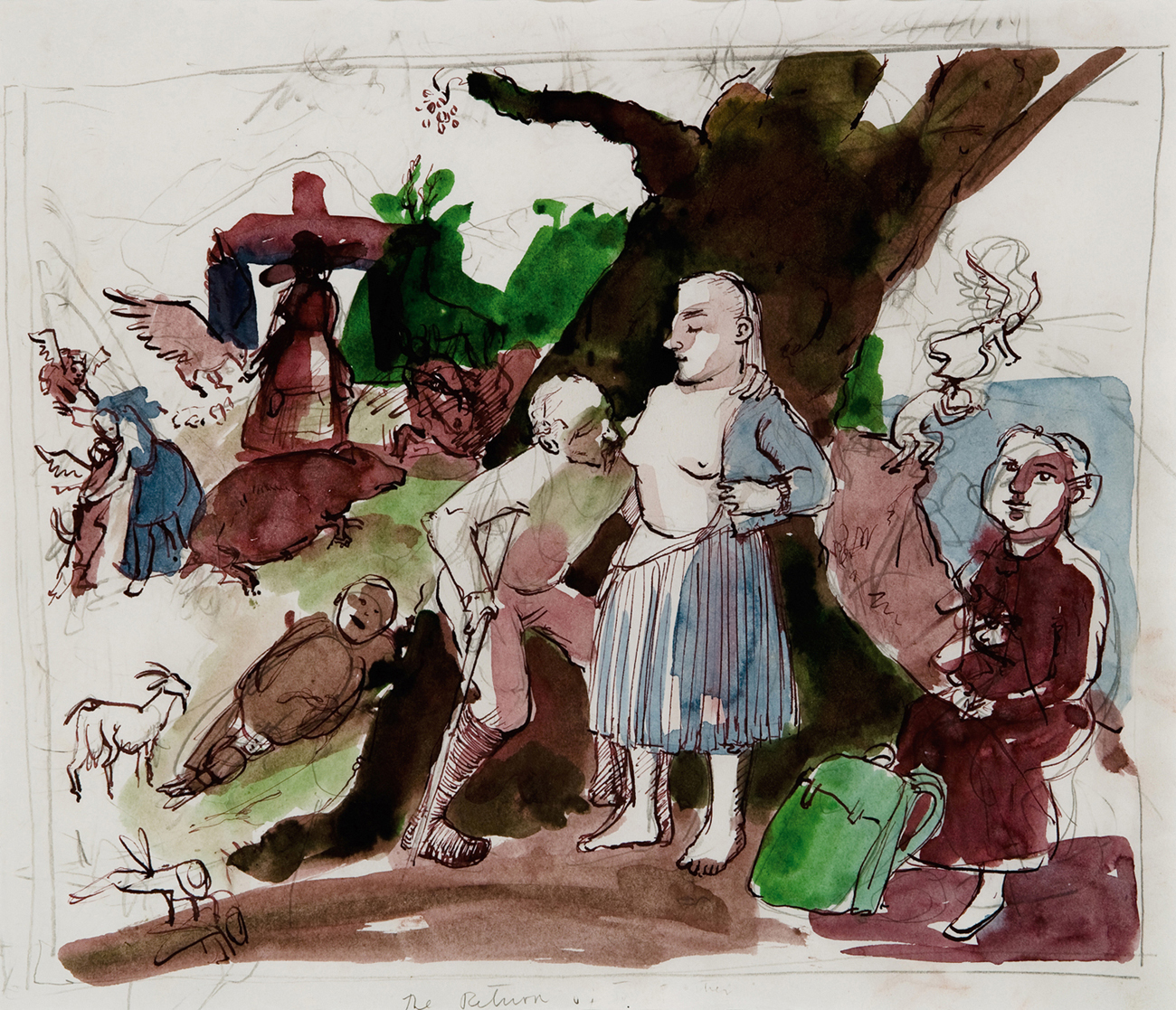 Pen, ink and watercolour on paper
27.5 x 31.5 cm
10 7/8 x 12 3/8 in
Paula Rego, Study for Caritas, 1993
More info
Like The Artist in Her Studio, the large painting Caritas, 1993–94, is a major work completed by Rego after her time as the first Associate Artist and the National Gallery. This study, like the painting, is set in a wooded Portuguese landscape. At its centre, an older man sucks on the breast of a younger woman. Caritas, meaning 'charity' in Latin, clearly refers to the story of Roman Charity, or the Caritas Romana, in which a young woman, Pero, secretly breastfeeds her starving father, Cimon, in prison – a subject found in the Western canon as early as the sixteenth century, with famous subsequent examples by the likes of Rubens and Caravaggio. Rego broadens the scene and enriches the theme, building a complex narrative around ideas of fecundity and harshness, sustenance and depravation – moral, physical, and spiritual.
---
The Ferry Girl I, 1992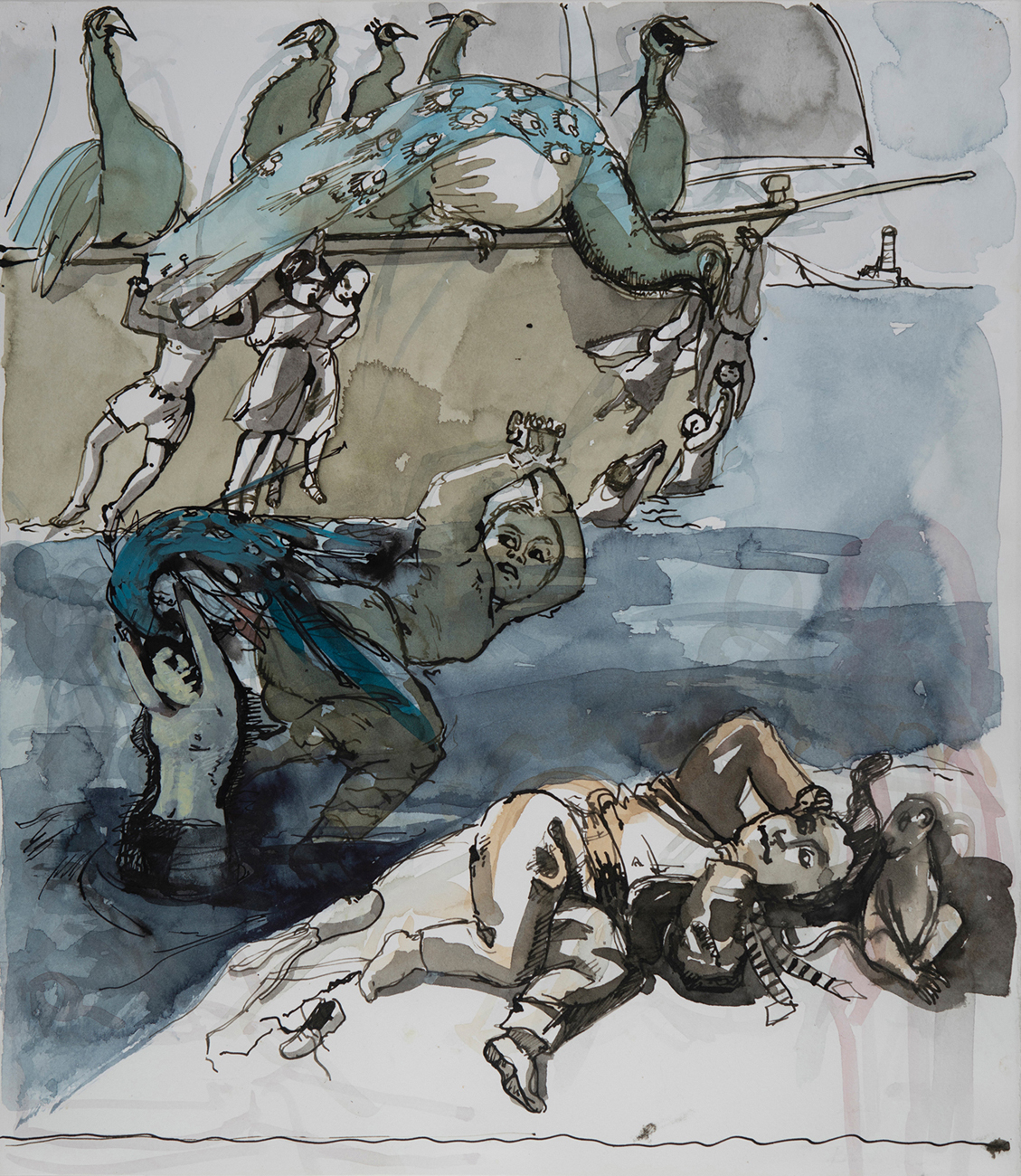 Ink and watercolour on paper
44.5 x 39 cm
17 1/2 x 15 3/8 in
'One hopes that once a person is looking in the picture, other things will come out that I'm not even aware of.'— Paula Rego
In 1992 Rego spent several months working in the Parque Marechal Carmona, Cascais (a park she used to visit as a child and loved), drawing and painting a series of pen and ink works on paper (the largest of which is now in the Portuguese Embassy in London).
The series conveys a tale imagined yet with elements based in reality. In these works the park's famous peacocks became the villainous oppressors, invaders from another land. The museum dedicated exclusively to her work – Paula Rego's House of Stories, which opened to the public in 2009 – was built on the site opposite the park.
---
Study for Peter Pan and other stories, 1992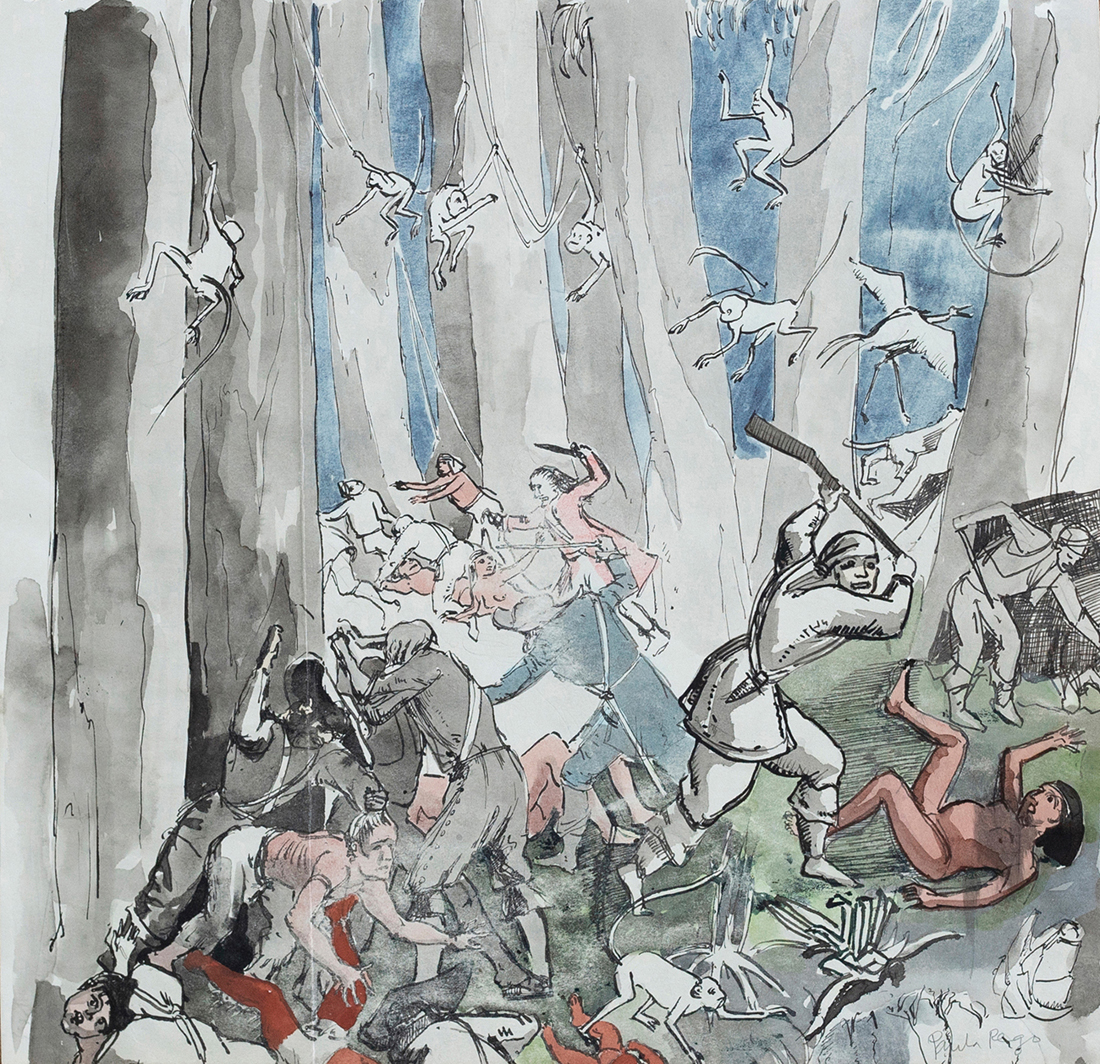 Ink and watercolour on paper
29.2 x 29.4 cm
11 1/2 x 11 5/8 in
Paula Rego, Study for Peter Pan and other stories, 1992
More info
This work in watercolour and ink was made at the same time as Rego created a series of etchings and aquatints, which were published as a portfolio and also used to illustrate the Folio Society edition of Peter Pan in 1992. This fight scene, which was not reproduced in the associated portfolio, is among her most extravagant compositions.
Throughout her career, Rego has explored the world of children's stories, often attracted to their ambiguity and double meanings, especially in terms of human relations and the relationship between the individual and the collective. Her research into this rich literary universe began in 1974, when she produced a series of illustrations dedicated to traditional Portuguese folktales. Since that time, folk and fairy tales became a fertile source of inspiration for her work and its ongoing exploration of themes of enchantment, love and seduction, power and subjugation. These tales, in turn, gain fresh meaning through articulation and in combination with stories from the artist's own personal universe.
---
About the artist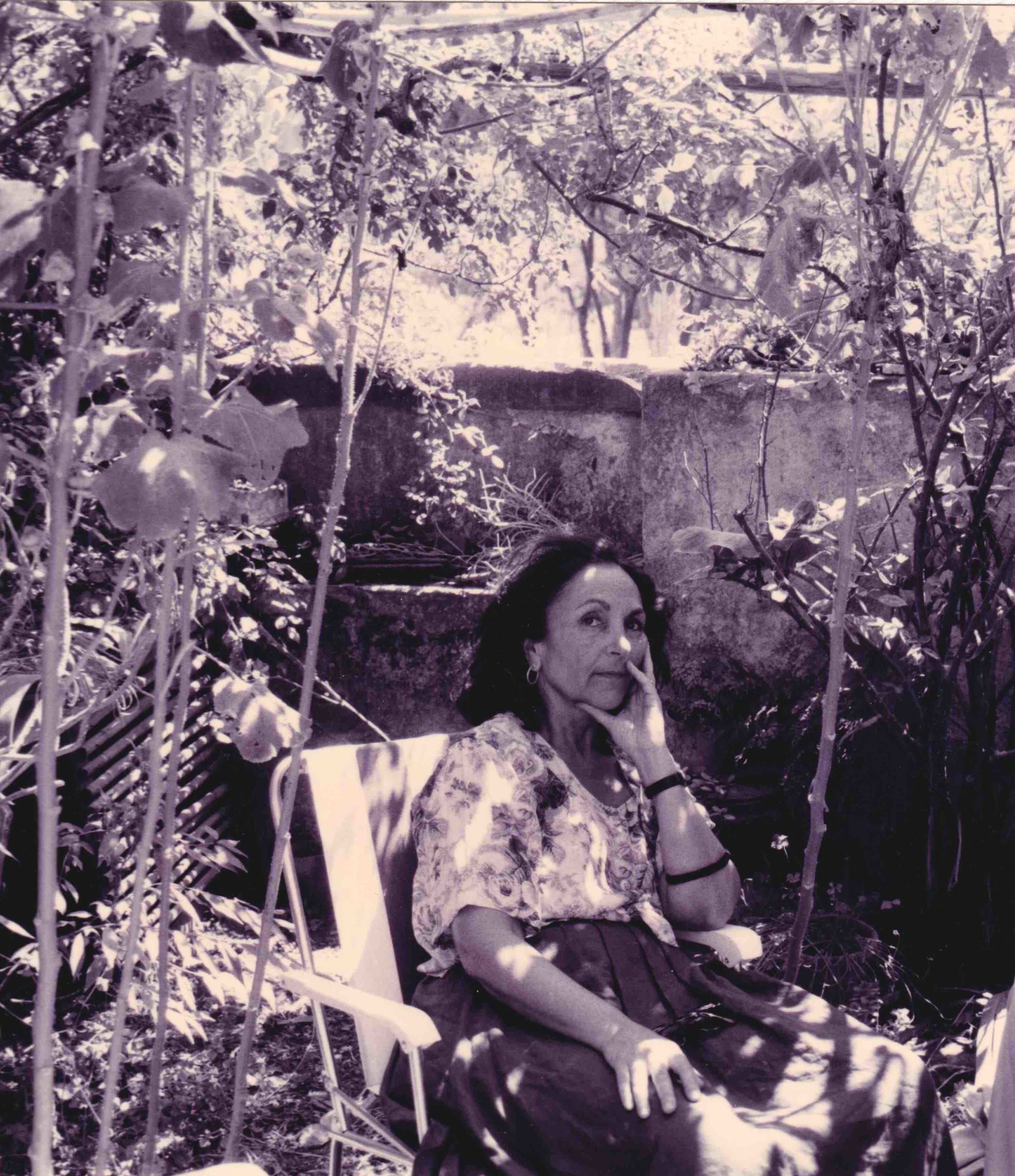 Born in 1935 in Lisbon, Portugal, Dame Paula Rego RA studied at The Slade School of Fine Art from 1952 to 1956. She lives and works in London. Next year, the largest and most comprehensive retrospective of Rego's work to date will take place at Tate Britain (16 June–24 October 2021). Current major solo exhibitions include Paula Rego: Obedience and Defiance, curated by Catherine Lampert, which travelled from MK Gallery, Milton Keynes to the Scottish National Gallery of Modern Art, Edinburgh in 2019–2020 and opened at the Irish Museum of Modern Art, Dublin in September 2020 (18 September 2020–3 January 2021). Her work is in the collections of major museums including the British Museum, London, UK; National Gallery, London, UK; National Portrait Gallery, London, UK; Tate Gallery, London, UK and the Whitworth Art Gallery, Manchester, UK. Paula Rego will have her first solo exhibition at Victoria Miro during the latter part of 2021.
---