Art Basel Miami Beach
Booth H4
2–4 December 2021
(Previews from 30 November 2021)
Victoria Miro is delighted to participate in Art Basel Miami Beach (booth H4) with works by Doug Aitken, Milton Avery, Ali Banisadr, María Berrío, Secundino Hernández, Idris Khan, Yayoi Kusama, John Kørner, Maria Nepomuceno, Chris Ofili, Grayson Perry, Howardena Pindell and Flora Yukhnovich.
The works on view, some created especially for this presentation, celebrate the rich dialogue between abstraction and figuration that takes place among our artists. In addition, the gallery will use a section of its booth to hold presentations of work by Flora Yukhnovich, Secundino Hernández and Doug Aitken on consecutive days of the fair.
---
Doug Aitken
Doug Aitken's latest textiles are a continuation of a body of work generated over the past year and take as their starting point clothing and other everyday found materials that the artist was able to access within his home. Cutting fragments and reassembling them into abstract visual fields, Aitken has created elaborate wall hangings, patterns emerging and disappearing within their collaged layers.
Resembling flags and banners, mandalas and targets, they also bear connotations of protection, comfort or shelter – the very nature of cloth being at the same time intimate, personal and universal. These shifting symbolic qualities resonate with the dynamic abstractions of each composition: these are signs, devoid of text, that allow for open-ended investigations into our collective experience.
Current solo institutional exhibitions by the artist include Doug Aitken: New Era at the Museum of Contemporary Art Australia, Sydney (on view until 6 February 2022).
---
Milton Avery
Milton Avery's late portraits are a reflection of his accumulated skills in depicting the figure with great economy. Two Poets, 1963, is one of the last large-scale paintings completed by the artist and is masterful in its simplicity, by turns modest and monumental. While the Averys spent the Summers of 1962 and 63 in Lake Hill, north of Woodstock, New York, it is likely that Sally by the Sea, 1962, was completed in New York from an earlier drawing. Throughout his career, Avery's habit was to devote his summers to drawing and making watercolours, which would serve as the basis for the oil paintings he worked on during the winters back in New York – a routine that goes some way in explaining his art's sense of endless summer.
Organised by the Royal Academy of Arts, London, in collaboration with the Modern Art Museum of Fort Worth, Texas, and Wadsworth Atheneum Museum of Art, Hartford, Connecticut, a major retrospective of Avery's work commences at The Modern, Fort Worth this autumn (7 November 2021–30 January 2022).
---
Ali Banisadr
A painter of epic vistas and dazzling intricacies, Ali Banisadr creates complex worlds whose syncopated rhythms corral a multitude of references from history and art history, as well as allusions to our own turbulent times. The Changing Past, 2021, evokes the ways in which, throughout history, monuments, buildings and often entire cultures are toppled or erased in order to accommodate new beliefs and ideas, which in turn are succeeded by further layers of thinking or sets of ideals. Reflective of Banisadr's ongoing interest in iconoclasm, the motifs in the painting are trans-historical: a disc, for instance, refers to a symbol from Ancient Egyptian times that migrates through time, its meaning and significance changed.
In Banisadr's art such references reveal themselves not as static, sedimentary layers but as successive waves or currents. His abstract and semi-abstract forms flow together, intermingle or collide, submerging and resurfacing through the process of painting to become recast and transformed.
---
María Berrío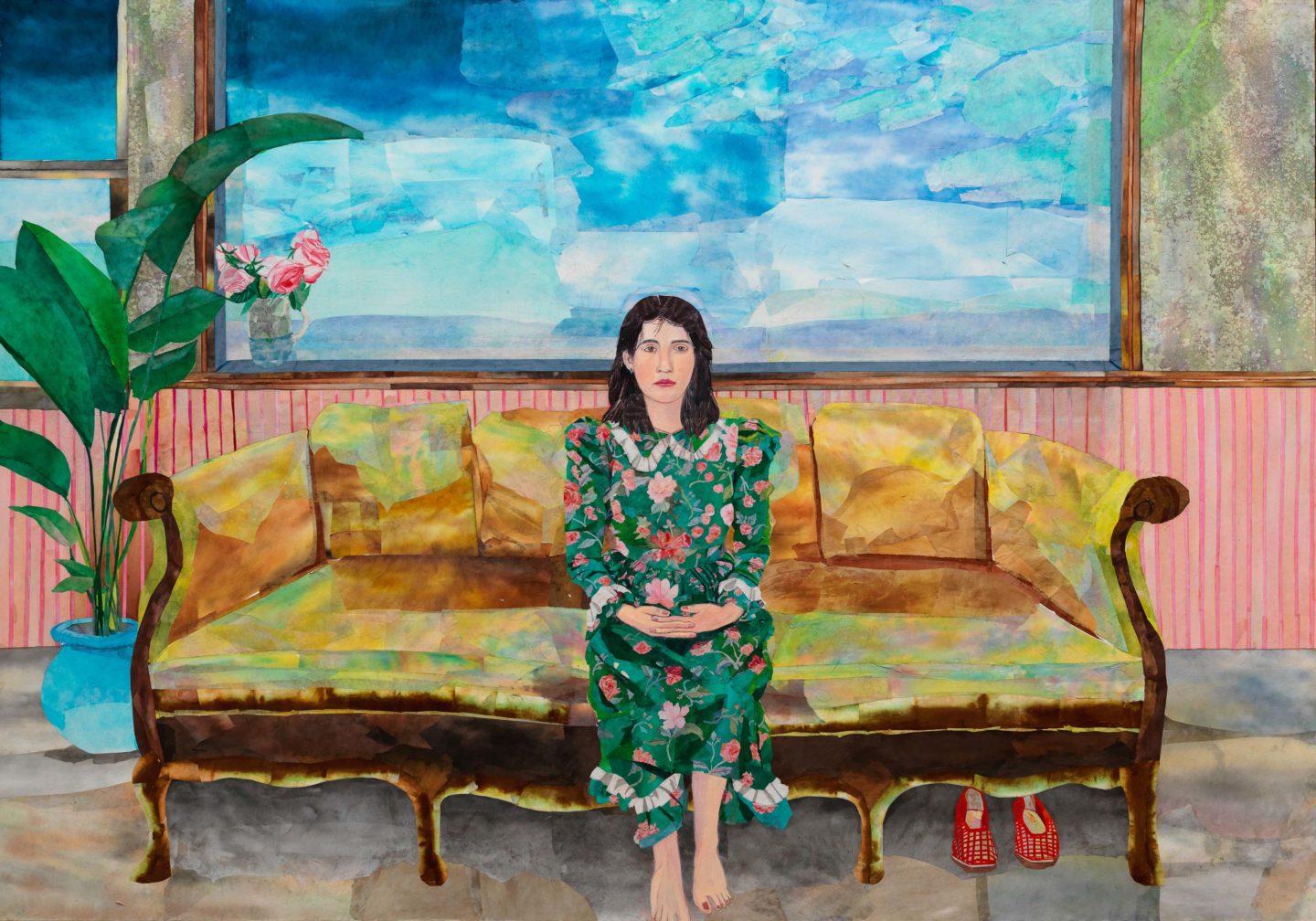 Collage with Japanese paper and watercolour paint on canvas
213.4 x 304.8 x 5.1 cm
84 x 120 x 2 in
María Berrío, Clouded Infinity, 2020
More info
Clouded Infinity, 2020, is one of a number of recent works whose theme is the quiet of catastrophe's aftermath, a solemnity that points as much towards modes of resilience and adaptation as it does to the crushing devastation of loss.
Writing about the work, Berrío states, 'Clouded Infinity began with the idea of life cycles. It depicts a woman early in her pregnancy, perhaps around four months… I wanted to capture the feeling I felt in the first uncertain months of my own pregnancy. Any attempt to imagine the future seemed impossible, like looking into a mirror fogged with breath. This piece is very much about the flowering of hope amidst sadness and grief. Despite all the loss around us, children are still being born. These new lives arriving during this time bring a glimpse of joy and unconditional love.'
---
Secundino Hernández
One of the most dynamic painters of his generation, Secundino Hernández is celebrated for his spirited enquiry into the language, history and enduring potential of abstraction. New works on view represent contrasting aspects of his practice.
Several examples are derived in part from a process of removing paint with a pressure washer. Almost archaeological in nature, this method involves the artist erasing pigment, in this instance a series of marks and gestures, to expose the canvas beneath. Redolent of the urban environment, the resulting 'wash' painting has a dramatic, exploratory quality and openly displays the challenges and triumphs of the artist's practice. The presentation also includes 'palette' paintings by the artist. Created through a highly visceral accumulation of pigment, the palette works are akin to amplified versions of the functional artist's palette. Their intense impasto-like surfaces transform the 'stuff' of painting, its blunt materiality, into undulating terrains of pigment – elemental and compelling.
---
Idris Khan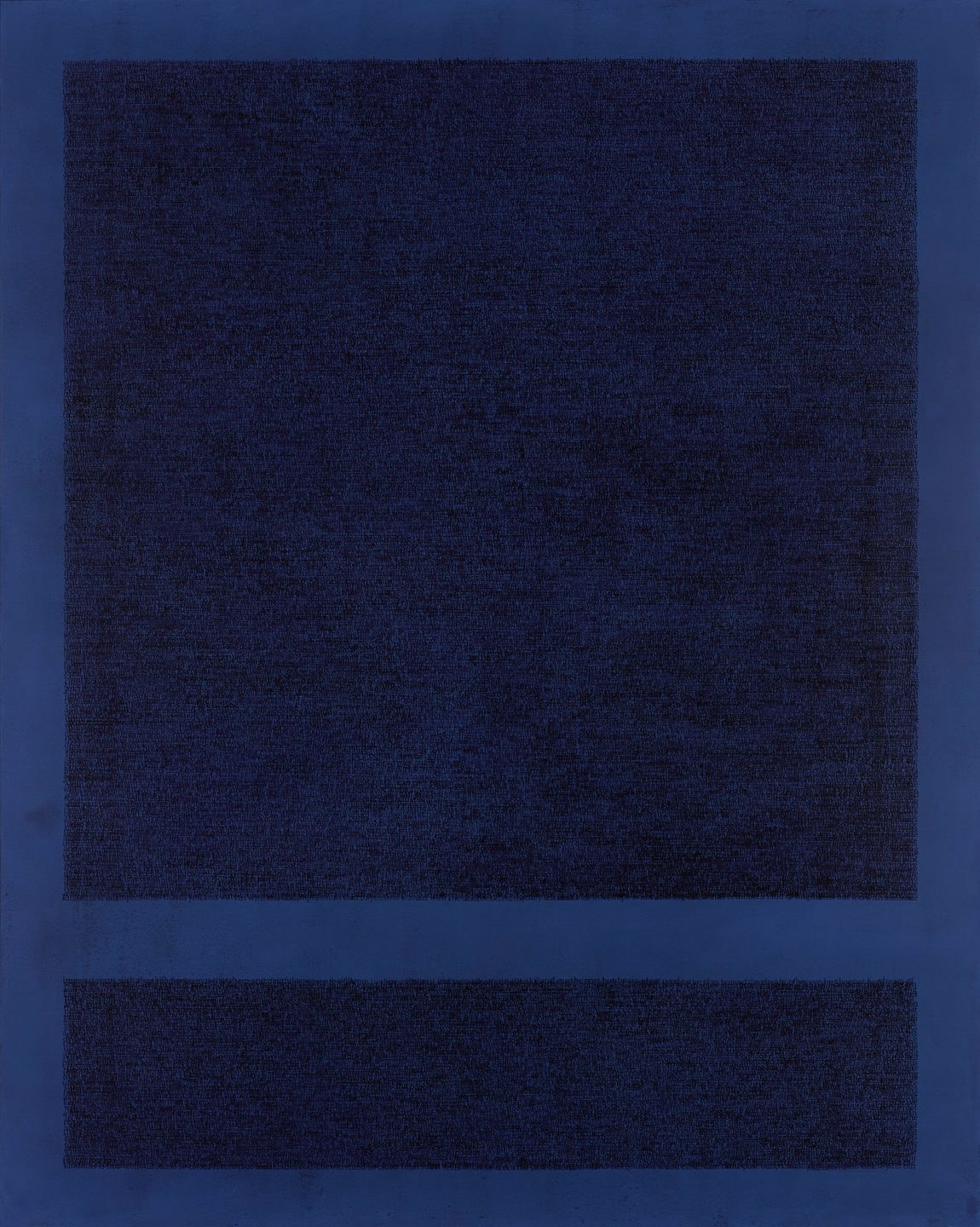 Oil based ink on gesso, on aluminium
250.5 x 200 x 3 cm
98 5/8 x 78 3/4 x 1 1/8 in
Idris Khan, Eternity, stays within limits, 2020
More info
This recent large-scale painting is completed in a palette of blue, using the artist's own mix of gesso, rabbit skin glue, slate dust, marble dust and Prussian blue and Ultramarine blue pigments. It features passages of texts in which Khan expresses thoughts, feelings and responses to the past year. Diaristic in nature, these texts, once repeated and layered in sonorous blue oil, are distilled, a number of fragmentary experiences and disparate ideas becoming a single image. In this manner, while Khan ultimately eradicates the meaning of the original text, he constructs an abstract and universal language.
It is in this contemplative space that both the processes of Minimalist art and allusions to the role of repetition in the world's major religions are brought into focus – as a vehicle for transcendence and a conduit of the sublime.
---
Yayoi Kusama
Throughout her career, Yayoi Kusama has developed a unique and diverse body of work that, highly personal in nature, connects profoundly with global audiences. Paintings on view address the twin themes of cosmic infinity and personal obsession that characterise her art. A Chat in the Universe, 2010, is drawn from the artist's highly celebrated, ongoing series My Eternal Soul, which she commenced in 2009. These works, at once bold and intensely detailed and conveying extraordinary vitality, are joyfully improvisatory, fluid and highly instinctual, abounding with imagery including eyes, faces in profile and other more indeterminate forms, often in pulsating combinations of colour.
With its delicate skeins of blue, INFINITY NETS [JMSER], 2018, is an especially resonant and evocative example of Kusama's iconic Infinity Net canvases, and offers a link to the origins of these iconic works in smaller paintings completed shortly after she first arrived in the United States, in which the artist attempted to capture the bird's-eye view of the ocean rippling beneath her, which she experienced on her flight from Tokyo to Seattle. There is a link, in turn, to the character of the hallucinations first experienced by Kusama during childhood, in which her surroundings were overtaken by a proliferating pattern that engulfed her field of vision. Forging a path between Abstract Expressionism and Minimalism, Kusama first showed her white Infinity Nets in New York in the late 1950s to critical acclaim. Kusama continues to develop the chromatic and emotional possibilities of her Infinity Nets in works that seem to fluctuate and dissolve as the viewer moves in front of them.
Yayoi Kusama: A Retrospective, the artist's first major exhibition in Israel, is on view at Tel Aviv Museum of Art (15 November 2021–23 April 2022). The exhibition is organised in collaboration with Gropius Bau, Berlin, where it took place between April and August 2021.
---
John Kørner
In erudite, questioning canvases John Kørner tackles topical content with various degrees of abstraction and metaphor. The artist has often used the accelerated pace of contemporary life as a conceptual touchstone. In these new paintings, he brings together different perspectives and levels of impression in the same two-dimensional plane, giving a sense of upwards movement with dreamlike distortions that alludes to the flux of contemporary experience while offering a connection to ancient landscape and moments of escape.
Often in Kørner's work we come across figures moving physically from one place to another, undertaking a journey of some sort, on foot or conveyed by mechanical means, and encountering obstacles along the way. While corridors, staircases and, in this instance, escalators, signal the advances (or perhaps constrictions) of sophisticated urban life, in the distance the awe-inspiring vastness of nature is conjured by an epic mountainscape.
John Kørner: Intercontinental Super Fruits, the first solo museum exhibition of Kørner's work in the United States, is on view at the Museum of Contemporary Art Detroit, USA, from 18 November 2021 until 9 January 2022.
---
Maria Nepomuceno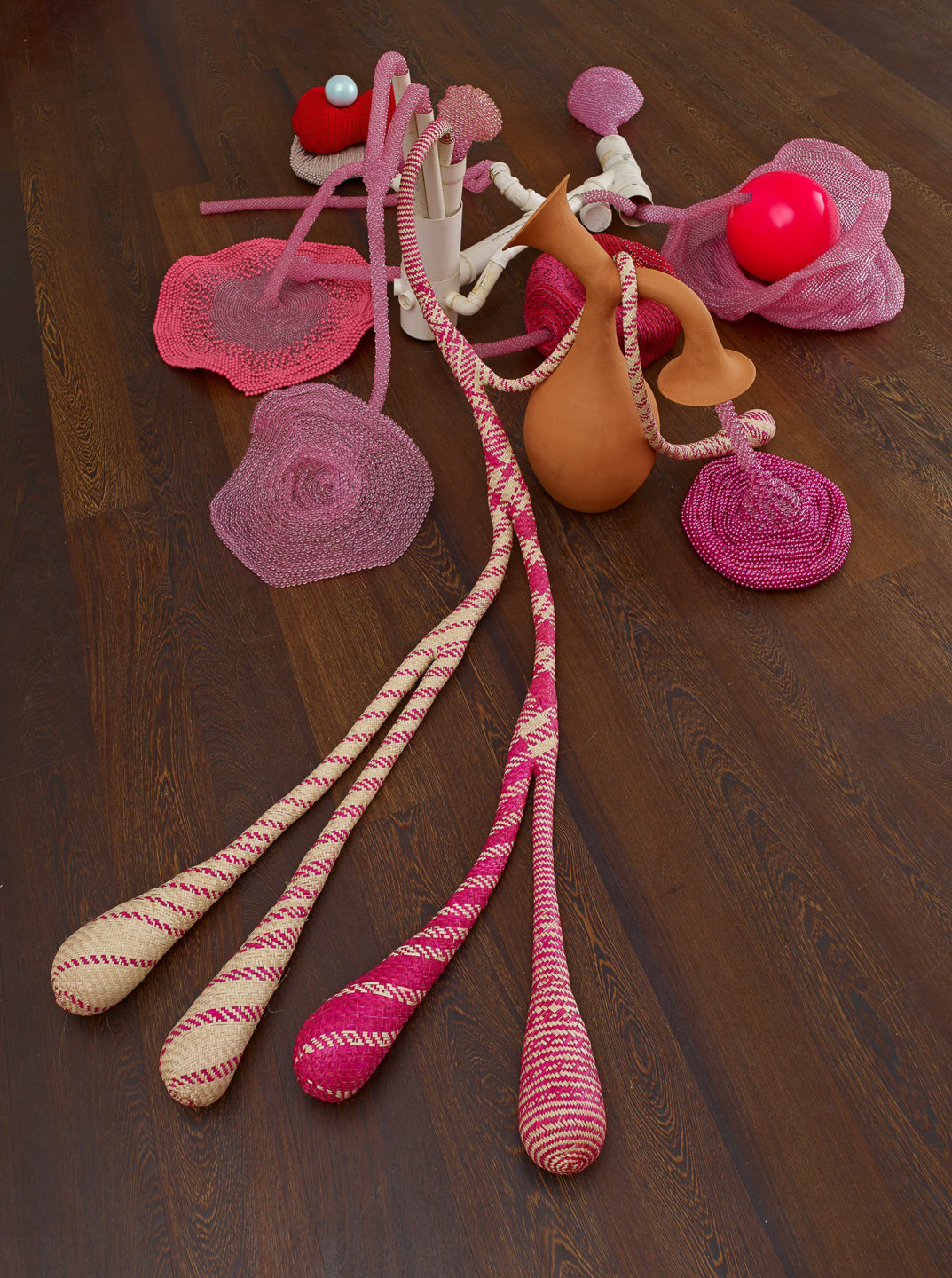 Ropes, beads, ceramic, fiberglass, braided straw, drain pipe and resin
85 x 240 x 300 cm
Dimensions variable
Maria Nepomuceno pushes ancient traditions and complex craft techniques into a wholly contemporary engagement with space and structure, form and concept. Displaying a characteristically dynamic approach to form, the work on view expands upon the Rio de Janeiro-based artist's methods of rope weaving and straw braiding, in which pre-existing and found elements such as branches, twigs, seed pods and playful ceramic forms merge with the organic forms of the sculptures. Nepomuceno's works are chromatically, culturally and metaphorically rich, suggesting animals, plants, the human body and landscapes ranging from the microscopic to the macroscopic. That the sculptures appear anthropomorphic and organic is essential to a reading of the work: the spiraling central to Nepomuceno's process relates to the spirals occurring naturally throughout the universe, giving shape to entire galaxies as well as the blueprint for existence, DNA.
The results are intended to harness the extended time of their making while simultaneously inviting the viewer to pause, draw close and engage with complex cycles of energy and creation.
---
Chris Ofili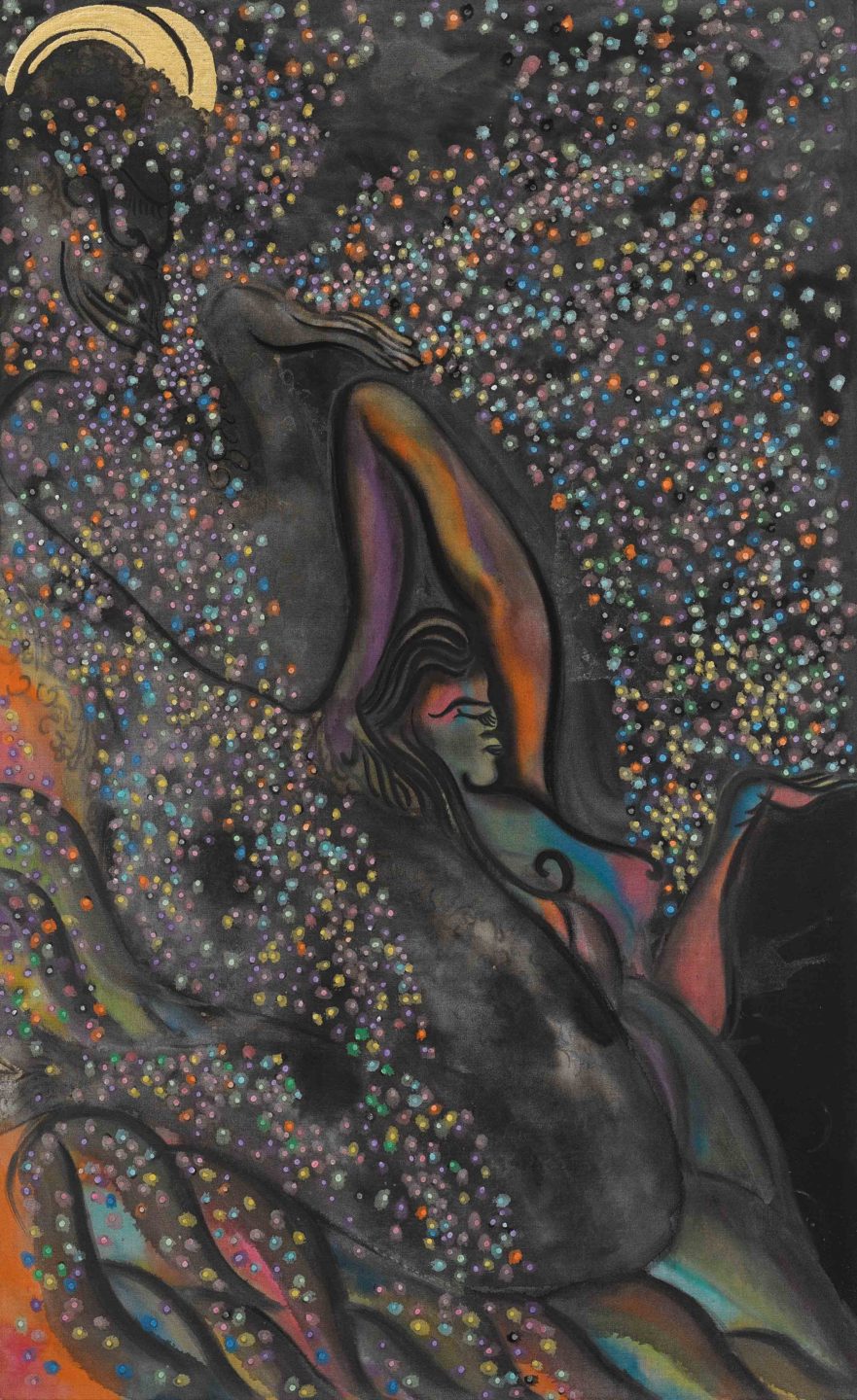 Oil, charcoal and gold leaf on linen
157.5 x 96.5 cm
62 1/8 x 38 in
Chris Ofili, Satyr and Selkie 2, 2020
More info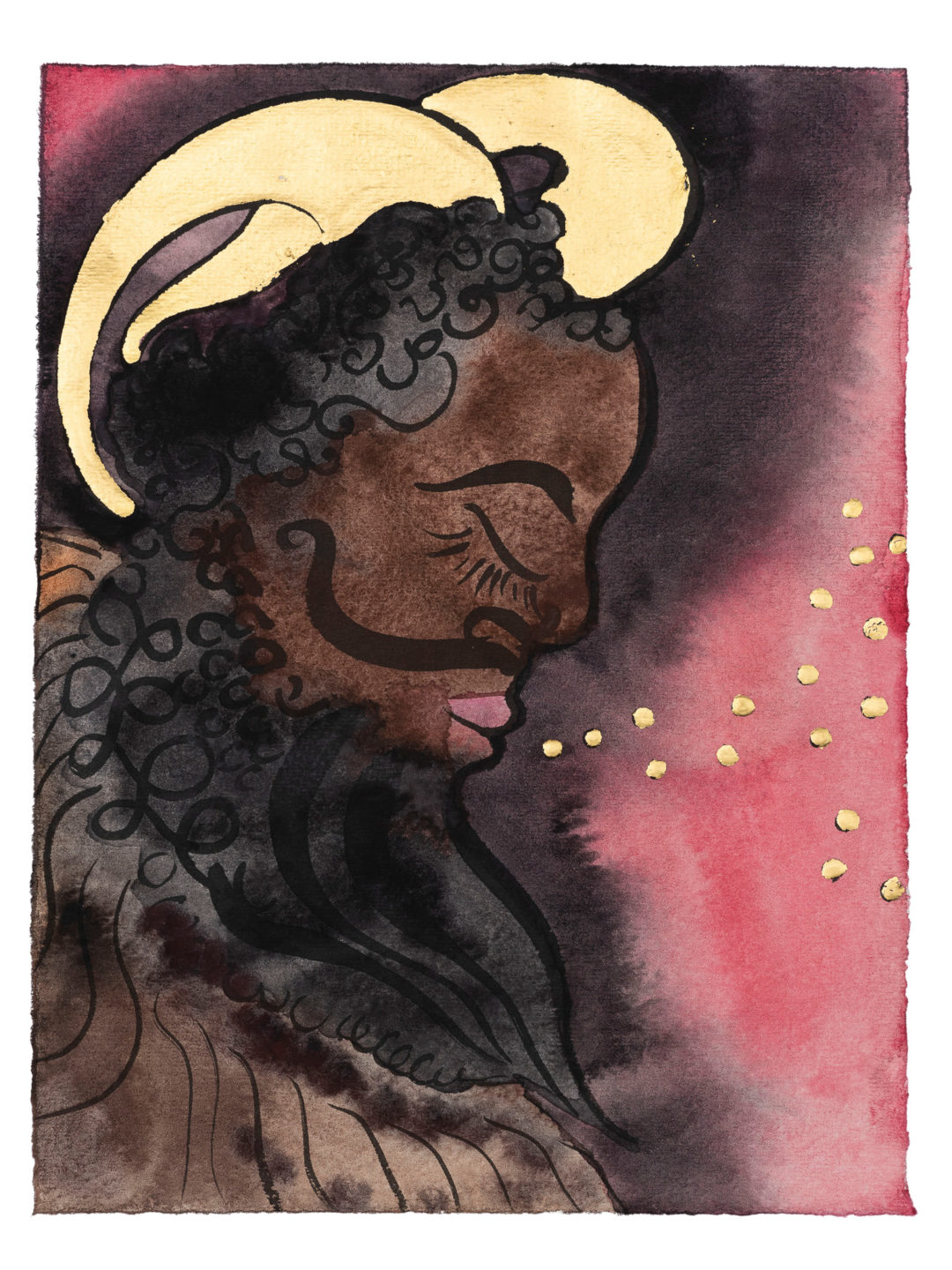 Indian ink, watercolour and gold leaf on paper
26 x 19.5 cm
10 1/4 x 7 5/8 in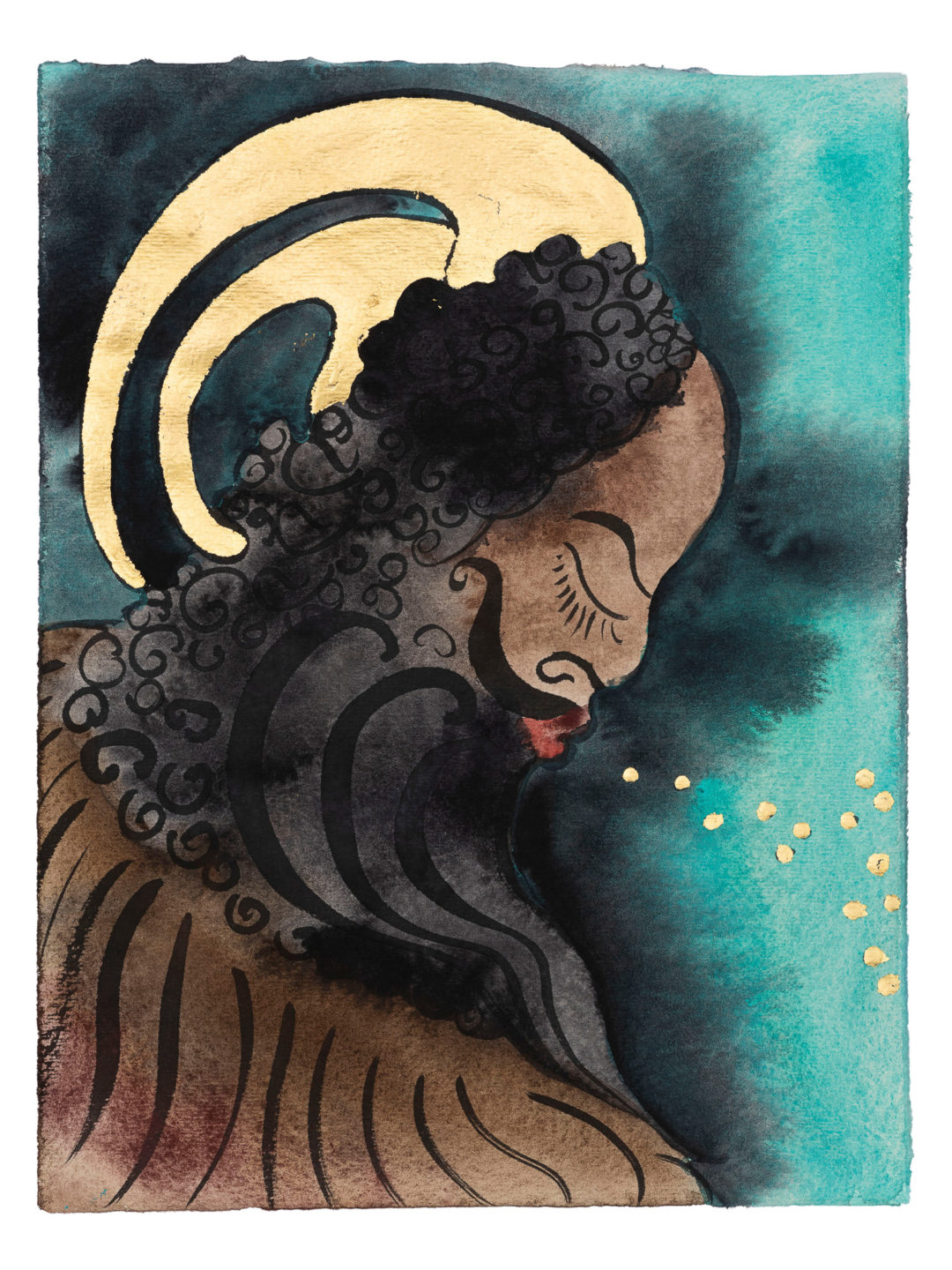 Indian ink, watercolour and gold leaf on paper
26 x 19.5 cm
10 1/4 x 7 5/8 in
In new paintings and works on paper, Chris Ofili's imagery represents the myth of the satyr. Satyr and Selkie 2, 2020, depicts a satyr crowned with curved golden horns embracing a reclining female figure, the selkie. The couple are shown in a serene and intimate scene, immersed in a waterfall and blanketed within its spray of droplets. In Scottish mythology the selkie is a mythological creature who is able to transform from seal into human form by shedding its sealskin. Here, the selkie is visible in her female form, after the moment of metamorphosis; she is one with the water, waterfall, spray and droplets.
With his sensitive representations, in works such as Satyr and Selkie 2 and Head of a Satyr, Ofili repositions the satyr away from conventional depictions of wild, Dionysian conduct.
---
Grayson Perry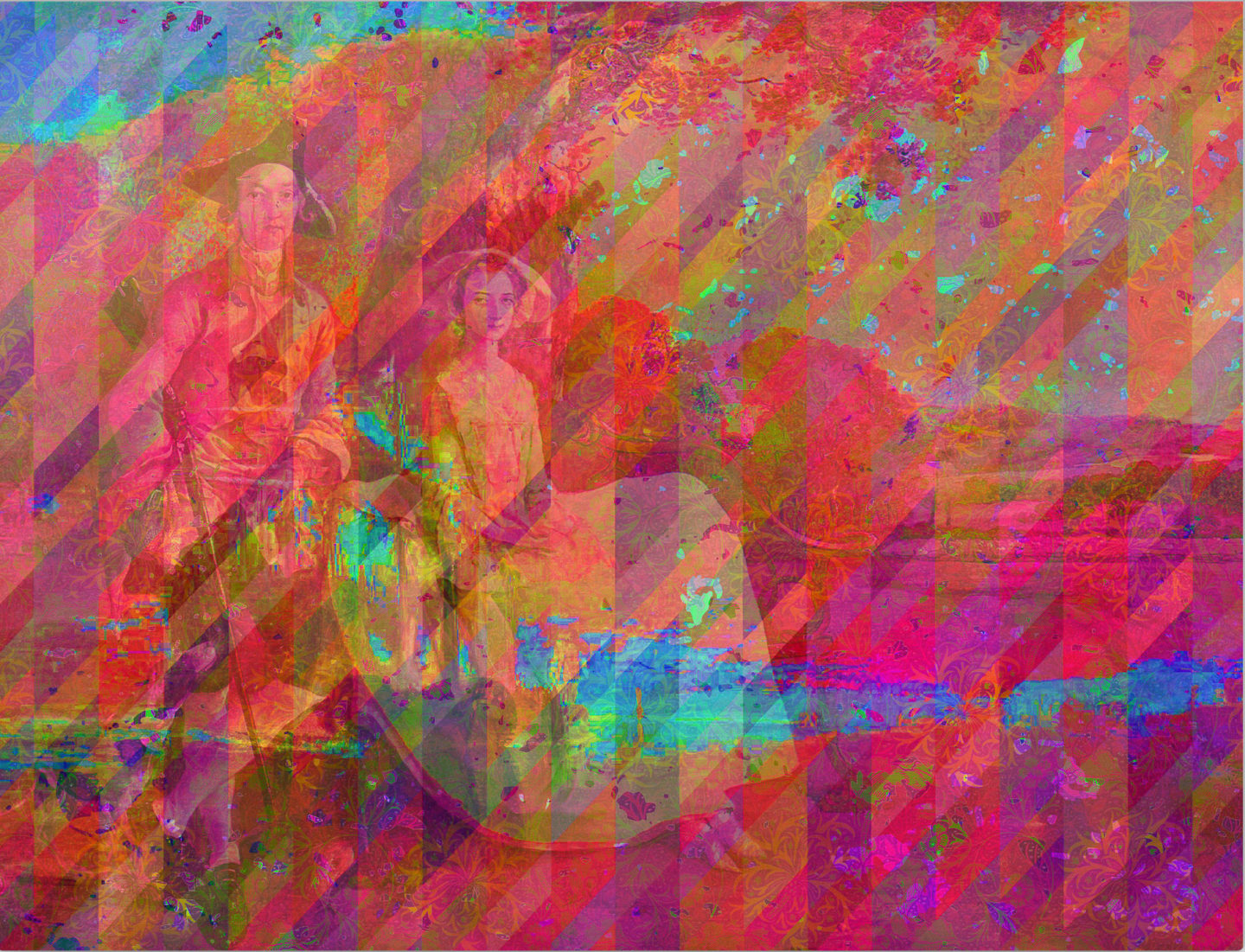 Tapestry
274 x 360 cm
107 7/8 x 141 3/4 in
Edition of 10 plus 2 artist's proofs
Grayson Perry, Morris, Gainsborough, Turner, Riley, 2021
More info
For this new design, Grayson Perry has combined imagery drawn from the history of English art, featuring work by William Morris, Thomas Gainsborough, JMW Turner and Bridget Riley. These works are not referenced outright; rather, they are digitally altered or adjusted, their colours and orientation changed, within the tapestry's rich and layered textures.
---
Howardena Pindell
Collage has played a key role in Howardena Pindell's art since the 1970s, her engagement with the paper chads that result from the hole punch process emerging organically from the process of creating her spray paintings of that decade. These small circles of paper or card were incorporated into her painting process as early as 1973. Later, Pindell began building up the punched-out dots on the canvas, sometimes adding other materials, such as a sprinkling of glitter across the surface, too.
The circles and ovals she corrals into service in works such as Untitled #1A, 2011, some punched out of colourful drawings created by the artist over several years, abut and overlap, bursting out of the notional picture frame. The forms of these layered, detailed works tend towards the amorphous, creating dynamic tension between aggregate and whole.
Howardena Pindell: A New Language, the artist's first solo exhibition in a public organisation in the UK, is on view at Fruitmarket Gallery in Edinburgh, from 13 November 2021 until 2 May 2022.
---
Flora Yukhnovich
Flora Yukhnovich is acclaimed for paintings that, fluctuating between abstraction and figuration, transcend painterly traditions to fuse high art with popular culture, and intellect with intuition. New paintings and works on paper draw on various depictions of the Roman goddess Venus in mythology, art history and contemporary culture. Rather than focus on individual points of reference, each work synthesises a multitude of influences that convey the shifting representations and significations of Venus herself. Here, the Venus that embodies idealised female form, is goddess of love, maternal care, sexual reproduction and erotic desire, meets the Venus of violent origin and hybrid gender – promiscuous and vengeful.
Variation is a driving force in Yukhnovich's art, her mark making ranging from delicate flourishes to dramatic and muscular brushstrokes, heightening a sense of rhythmic sensuality. Paint, in her hands, becomes the perfect vehicle to conjure the multiplicity of a subject that, characterised by flux and transformation, is as elusive as it is seductive.
---