Ali Banisadr: The Changing Past
Exhibition 11 October–11 November 2023
Tuesday–Saturday: 10am–6pm
16 Wharf Road, London N1 7RW
Victoria Miro is delighted to present an exhibition by Ali Banisadr. The gallery's first solo presentation of works by the New York-based artist features a substantial body of paintings completed over the past two years.
A painter of epic vistas and dazzling intricacies, Ali Banisadr creates complex worlds whose syncopated rhythms corral a multitude of references from history and art history, as well as allusions to our own turbulent times. In any single, expansive canvas one might sense the crystalline detail of the Persian miniature tradition, the muscular brushwork of Abstract Expressionism, the narrative dexterity of the early Dutch masters, the bravura technique of the Venetian Renaissance, or the libidinous glyphs of Surrealism, among others.
The exhibition is accompanied by a publication featuring an interview with John Yau and new writing on the artist by  Doris von Drathen and Charlotte Mullins; excerpts are featured below.
Download a list of works on view in the exhibition
---
Doris Standalone 2
'Those who contemplate the paintings of Ali Banisadr for any length of time can receive the impression that this pictorial world is all about a quest of some sort, perhaps the quest for a universe, for a unified whole.' — Doris von Drathen
---
These fragments I have shored against my ruins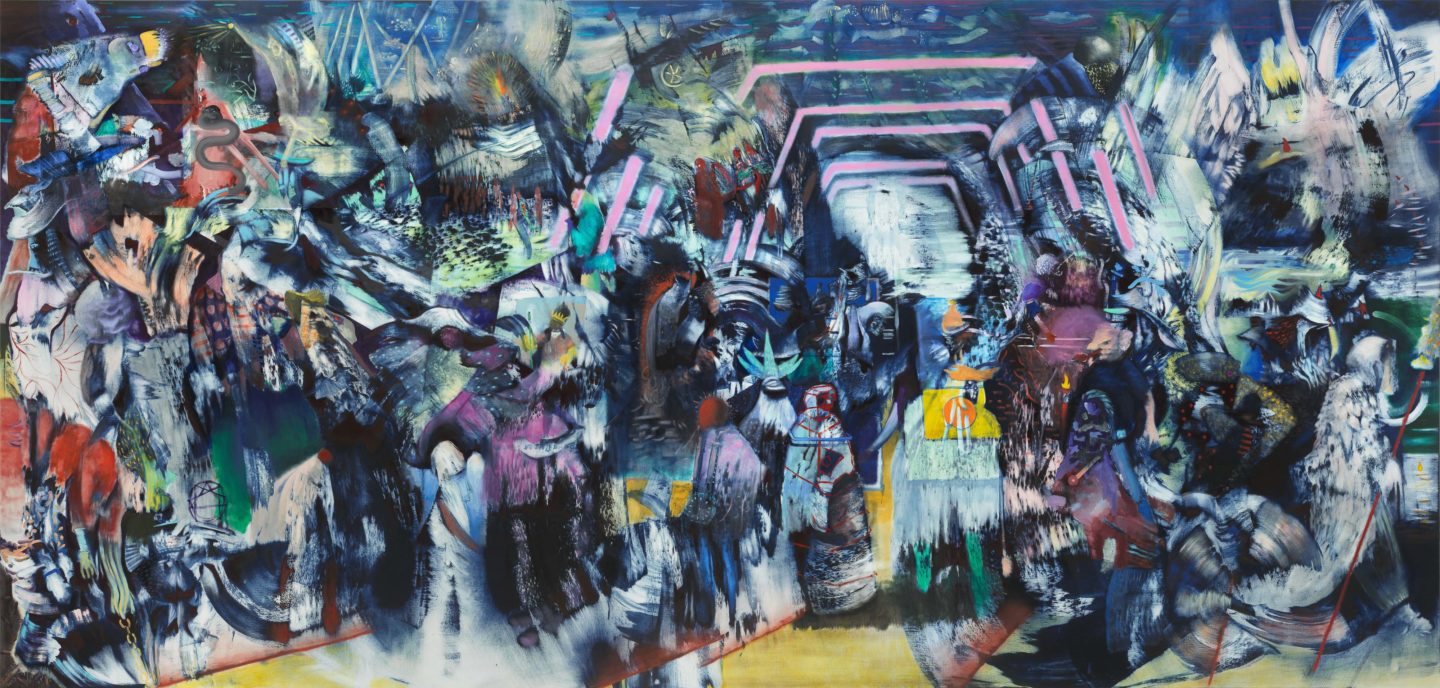 Oil on linen
218.4 x 457.2 cm
86 x 180 in
Ali Banisadr, These fragments I have shored against my ruins, 2023
More info
'In These fragments I have shored against my ruins, which is the largest painting in the show, there are elements of disruption by a foreign entity, which in my mind is a digital entity, such as AI or social media. I have always been interested in the disruption of technology and how it can change us as human beings to become another type of being.' — Ali Banisadr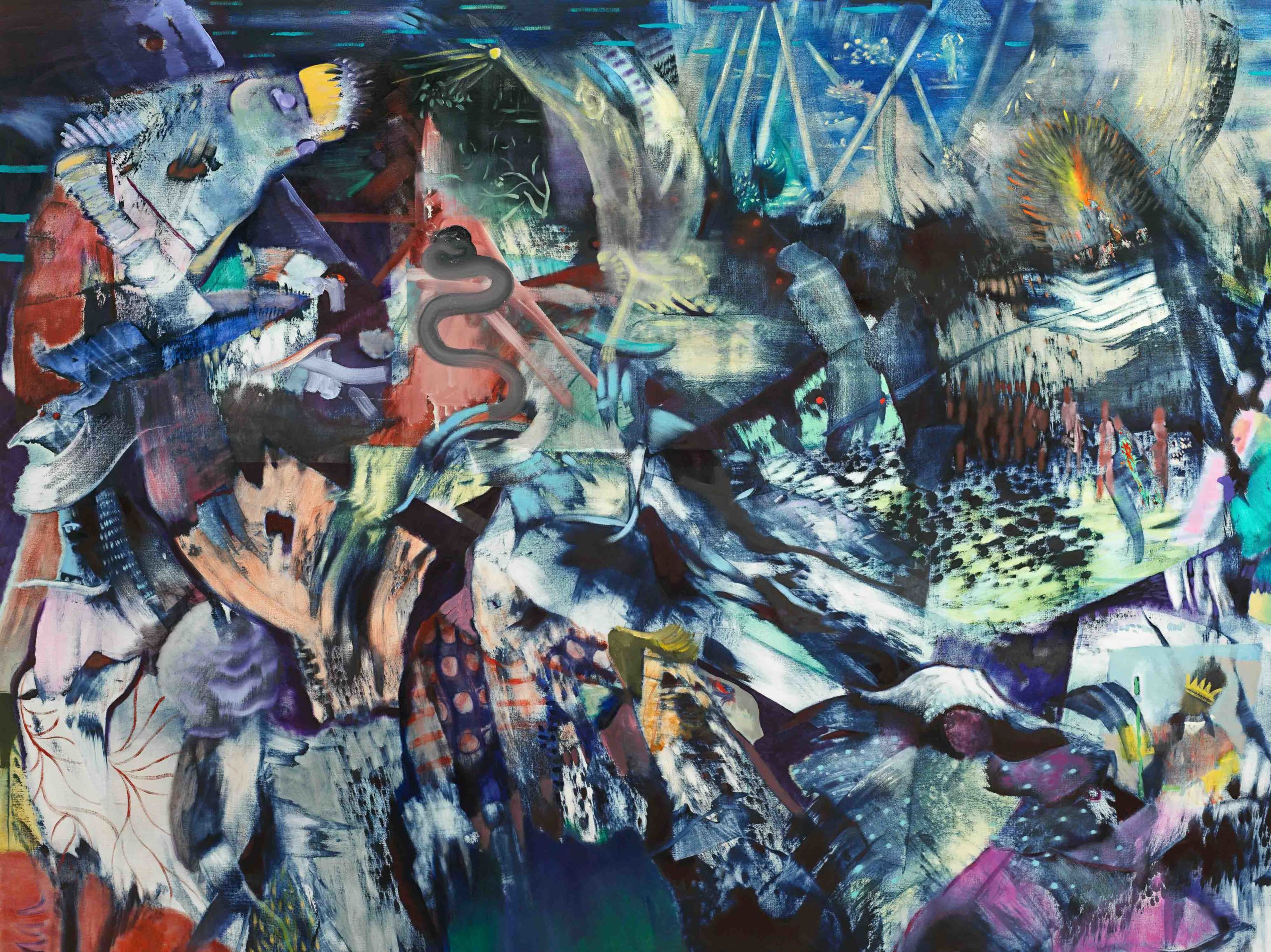 ---
Is time an arrow or a wheel?
'Banisadr paints our world, the world of time's arrow, but in doing so he explores the crossovers with time's cycle, with deep time, revealing the cyclical nature of humanity with its endless wars, its perpetual growth and decay.' — Charlotte Mullins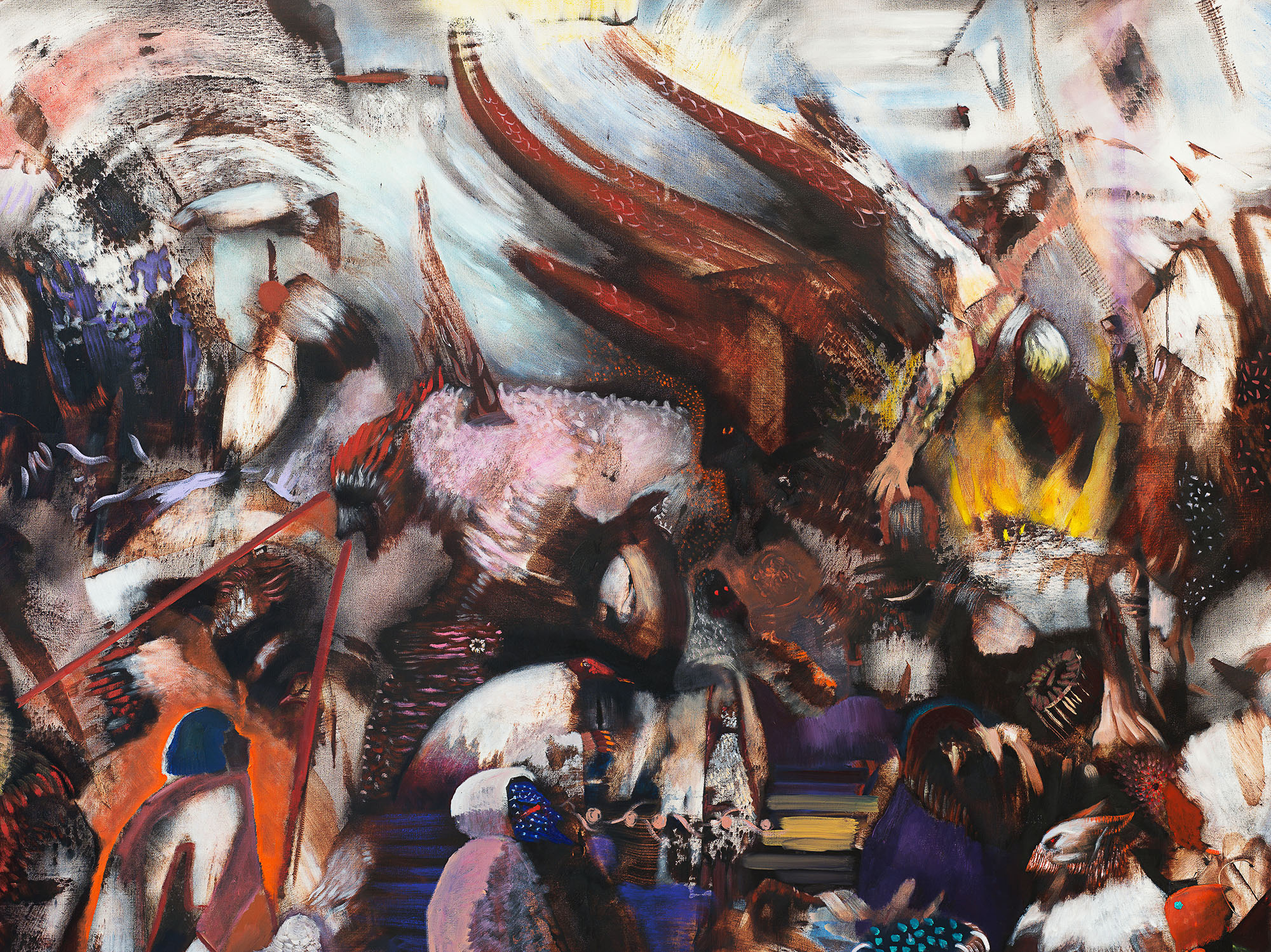 ---
Lapis
'In Lapis, we see an anthropomorphic polar land under a frigid blue sun, the figures reduced to glimpses of hands, eyes, beaks, fish scales.' — Charlotte Mullins
---
Cornerstone
'For the first time in these pictures, the whirling images seem to be articulated by right angles and underlying cubes as if the painting were underpinned by a semi-concealed geometric structure… But these right angles are unable to contain the explosion of pictorial detail.' — Doris von Drathen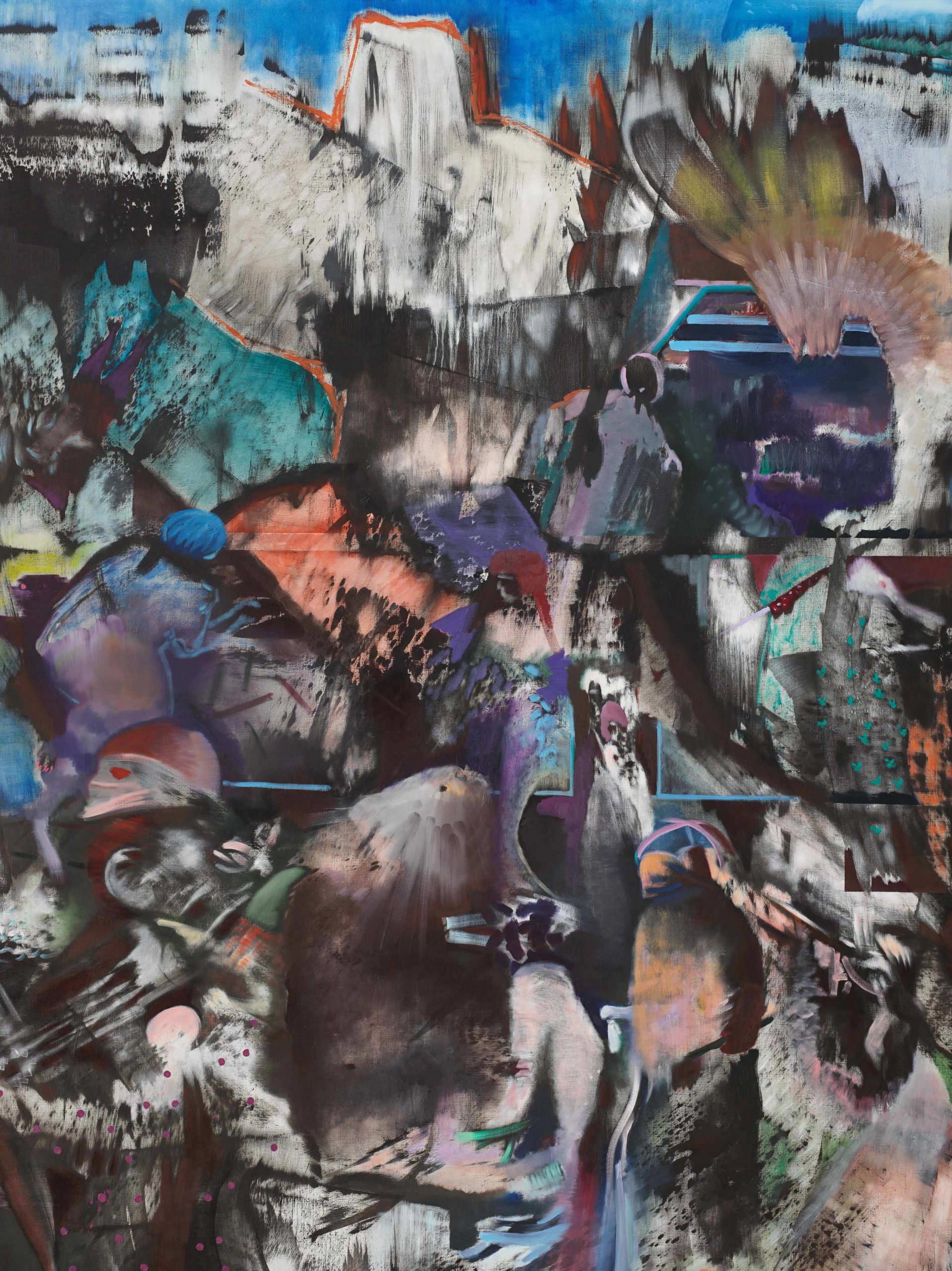 ---
Rebis
'Rebis can be considered as the final stage in the alchemical magnum opus, a universal amalgam of female and male bedecked with five six-pointed stars, one of them at the centre of the figure's Janus head.' — Doris von Drathen
---
Rebis 1
'The Rebis figure goes back to ancient Mesopotamia. This was the figure of worship in ancient days; it is a perfect being, a balanced being. It is also about identity. The diasporic people tend to look for fragments and multiplicity to  understand the self, to understand home.' — Ali Banisadr
---
---
Queen of the Night
'The procession halts but the spirits, our ancestors, continue to look on. Alchemical symbols float over robes and heads while red eyes burn, carnal and devilish, other-worldly. We are in a Borges tale, an Eliot poem, a Rumi fable, an Upanishad.' — Charlotte Mullins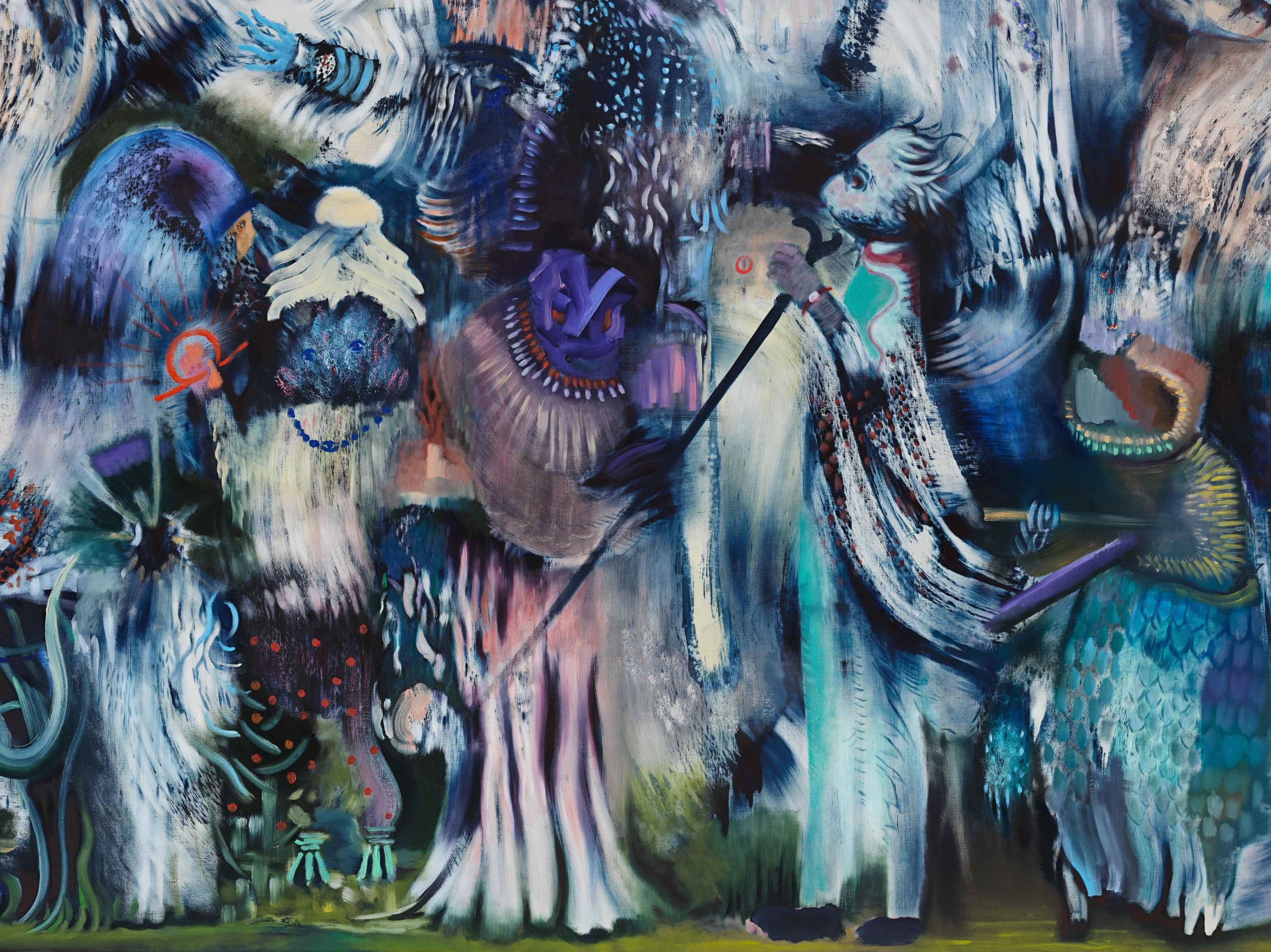 ---
Numinous
'The presence of the artist/painter is always important in my work; for example the kneeling figure in this painting who is juggling a snake, candles and a palette, which ultimately tells the viewer about the amount of work the painter has to do by juggling so many things, out of desperation for the painting to come together. The painter is willing to do anything for it to materialise' — Ali Banisadr
---
The Changing Past
'The multiplicity of perspectives and pictorial fragments in every painting explodes not only space but also time and cultural epochs: the mystical rubs shoulders with the mythological, the historical-political with the alchemical or archaic.' — Doris von Drathen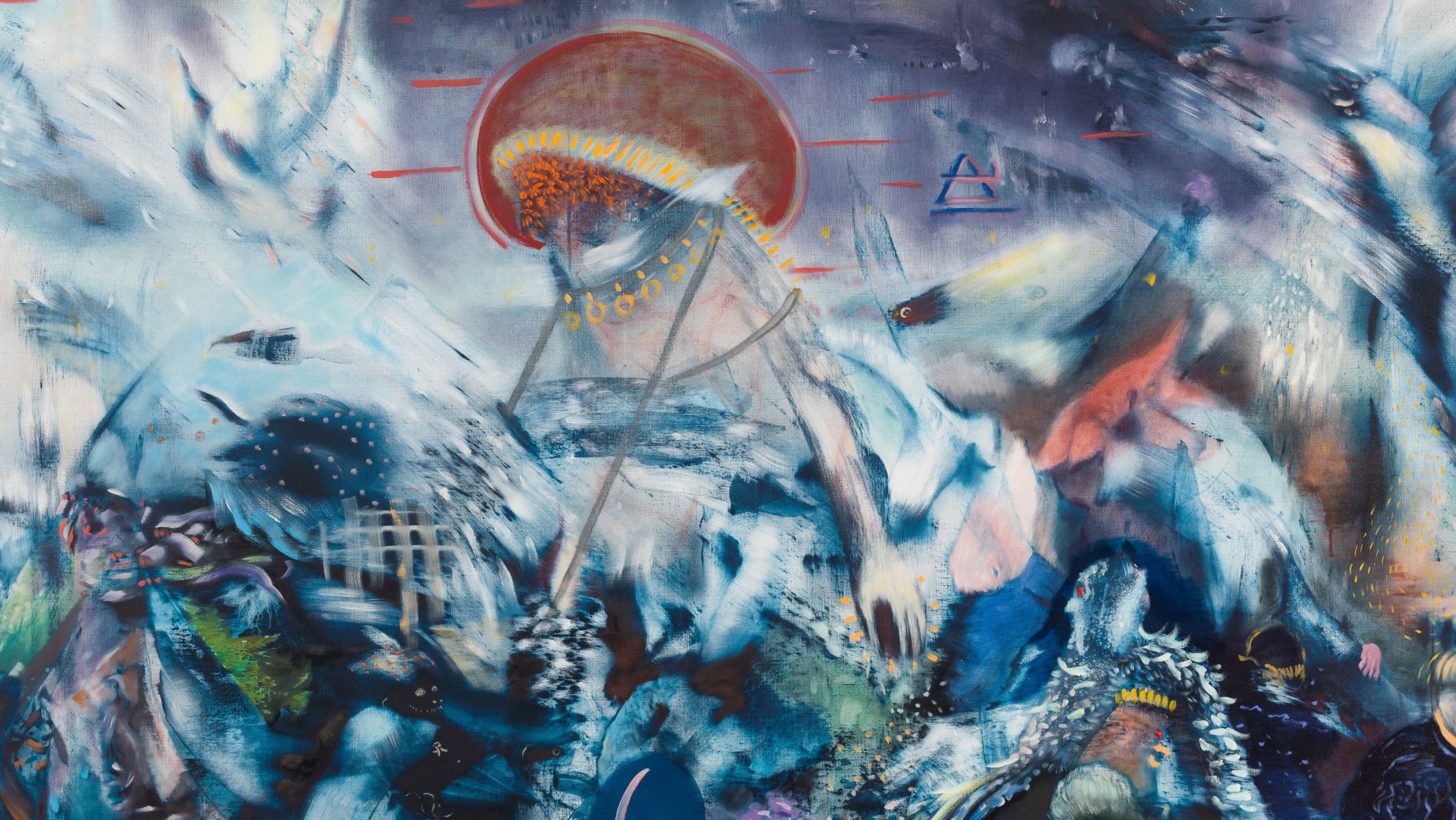 ---
Ali B standalone
'I think I am trying to enter an abyss… I want to go further and further and suddenly I'm in the dark. That's when it becomes scary, but also exciting. Where am I? What is this? You know, where's this road going?' — Ali Banisadr
---
Publication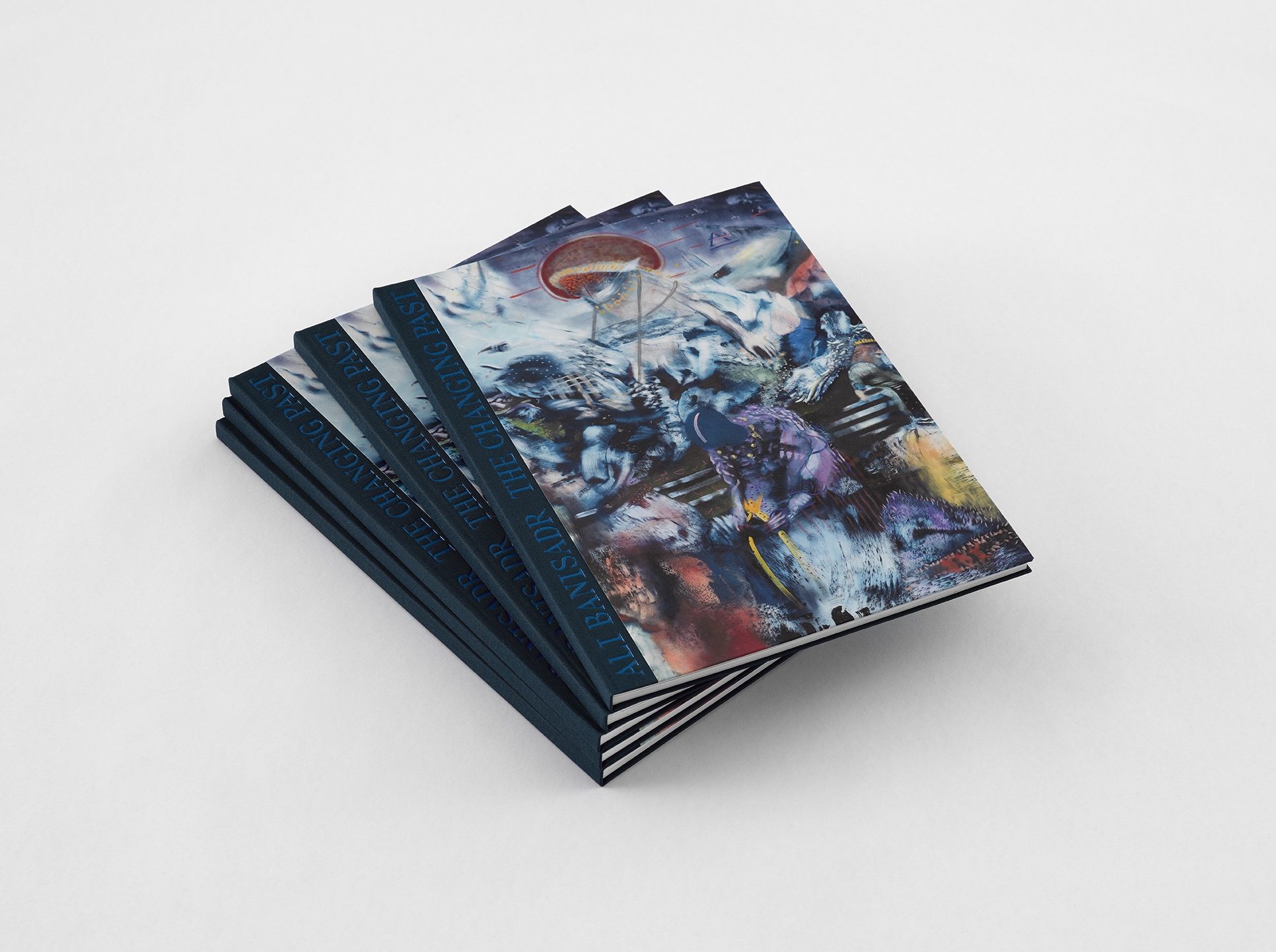 Published on the occasion of the exhibition, this book features an interview with John Yau and new writing on the artist by Doris von Drathen and Charlotte Mullins.
The 95-page case bound book is richly illustrated with 25 colour plates.
It is designed by Kate Rogers and printed by Roy Killen.
Special exhibition price: £45 (retail £60).
---
About the artist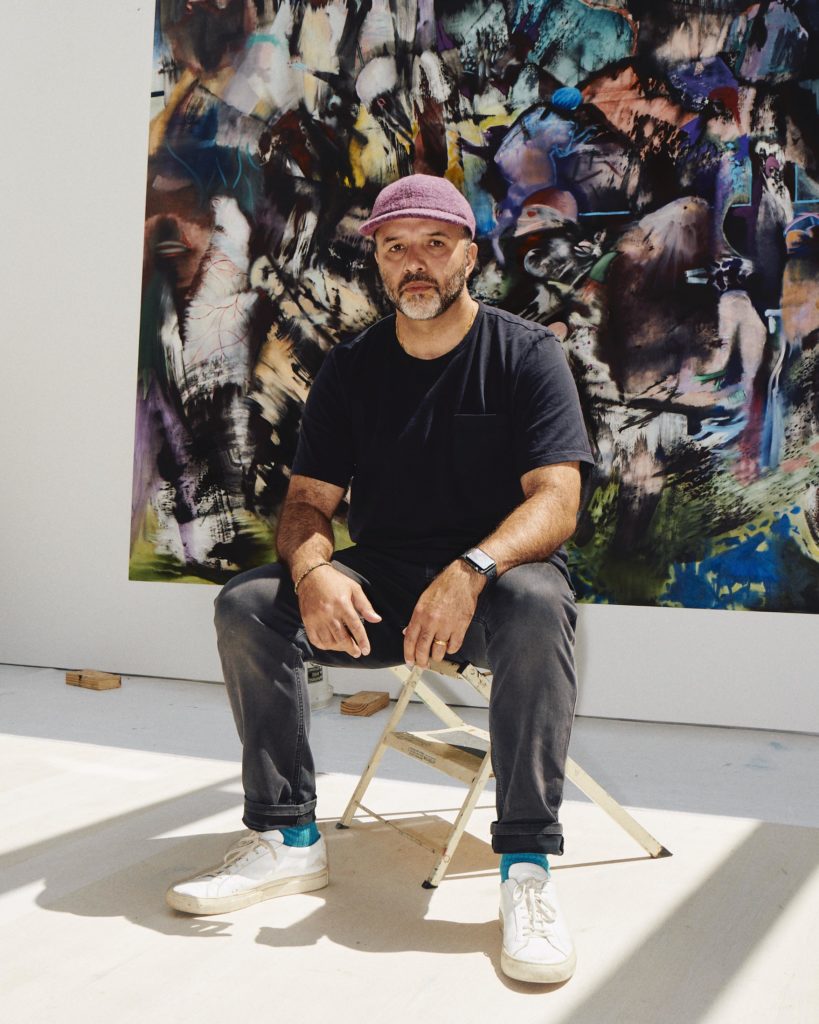 Born in 1976 in Tehran, Iran, Ali Banisadr lives and works in Brooklyn, NY. Recent solo institutional exhibitions include Ali Banisadr: Beautiful Lies at Museo Bardini and Palazzo Vecchio, both in Florence, Italy (2021); Ali Banisadr/Matrix 185, Wadsworth Atheneum Museum of Art, Hartford, CT, USA (2020), and Ultramarinus ­– Beyond the Sea, Benaki Museum, Athens, Greece (2020). His work has been included in recent institutional group exhibitions including Daphne without Apollo: Metamorphoses from Richter to Lassnig, The Opelvillen Foundation, Rüsselsheim, Germany, (2022); Epic Iran, V&A, London, UK (2021); A Boundless Drop to a Boundless Ocean, Orlando Museum of Art, Florida, USA (2021); Rebel, Jester, Mystic, Poet: Contemporary Persians, Asia Society, New York, NY, USA (2021); Love Me / Love Me Not, Contemporary Art from Azerbaijan and its Neighbours, Venice Biennale, Italy (2013).
Work by the artist is included in major institutional collections including: Albright-Knox Art Gallery, Buffalo, NY, USA; Akademie der Bildenden Künste, Vienna, Austria; British Museum, London, UK; Centre Pompidou, Paris, France; Het Noordbrabants Museum, Den Bosch, Netherlands; Hirshhorn Museum and Sculpture Garden, Washington, DC, USA; K11 Art Foundation, Hong Kong; Los Angeles County Museum of Art, Los Angeles, CA, USA; The Metropolitan Museum of Art, New York, USA; Museum of Contemporary Art, Los Angeles, CA, USA; The Museum of Fine Arts, Houston, USA; Museum der Moderne, Salzburg, Austria;  Miniature Museum, The Hague, Netherlands; Philadelphia Museum of Art, Philadelphia, PA, USA; Francois Pinault Foundation, Palazzo Grassi, Venice, Italy; Wadsworth Atheneum Museum of Art, Hartford, CT, USA; among others. The first major monograph on the artist was published by Rizzoli in 2021.
---